Steemit-ironchef Round 14: Buddha Bowl and Ramson with Rice- Meal ideas! Ramson Food Serie part 2
Hi lovely friends! So today I am back with the second part of my savoury ramson food series! I will give you some ideas for rice meals, with the ramson "wasabi" I showed you in part one.
Challenge yourself
Today I have been a busy bee with taking pictures, developing new recipes and I also made my first live stream (ever!) on instagram. A very exciting day.
This week I am really challenging myself and stepping out of my comfort zone. I do things I have never done before and take the initiative to bring changes into my life, that I wish to have. I can really encourage you to do that too, dont hold yourself back, just go for it. There is nothing to lose, you will just ask yourself why you didnt start earlier. Take your life in your own hands, take the controll of your life situation and form it the way you like. What do you choose: to be secured or happy?
Security or happiness?
So many are just looking for a regular income, for a secure job, a successful career, fulfilling expectations and so on. But what DO YOU WANT? What are you living for? Is your life meaningful and filled with challenging projects that you have choosen and even feel excited about middle in the night when you wake up? Or do you wake up with an ache in your stomach and depressive thoughts? Do you look forward to monday on sunday evening? So why not? And what is the reason you keep telling yourself that you cant change the way it is?
What if?
Imagine you being old and soon going to leave this world how we know it. What would you regret? Have you lived your life how you wanted it to be?
I see and hear people complaining about their situation, the world, other people or them self, and so on, many of us dont realise that we have the power to create our own reality, the way we look at it and what we do.
Who is responsible for your life?
Noone else is responsible for your life. Only you are responsible. Not your partner, not your boss, not your children and not the goverment. There is only you and your thoughts.
So create the world you want. Dont give your power away. You can be whoever you can imagine. And reach the stars, if you just belive in it and decide to go for your goals.
Dont think about HOW, only focus on WHAT, and you will suceed. If you just know what you want, life will show you how to reach it.
Buddha Bowl for inner and outer peace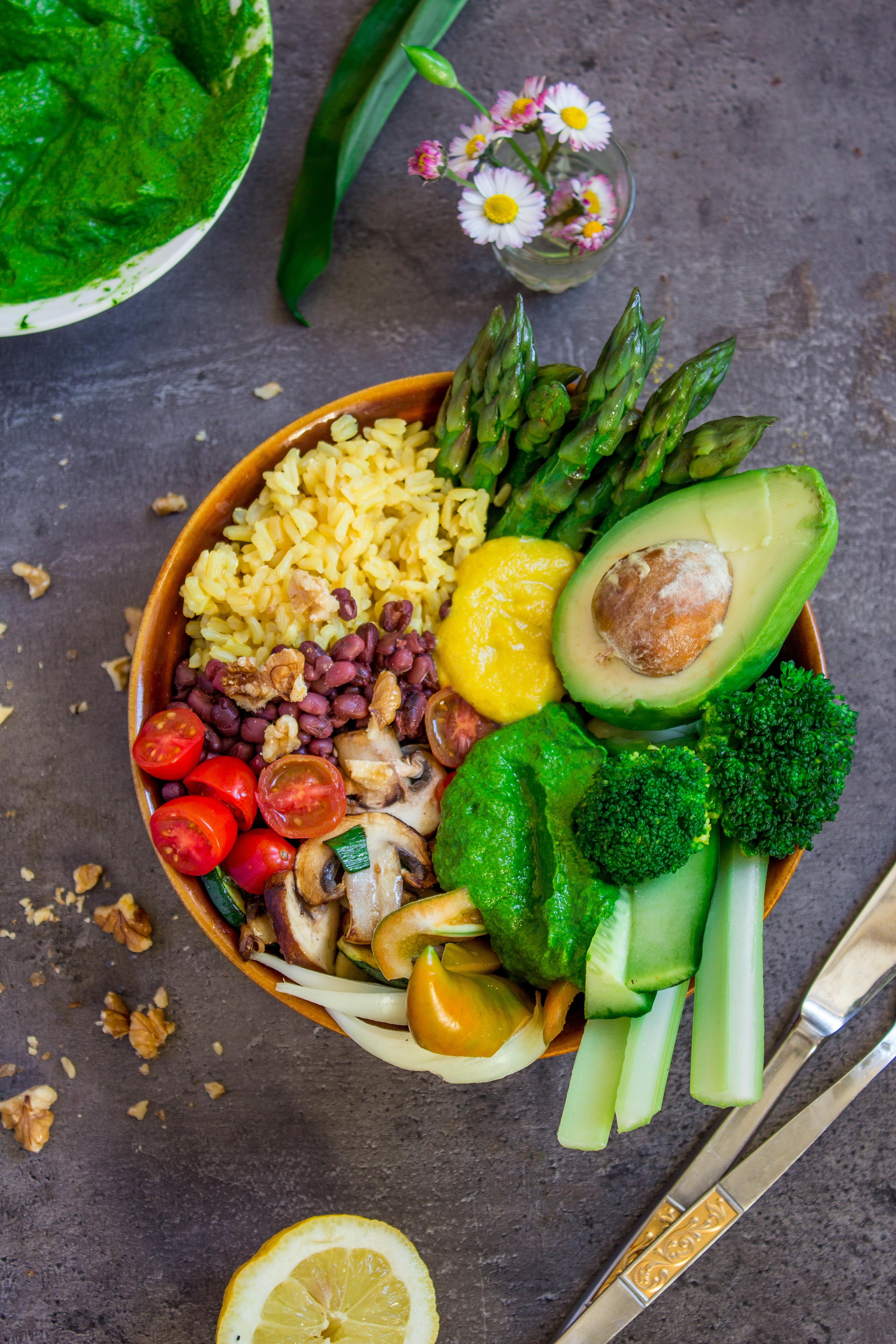 Do you like Buddha Bowls? I love them because you can add anything you like to the bowl, and its such a simple and healthy meal that gives you all the energy and nutrients you need.
For this one I added avocado, my ramson pesto, celery, baked mushrooms, onion and zucchini, broccoli, raw onion, tomatoes, green asparagus, beans, a homemade turmeric hummus, cucumbers, rice cooked with 1 carrot, some cloves, bay leaves and a little sea salt, and on that lemon juice, chopped walnuts and virgin oilive oil. It was a very delicious meal!
Simple Lunch Boxes
For the lunch boxes (that are great to take with you for work or going out on picnic), I made a milder version of the ramson pesto by blending some ramson leaves with 1 avocado, lemon juice, 1 garlic, and some sea salt to taste.
I also made a very tasty curry tomatoe sauce with baked eggplants. The rice is cooked with lentils to add some extra nutrients and protein. We enjoyed it a lot.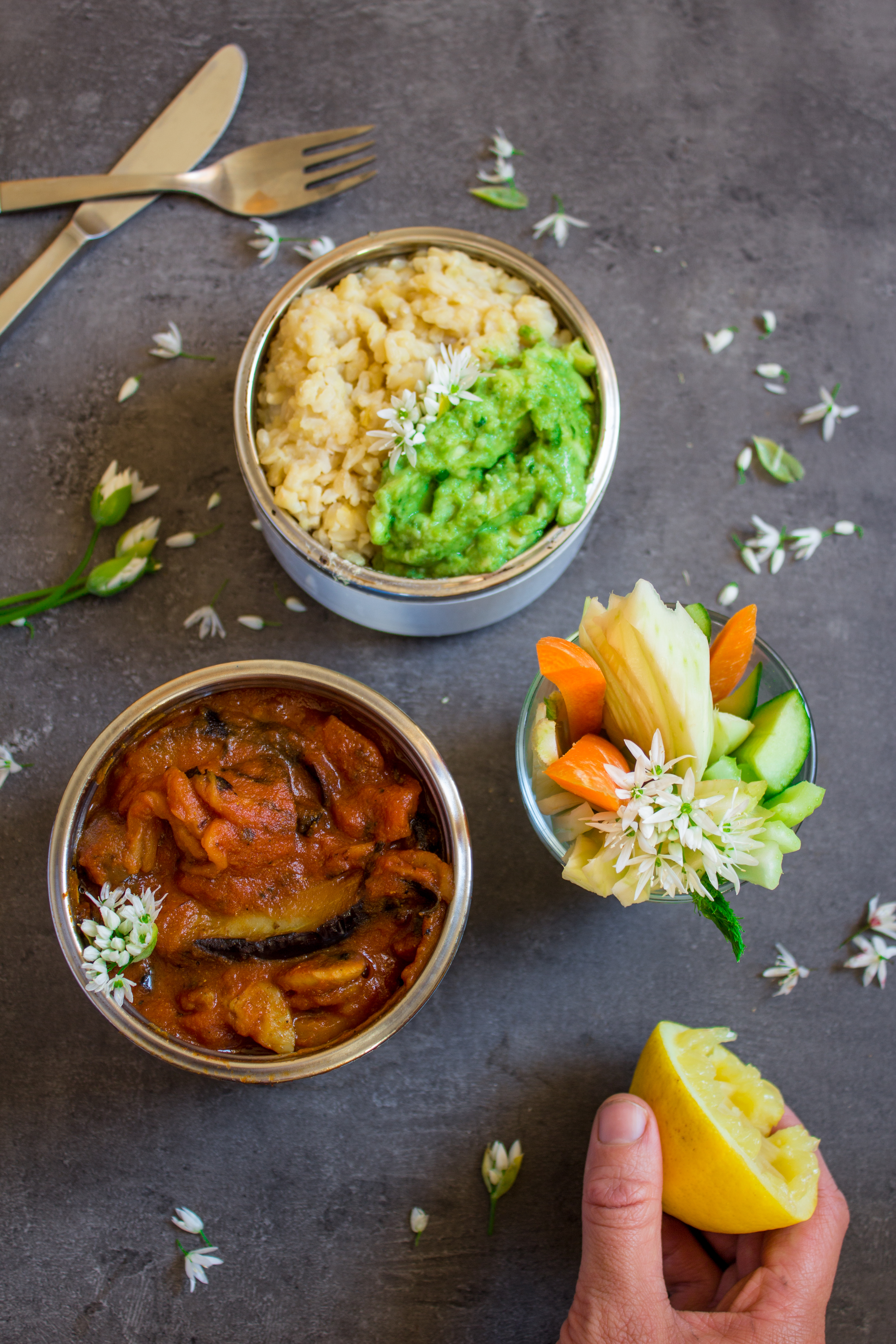 Never forget the greens and the lemon to absorb the iron!;)
So I will just show how simple it is to prepare your lentil rice. I always use wild nature rice that is not as much processed as normal white rice.
You will need:
1 cup nature rice
1/2 cup red lentils
water

Method:
Soak the lentils and rice covered in water for at least one hour.
Then wash the rice and lentils until the water is clean and all the starch is removed.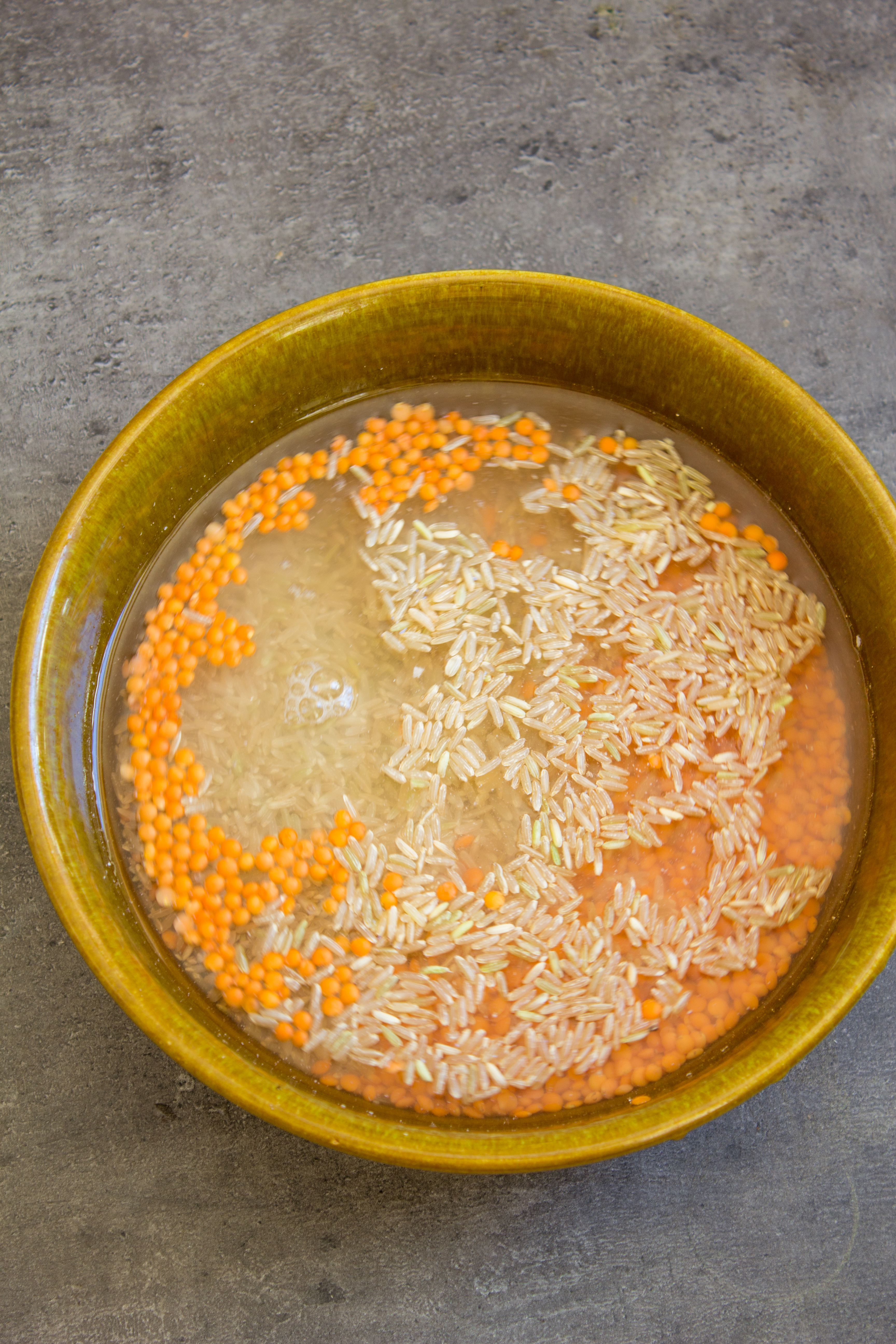 Cook the rice and lentils in one pan first on high heat for 2-5 minutes, and then let it simmer on low heat until all the water is absorbed.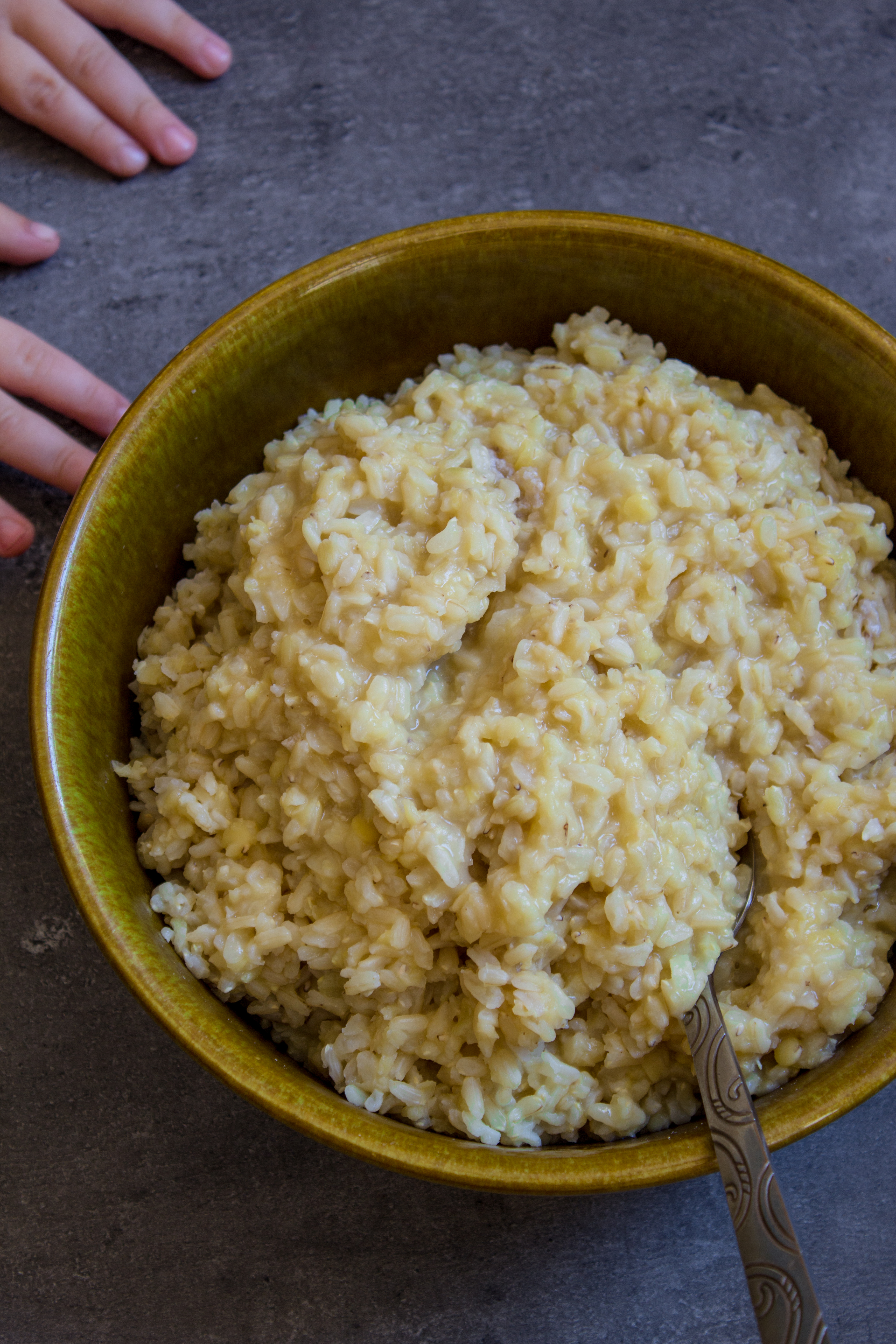 Now add your own sauce, vegetables, legumes, ramson pesto and more to your bowls or lunch box. Aaaand ENJOY!
Sometimes food just need to be that easy and quick, but be sure it stays healthy! Your body and your children will thank you for that. ;)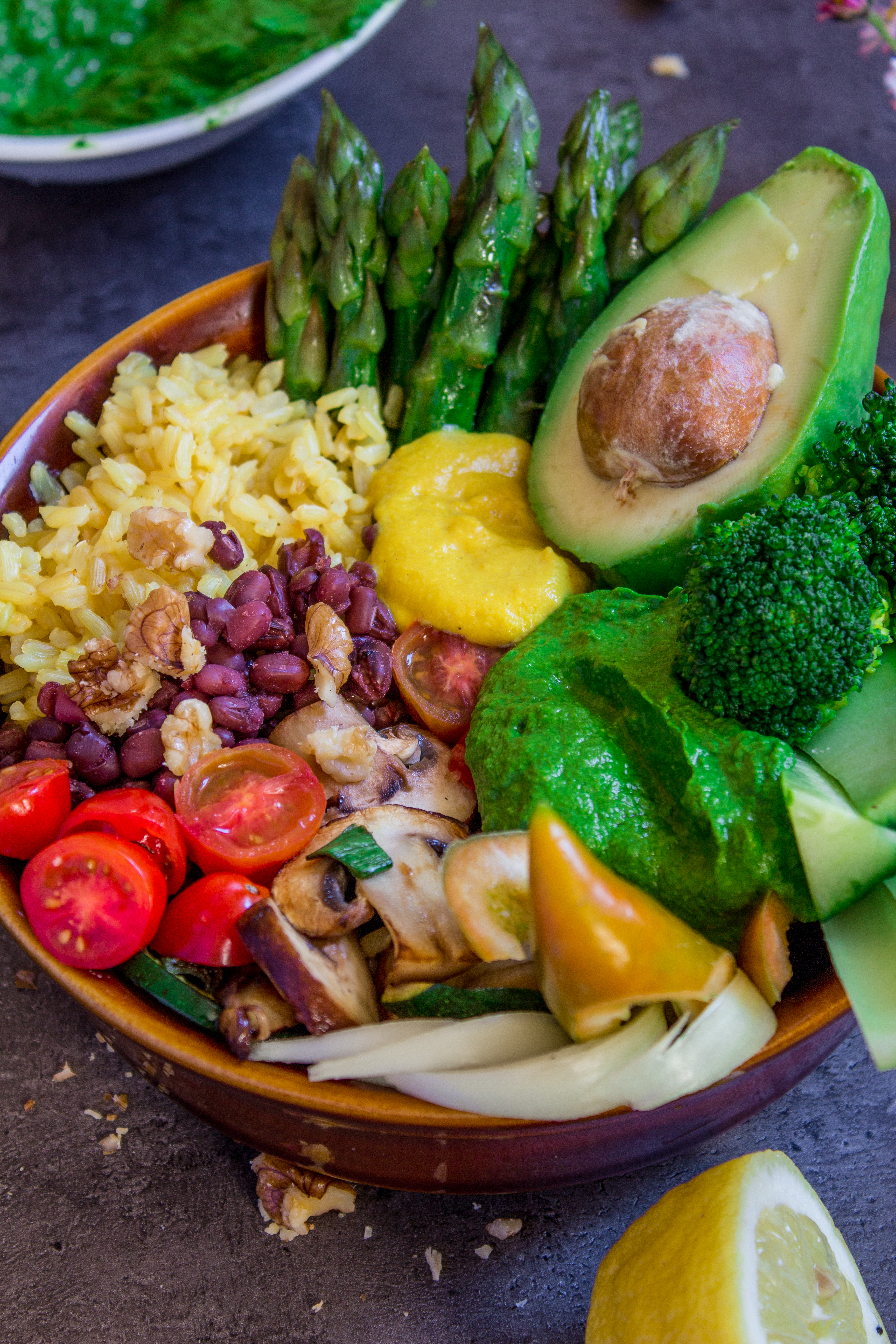 So this week the challenge of the #steemit-ironchef is to create a dish with rice, and this one fits just perfectly to the theme!
Name of my dish:
Rice with Ramson!
or:
Buddha Bowl and Ramson with Rice!
Steemit Iron Chef 2018 Act 01 Round 14
This contest is organized by: @progessivechef @steemit-ironchef together with the sponsors @canadian-coconut, @donkeypong , @trophytokens , @voiceshares and @bambam808 !
I am happy to be able to join in for the very first time today!
Here my picture:
Made this food some days ago. I know, I forgot a h in with, lol;)

I am a proud member of:



Love, Niina
---
Cant get enough? You can alo find me here:
---
While you are still here, take your time to check out my other recipes and recent posts:
Granola in 10 minutes! Recipe

PEANUT BUTTER-CHOCOLATE CUPS with roasted hazelnuts Recipe
Pancakes:
---
Life & Inspiration:
---
Thank you all! ❤
I want to inspire you to live your dreams, eat delicious, wholesome, nourishing, healthy food, and keep a creative mind. We all can do that, now!❤
Health starts inside our mind.
---
All content and images are mine and original. If you want to share my work, you are welcome. Just remember to tag me.