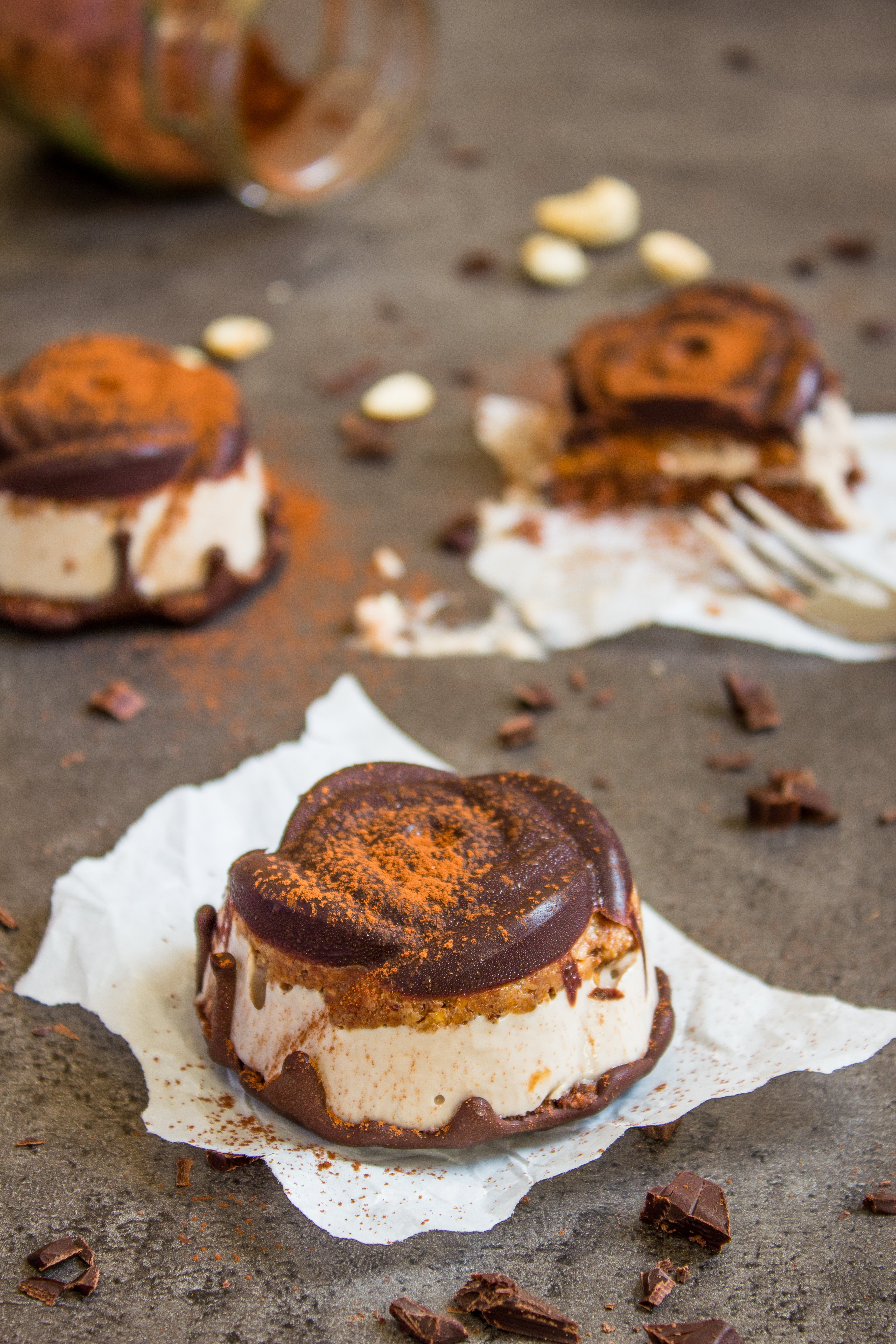 Hi guys, happy dessert time, again! What about an other sweet treat? This one though, is better than any dessert you have tried before, because this ice cream sandwich contains everything you ever dream about.
Dark delicate homemade chocolate, roasted almond butter, banana ice cream, and a chocolate cookie base.
I call it:
Banana Ice Cream Sandwich Cupcakes
The exclusive chocolate and the soft cold banana ice cream, is all that good stuff you have been waiting for until this very moment. It melts so nicely in your mouth...
I know you want this so badly. Dont lick on the screen please, just head to the kitchen and be sure to make a bunch of these madly delicious ice cream sandwiches to have in the freezer. You will need them, trust me, to enjoy them whenever you are alone at home. Ehhhm... I mean, when you have guests!! ;)
Forget jim and jerry's ice cream, forget oreos (seriously, have you seen what is inside them? Just because a sweet treat is vegan, doesnt it mean that it is good for you, just saying it).
You havent tried making your own desserts until now? Than this is your chance to be a real chef and suprise your friends and family with a heavenly treat!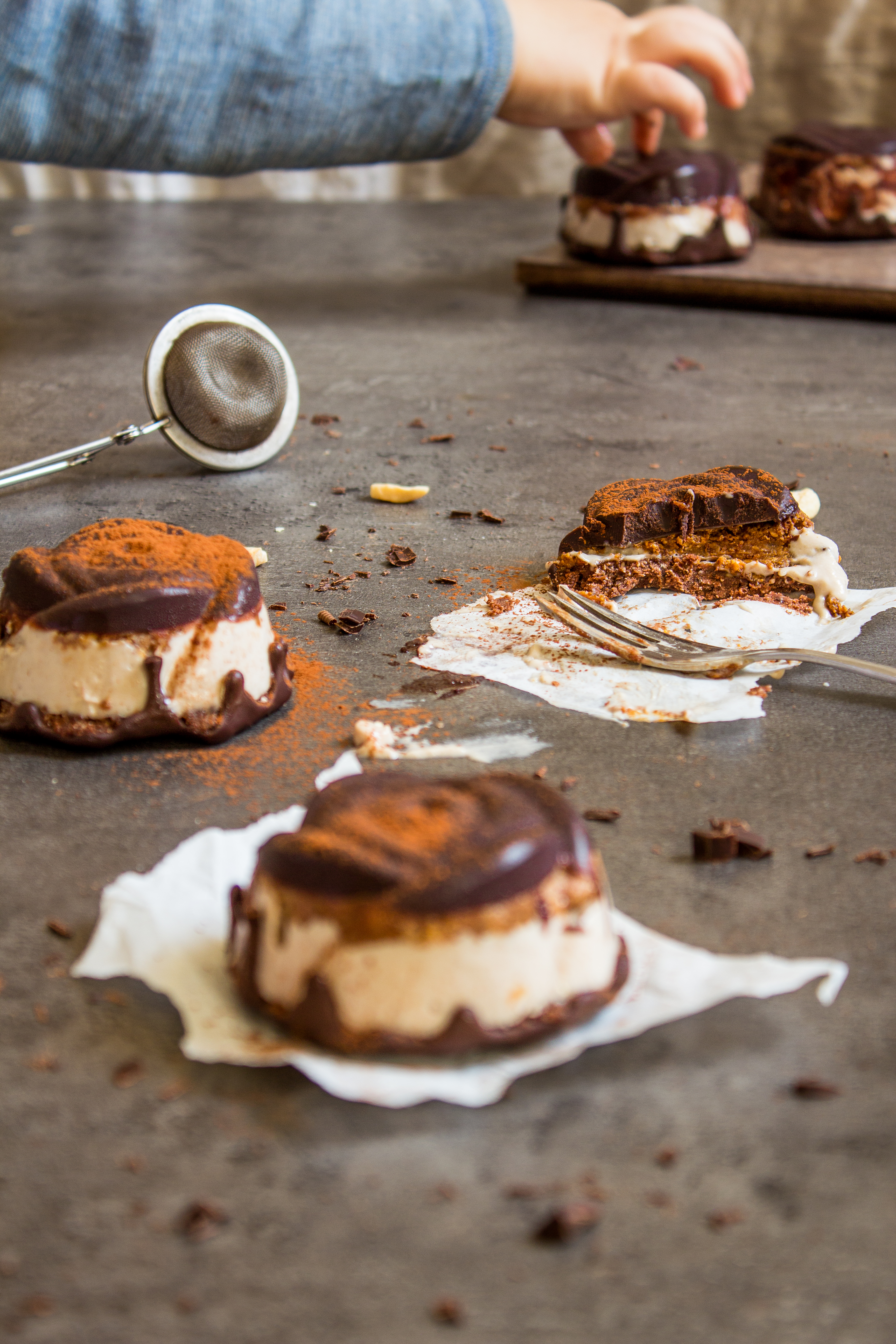 I am going to show you some more pictures of these treats, so if you cant stand watching them, just head down for the recipe!;) I dont want to tease you more then necessary!;) Just kidding, of course I want to do that, that is my way of sharing my passion with you guys!
---
Lately I have had a great success in the kitchen with everything new I have created. Those sweets I share with you here are all gone within a day and the only people who have access to them is me and my partner. He is really loving the treats I give him.
I have to tell you a funny story about my dessert passion. When I started some months ago to experiment making sugar free, gluten free and vegan treats, I was really not good at it. But I loved doing it, and didnt mind when they turned to be a failure, I just enjoyed the process of creating, and discovering what worked and what didnt. I always write down all my recipes in notebooks, not on my phone or computer, but on paper.
Every now and then it turned out to be a success, but that didnt happen every day. As you know, superfood and a lot of healthy flours and unrefined sweeteners are quite expensive, so I spent a lot of money on it. My partner was not very enthusiastic about that, so I had to limit my use of certain products. And berries for example was something I could only buy once a month or so. My access to expensive ingredients was quite limited when I started, and therefor I developed a creativity that I otherwise probably wouldnt have. And I can say by now, that I am very good in putting together a delicious treat with only a few ingredients, I simply take what I have at home, I dont buy a lot of expensive foods for my recipes. Luckely its going well by now, and I get many products from companies that support my work. I am forever grateful for all the possibilities that I am given through following my passion, and I believe my work has great value for health interested people.
To end the story I started: my partner now support what I do, and even wants to help me write an ebook with my recipes. He asks for a dessert every day, and looks quite disappointed when there is no sweets in home. Haha, but that is a very good sign for me, my recipes have improved a lot since I started, especially now lately! That is making me very happy actually!
If you can imagine it, you can make it. Thats how simple life can be.
Now its time for me to share this wonderful recipe! Its simple, healthy and perfect for a sunny day that you hopefully will experience this weekend!
Sweet, rich, smooth... and better than anything you can buy at the grocery store!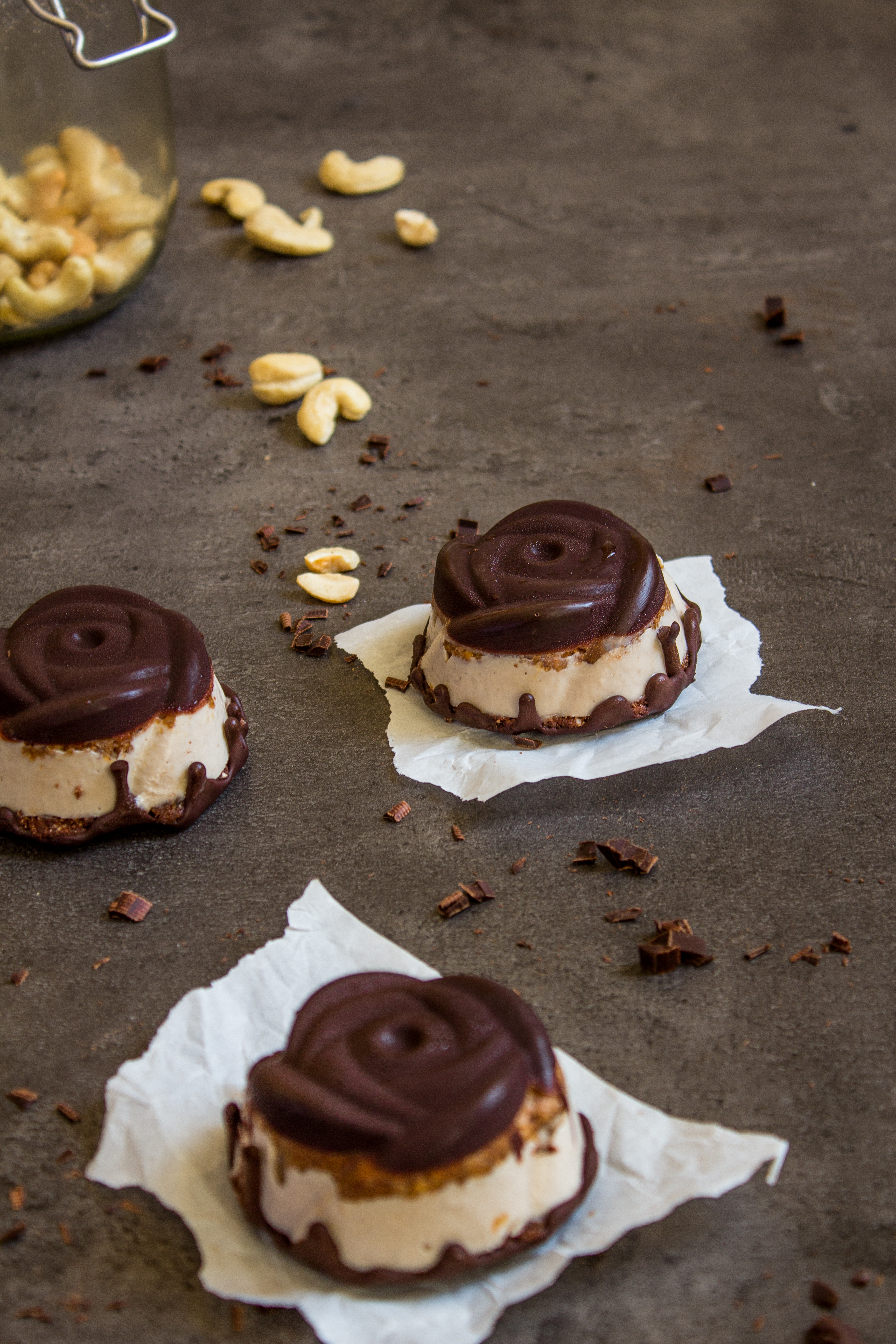 Banana Ice Cream Chocolate Sandwich with a Cookie and Almond Butter Base! (I didnt know what to call it, let me know if you have any better suggestions for a name!)
Recipe!
Makes 6 or 7 mini cupcake-sandwiches
You´ll need silicon molds for these mini cakes
Ingredients:
Chocolate:
2 tbsp cacao powder (unsweetened)
2 tbsp maple syrup
2 tbsp extra virgin coconut oil
30 g cacao butter
Method:
Melt the cacao butter and coconut oil in a water bowl.
Blend the melted cacaco butter and coconut oil with the maple syrup and cacao powder in a blender for 1-2 minutes until shiny and smooth. Be sure its completely smooth.
Pour some of the chocolate in the silicon molds, you can make the chocolate layer as thick or thin as you wish, remember that it is very rich in taste, so dont make the layer to thick if you are not a big fan of a huge portion dark chocolate.
And set aside the rest if you have some left. You can use the leftover chocolate later to decorate the cakes with it.
Freeze until set.
Almond Butter layer:
6 tbsp roasted almond butter. (make your own: bake 200 g almonds at 200 degree celsius for 10 minutes, be careful that you dont burn the nuts! Blend in a food processor or in a high speed blender, or use a peanut butter maker machine as I did. Blend until thick and still a little crunchy,the texture should not be to thin and smooth, you must be able to form the butter with your fingers.)
Method:
Add 1 tbsp for each cake, upon the frozen chocolate i the molds.
Banana Ice Cream:
1/2 cup cashew nuts (soak them for 4-8 hours, rinse and drain well before use)
1 tbsp maple syrup
1 tbsp cacao butter
1/2 tbsp extra virgin coconut oil
1/2 cup oat milk or any other dairy-free milk
1 ripe banana
vanilla from one or 1/2 vanilla bean
Method:
Melt the cacao butter and coconut oil in a water bath and set aside.
Blend all the other ingredients in a high speed blender or food processor, for some minutes until smooth and silky.
Add the melted cacao butter and coconut oil to the cream, and blend some more.
Pour the cream over the almond butter layer, and put back in the freezer.
Freeze until set. (1-2 hours)
Chocolate Cookie Base:
70 g cashew nuts (or any other nuts.)
75 g dates (chopped and pitted)
1 tbsp cacap powder (unsweetened)
2 tbsp coconut shred (or 1 tbsp coconut flour and 1 tbsp coconut flakes)
Optional: pinch sea salt and vanilla
Method:
Blend the ingredients until sticky and well combined.
Press out the dough on the frozen banana ice cream.
Take the cakes out of the molds.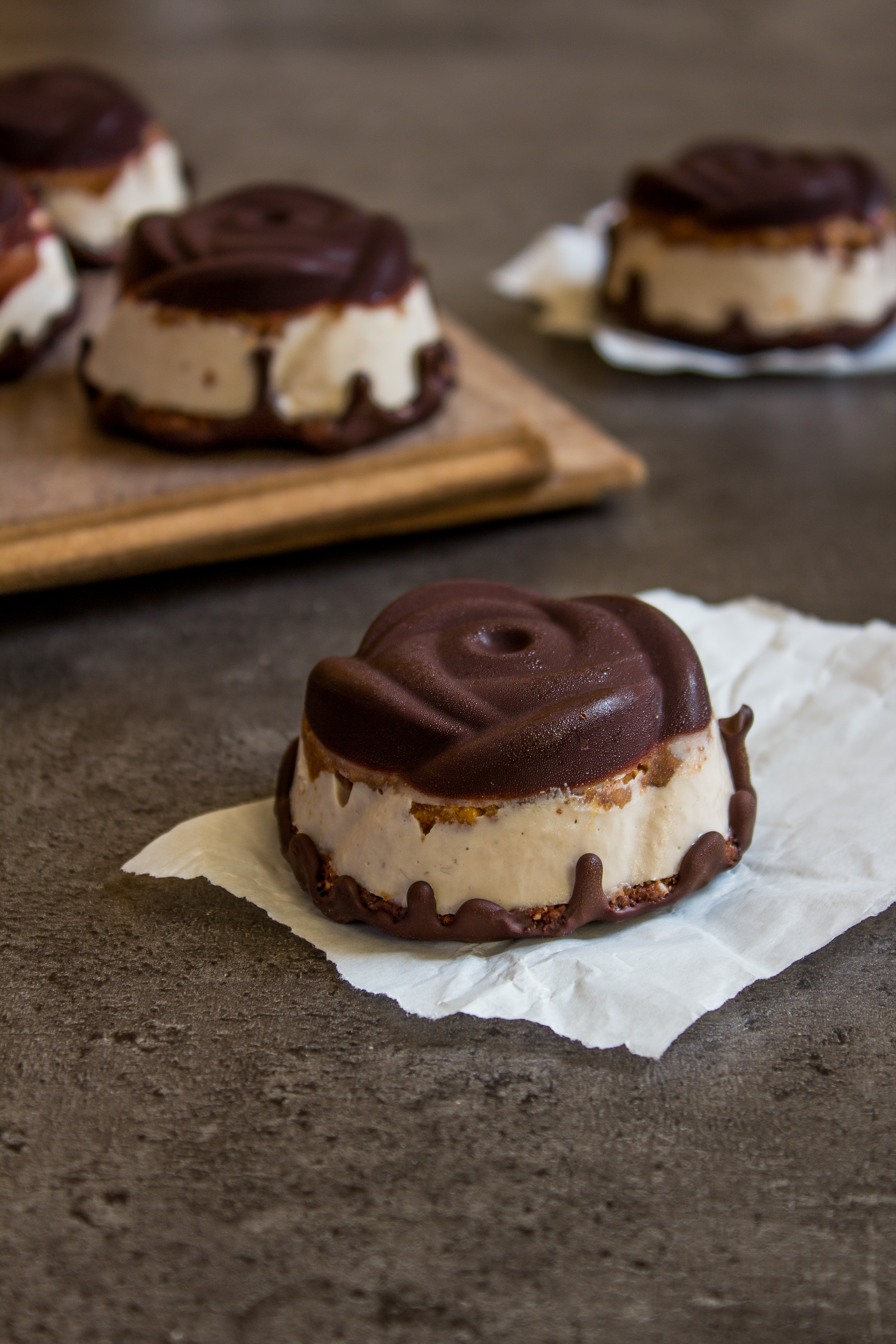 Decorate if you want with the left-over chocolate, and let the mini cupcakes defrost some minutes before enjoying!
Let your dreams come true!
Have you enjoyed this recipe and my pictures? Than let me know in the comments below, and I am forever thankful for all your support on my journey on fulfilling my dreams and goals here on Steemit! I create my recipes with heart and soul, and the joy I feel while I create, is what I want to share with you through my posts! I love to take beautiful pictures, and let you see glimpse of how amazing vegan desserts, cakes and food can be!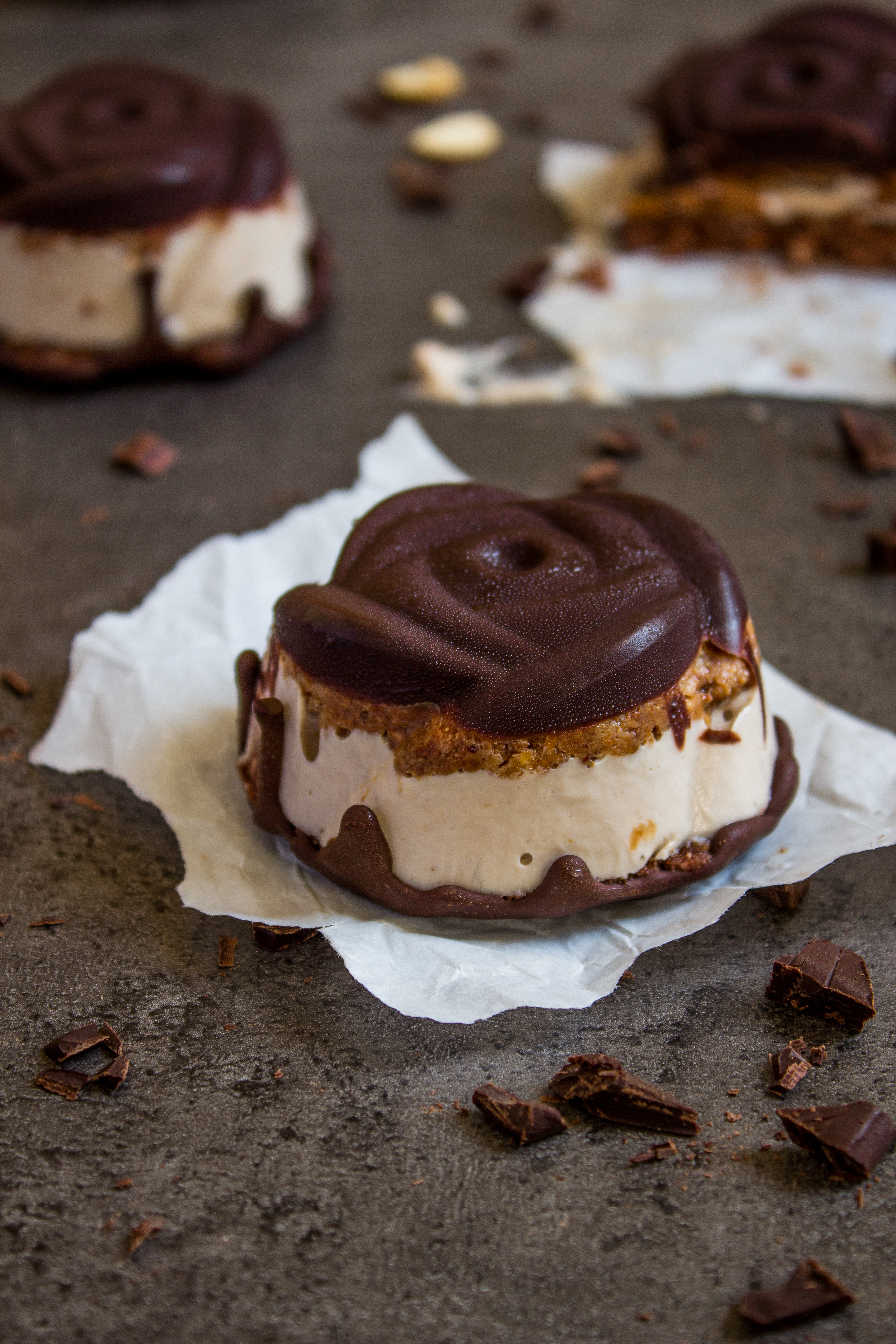 Love, Niina
Check out my instagram and blog for many simple and healthy vegan recipes.
---
While you are still here, take your time to check out my other recipes and recent posts:
Granola in 10 minutes! Recipe
PEANUT BUTTER-CHOCOLATE CUPS with roasted hazelnuts Recipe
Pancakes:
---
Poetry & Inspiration:
Life changing questions
This MOMENT- POETRY AT THE AIRPORT
How to find your inner purpose in life❤
---
Thank you all! ❤
I want to inspire you to live your dreams, eat delicious, wholesome, nourishing, healthy food, and keep a creative mind. We all can do that, now!❤
---
All content and images are mine and original. Please dont use without my permission.