Hi my friends! Its time for you to create the best sunday brunch you can imagine! But keep it simple, its weekend!
My mother called me today and asked me for some breakfast/brunch ideas. She told me that she is having some guests over tomorrow sunday and wanted to make something special for them. So I gave her some ideas that she liked, and the same I want to do for you today! I know many of you enjoy some special food and time at the weekend, so here are my top 5 recipes and ideas!
Here is what I have for you today:
a beautiful overnight and berry mandala
chia pudding
peanut butter-banana pancakes
wraps
hazelnut pancakes with a peanut caramel cream
Get inspired and create magic in your kitchen!
Overnight oats with a fruit mandala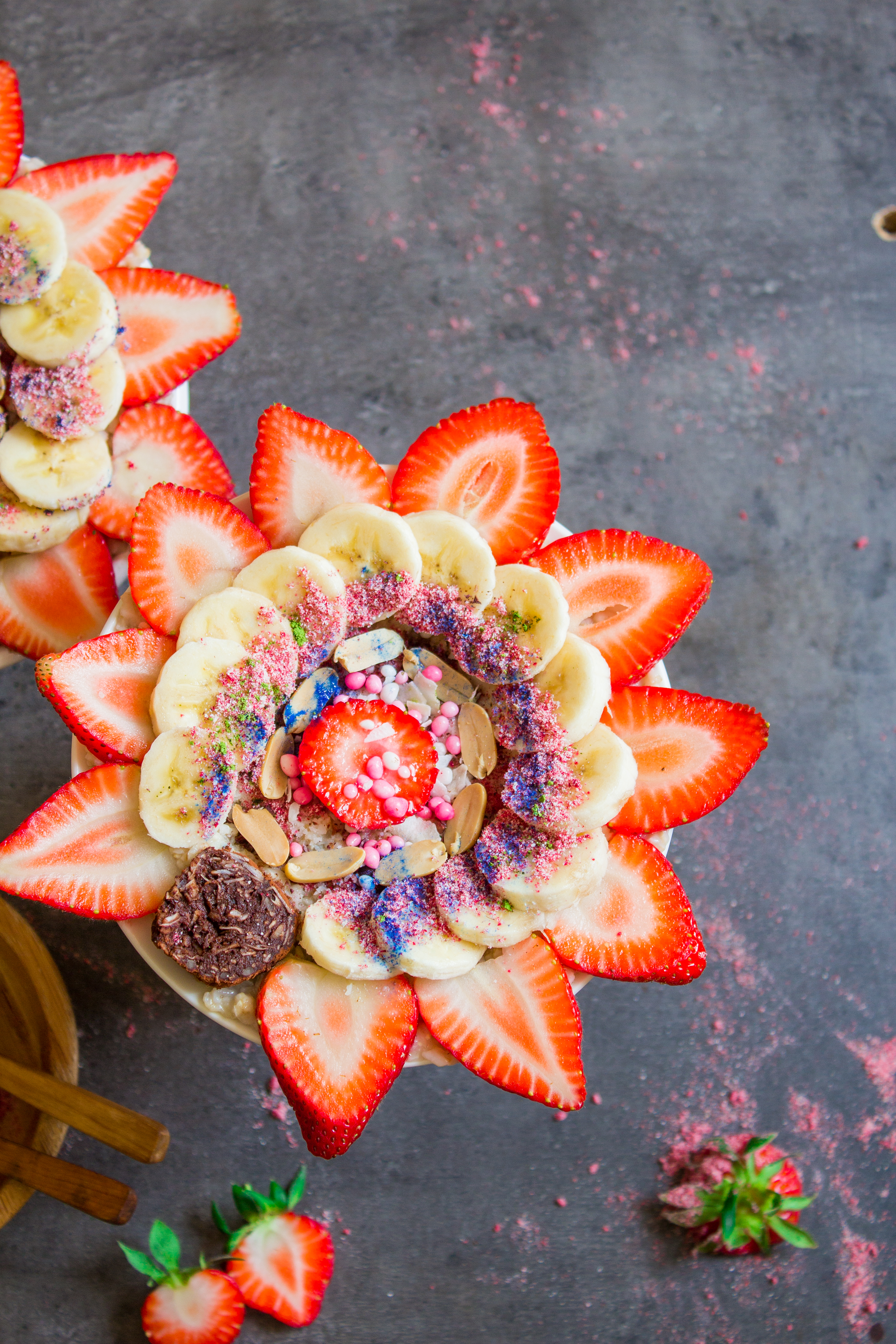 For 1-2 servings
Ingredients:
1 cup rolled oats or millet flakes
1 cup plantbased milk
pinch vanilla
Optional: 1 tbsp chia, cinnamon, mashed banana.
Method:
Mix the ingredients in a bowl and let it set overnight.
Top with sliced fruits and berries of choice. If you like to make it special, take your time and create some art! Your eyes will be happy;)
---
Chia Pudding with 2 basic ingredients
makes 2-3 servings
Ingredients:
1/4 cup chia seeds
1 cup plantbased milk
Optional: vanilla, berries, fruits, maple syrup or/and vegan yogurt.
Method:
Mix well together in a bowl.
You can mix or blend on part with berries, and other with mango, the third with blue spirulina or kakao to give the chia pudding beautiful colours and taste.
Layer in jars and top with berries and roasted nuts/chopped vegan chocolate.
---
Peanut butter-banana pancakes!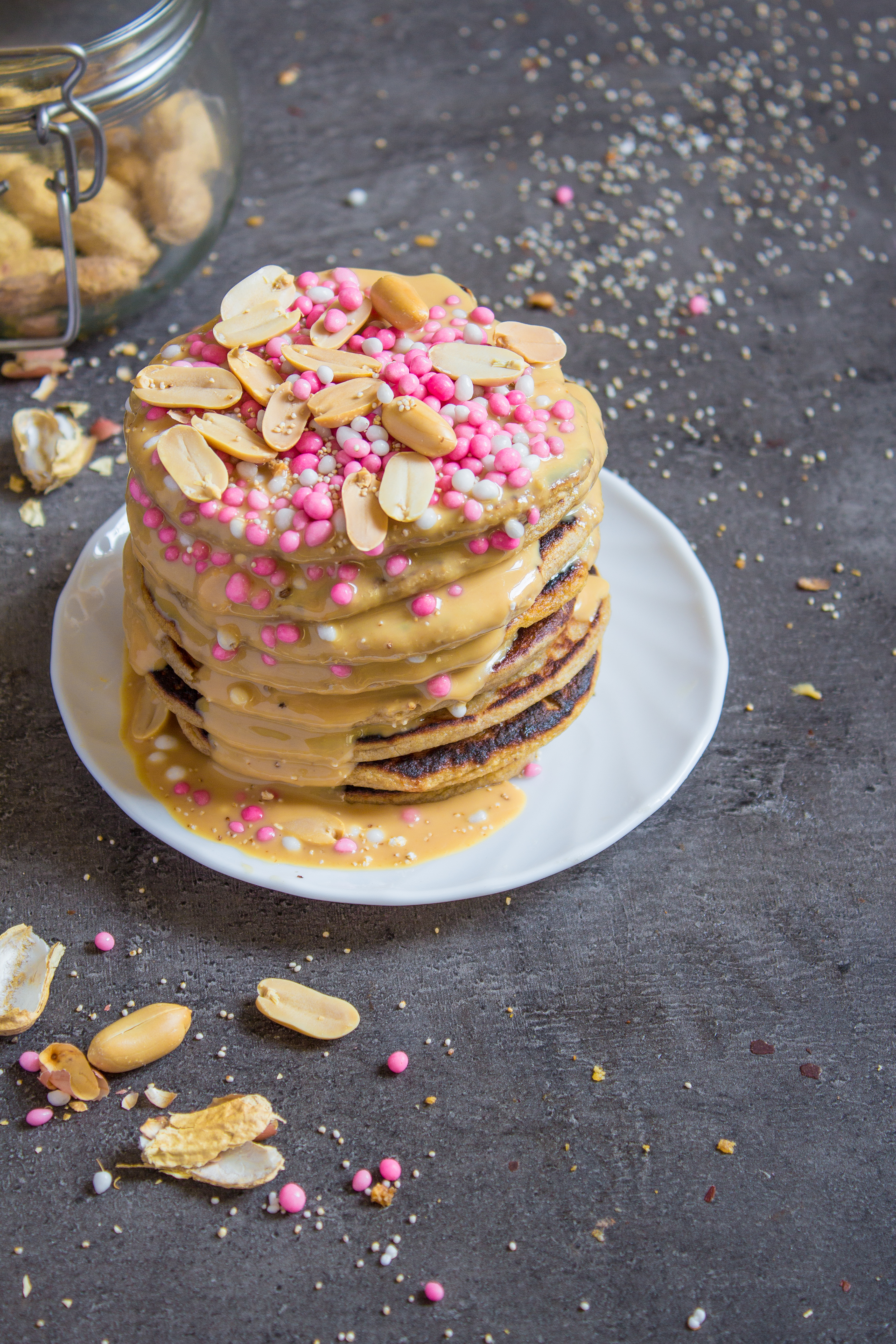 8-10 medium sized pancakes
Ingredients:
1 cup rolled oats
1 tbsp natural peanut butter
1 tbsp unsalted peanuts
1 cup plantbased milk
1 ripe banana
1 tbsp chia seeds
Optional: pinch vanilla (and sweetener if you like to have your pancakes sweet)
Method:
Blend the rolled oats, chia and peanuts in a blender until you have a fine flour.
Add the other ingredients and blend until well combined.
Let the batter set for 5 minutes before you cook them on medium heat on borth sides for a couple minutes until through.
Top with more peanut butter and enjoy with banana slices!
---
Wraps filled with baked egg plants
I just come across this older image of mine and got hungry! Here you can read how to make them;) I use to make my own flatbread gluten free and use aquafaba for the dough. This is our typical sunday brunch or lunch, and its simple to make but a little time consuming. If you love the idea that you can fill them with whatever you like, this is the best sunday brunch you can make! I always make some hummus or avocado dip to have with the wraps. And of course many more veggies;)
---
Hazelnut Pancakes with a peanut-caramel cream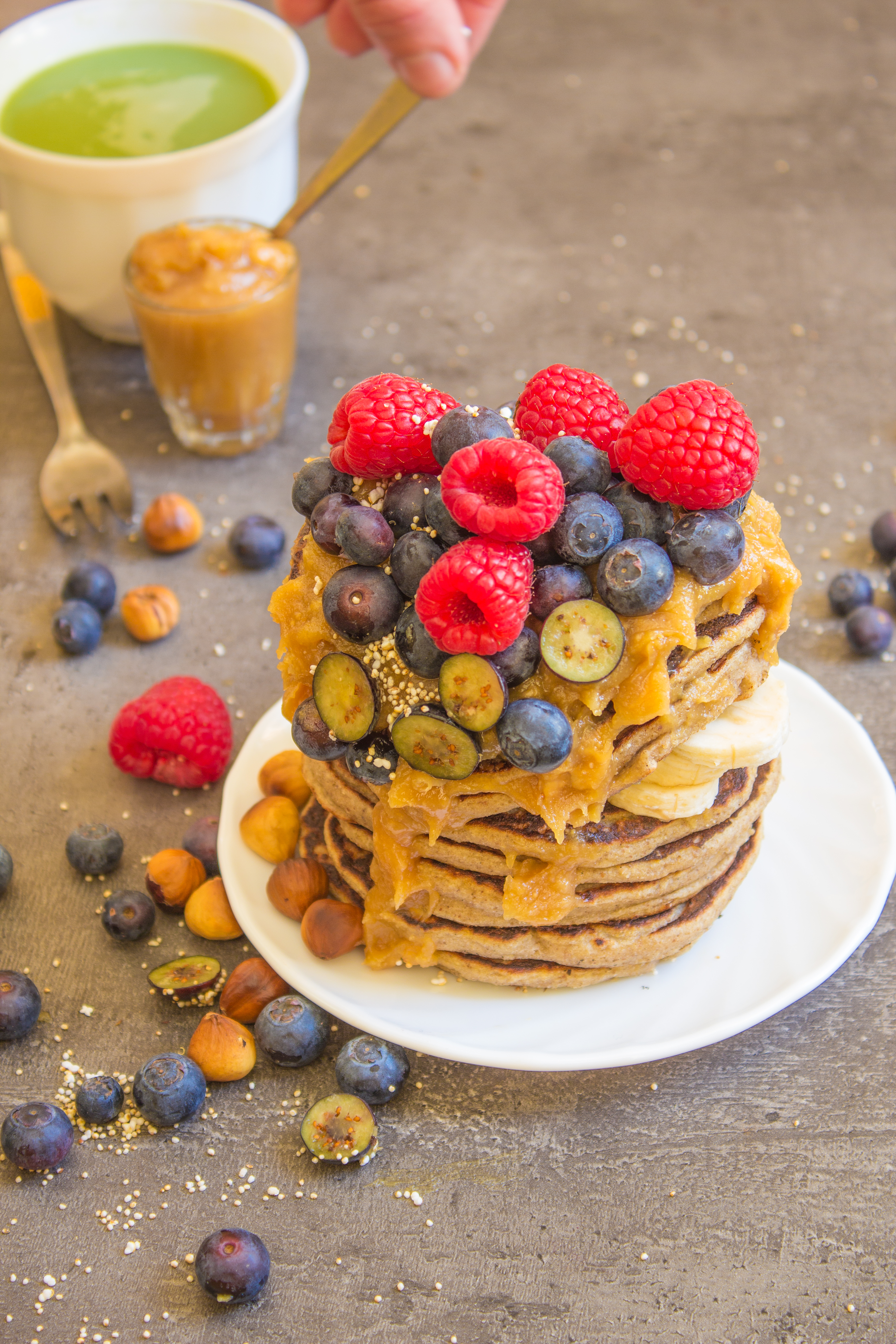 8-10 medium sized pancakes
Ingredients:
1 cup rolled oats
1 tbsp chia seeds
1 handful hazelnuts (you can use roasted nuts if you like more nutty flavour)
2 tbsp coconut flour or almond flour
1 ripe banana
1 1/2 cup plantbased milk
1/1 tbsp apple vinegar
Optional: pinch vanilla (sweetener if you wish to make sweet pancakes, about 1-2 tbsp)
Method:
Blend all the dry ingredients in a blender until you have fine flour.
Mix the plantbased milk and apple vinegar in a bowl and set aside for 5 minutes before you add it to the dry ingredients.
Blend all the ingredients and pour the batter in a bowl before you let the batter set for 5 minutes.
Cook on both sides until through.
If you want to make a peanut butter caramel cream, simple add maple syrup to 1/2 cup natural peanut butter and stir with a fork. Add little by little and stop when it is sweet enough. You add some water to make the caramel more liquid, or keep it thick.
Eat and enjoy with a cup of matcha and many berries. Yumm;)
---
Today (sunday) is my birthday! I have made a beautiful and delicious vanilla-chocolate no-bake cake that I will share with you, as soon I have have all the pictures ready. (Today will be my day off to celebrate with my small family). So see you on monday again! Happy birthday to me;)
Remember to join my #HappyBirthdayContest ! I am looking forward to all your entries, and thanks to all of you who already have made one! Here you can read how to enter my party! You have time until 16th april to participate.
......................................................................................................


Love, Niina
Check out my instagram and blog for many simple and healthy vegan recipes.
---
While you are still here, take your time to check out my other recipes and recent posts:
Pancakes:
---
Poetry & Inspiration:
This MOMENT- POETRY AT THE AIRPORT
How to find your inner purpose in life❤
---
Thank you all! ❤
I want to inspire you to live your dreams, eat delicious, wholesome, nourishing, healthy food, and keep a creative mind. We all can do that, now!❤
---
All images are mine. Please dont use without my permission.