When You Are Called to the Test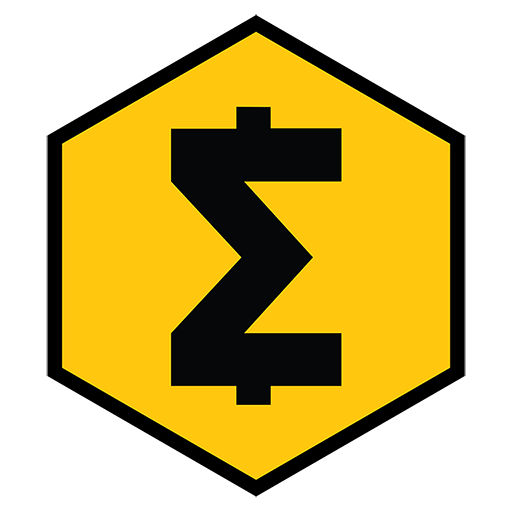 Getting Ready
As you all know I was in Montreal over the weekend. Montreal one of the french speaking parts of Canada and I have a very few words of french to greet, and to let you know "I do not speak French"
Armed with this obvious language barrier I set off on my 4.5 hour flight to the to Montreal. As you may have already gathered it was my first time there. It did not help that the only person I met who had previously lived there told me stories of the hostile attitudes towards English speakers using this story as evidence so you can understand the picture I had in my mind ---- not a pretty one. The people I met were kind and permitted me to speak in English when I told them there was someone else to speak to them in French. (All my time back in Abbey National Bank meeting and greeting customers is finally paying off)
---
SmartCash Merchandise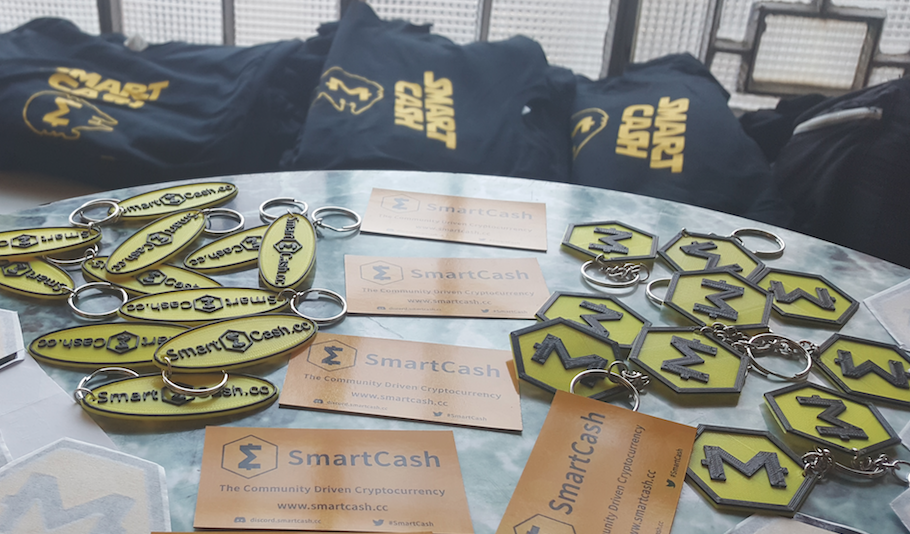 ---
The event I went for was Salon de la Crypto sponsored by #SmartCash. There were several Canadian crypto related businesses with booths showcasing their services. There were several mining type operations and sellers of GPU rigs and ASIC miners. Some other vendors stood out for me like EOSNation and La Bulle CRYPTO these two in particular made me wish I understood french for two reasons,
To listen to the EOSNation's presentations
To continue to listen to La Bulle CRYPTO's Podcast which is in French.
I spoke with both teams and it was clear to me they are passionate about what they do and believed in it. In our era of fake news and half baked information, and what I call lazy writing - writing about topics without taking time to get the facts right. La bulle CRYPTO offers a podcast on cryptocurrencies they give short overviews and detailed analysis on coins voted for by their listeners. I am impressed with their efforts to understand the space and get the information from the source and not present half baked information as facts.
---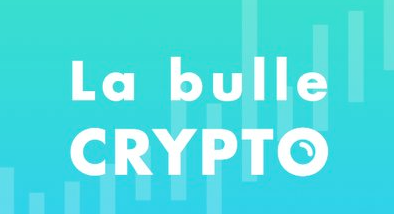 ---
The Experience
My first impression of the audience was that they were really engaging. They did not want bullet points they wanted significant details. They were people of different levels; those who had just started their journey into the cryptocurrency world, those who and traded, all the way to seasoned miners who had mined #smartcash in the first weeks and sold for profit later. I found that for everyone of them I had something of value to offer.
There was a particular group of young men who came with what I would call a "bored attitude - I dare you to impress me"
He claimed he had crypto (probably mined bitcoins when you could mine on your PC) and they were all useless as you could not really spend them! (you can imagine my shock, seeing that my airfare and hotel accommodation was paid for in cryptocurrency.) I took time to inform him of services available in Canada:
Bylls - allows you pay your bills in cryptocurrency
Coincards - allows you buy gift cards of major Canadian stores
BTCTrips - Flights
Destinia - Flights & Hotels
In a sense it was a test to prove all I claimed I knew about #smartcash and the real test came when Ivan asked for help to set up his #smartnode. It was something I had done several time and more recently using a snapshot of an older node to start a new one. This time there was no snapshot. There was no quick access to discord for the user to get help it was just me. Its a good thing I know where to find all the #smartnodes documents: http://smartnodes.cc/ I pointed him in that direction and got him started and continued to attend to people who came to find out about #smartcash. There were a few hiccups and one restart, eventually the smartnode setup was completed and the relevant tools to monitor the newly setup smartnodes put in place - #smartnodemonitors on discord and bitcoiner.me website configured with nodes IP address.
---
Nitego & Ivan - One Satisfied SmartNode Owner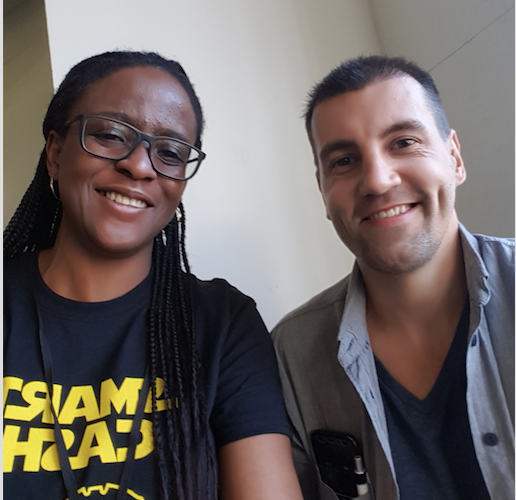 ---
This made me wonder. How well do you know what you think you know? can you deliver under pressure, away from the comfort of usual tools and environment? I was glad to find out I could even while multi tasking and with less than 100% focus. Ivan met the #smartcash dev team (Enrique and Gonzalez) in February 2018 at the Anarchapulco conference in Mexico. He went on to buy some smartcash, and came to the event expecting to meet the Enrique or Gonzalez and get them to set up the #smartnode. I would not claim to be a great alternative to either of these developers but I was available and adequate - knowing where to get the relevant information on the spot.
---
Enrique & Gonzalez - Acapulco Mexico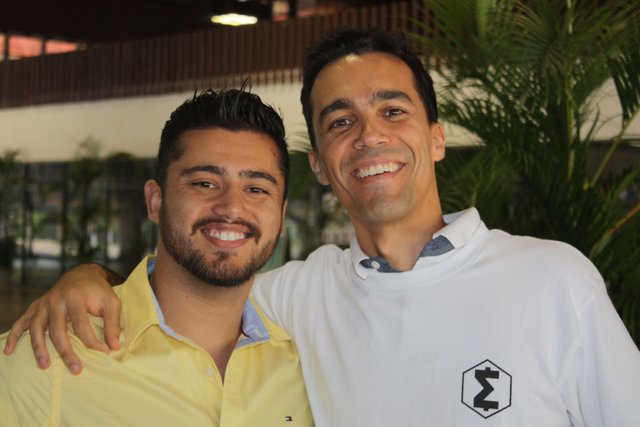 ---
Conclusion
There was certainly a lot to be learnt from attending this event in particular. While in our crypto currency space we may assume a lot on how to use exchanges, wallets and all we take for granted as basic. I got to see from the eyes of a new comer and found out our processes are still very complex. Think about this simple dialogue:
Question : how do I buy smartcash?
Answer : you can buy smartcash on various exchanges like CryptoBridge, CoinExchnage - - -
In between the questions and the answer are many steps we assume:
Open account with on Fiat to Crypto Exchange like CoinBase or CoinSquare in Canada (CoinSquare has higher limit than CoinBase ranging from $500 to $10000 unlike CoinBase that starts you at $100 and takes forever to increase it. CoinSquare has the advantage of allowing you buy through email money transfer and interac payments. In Canada CoinBase only accepts credit/debit card payments hence the very low limits)
Waiting time. Many exchanges that have a fiat trading option carryout Bank type verification which takes weeks or months depending on their backlog of new accounts (the new user is getting really frustrated at this)
Understanding wallets and wallet security (why can't I use one wallet for all coins)
Understanding that the Bitcoin wallet can not be used for #smartcash (another wallet again!)
Staying focused - It's a month now and still I can't buy bitcoins because my account has not been approved and the price of bitcoin and smarts is getting higher ---
Unfortunately there is no easy way around these initial pains of entry the crypto currency market, not unless you use a Bitcoin ATM or buy in person.
It's become crystal clear that the mass adoption we seek will only come when the processes are streamlined to make buying crypto as easy as sending a text message or email. Never the less it was exciting meeting @Oucan again, Victoria the youngest #smartcash community member I have met, and her Mom Michelle, working with @doc.momo, @lily31 and iTeachIT and meeting lots of great people.
---
Can You Guess Who in the Photo is Victoria?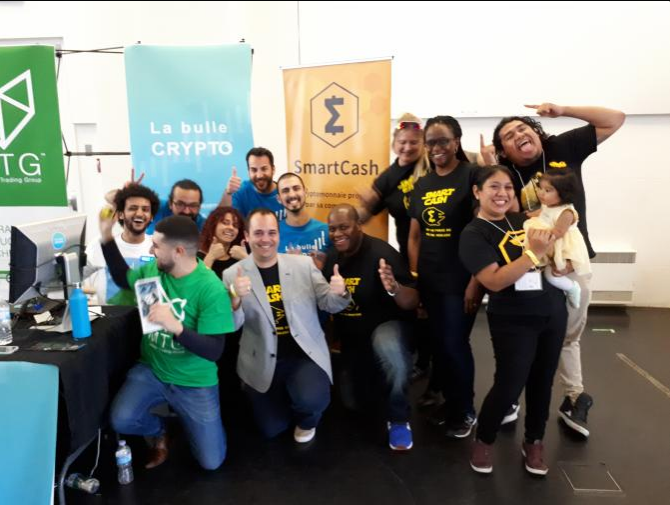 ---
Learn More About Smartcash:
Smartcash.cc
Join Our Community:
STEEMIT
FORUM
TWITTER
REDDIT
FACEBOOK
TELEGRAM
DISCORD
INSTAGRAM
Thank you for visiting me. Do you have any tips and tricks to share? I like to hear from you all. Please leave a comment, upvote and resteem
My Smart Address: SXYEPzkF9QBsKnyFQwJVdZwe5rJsL94Re9
Please Read My Other Articles
What is SmartCash
What Is In A Name
SmartCash Sister Coin -BitcoinConfidential
Voting on SmartHive Proposals
Starting From The Begin - SmartCash
Spring Resolution - Keep Walking
SmartRewards and NodeRewards = Another Smartnode
Smartcash is my Prefered Upvote on Steemit
BarterDex Trading With SmartCash
New Hardware Wallets -Coming Soon
My SmartNodes Update - 60 Days
Kaspersky Lab Hardware Wallet - First Impressions
400 Followers Celebration Contest - SmartCash Giveaway
Reaching My Goals On Steemit - Weekly 250
When a Dip is not really a Dip
EOS Registration Deadline Approaches -Tips for Trezor Users
Anarchaforko First Time Experience - Notes from Acapulco
Smartcash RoadMap Updated
SmartCash Coming To A Shop Near You
SmartNodes - Stay the Course
It's Raining Smartcash
When the going Gets Tough
How to Invest in SmartCash part 1 -for Non Geeks
How to Invest in SmartCash part 2 - for Non Geeks
Introduce your Teens to smartCash
SmartCash Coin of the Future