Smartcash in my prefered upvote on Steemit
On a previous post I chose to play around with upvote bots and resteem services to see if I could increase my earnings on steemit. To this end I increased my SteemPower from the Previous 210 to 400. Bought 10 SBD solely to promote this post. At the time of purchase cost was about $35 usd. My thinking was if I had to get bots to upvote me then let it be worthwhile. I must say I am pretty disappointed as there has been not significant increase in my earning per post. Infact in appears that the upvotes where given by new empty accounts and contributed nothing to my earning instead took away from me twice:
First in fees paid to the bots
Secondly 25% curation award going to the bots for doing nothing
At one point during the day I had 117 upvote and the projected earnings was $2.10!
That was pretty ridiculous when you compare that to another paid post of mine that made $3.00+ on about 16 upvotes while my steem power was half of what it is today. I decided to increase the amount per bot and finally got some reaction
---
.

---

---
In the midst of all this madness, it occured to me I could earn up to 120+ #smartcash per week and more if I won any prizes like I have previously as a part of the #TeamSmartCash on Steemit . I started to look at my Steemit account and compare my earning in #Steemit to that in #smartcash and I can boldly say I have earned more consistently from #smartcash than I have from the #Steemit platform.
MPV Price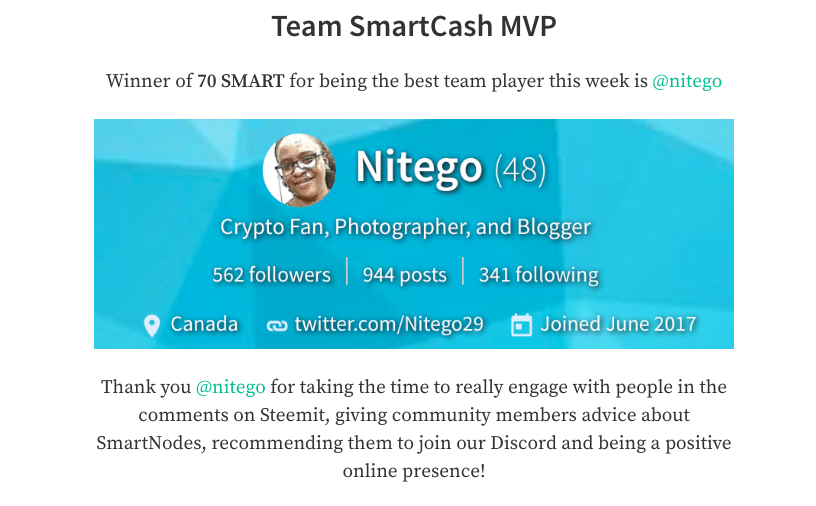 ---
Best Article for the Week: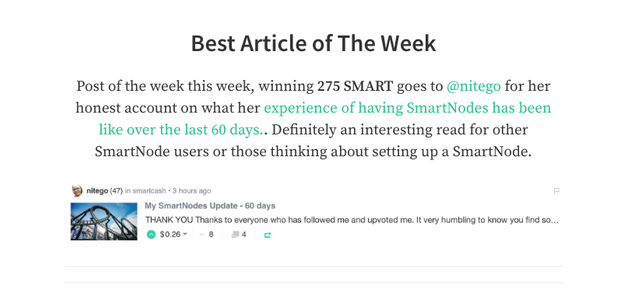 ---
At the time or writing my article has got on the trending page! I do not recall that ever happening. I am starting to see some possible benefits of using the bots and would say to anyone trying it out to:
Take time to understand, I did not I jumped right in
Study the ROI of each bots even the best bots are not good return on investments all the time.
CONCLUSION
As a new user to Steemit you may struggle like I have to get to the point where you can earn a steady income off the Steemit platform. It would appear using bots is the quickest way to get seen and upvote. There is a downside to it:
Bots cost money to win bids
Using Bot, you may sometimes run at a lost -there are no guarantees
Bot Votes and resteems to not translate to followers for you or repeat visits to your post. You have to pay each time.
Joining the TeamSmartCash of Steemit on the other hand allows you build a community of real people and friends who would support just because you are part of the same team. You would earn #smartcash for you post that meet certain criteria while also earning on steemit and since you are making friends like I have and travelled all the way to Mexico courtesy of #smartcash you will have an enjoyable time building your account on Steemit and hopefully one day reach your goal.
The best part is you do not have to buy the smartcash tip on each article. Just provide quality content that conforms to the rules.
If you will like to learn more about our smartcash team here on Steemit join our discord and follow @smartcash here on Steemit.
---
Learn More About Smartcash:
Smartcash.cc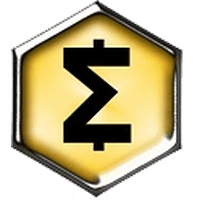 Join Our Community:
FORUM
TWITTER
REDDIT
FACEBOOK
TELEGRAM
DISCORD
INSTAGRAM
Thank you for visiting me. Do you have any tips and trips to share? I like to hear from you all. Please leave a comment, upvote and resteem
My Smart Address: SXYEPzkF9QBsKnyFQwJVdZwe5rJsL94Re9
Please Read My Other Articles
My SmartNodes Update - 60 Days
Kaspersky Lab Hardware Wallet - First Impressions
400 Followers Celebration Contest - SmartCash Giveaway
Reaching My Goals On Steemit - Weekly 250
When a Dip is not really a Dip
EOS Registration Deadline Approaches -Tips for Trezor Users
Anarchaforko First Time Experience - Notes from Acapulco
Smartcash RoadMap Updated
SmartCash Coming To A Shop Near You
SmartNodes - Stay the Course
It's Raining Smartcash
When the going Gets Tough
How to Invest in SmartCash part 1 -for Non Geeks
How to Invest in SmartCash part 2 - for Non Geeks
Introduce your Teens to smartCash
SmartCash Coin of the Future