Introduce Your Teens to SmartCash
Smartcash is what I commonly refer to as a coin of the future. With coins like this, I think it's important to set our younger generations up with any information we can. We need to reach out to teens in particular, because the investments they make today, can be their saving grace tomorrow. The following is a (slightly fictional) conversation between my teenage daughter and I.

Mom: Ally, you know how I have be delving into cryptocurrencies? Well there is one special coin I think you might want to consider.
Ally: Is it DASH? Ethereum? I already have one and can not wait till they start staking so I can get more of it
Mom: No, none of those. It's SmartCash.
Ally: SmartCash? I haven't heard about that yet, is it some fork of Bitcoin?
Mom: No, it's not. SmartCash is a new project which is very Community focused. Since it's your objective to create wealth and become a financially independent young adult, SmartCash is a great option. They have a system where you receive SmartRewards, (13.09% is estimated for November payouts) for every 1000 SMARTS you have held for 30 day on the 25th of each month. The best part is that it is a compound interest, so that the SmartReward you earn eventually becomes basis for which the next SmartRewards are calculated. There is a calculator on the website to show you your estimated rewards.

SMARTREWARDS CALCULATOR:
https://smartcash.cc/what-are-smartrewards/#toggle-id-1
Ally: Alright, so how can I buy SMARTS?
Mom: There are various Exchanges where SmartCash can be bought. There's a list that can be found on the website:
https://smartcash.cc/get-smartcash/
Ally: So now that I have them, where do I store them? Can I use any Crypto Wallet?
Mom: SmartCash has its own wallet. In fact SmartCash has various wallets that you can choose from:
Mom: Remember when I spoke to you about keeping your Ethereum in a paper wallet? Well the same applies here, since you would not be trading your SMARTS but holding them for a long while. I would suggest the Paper wallet.
Ally: Paper wallet?
Mom: Yes, it just means the wallet can be generated offline and details of your private keys are not stored or accessible online.
Ally: How then do I keep track of my SmartCash holdings?
Mom: SmartCash has BlockExplorer where you can enter your address and view your holdings.
Ally: That's fine then. What about if I want to spend it after 10 years of saving?
Mom: You can then download the desktop wallet or use the web wallet to import your Private keys into the wallet and you can then send or spend you SMART as you wish.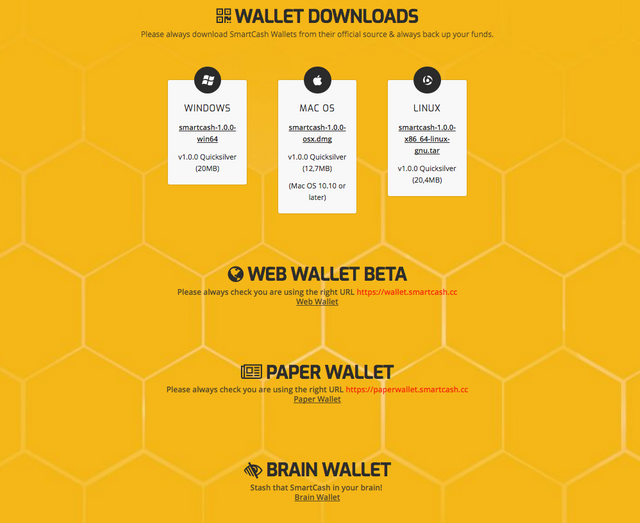 ---
Mom: I'll make you a deal. I will buy you 1000 SMARTS and send them to a Paper wallet which you will create and properly backup. You would pay me back from pocket money over time. This way you can be on track to earn your very first SmartRewards!
---
My Smart address: SZuD6sbjBwToeYcuU6Td4MAqU5H5SWi9MJ
#Smartcash #Smart #Cryptocurrency #Bitcoin #SmartRewards