EOS - Registration Deadline Approaches - Tips for Trezor Users

EOS Tokens
As I sit around wondering what value to add to the community, my husband suggested I write about the EOS registration. This is apt as I just did mine yesterday and had a few challenges which I can guide others around. For many of us on Steemit having understood the value of the Steem blockchain we can not overlook the potential of EOS to achieve its goals of a self-funding and regulated platform (my words) and to quote them 'an open source smart contract platform'.
To this end many of us may have participated in the on-going ICO or purchased from a direct market like I did. Whichever way you got your EOS tokens, there is one step we all tend to overlook: at least I did for a few months until I got a notice from the team at Exodus wallet: there is a need for the EOS token to be registered. Why, you may ask?
The simple answer is the EOS project is only using the Ethereum platform ER20 token for the sole purpose of crowdfunding. At the end of the ICO when the EOS blockchain goes live the current EOS ERC20 tokens would have no value.
The aim of registration is to pair your ETH address containing your EOS ERC20 tokens with an EOS public key. EOS will be carrying out a snapshot of all ETH addresses paired to the EOS keys. Only addresses that show up in the snapshot will have the new EOS on the EOS blockchain when it goes live. This key-pair is what will give you access to your EOS tokens on the new EOS blockchain.
Within 23 hours after the end of the final period on June 1, 2018 at 22:59:59 UTC, all EOS Tokens will become fixed (ie. >frozen) and will become non-transferrable on the Ethereum blockchain. At this point the EOS Token distribution will be complete and any person who wishes to launch a public blockchain platform adopting the open source EOS.IO Software (an "EOS Platform") will be able to generate a file or "snapshot" showing the fixed balances of the EOS Tokens from the state of the Ethereum blockchain (the "Snapshot"). As block.one will not configure and/or launch any EOS Platform, block.one will have no control over when, how or whether the EOS.IO Software is adopted or implemented, or how, when or whether a Snapshot will be created or used or whether an EOS Platform is launched.
The Rules
The registration rules are well-documented on https://eos.io/instructions as I do not believe in reinventing the wheel. I have pasted the details below.
In order for the balance of your EOS Tokens to be included in the Snapshot if a Snapshot is created, you must register >your Ethereum address with an EOS public key.
Registration is only required once for each Ethereum address, even if this address is used multiple times to participate in the EOS Token distribution.
You should hold all of your EOS Tokens in the same Ethereum address and register your EOS public key to that Ethereum address.
Do not register the address of an exchange account, if you hold EOS tokens in an exchange account, you need to transfer your EOS tokens to an Ethereum address which you have full control over before the EOS Tokens become non-transferable on the Ethereum blockchain which is expected to occur within 23 hours after the end of the final period on June 1, 2018 at 22:59:59 UTC and then use your own Ethereum address to register. We suggest you not wait until the last minute to register your Ethereum address with an EOS private and public key pair.
If you hold EOS tokens in multiple Ethereum address, you need to register EOS keys for each one.
If you wish to transfer your EOS tokens to another Ethereum address, you can generate a new pair of EOS public and private keys and register them with your new Ethereum address.
You can always generate a new pair of EOS public and private keys and register them with your Ethereum address. Every >time you do this, the existing keys will be replaced with the new EOS public and private keys.
The Registration Process
The registration process is different for each wallet type and you have the option to select your wallet type on the EOS website and it walks you through. To see the relevant steps and select your wallets click on the GET EOS button. You will have to accept all the terms on the page that presents itself. Scroll down the page, there will be various tabs including REGISTER.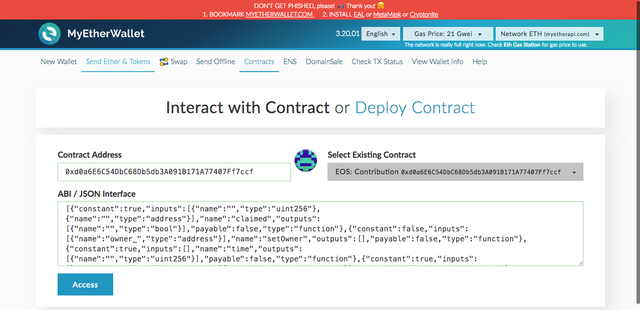 The option to register with METAMASK was the easiest option; however I have my EOS on my TREZOR wallet so MyEtherWallet was what I used. The steps are:
GENERATE EOS KEYS - Backup your keys and keep them safe. Key pairs can be generated on https://eos.io/. However I used a tool found here as it gave me the options to generate my key offline.
Connect your TREZOR device and navigate to MyEtherWallet
Go to 'Contracts' in MyEtherWallet
Select 'EOS – Contribution' from the contract dropdown and click 'Access' -once you click on the Access button more option become available using the Select a Function button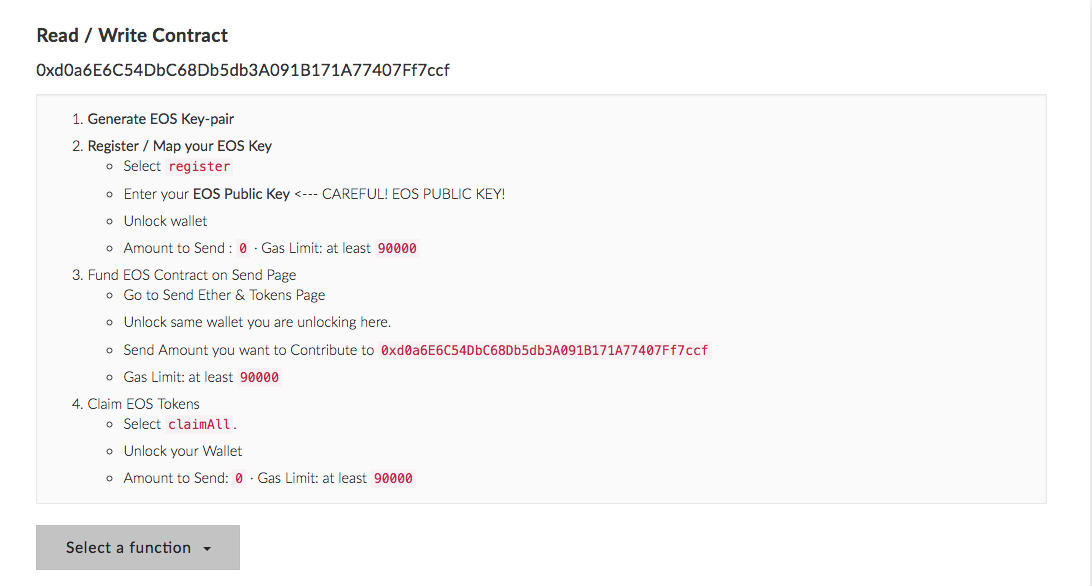 Select 'Register' from the function dropdown
Enter your EOS public key in the 'key' field
Unlock your wallet: On the TREZOR wallet this is where I got stuck using the Brave bowser. I changed to the Chrome browser and still got stuck until I allowed popups. To enable popups in the Chrome browser: chrome://settings/content/popups
and under the Popups section, change the setting to Allowed. The default is Blocked. This will enable you unlock your Trezor device and sign the transaction. This may be the same for Ledger wallets but as I do not own one I can only speculate.
Default Chrome browser setting

Change Chrome browser settings from default

Click 'Write'
Verify that 'Amount' is set to '0' - Accept the default gas price and proceed.
Click 'Generate transaction' to proceed - TREZOR will prompt you to confirm transaction
You can check Etherscan.io for status of your transaction. Once it's confirmed you can verify that all went well with the registration of your EOS tokens by carrying out the following steps:
If you would like to verify your registration, you can use the 'keys' function from the EOS Distribution Contract
Go to 'Contracts'
Select 'EOS - Contribution' from the contract dropdown and click 'Access'
Select 'keys' from the function dropdown
Enter your Ethereum public address in the 'address' field
Click 'Read'
Your registered EOS public address will be displayed in the 'string' field
Depending on how you obtained your EOS tokens you may need to claim them. If you got your tokens in the on-going ICO you can claim them following similar steps.
Go to 'Contracts'

Select ' EOS – Contribution' from the contract dropdown and click 'Access '

Verify the contract address with the address above

Select 'claim' from the function dropdown - **Do not use the claimall ** option as this will cost you lots of gas, as this will run a query on all the ICO periods (current period at time of writing is 257). Only use this if you really do not know what period you purchased your EOS tokens. If this is your case I would suggest you check etherscan.io for your transactions to the EOS contract. This will give you some dates to map to the periods.

Enter the period you have participate in the 'day' field

Unlock your wallet

Click 'Write'

Verify that 'Amount ' is set to '0'

Click 'Generate Transaction' to proceed

Once you have submitted the claim transaction, you will need to add your EOS Tokens as a custom token in order to see them.
I hope this helps someone stuck like I was on trying to get this done on the TREZOR wallet, and also serves as a reminder that participating in the EOS ICO requires more than just sending your ETH to their contract address. As we have taken the time to spend our valuable cryptocurrency let us follow through so we all reap the benefit of participating before go live.
Leave me a comment - let me know your experience registering your EOS tokens. I would especially like to hear from those you used other methods included the Ledger wallets.
Thank you for visiting me. Please leave a comment, upvote and resteem
My Smart Address: SZuD6sbjBwToeYcuU6Td4MAqU5H5SWi9MJ
ETH Address: 0x0dB0f86db751291d52467CA97E75dd03FF659F03
Bitcoin Address: 3FWWAV9GVPtXrCRGxRd8SZJYuagVgFKnNR
Please Read My Other Articles
Anarchaforko First Time Experience - Notes from Acapulco
Smartcash RoadMap Updated
SmartCash Coming To A Shop Near You
SmartNodes - Stay the Course
It's Raining Smartcash
When the going Gets Tough
How to Invest in SmartCash part 1 -for Non Geeks
How to Invest in SmartCash part 2 - for Non Geeks
Introduce your Teens to smartCash
SmartCash Coin of the Future