Long Winter
It's been a long year of cryptocurrency ups and downs. I wrote half of this article at the end of 2018, and as I finish it up today I'm happy to announce that the winter is over here, and spring is here. Let's hope 2019 brings more growth and adoption in this space.
A lot of things have happened since my last write-up, but the team at #SmartCash continues to forge ahead with development and collaborations. One of my favorites to date is definitely the SmartCash integration with the Trezor Hardware Wallet In my previous post I have mentioned my preference for the Trezor hardware wallet, which has grown even more now that I can hold my #SmartCash on it, and even start #SmartNodes too.
---

Trezor is a hardware wallet, Hardware wallets are generally considered a safer way to handle your private keys. To learn more about #TREZOR visit them on TREZOR.io
---
SmartCash has integrated the Trezor wallet with its Electrum wallet, so if you like to use this combination (assuming you already own a Trezor wallet,) you will need to download the SmartCash Electrum wallet and choose the correct version for your platform. Then install and run the application.
---
Step One
Select "Use a hardware device" connect your Trezor wallet to your computer, and enter your PIN then click on "Next" button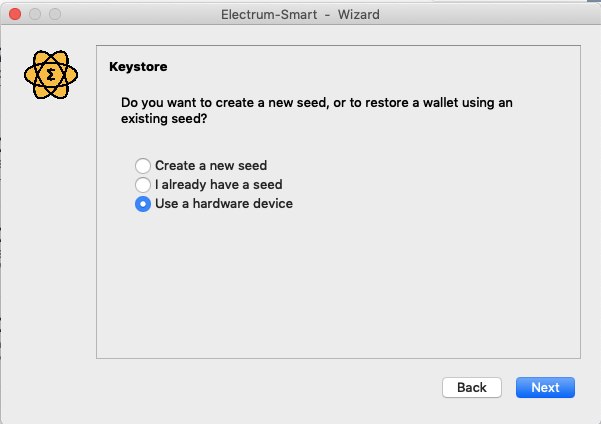 Step Two
Your Trezor wallet is now detected by the Smart Electrum wallet, and you will see whatever name you gave your Trezor during your setup. In my case I have called this device SmartNodes. Your addresses will now be created. Click on "Next to continue.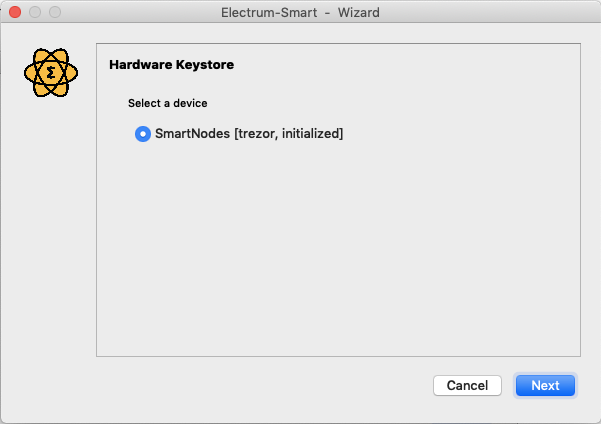 Step Three
Welcome! You have successfully launched a smart Electrum wallet from your Trezor device. This is your wallet view. If you do not see all the columns that you would like to see you can show or hide columns by going to View in the main menu.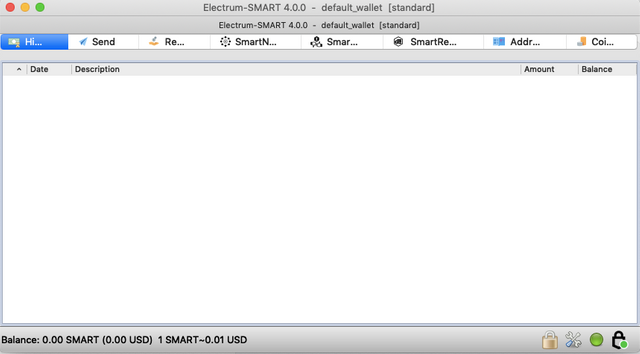 Setting up your SmartNode Trezor
Now this is the part I am really excited about. Thanks to Smartcash, it is now possible to start your Nodes from the Trezor. To set up your node send the required collateral -100000 smarts to your address. Go to the #SmartNode tab and click on "Create Smartnode" button. The interface will be the same as the QT wallet you have used previous and the steps from here on are exactly the same. For more detailed steps if this is your first time please use this All-in-One SmartNode Guide.
Create a receive address and send your collateral this is currently 100000 smarts , to this address.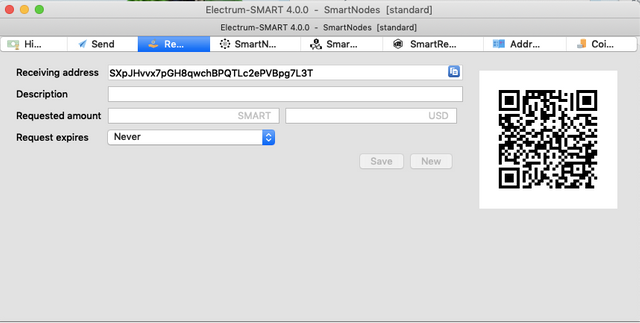 ---
Go to the #SmartNode tab and click on "Create Smartnode" button. Once you have completed the usual process on the VPS as contained in the All-in-One SmartNode Guide. you can come back to the #Trezor and Start your node with the Start Alias button.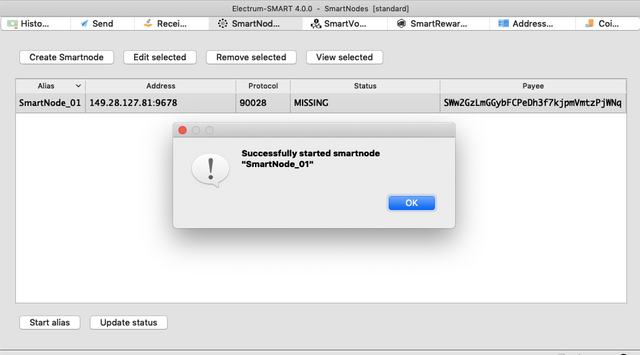 In the time it has taken me to finish this article several changes including change in the collateral from 10k to 100k. Only this week, another Hardware wallet has been introduced which will also be supporting #SmartCash. The #Ellipal wallet accepts SmartCash as payment and also get a discount I am looking forward to getting mine in the post to see if it lives up to all the praises it's been getting recently.
---
Learn More About Smartcash:
Smartcash.cc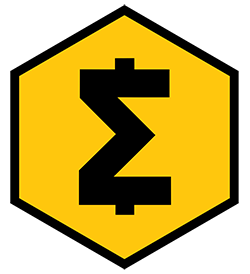 Join Our Community:
FORUM
TWITTER
REDDIT
FACEBOOK
TELEGRAM
DISCORD
INSTAGRAM
Thank you for visiting me. Do you have any tips and trips to share? I like to hear from you all. Please leave a comment, upvote and resteem
My Smart Address: SXYEPzkF9QBsKnyFQwJVdZwe5rJsL94Re9
Please Read My Other Articles
What is SmartCash
What Is In A Name
SmartCash Sister Coin -BitcoinConfidential
Voting on SmartHive Proposals
Starting From The Begin - SmartCash
Spring Resolution - Keep Walking
SmartRewards and NodeRewards = Another Smartnode
Smartcash is my Prefered Upvote on Steemit
BarterDex Trading With SmartCash
New Hardware Wallets -Coming Soon
My SmartNodes Update - 60 Days
Kaspersky Lab Hardware Wallet - First Impressions
400 Followers Celebration Contest - SmartCash Giveaway
Reaching My Goals On Steemit - Weekly 250
When a Dip is not really a Dip
EOS Registration Deadline Approaches -Tips for Trezor Users
Anarchaforko First Time Experience - Notes from Acapulco
Smartcash RoadMap Updated
SmartCash Coming To A Shop Near You
SmartNodes - Stay the Course
It's Raining Smartcash
When the going Gets Tough
How to Invest in SmartCash part 1 -for Non Geeks
How to Invest in SmartCash part 2 - for Non Geeks
Introduce your Teens to smartCash
SmartCash Coin of the Future