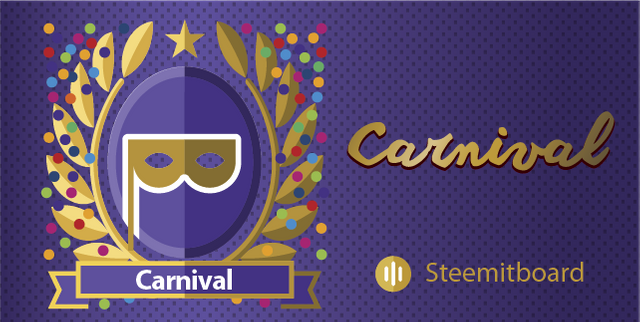 Time to discover the 5 winners of the Carnival Challenge
42 users participated in the challenge, won the carnival badge and wrote a post about their personal carnival experience.
Congratulations to all of them! They all have already received their badge on their board.
We apologize for the delay in awarding prizes. We were so busy working on cool new projects and we forgot a bit the last part of the contest. Shame on us.
So, let's go for the second stage of the challenge: to select the 5 "best" posts.
My god … it was the most difficult part of the contest, not for the participants but for the jury members, because they had to select only 5 posts while there were a lot of excellent ones.
And the winner are…
@itchyfeetdonica - Carnival in Binche
@lightcaptured - Bulgarian traditions
@nachomolina - Carnivals of Venezuela
@ace108 - Carnival in Chingay part1 part 2 part 3
You are each the happy winners of the 5 STEEM prize!
Honorable mentions
We would like to congratulate the following users for their very good post about carnival :
@jhomacap - ANÉCDOTAS DE CARNAVAL
@ajgc1967 - SteemitBoard Carnival Challenge
@behelen - Maslenitsa in Russian
@maxili63 - Carnival in several places of the country
@jkiw - Am Aschermittwoch ist alles vorbei!
@assivadam - Carnaval Barranquilla 2019
Thank you all for participating in this challenge!
---
Support the SteemitBoard project: vote for its witness!

Steemitboard is a project created by @arcange