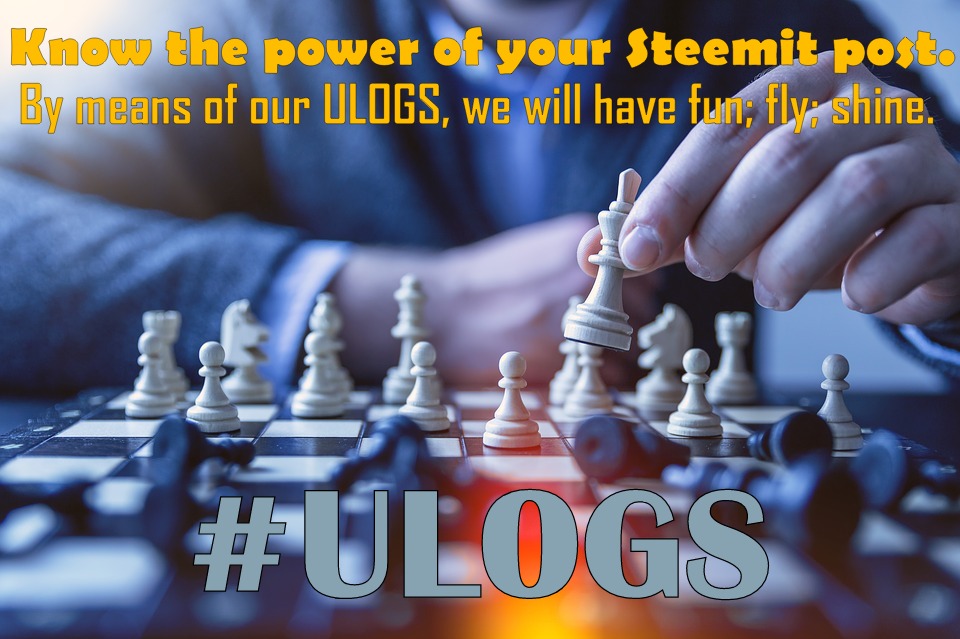 Last Sunday, the 4th Radio Show in Steemgigs Discord was attended by a number of #Uloggers. As usual it was fun, interactive, informative and just full of good vibes. Surpassinggoogle focused his discussion on the power of a Steemit post, a very significant part of the #ulogs curriculum.
Why is it important for #uloggers to understand the power of one's Steemit post? We should all be able to answer this question as #uloggers. Our post is our means to make reality our dreams. For dreams to to be fulfilled, we must believe in many things. We must believe we can dream. We must believe we have the power to make that dream a reality. We must believe in the systematic ways we can do to achieve that dream.
The need we feel will give way for us to formulate dreams. It is important we are able to put these dreams into words and be seen in our posts. Dreaming is nothing if you don't work on it. Our posts should carry our dreams and visions so we must make them with those things in mind all the time. A post is not just a post, a post carries with it the power to realize your dreams. If all #uloggers will understand this, there will never be a post that is wasted. Posts will all showcase the brilliance in each of us and will carry our shine.
About the Radio Show, why is it important to join it and catch up? #Ulogs and the other projects of Surpassinggoogle are all curriculum-based. These things are not as simple as a standalone idea or concept. There is a lot to learn about it. So much digging needs to happen and everyone needs to understand the basic foundations of these things. For #ulogs, collectively we have a vision of revolutionizing the idea of a true celebrity and true fans, that we can be all celebrities by simply opening our eyes and falling in love with being human. We must all be in line with this idea. We must believe in it and we must do something about it because dreams are nothing without the right action. It is a must that we understand the basics of this concepts by heart and there is no other way to learn that but to hear the visions of the man that is behind the idea, @surpassinggoogle. Join us every weekend in the Steemgigs Discord to have a more thorough understanding of #ulogs and the movement of which #ulogs is part of.
If you missed the radio show, watch out for the recording, it will be uploaded soon. To start, if you haven't seen this video of @surpassinggoogle talking about #ulogs in general, please watch this:
Update: The Radio Show (full episode) is found in DTube, and uploaded by our fellow #ulogger @ishanvirtue here: Steemgigs Talk Show Hosted By Terry "@Surpassinggoogle" Ajayi : How Powerful Our Steemit Post. (Full Video)
Before we give you the daily featured post and curated posts, let us remind you again the basic things one must consider before making a #ulog. This should guide you to make #ulogs that will pass to be featured and curated. It is pretty easy and basic how one can be featured and voted or curated when they make #ulogs, just follow the following: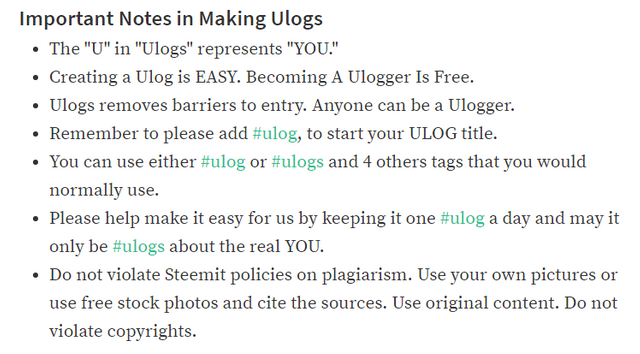 DAILY FEATURED POSTS:
@smaeunabs' Witnessing the New Trends and Innovations in the fields of Architecture and Engineering
Smaeunabs shared with us the trends and innovation in her field of expertise, architecture and engineering from a convention she attended. It's good to see how our celebrity enjoys her chosen career and at the same time get to share quality content in #ulogs. Keep it up and keep your shine.
@popson's Ulog Day 1 : APPRECIATION AS I BECAME THE GENERAL SECRETARY OF NIGERIA MINNING AND GEOSCIENCE SOCIETY AAUA CHAPTER.
Congratulations, @popson for winning your school elections and thanks for sharing this success here in #ulogs. You must be really good and friendly to have that landslide win. Keep up the good work and we wish you the best as you serve your fellow students.
@emmaxx's ULOG#5 LIFE OF A CELEBRITY 🤗🤗HAPPY SEEING OTHERS DOING GREAT
Thank you, @emmaxx for bringing your friends to the platform and sharing with them the beauty of Steemit and #ulogs. We look forward to seeing them engage in the community and shine in their own way.
@aljoursantillan's #Ulogger....Reviewing Engineering Mechanics
A #ulogger shares with us his dream to become and engineer and he is focused right now in his review to pass the board exams. You have a positive attitude towards your review classes, we hope you become successful and nail the exam and be a certified engineer.
@gbija's FULL MEANING OF MY NAME (EVERY NAME HAS A MEANING)
This lady playfully explains her own set meaning for her favorite nick for herself. Everything was positively phrased, you can tell, @gbija is a ball of sunshine. Keep the good vibes, girl and define yourself the way you want to. You are a star!
@matthewthonyit's #Ulog day 2: My Saturday 19th of May 2018
What a productive Saturday for @matthewthonyit, starting the day to praise the lord, gardening and attending to his shop. A weekend well spent. Stay focused on your priorities and keep shining.
@mafzaal92's #ulog day-ten: My steemit journy as a graphic desighner. Some helpful graphic desighns.
Our celebrity shares his passion for graphic design and shares his works. You are doing a great job, @mafzaal92. We wish you all the best in your chosen career, keep doing what you love and shine.
@amliv08's Unique modes of transportation "PASAGAD"
Interesting mode of transportation, this is still common in the provinces in the Philippines. Thanks for sharing, @amliv08. Good for you to still be able to experience a life surrounded with green nature and fresh air in the countryside.
@anward-malick's ulog activity # 5 the happiest moments of my life
It's sweet to see a couple too in love. @anward-malick explains in his #ulogs how his day is perfect because he is with his girlfriend and dining in his favorite restaurant. Keep the fire burning and stay in love. Cheers to both of you.
@ankarlie's Ulog #8: Full STEEM Ahead!!!
Our celebrity #ulogger @ankarlie shares with us the current updates on Steem with regards to publicity and its performance in the market and she bears good news. Thank you so much for the informative #ulog you made for us today. Talk about good content, this right here shows how she is an authority in the field of researching cryptocurrencies' trends. Keep up the good work and keep sharing valuable information to educate our fellow #uloggers.
@criz1404's #ULOG 01 "tha will be na sleeping tonight"(wakanda accent)
Our #ulogger shared with us his experience with a project where he missed on a detail and how he worked hard to fix the problem. Determination and hard work pays as @criz1404 was able to do finish everything and please his client. Another testimony that hiccups on the way to success happens a lot but with the right attitude, focus and hard work we can achieve.
@thereikiforest's #ULOG 5.19.18 ~ A Great Day for a Walk...and a Promise to Myself
Our celebrity here shared to us the beauty of having a time with nature. I believe we can appreciate life by not taking for granted all the things around us, nature most of all. We must be grateful for this life we see, the air that we breathe, our experience with nature must be celebrated. Thank you, @thereikiforest, for sharing with us this view, your work made you shine bright here in #ulogs.
@flordecar26's 13th Day:A Sister not by Blood #ulog #ulogs #ulogger
Any day is a good day to celebrate with a friend. Our celebrity here tells us how she is happy to be reunited with a friend that she treats as a sibling. We must be good with our relationships, if a person deserves all the love from you, blood relations does not matter, love the person with abandon. A true friend you are, @flordecar26, stay sweet.
@pinheiroemmanuel's MY ULOG DIARIES #3: Events for Days 18-19 May 2018; I ACHIEVED ALOT! (Lifting Our Voice)
Thank you @pinheiroemmanuel for sharing with us how you spent your day dedicated to the serving the lord and sharing your sacrifices just to be able follow through with your commitment to serve him. Keep the faith and keep serving God and you will never be empty.
@garygabby's Ulog - Day 14- Overall Champions!!! Thanks be to God.
Congratulations, coach for a job well done. The kids looks so happy and proud of their accomplishment and pretty sure it would not have been accomplished if you weren't a bright star. Thank you for sharing your victory here, keep improving and keep shining.
OTHER CURATED POSTS:
@tobex's PTSD: My Travail And How I Managed Mine.
@strongwilled's #ULOG 01: Believing In Change
@sushovon002's My #ulog (day 4) : My first Experience at Steemgigs Talkshow by @surpassinggoogle about "The Power of the steemit post & Dream building"
@khaiza's My ulog today # accident hit single versus with cat
@giantkidishere's Ulog #4 รายงานตัวในวันหัวฟู
@pixelcolada's Hard to Sleep ULOG #TWO
@levitated-mind's Ulog: My NYSC Camping Experience
@rezaarmada's #ULOG 1: Inspired by friends who keep trying
@stevenson7's ULOG DAY 2: FUN WITH FRIENDS
@marconah's #ULOG 2 : Helping Parents Harvest
@azilm's a day to remember @ulog Represents YOU!
@machiqui63's ULOG #07: A Creative Adventure; My illustrations for Steemit
@muhammadronii's My post on #ULOG : face painting for @surpassinggoogle and @teardrops
@gheghenrv's Ulog #8 | I tried vlogging!
@faetee's MY FIRST ULOG POST-CHILD ABUSE
There are more posts that were curated by reputable accounts that are not listed here. Keep making your #ulogs as inspiring as possible. Everyone can shine here, never miss the opportunity to be curated, know the power of your post. Let it show the world your shine!
Please care to check these posts and show them love for their works by following, upvoting, resteeming and commenting. Let's continue to pass around our positivity and admiration towards realness and all humans.
Our Steem Power is limited but the upvotes we give will constitute its very true essence; "love"; "incessant testimonies of possibilities"; "lasting-lasting inspiration" and "a celebration of You"; moreso than financial rewards or a measure of quality.
Ulogs are many other "beautiful things":
The "U" in "Ulogs" represents "YOU".
With ULOGS, "YOU", is what's pertinent and media formats e.g no-Vlogs, no-cameras, shyness etc should pose no barrier to you extending "YOU" to us and to the world, ever-constantly; "tirelessly".
With ULOGS, "you are celebrity and we your fans".
With Ulogs, you now have at least one steemit post idea daily, that constitutes YOU. "No longer, should there be a day, that the world is starved of your beauty".
With ULOGS, "no longer should a day emptily slip by, without "your shine" in it.
With ULOGS, want you to shine. We want you to lit the steem blockchain and shake it with your beauty.
With your ULOGS, we will create a fresh trend for #ulog/#ulogs on the entire web-space, filling it with the indispensable awesomeness called; "human"; steemhuman; "steemians".
ULOGS: Each day and "YOU" in it; carries it's own freshness. So, not a day aren't we capable of re-shaping the entire internet with a piece of freshness.
By means of our Ulogs, we will be creating historical history by reshaping the internet; surpassing Google in the process.
With ULOGS: "No longer should there be a day, when we can't add value to the steem blockchain". No more will there be a day on the steem blockchain, when you can say, "i don't have a steemit post idea.
With ULOGS; "we will keep us ever-present on the web-space; opening us ever-incessantly to opportunities; "even breakthrough opportunities".
By means of our ULOGS; "our kids and generations yet unborn will read of us and know that we were here each day, evolving in our substance, so that we can leave them legacies behind.
By means of our ULOGS, we will have fun; fly; shine.
The world and its toughness can deaden and relegate "our shine" into remoteness and forgotten-ness; by means of the steem blockchain (OUR ULOGS), we want to use each day, to recover some of "our shine" back.
And if we have lost our shine completely, we will gradually restore it using each ULOG and begin to shine again, like the "true celebrities" that we are: "light in the tunnel".
ULOGS: Learning; especially learning about yourself; is the ultimate earning.
The essence of the #ULOGS movement is to remove "barriers to entry", when it comes to "mining the human", using each content-blog that we create.
You can be Ulogger and "all that's needed is "YOU" and each day and this we will celebrate".
ULOGS: There is nothing as fresh (in terms of content) as "pieces of us". It is dynamic, fresh, unique, rare. And no "two days" are exactly the same, especially with "You" in it, for we accrue experiences, new moments, new adventures etc.
We aspire new resolutions each day and fail and succeed and "succeed overall", by virtue of "the gift of life" and this we will document all these celebratorily on the steem blockchain using our ULOGS.
Helpful links to understand #ulogs more:
@surpassinggoogle's #ulog: Become A ULOGGER Today! Reshaping The Entire Internet With Steemit
@ulogs' The Birth Of Ulogs. "You Are A Celebrity, So Why Not Just Ulog?" No Video Camera; No Problemo.
@ulogs' "The World Needs To Hear From You. Even Steemit Is Calling!" Now, You Can Answer. "Create A ULOG Today". (The "U" in "Ulogs" represents "YOU".)
@ulogs' @ulogs Featured Posts, Curation And The Fundamentals Of Making #ulogs
@ulogs' Daily #Ulog Featured Posts and Curation, Plus How#Uloggers Should Be True Fans As Well as Celebrities
Dig and understand the essence and principles of this movement.
#ulogs is just one of the many Steemit Projects by @surpassinggoogle in celebrating the Human.
Read about Un(dis)talented here.
Read about Steemgigs.org here.
Read about Teardrops here.
Read about Steemsecrets here.
Join the movement and start making #ulogs and be a #ulogger.
Let millions of Uloggers bloom!
Join the Steemgigs Community in Discord here.

If you want to support an extra witness and you support "steemgigs", it will be really helpful.
To vote for Steemgigs as witness, simply visit https://steemit.com/~witnesses and type in "steemgigs" into the first search box for witnesses or simply click Here to do it on one click!
If you want @surpassinggoogle to make witness voting decisions on your behalf, simply visit https://steemit.com/~witnesses and type in "surpassinggoogle" in the second box for proxy.