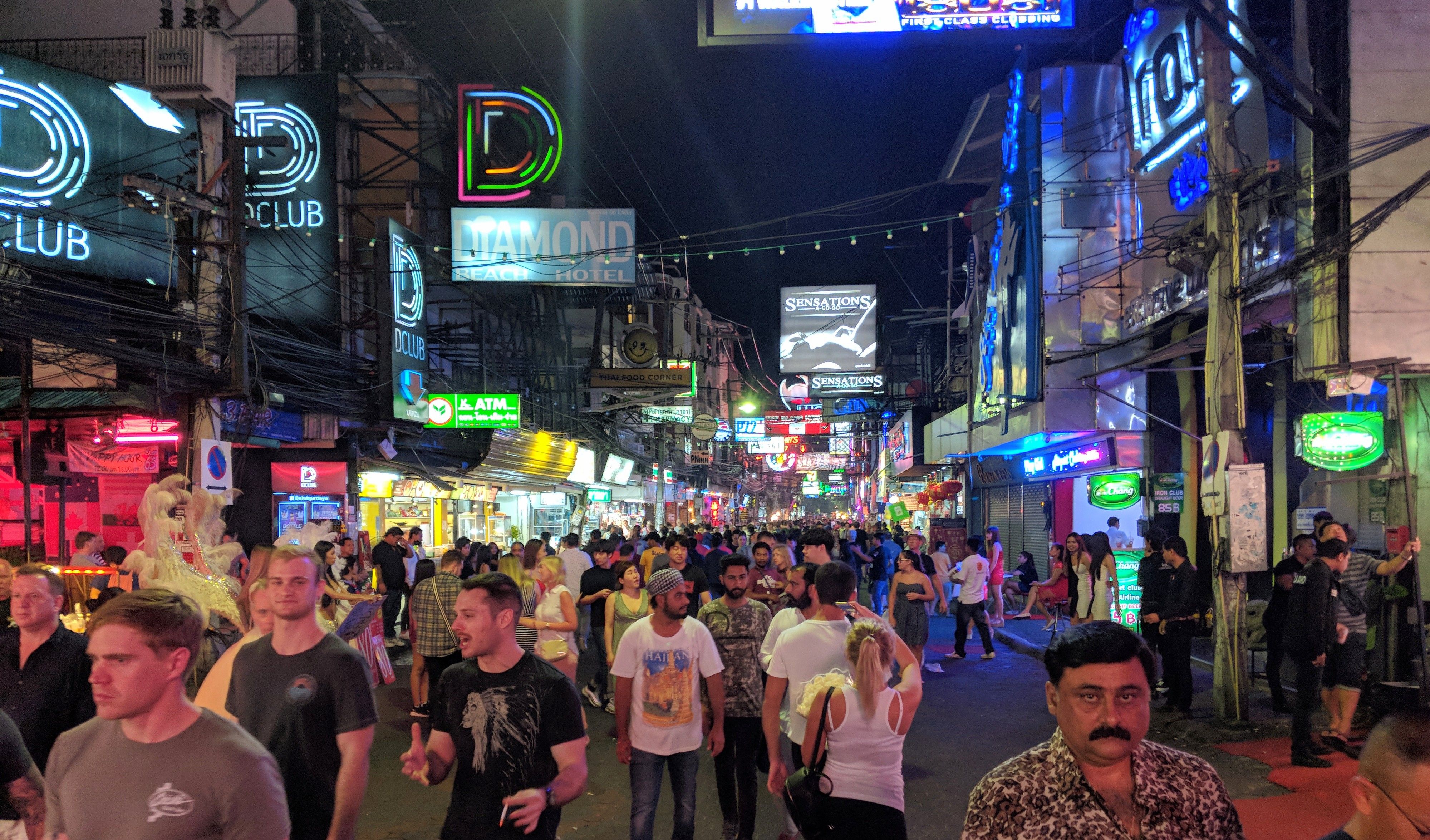 The Walking Street.
What is up with this freaking city?
Hookers - club - hookers - bar - brothel? - fast food - sex show - drugs - food stand - russian hookers - jewellery shop - club. That's what you see strolling through Walking Street. Repeatedly.
Sheets with sex/ping pong show offerings, pornographic photos and images of marijuana leaves are held under my nose every few meters. Hookers cheer at us.
Amsterdam's red light district feels like a joke now.
Wait...isn't prostitution illegal in Thailand? Ok, it's tolerated. But aren't here strict drug laws as well? I'm confused.
Was ist mit dieser verrückten Stadt los?
Huren - Club - Huren - Bar - Freudenhaus? - Fast Food - Sex Show - Drogen - Essensstand - russische Huren - Juwelier - Club. Das sieht man so, wenn man durch die Walking Street geht. Immer wieder.
Zettel mit Sex-/Ping-Pong-Show-Angeboten, pornografischen Fotos und Bildern von Marihuanablättern werden uns alle paar Meter unter die Nase gehalten. Huren jubeln uns zu.
Der Rotlichtbezirk in Amsterdam fühlt sich plötzlich wie ein Witz an.
Warte mal...ist Prostitution in Thailand nicht illegal? Ok, es ist geduldet. Aber haben die nicht harte Gesetze gegen Drogen? Ich bin verwirrt.
Clubbing
The Walking Street was fun to walk through one time but is actually annoying after a bit. Which crazy demand led to that offer?
A Club it shall be! Flo looked one up online before which is in said street.
Die Walking Street einmal zu Durchschreiten war lustig, aber wurde schnell nervig. Welche Nachfrage hat bitte dieses Angebot generiert?
Ein Club soll es werden! Flo hat zuvor online einen rausgesucht, der in dieser Straße ist.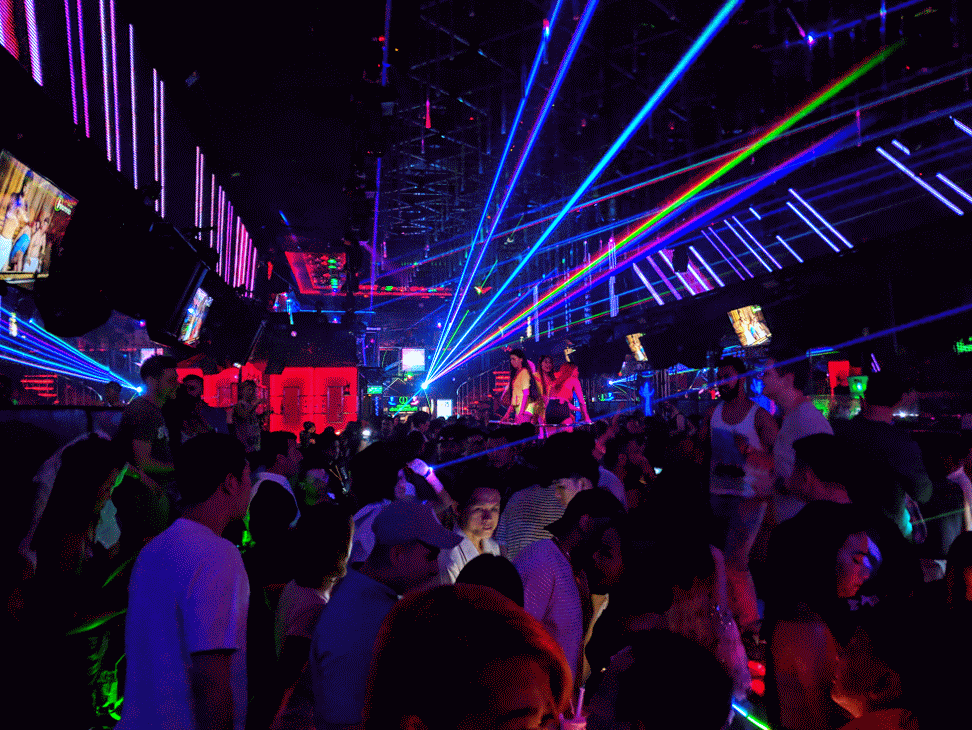 Party hard. Kinda.
The music was alright, the interior was pretty cool but the crowd…
Constantly you walk by some tourist hanging with his bought woman. I barely saw any tourist girl. Mostly Thai. And apparently the majority of them were hookers, as we figured. They'd come and dance with you aggressively - asking the obvious you get the answer "Yes, I am a freelancer."
Die Musik war in Ordnung, die Inneneinrichtung ziemlich cool, aber das Publikum…
Ständig geht man an einem Touristen vorbei, der mit seiner gebuchten Frau rumsitzt.
Ich sah kaum Touristinnen. Meistens Thai. Und offenbar war der Großteil käuflich, wie man schnell herausfindet. Man wird aggressiv angetanzt und wenn man nach dem offensichtlichen fragt, kommt die Antwort: "Ja, ich bin Freelancerin."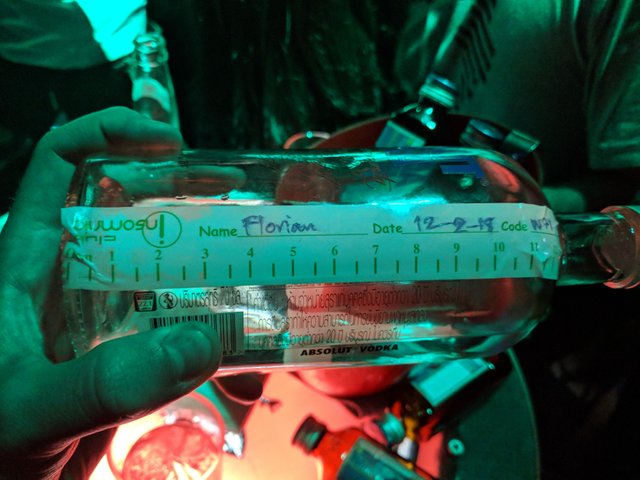 What's pretty cool tho is that there's a lot of staff in there to care about stuff. Security, proper behaviour, cleanliness, drinks, snacks...
They also try to make you feel special: Ordering a bottle they write your name on it and every now and then a staff member would come by to shake my hand as if I was famous.
Overall it was fun, the club was huge, an overall good venue and I enjoyed to dance a little.
Ziemlich cool, dass die eine Menge Angestellte haben, die sich gut um alles kümmern. Sicherheit, ordentliches Verhalten, Sauberkeit, Getränke, Snacks...
Sie wollen auch, dass man sich besonders fühlt: Wenn man eine Flasche bestellt, schreiben Sie den Namen drauf und immer wieder mal kam ein Angestellter her, um mir die Hand zu geben - als wäre ich berühmt.
Insgesamt wars lustig, der Club war riesig, insgesamt ein gutes Lokal und ein wenig zu Tanzen hat Spaß gemacht.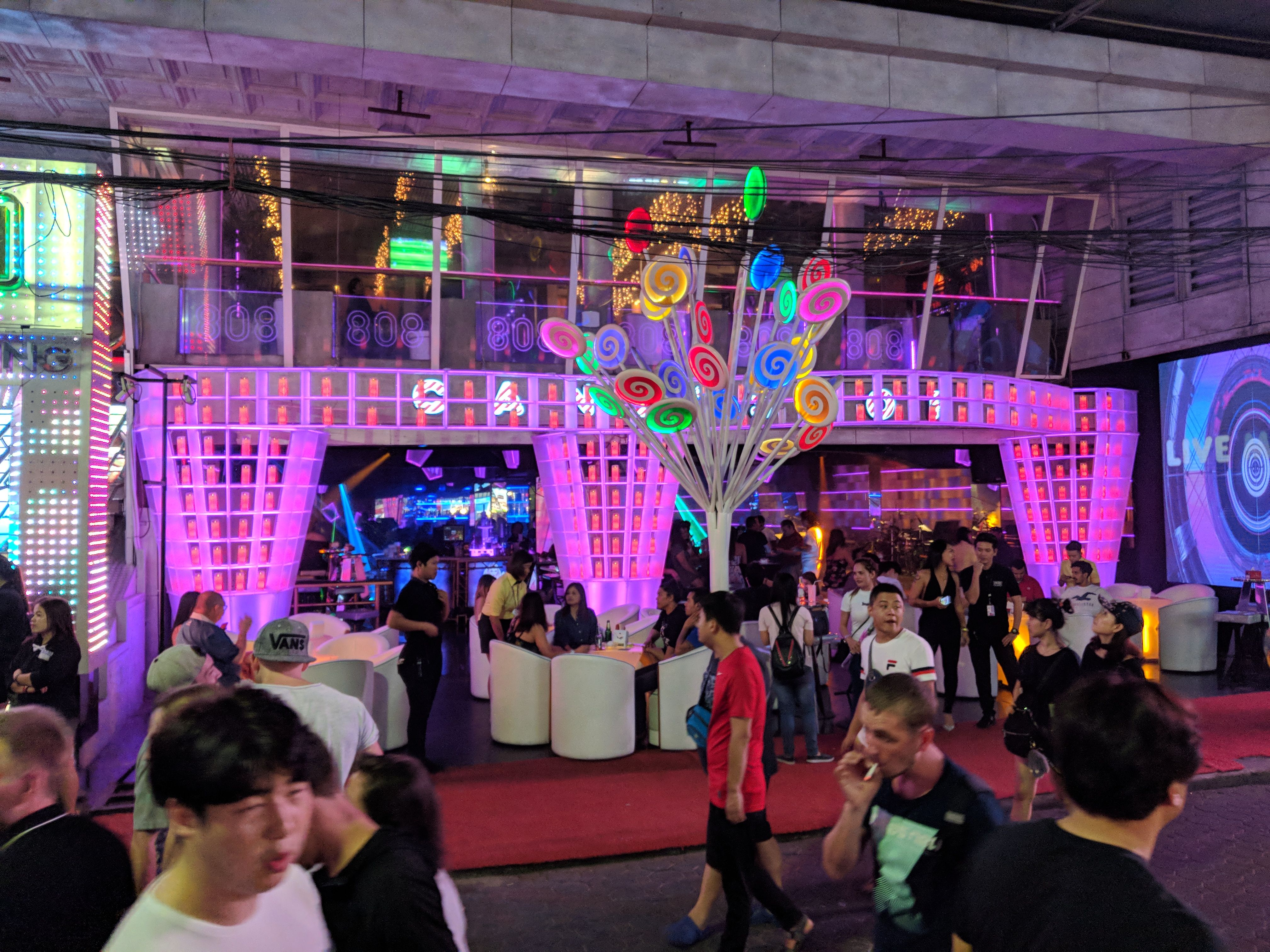 That's not the club we were in.
After some time I was bummed out by the overall setting though and left. Grabbing myself a bottle of water I sat down on a curb besides some local guys my age to chat.
One guy inculcated me with how I should never drive a scooter after drinking. The police would prosecute severely. Having a well-informed guy here I pop the question: Drugs are offered here. What about them? "No problem." What.
Nach einer Weile war ich genervt von der ganzen Szenerie im Club und ging raus. Bewaffnet mit einer Wasserflasche setze ich mich auf eine Gehsteigkante zu ein paar einheimischen Burschen in meinem Alter, um ein bisschen zu quasseln.
Ein Typ schärft mir ein niemals mit einem Roller zu fahren, nachdem ich getrunken habe. Die Polizei würde das hart bestrafen. Ein Kundiger… Wie steht es um die Drogen, die ständig angeboten werden? "No problem." What.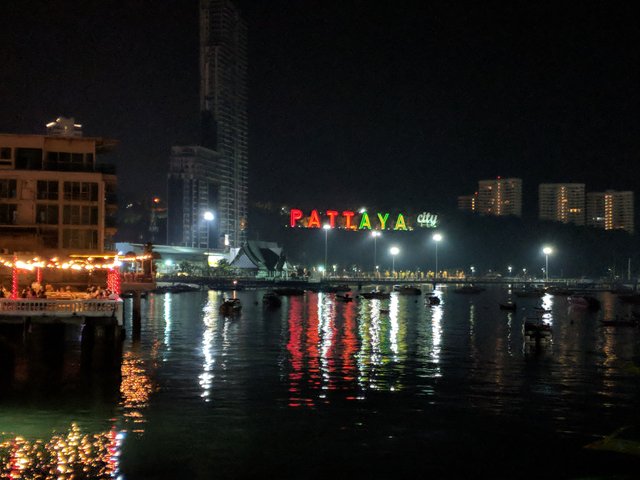 Recalling the entire day I conclude that I kinda dislike this city - at least what western culture did to it.
I decide on going home, walk back into the club to grab Flo and we take an Uber back to the hostel.
This might be paradise for some people but makes me sad. As I write this lines two middle aged Poles with sandals and beer bellies ask for directions to the Walking Street. "What's there? Can we have some beers there?" "Yeah, there's clubs, hookers, bars and drugs - so if you wanna get drunk and drugged that's your place to go." Their eyes start glowing and one readjusts his belt. As I said.
We'll figure out what else can be done in this area and focus on some good stuff. A visit in the biggest water park in Thailand would be awesome! :D
Den Tag revue passieren lassend befinde ich, dass mir diese Stadt einigermaßen missfällt - zumindest was die westliche Kultur aus ihr gemacht hat.
Ich entscheide mich heimzufahren, gehe zurück in den Club, um Flo zu holen und wir schnappen uns ein Uber, um zum Hostel zurückzufahren.

Für manche mag es das Paradies sein, mich macht es allerdings traurig. Als ich diese Zeilen tippe, fragen zwei Polen mittleren Alters mit Sandalen und Bierbäuchen nach dem Weg zur Walking Street. "Was gibt es dort? Können wir da ein paar Bier trinken?" "Ja, da gibt's Clubs, Huren, Bars und Drogen - also wenn ihr euch betrinken und Drogen nehmen wollt, ist das der richtige Ort." Ihre Augen beginnen zu leuchten und einer stellt seinen Gürtel nach. Wie gesagt.

Wir werden herausfinden, was man hier noch so machen kann und unsere Energie anderweitig aufwenden. Ein Besuch in Thailand's größtem Wasserpark wäre mega! :D
---
Hope you had a good read! Always happy about feedback.
Hoffe, du hattest Spaß beim Lesen! Bin immer offen für konstruktive Kritik.
More pictures on instagram: https://www.instagram.com/yourmateyo ☺
You find every other blog post in chronological order right here:
All the best,
yourmate