ENGLISH BELOW (sorry, this time google translate)
Lift off to Sofia!
Zack-zack! Und ich war schon da. In Sofia ist es kurz vor Mitternacht. Passkontrolle. "Where you go?" "Athens" "You go terminal 2. Taxi or walk." Alright. Ich orientiere mich mal. Geld müsste ich abheben, damit ich meine Unterkunft auf Bali easy in Euro zahlen kann. Bankomat also. Keine Euro, sonder Lew – oh, achja. Dann also in Athen. Rüber zu Terminal 2. Taxler gefragt: "To terminal 2, how long do I walk?" "Ahh, man. 2 hours!" "How much?" "10 €" "Ok." Am Weg waren dort und da Militärfahrzeuge zu sehen. "You know terrorist and everything." Oh, wir sind da. Natürlich hat er mir zu viel verrechnet; wir waren in 3 Minuten da.
Bisschen angepisst setz ich mich mal semi-gemütlich in die Halle. Einige sitzen schon dort, manche schlafen.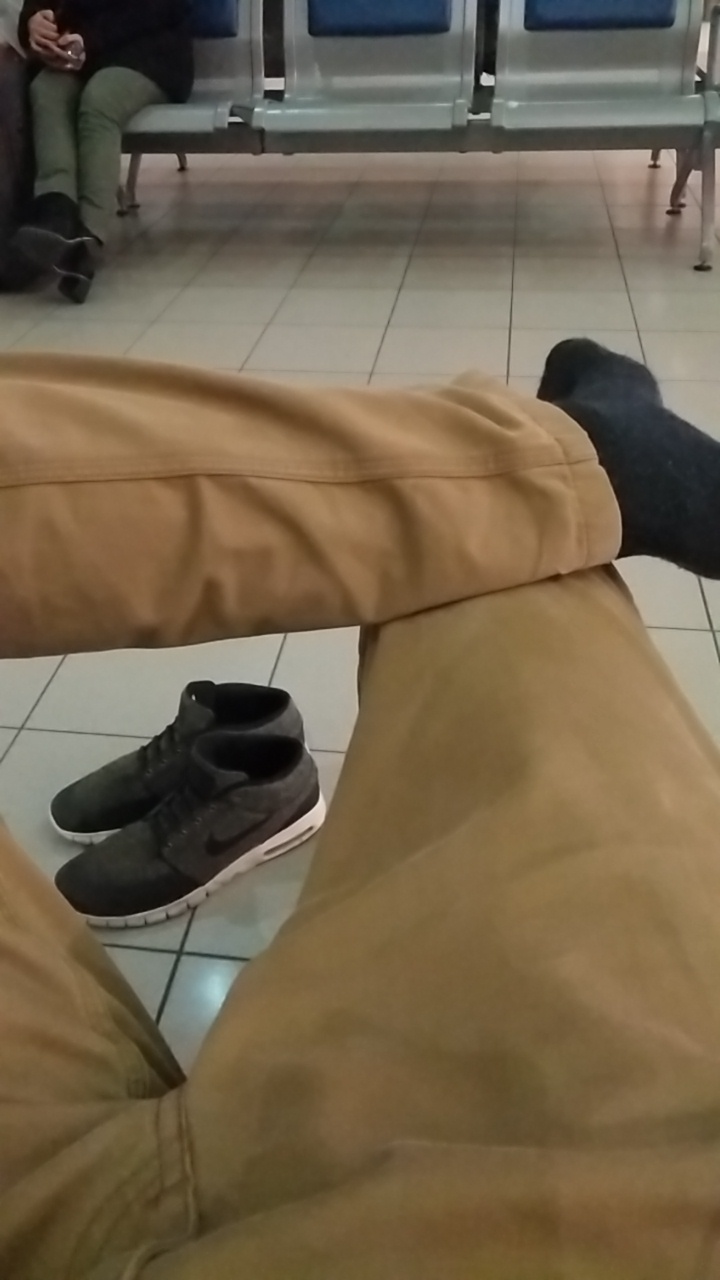 Terrorverdacht
Das mit dem Schlafen klappt für mich nicht. Viel zu kalt. Trotz winterschuhen, Winterjacke und dickem Pulli. Ich schreibe meinen ersten Eintrag. Gegen 04:00 entscheide ich mich doch zum Zähneputzen und Hinlegen. Meine Paranoia wegen der Gypsy ringsum wird von der Müdigkeit übertrumpft. Ziemlich geistig umnachtet frag ich mich, ob mir jemand meinen Koffer stiehlt, wenn ich ihn stehen lasse (ihr ahnt es...). Ne, pennen alle. Schauen eh schon so paranoid. Da kommt bestimmt nix weg. Oder nehm' ich alles mit aufs Klo. Nah, auch doof. Also: Zahlenschloss aufmachen, Koffer öffnen, Kulturbeutel raus, Koffer schließen, Zahlenschloss zumachen, ab auf Toilette. Der Spiegel vermittelt mir ein ungeschöntes Bild. "Fck, bin ich müde." Am Rückweg zum Sitzplatz seh' ich sie schon stehen. Polizei und Grenzpolizei umringen und inspizieren meinen Koffer. "Fck, damn, sht, fck. Sau müd', sau blöd. Noch nieeeee hast deinen Koffer stehenlassen, weils eh überall auf Plakaten steht und durchgesagt wird. Aaaaahh, verdammt.", denk ich mir. Ich streck meinen Arm hoch und winke, um auf mich aufmerksam zu machen. Beim Koffer angekommen entschuldige ich mich gleich, sag ihnen, dass es ein Versehen war, weil müde. "Passport/ID? Take your luggage. You come with us." "Ok, I do understand." What's in your suitcase?" "Clothes." Can you open your suitcase?" "Yes." "Come over here. Open your suitcase." Ah, Mann...
Als sie dann mit mir alleine sind, kommen plötzlich gaaaaaanz andere Fragen: What's in your suitcase?" "Clothes." Can you open your Suitcase?" "Yes." "Open your suitcase.". Hab ich ein déjà vu? Naja, vielleicht hat er mich nicht verstanden. Ich beginne den Koffer aufzumachen. What's in your suitcase?" "Clothes." Can you open your Suitcase?" "Yes." "Open your suitcase." Was zum Geier läuft mit dir?! Hast du in der Polizeischule nicht aufgepasst oder kapierst du nicht, wann es Sinn macht, Fragen zu wiederholen, um die Stichhaltigkeit einer Aussage zu prüfen? Verdammter Sacklpicker. Aber ich versteh' es – ich seh' schließlich aus, wie ein Terrorist.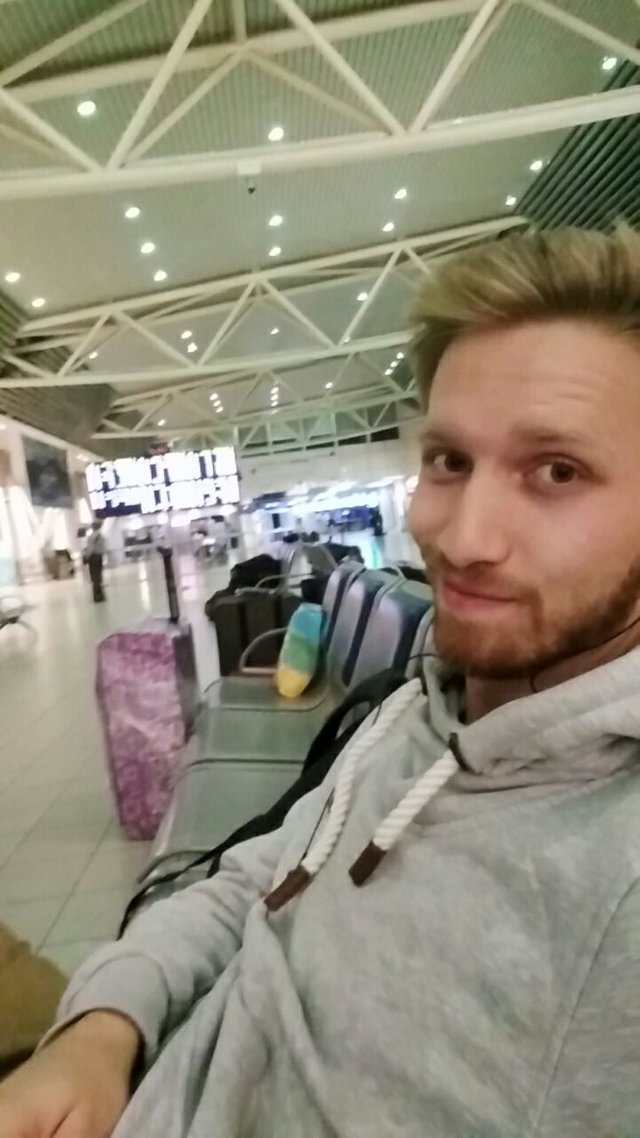 (Ach, ne. Jetzt seh' ich's erst auf diesem Foto! Ein herrenloser Koffer neben mir. Ihr ekelhaften Rassisten.) Koffer auf, durchschauen, passt. "You know mister, people get afraid and call the police." "Alright." Ich geh zurück auf meinen Platz, wichs den Koffer rüber, er knallt gegen die Bank gegenüber. Die Leute schrecken auf. Ich lass mich auf die Bank fallen und schau alle um mich rum nochmal finster an.
Ja, ich weiß. Ich bin hier im Unrecht; müde bin ich allerdings äußerst leicht angepisst. Die Polizisten machen nur ihre Arbeit im Sinne der Bevölkerung. Trotzdem: Sofia, bleib mir gestohlen. Nur noch 2 Stunden frieren.
Boarding. Danke, baba.
Geia Athina
Lift off. "Would you like to have a drink, sir? "Water" "That's 4 €." "No, thanks." Landung. Athen ist schon viel gemütlicher. Ich geh raus, es ist warm, 8 Uhr am Morgen. Die Luft duftet nach Meer und typsich mediterranen Kräutern. Oh, da wächst ein Granatapfelbaum. Puh, sackmüde. Woah, mir ist schlecht. Mal ein Selfie nach Hause.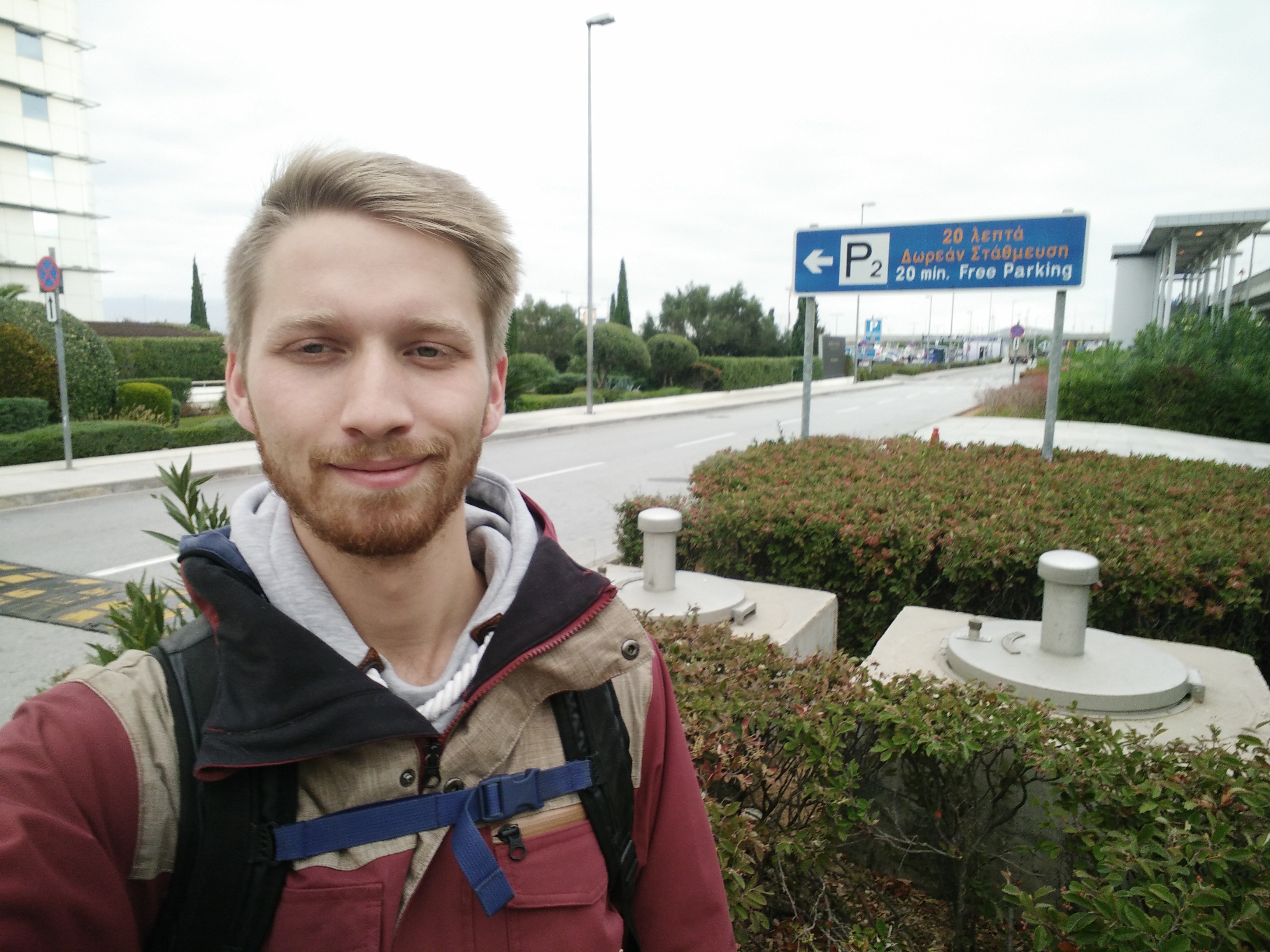 4 Stunden Zeit. Ich schreibe wieder am ersten Post.
Next stop Singapur
Alles easy. Ich konnte nur wieder nicht schlafen. Viel zu kalt, Sitznachbar muss sich alle paar Minuten die Füße vertreten. Hatte dann aber tolle Gespräche mit ihm (Alexis, ein Grieche, der in Paris...manchmal wohnt und arbeitet?). Er arbeitet nur mehr 3-4 Monate im Jahr. Den Rest ist er überall auf der Welt unterwegs und arbeitet an verschiedensten Orten für Kost und Logis. WWOOF macht er (http://wwoof.net/). Nice, wollte ich auch immer schon. Steht am Plan. "Alexis, what will you do for your retirement? Money-wise. How will you live then?" "I have no plans about that now. I live.". Stabil.
Der andere Nachbar: Deutscher. Model & Schauspieler. Fliegt nach Singapur für nen Job. Lässig. "Du?" "Bin Arbeitslos.".
Essen inkludiert? Nicht bei Scoot! Dafür haben unsere Stewardessen Schnurrbärte: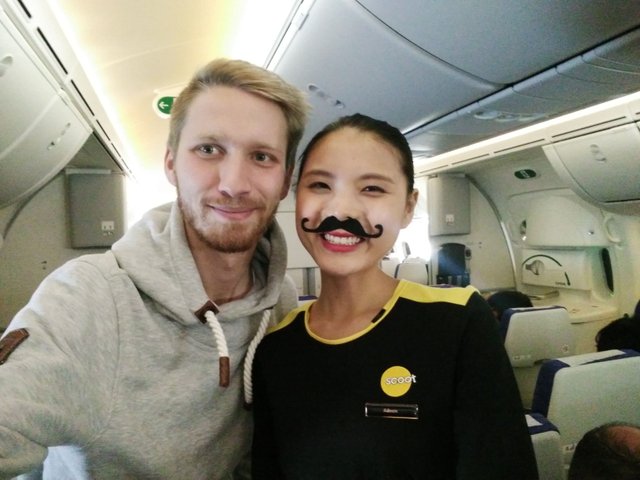 Oh, dear Singapur!
Wir landen und die Scheiben laufen instant an. Phew, hier kann man die Luft schneiden. Aber im Flughafen wieder -364°C. Dieser Flughafen ist echt eine Hochburg der menschlichen Zivilisation und allem damit einhergehenden Luxus. Verglichen mit Sofia.
Von hier geht's weiter nach Denpasar. Can't wait! Noch bissl chillen. 5 Stunden. Ab geht's. Denpasar!!! ☺
Denpasar, do me good!
Im Würgegriff von 28°C und 110% Luftfeuchtigkeit geht mein Herz auf, als ich den Flieger verlasse. Endlich normal. Über den Flug da hin mag ich gar nicht reden. Wieder nicht geschlafen. 40 Stunden sind's dann.
Nach einigem hin-her finde ich meinen Fahrer. Wir fahren zum Camp. Alleine die Autofahrt: ich liebe es. Lachende Gesichter, Mopeds mit 5 Leuten drauf, scheinbar Chaos, offenbar Ordnung, ein Genuss fürs Auge. Oh, ja! Halleluja. Ich kann's kaum glauben. Yaman!
Im Camp angekommen. Alter?! Paradies! :D
Bald wisst ihr mehr. Hier schreib ich euch jetzt: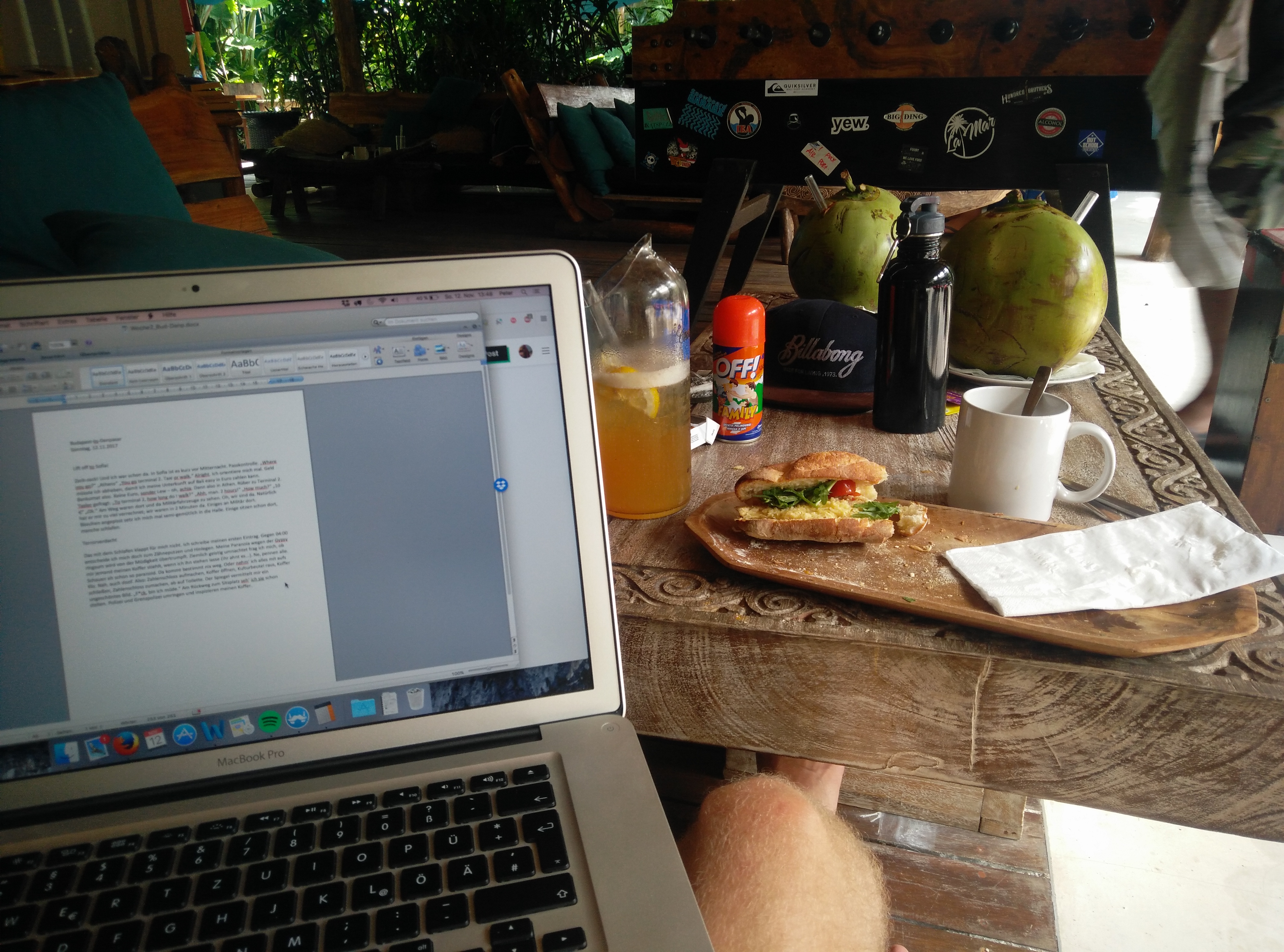 Ja, es ist so gut, wie es aussieht. Verdammt, es ist noch besser. Ich könnte platzen, vor Freude. Aber hier mal Ende.
Macht euch mal bereit für die upcoming stories, hehe.
Hoffe, ihr hattet Spaß beim Lesen! Bin immer offen für konstruktive Kritik. ☺
Hope you had a good read! Always happy about feedback.
More pictures on instagram: https://www.instagram.com/yourmateyo ☺
You find every other blog post in chronological order right here: https://steemit.com/travel/@yourmate/organizer
All the best,
yourmate