Thanks to everyone who entered and supported Open Mic Week 91. Community support for Open Mic has been tremendous and is one of many projects bringing the music community together on Steemit.
We had 218 valid entries this week! Awesome guys!
Support Musicians On Steemit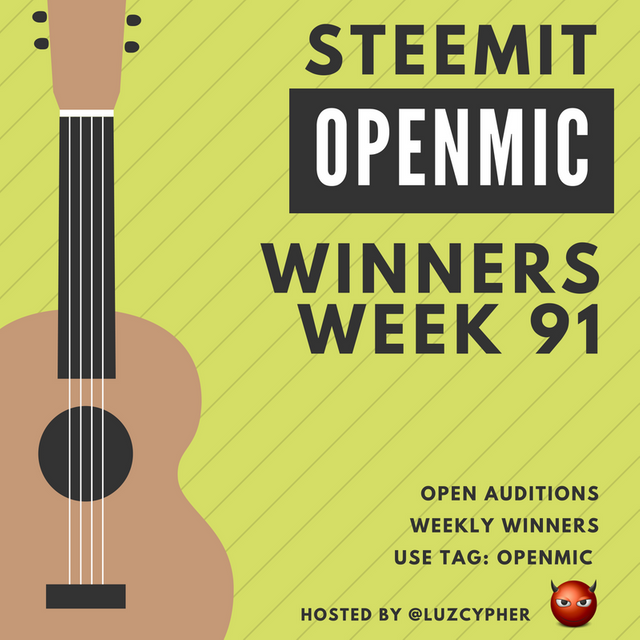 Let's Keep @pfunk In The Top 20 Witnesses By Voting For Him As A Steemit Witness
@pfunk has been sponsoring Steemit Open Mic since I first started it and I want to give a big thank you to him and all the people who support and take part in Steemit Open Mic.
@pfunk is a Steemit witness and helps keep the platform working and you can vote for him here Please go vote for him right now. This post will show you how.
Vote For Pfunk For Witness And Keep Steemit Open Mic Growing Strong We Need Your Help Now
---
More Open Mic Sponsors
Over the last week Open Mic was contacted and offered some more sponsorship from:
@ausbitbank is a top 20 witness on Steemit involved in more supporting projects on the Steem blockchain than I can list. He is a big part of the minnowsupportproject.org, the Peace, Abundance, and Liberty network on Discord, and delegates to many good causes on Steemit. You can vote for him as a wtness here. He just reached out and donated 100 Steem per week to help Open Mic

@Curie helps curate new people who contribute good content and has been supporting Open Mic musicians behind the scenes since Open Mic started. They helped me and countless others get our posts seen when we first started on the platform. Many Open Mic musicians have been featured on their weekly Author's Showcase posts. They are a top 20 witness and have contributed 25 Steem per week for the next two months to help Open Mic. You can vote for them as witness here
MSP-Waves Radio in association with the Minnow Support Project and the Peace, Abundance, Liberty Network is a weekly radio program hosted by @Krystle, @swelker101, and @Isaria that features the weekly Top 5 judges picks from Steemit Open Mic. Not only do they give weekly prizes to audience picked performers from the contest, but they have also started sponsoring Open Mic with a 25 Steem weekly donation! How cool is that? Thank you for helping support musicians on the Steemit platform.
@aggroed is a top 20 witness and is involved in the minnowsupportproject.org and the Peace, Abundance, and Liberty network on Discord. He is launching a new online card game called SteemMonsters.com. Steem Monsters is supporting Open Mic with a 50 Steem donation per week to the contest. He's also gifting a 5-card Steem Monster pack to the winner's. You can vote for him as witness here
---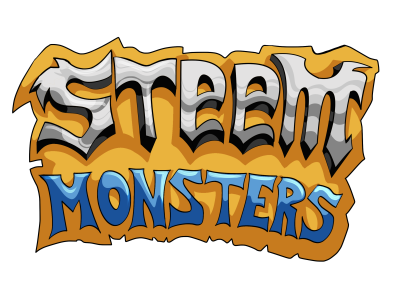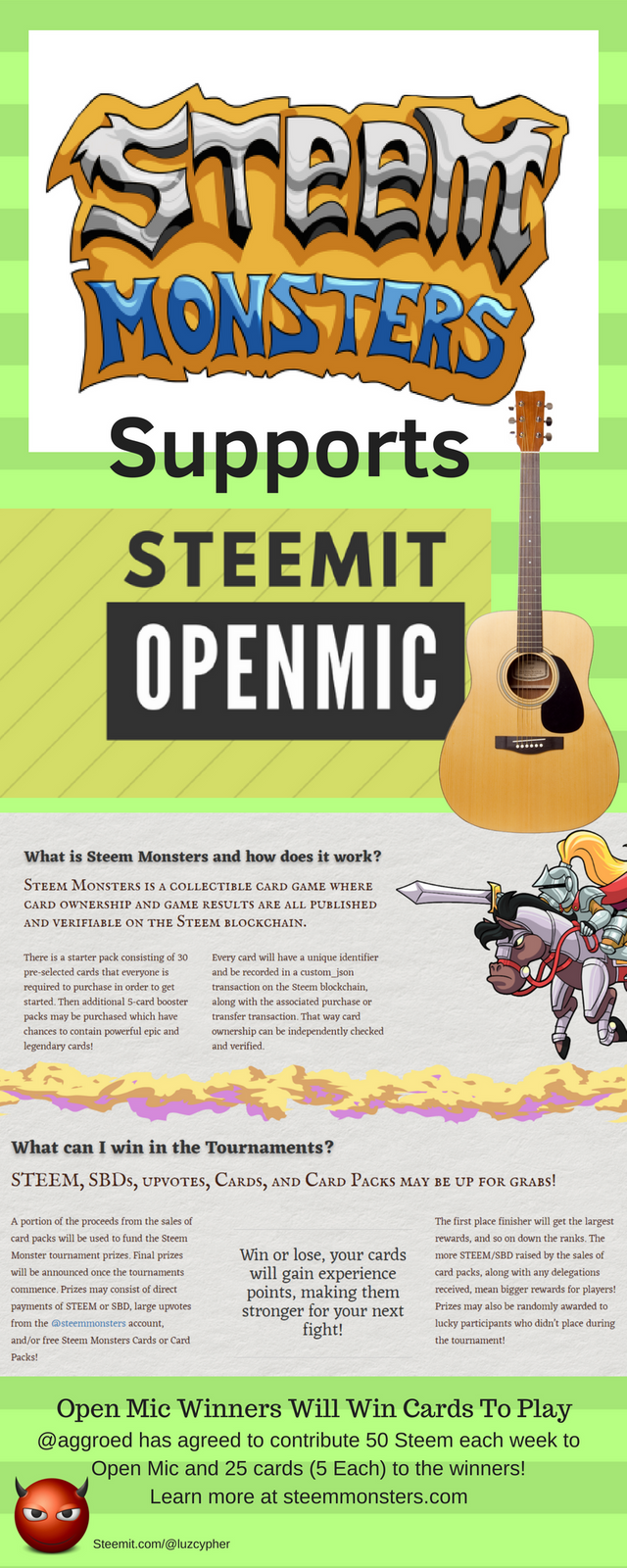 ---
And thanks to @meno's initiative the community has come together to support Open Mic. Many of you have created posts in support of the Open Mic community and have donated a portion of the rewards from those posts to @openmic so we can keep doing what we do, build a great community of musicians on Steemit. You guys are the best and we feel appreciative and inspired!
Steemit Open Mic Rules
The cutoff date for entries was Friday the 29th of June, 2018 at 12 UTC TIME Find your UTC time here.
Only 1 entry per person per week
"Steemit Open Mic Week 91" must the beginning of the post title.
"Steemit Open Mic Week 91" must be said at the beginning of your video and your username.
Live performances only specifically made for this contest.
openmic must be the first tag
Add a link to your post in the comments of the contest post.
You must upvote this post.
If your song is an original song then add the word "Original" somewhere in your title
You can use DTube but include an embedded YouTube or Vimeo video too.
Entries must follow these rules to earn prizes.
Big shout out to @lukestokes who delegated 5,000 SP to the @openmic account! Thanks for your support.
I just want to remind everyone that votes are only part of the selection process. Entertainment value and performance is factored in too.
To learn more about the rules to entering the contest please read What Are The Rules To Enter Steemit Open Mic And Why Do We Have Rules Anyways
Common Questions When Entering Steemit Open Mic --- by @luzcypher

The coolest thing about Open Mic is it brings the Steemit community together and that is the whole point of this project.
---
Meet up with the Open Mic community at Open Mic on Discord and chat with all of the people who enter Open Mic there. It's a great way to interact with the Open Mic community. Your links to your entry is automatically added to the Discord channel, so please don't add links, just come to chat with the community.
Join the Facebook page for Steemit Musicians you can read about here or go straight to the page here. A lot of players from Steemit Open Mic are there.
Steemit Open Mic Judges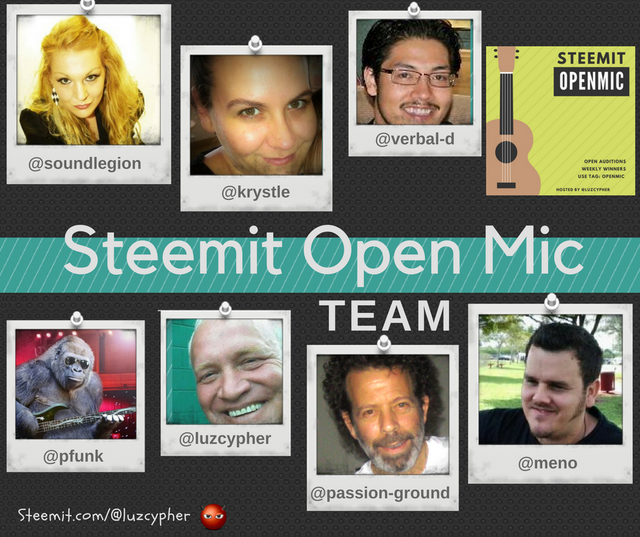 Music Creators Guide To Copyrights, Royalties, And Recording Contracts
Common Questions When Entering Steemit Open Mic --- by @luzcypher

How To Support Musicians On Steemit And Earn Curation Rewards By Following The Open Mic Trail --- by @luzcypher

Steemit Open Mic Is About Building A Community Of Musicians On Steemit Not About Winning --- by @luzcypher

Official Open Mic Or Passion Ground S Top 5 Entries For Week 91 --- by @passion-ground

Steemit S Official Open Mic Judge Verbal D S Top 5 Entries For Week 91 Original Blog --- by @verbal-d

Open Mic Week 91 Top 5 Selection And Honorable Mentions --- by @meno

Steemit Open Mic Loves Dtube So Why Do I Have To Add A Youtube Video To My Open Mic Entry --- by @luzcypher

Special thanks to @soundlegion, @krystle, @verbal-d, @passion-ground, and @meno for help judging the contest this week. Great job guys.
Steemit Open Mic is not about winning or losing, it's about building a connections on Steemit through music. Watching the collaborations happen online between musicians who played and met on Steemit Open Mic is very rewarding and many of the people who play and post earn some nice rewards for playing a song.
For many, it's easier to get some Steem in your tip jar by playing for Steemit Open Mic than it is to play music on the street.

Steemit Open Mic Trending Posts
---
Top 20 Trending Open Mic Posts
The openmic tag has earned a total of: 222,778.090 SBD worth $407,683 USD At Today's Prices of $1.83 SBD (Average of $4,480.04 per week in 91 weeks +plus has paid out over 26,500 Steem in prizes!
NOTE: Having a trending post is not how judges pick entries for their Top 5 weekly picks. Sometimes you will trend because of a variety of reasons. Congratulations! You don't need to win Open Mic to earn rewards and build your audience. As you can see, sometimes trending posts earn more than the contest rewards! You could trend by getting curated by other curation groups like @curie for example. The judges look for entertainment value which, of course, is very subjective and varies over time. Just keep playing and engaging with the community which is the whole point of Open Mic. If you love music, we love you.
The most recent top earning posts were:
This chart is provided by @carlgnash.
Winners from Steemit Open Mic Week 91
It is not getting any easier to pick with all this talent and it is so hard picking winners every week even with 5 judges.
---
and the winners are...
1st Place
You won 80 Steem and a 5-Pack of Steem Monster cards.
---
Steemit Openmic Week 91 Sami D Barid Feat Shavon Bonnie Legion Remember Old Places --- by @samidbarid

---
Inspiration is a most beautiful thing, especially when one acts upon it and turns that inspiration into reality! Well, that's exactly what @soundlegion did after being moved and inspired by one of Sami's performances. Bonnie penned some beautiful lyrics and set her melodic voice to this song in a most brilliant collaborative performance here with Sami, together rendering this inspired version of "Remember Old Places." - @passion-ground
---
This is the representation of a beautiful fusion. Both talented musicians are respectfully adept and massively skilled in their departments. Shavon Bonnie Legion, our good friend and fellow open mic judge is an all around powerhouse of gifts, from singing, songwriting, guitaring and more, and Said Barid is a prolific, and highly capable original pianist composer as he is a songwriter as well. This was an extremely touching and sentimentally moving, passionate performance. The emotions are raw and tangible within the musicality of this poetic piece. I loved everything about this, from the chemistry, to the harmonies, to the melodic flows and simplistically realness of what a touched soul can express. Thank you for sharing this collaborative masterpiece, definitely looking forward to hearing more in the future. - @verbal-d
---
I was not ready for this. I mean, How could one's composure be ready to be stripped away by the soothing sounds of melancholic strings and haunting vocals. Two seconds into listening I was not here anymore, I had left my computer and I was transported to a different version of myself. -@meno
---

2nd Place
You won 40 Steem and a 5-Pack of Steem Monster cards.
---
Steemit Open Mic Week 91 - Mía (Original Song) --- by @ilazramusic


---
@ilazramusic never fails to impress me! From his comprehensive (dual language) posts to the richness of his productions, he is one of the most talented artists I've encountered. I sure look forward to his participation in our upcoming mega-collab! "Mia" is an engaging and entertaining song about when love/lust slips away from us and leaves us wanting. Not only must you check out his song, but you must also check out the work that he has put into the accompanying post! Bravo! - @passion-ground
---
Very few take the time, effort and precision to submit back to back to back complex and intricate, high quality songs, and original at that! Your musical style is so catchy, very laid back and groovy. That reggae bounce is forever intwined in the rhythmic heartbeat of your entries. Your great vocals deliver real flow and the highlights are your harmonic prowess and being able to capitalise on the momentum you build. This was a bit shorter than I would have liked, but still captivated me from start to finish. You layer with skill and transition very well. You add so much inspiration and value to our open mic community, thank you for another fresh gem and looking forward to what you bring forth next. - @verbal-d
---
Not the first time @ilazramusic gets to be on my list. He's a musician musician, making due with what you could only describe as basic gear, driving home the point that what you need is not the most expensive of studios, but a drive to push your art forward as if your life depended on it. - @meno
---
---

3rd Place
You won 26 Steem and a 5-Pack of Steem Monster cards.
Steemit Open Mic week 91 - Chapters Just Begun - Original Song by Darren Claxton --- by @darrenclaxton

---
So this is what comes out when Darren tries to squeeze in some songwriting after a long day at work. I suspect such extraordinary talent must escape when given the least opportunity. "Chapters Just Begun" is a touching composition that most of us can relate to. Darren's performance is brilliant, his song moving, and his persona ever pleasant! - @passion-ground
---
Darren has been on an introspective journey for quite a while now, and we are just lucky to be along for the ride. His songwriting in my opinion has evolved, matured and his style has become really defined. It's hard for me not to relate to his lyrics, specially because just like him I'm a dreamer myself, one that is always staring back at the road traveled wondering if I made all the right choices. - @meno
---

4th Place
You won 26 Steem and a 5-Pack of Steem Monster cards.
Steemit Open Mic Night 91 Original Song Fade --- by @novumorganon

---
You are one of the most underrated vocalists/talent music aficionados and high energy/passionate performers within our open mic community, and you don't enter often but when you do, you draw a crowd. I literally wait for those weeks where you enter, because I know you will not hesitate to bring your all and unleash a focused blast of passion and lasting impression making music. You always raise the bar and have consistently showed your skill and prowess in these genres. You embodied the feeling of this original song 100% and changed the tonality and aggression at all the right areas. You rocked the deep lyricism you always pen into your compositions with intense intentions and your climactic style of singing is very effective. Thank you for sharing this powerful song with us, and ripping the veil for us to these raw and real emotions you pour out. You are openmic's very own rockstar and you wield this title without hesitation. Looking forward to your next original. - @verbal-d
---

5th Place
You won 26 Steem and a 5-Pack of Steem Monster cards.
Steemit OPEN MIC Week 91: (Original) SLOW by Siomara Salmerón --- by @siomarasalmeron

---
*Intense, deep, and with great clarity, "slow" is love. This is such a wonderful theme and composition. Siomara takes us on a short journey to remind us of such wonders. Her melodies and performance are soothing, sultry, and sensational! * - @passion-ground
---
I may be mistaken, but I believe this is your first original showcase of your music? If yes, or if not, it is still a very sweet sounding song, sensual and serenading. You definitely took your slow and precious time creating this wonderfully pleasing creation. The translation you provided delves into a poetic description of how love has depth and is intertwined with time, and love does strengthen as the years mature such a genuine feeling and expression. Sometimes it takes a journey with the tides of a lifelong experience to discover the power of love. Nice and slow is a great motto, never rushing into anything as the tumultuous tides of a heavy storm pushes waves crashing onto the shore. Thanks for this original gem, and sharing your gift of music, definitely looking forward to more original music from you. - @verbal-d
---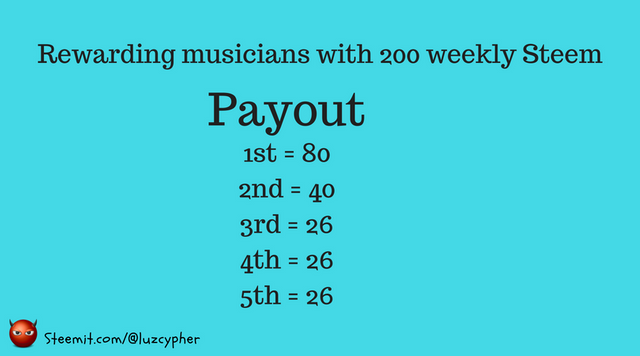 Here's a screenshot of the prizes transferred to the winners this week.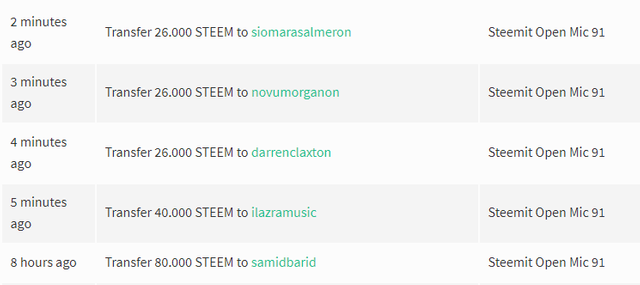 Congratulation Everyone And Thanks For Playing Steemit Open Mic
---
Congratulations guys! Thanks again to everyone that entered. Thanks to our sponsors @pfunk, @ausbitbank, @curie, @aggroed, @isaria, and @steemmonsters for sponsoring Open Mic!
Vote And Enter Open Mic Week 92 by Following This Link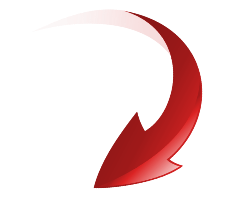 Related Posts
Music Creators Guide To Copyrights, Royalties, And Recording Contracts --- by @luzcypher
How To Support Musicians On Steemit And Earn Curation Rewards By Following The Open Mic Trail --- by @luzcypher

What Are The Rules To Enter Steemit Open Mic And Why Do We Have Rules Anyways --- by @luzcypher
Behind The Scenes Look At The Steemit Open Mic Selection Process How We Pick The Top 3 Entries --- by @luzcypher

---