Vote For @Pfunk For Witness And Keep Steemit Open Mic Growing Strong - We Need Your Help Now
Happy New Year to everyone! Do you support Steemit Open Mic? Then this post is for you.
The past 65 weeks of Open Mic is a joy to be part of and we owe a lot to the musicians, the judges, the supporters, and to @pfunk.
@pfunk has been sponsoring Open Mic since it started with 320 Steem each week and now he needs our help!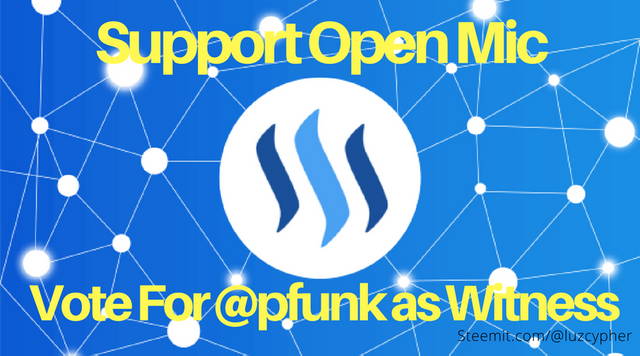 If you didn't know already @pfunk is a witness for the Steem blockchain. He has just slipped from the top 20 witnesses to number 21.
The top 20 witnesses earn more Steem and because he has moved to number 21 he may have to reduce the rewards for the Steemit Open Mic contest.
We can help him climb back up to the top 20 list by voting for him as a witness. It's easy and I'll show you how.
If you want to keep Open Mic going strong then vote for @pfunk as witness right now
Each Steemit account can vote for a total of 30 witnesses at any given time. So even if you vote for and support other witnesses on Steemit you can still vote for @pfunk.
In order to upvote @pfunk as a witness you will need to be logged in with your active key. Click here to learn how to log in with you active key
Once you are logged in with your active key then click on the menu bar at the top right of your Steemit blog. It's marked in green in the image below.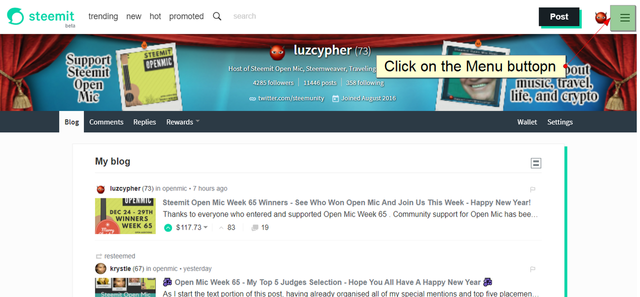 This will bring down a drop down menu and you'll want to click on Vote For Witnesses, marked below in green.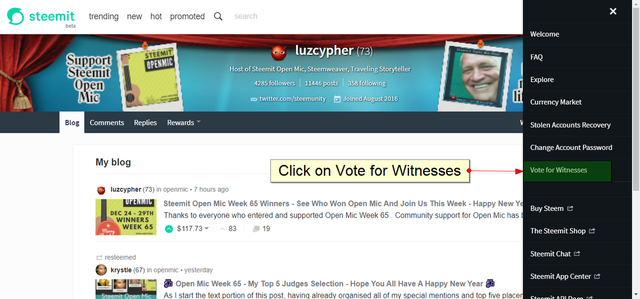 This will bring you to the Witness Voting page. Then all you have to do is click on the upvote button next to @pfunk.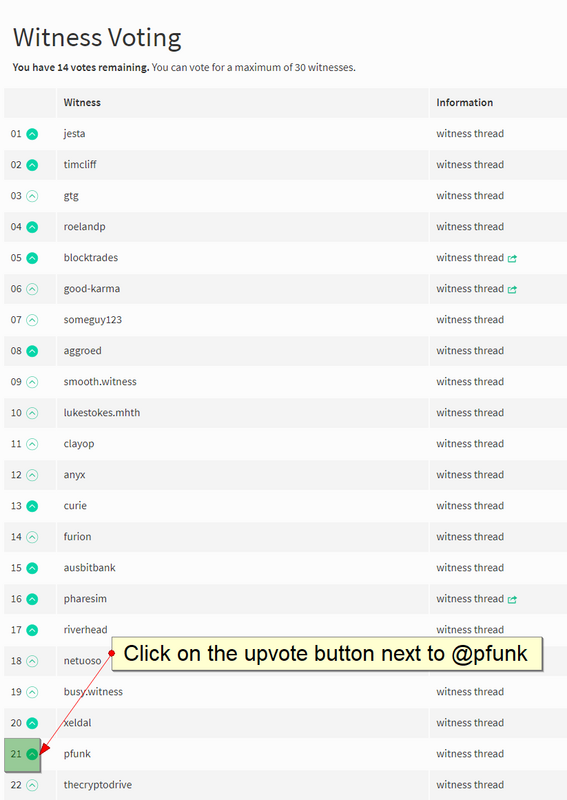 Your vote for @pfunk right now is critical and is a big help to the Steemit Open Mic community. As a member of the Steemit community, it is important you vote for the witnesses that support and grow the Steemit community the way you want to see it grow.
So, if you support Open Mic and want to see it grow, please vote for @pfunk as a witness and let's keep him in the top 20 rankings.
Besides supporting Open Mic @pfunk strives to maintain a solid witness node and have multiple reserves so that the Steem network does not experience any hiccups.
He keeps up with steemit.chat as an administrator, helping users, hunting down scammers, and communicating with moderators to promote a non-toxic culture in Steem and works with Steemcleaners and in efforts to minimize abuse on Steem.
He also matched @ausbitbank's Steem Power delegation to the @openmic
More about Witnesses
The STEEM blockchain requires a set of people to create blocks and keep the site running and keep track of transactions. Anyone who is willing to contribute to the Blockchain may become a Witness however they must be elected through votes made by the Steemit Community.
To essentially become a Steemit Witness an individual needs to be approved and voted by the Community, thus that person needs to have a good-t= rack record and must be liked or respected by others in order to be upvoted as a witness in the first place.
These Blockchain Witnesses are expected to keep a node running every second of every day. Most of Steem Witnesses actively engage in the Steemit Community, a reason why many users have upvoted them.
Go upvote @pfunk as witness right now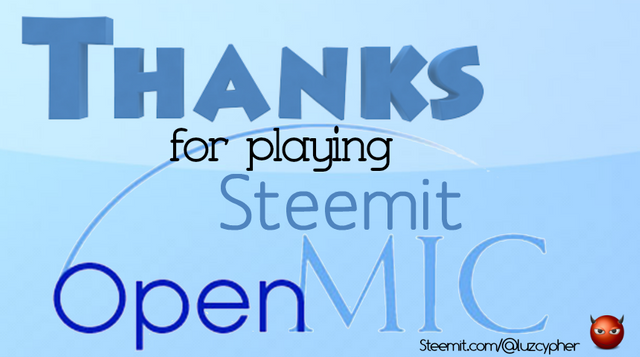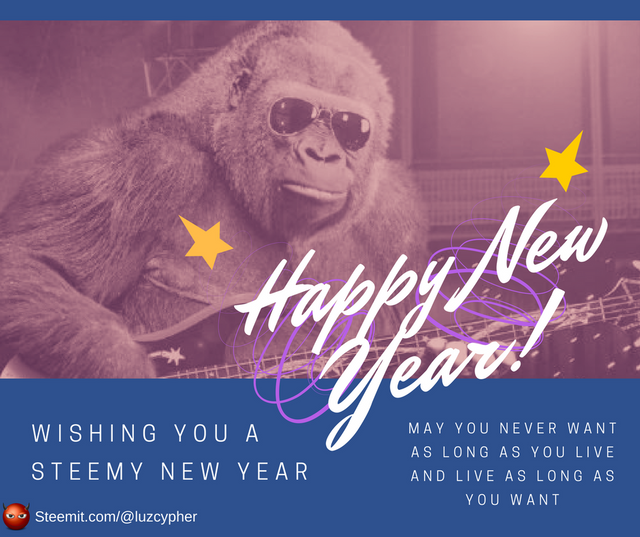 Related Posts
Can I Get A Witness? - Pfunk Is Our Man He's Some Kind Of Wonderful Yes He Is Indeed --- by @passion-ground

Openmic Needs Your Help- Call To Action Support Witness Pfunk --- by @meno

Please Help Support Steemit Open Mic Musicians By Voting Pfunk For Witness --- by @isaria

Vote For Pfunk As A Witness And Help Support Hundreds Of Steemians Through The Open Mic Contests --- by @bryandivisions

Please Vote Pfunk As A Witness Stop Procrastinating Original Poem Blog --- by @verbal-d