Common Questions When Entering Steemit Open Mic
Running Open Mic on Steemit is a whole lot of fun. Getting to hear music from all over the world everyday is a joy and privilege. Each week there are new musicians and some who have been contributing and sharing music with the community since the beginning of the project.
As new people join in there are many questions that seem to come up repeatedly so I wanted to cover some of them in this post.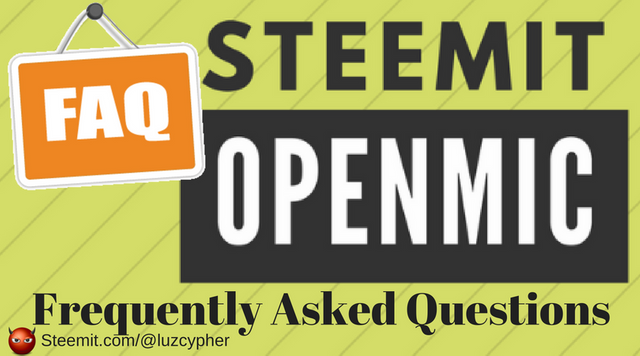 First off, I recommend you actually read the rules before entering which a lot of people seem to forget to do.
Secondly, I recommend you read the rules before entering.
And one more thing I recommend it to read the rules before entering.
You can read them here:
https://steemit.com/openmic/@luzcypher/steemit-open-mic-week-90-record-your-performance-and-win-steem-sponsored-by-pfunk-and-luzcypher
and read about why we have these rules in more depth here:
https://steemit.com/openmic/@luzcypher/what-are-the-rules-to-enter-steemit-open-mic-and-why-do-we-have-rules-anyways
---
Why Are My Open Mic Posts Not Making As Much As When I First Entered?
New people joining the contest will sometimes get featured by the @curie project in their Author's Showcase posts. Curie helps people new to Steemit get noticed by upvoting their post and that can help them get their posts seen and earn quite a few rewards.
Curie recently donated 200 Steem to Open Mic but they have always been supporting new authors including musicians who have posted to Open MIc.
After someone reaches a certain reputation Curie no longer upvotes their posts and they don't upvote every post a new person makes. This has led some new people entering Open Mic to mistakenly feel like the Open Mic community doesn't like their music anymore. When they see their first few entries earn a lot of rewards followed by entries that don't earn as much, they think it's because Open Mic doesn't love their music anymore. This is not the case at all.
Please understand, when @curie upvotes you that is a completely different project from Open Mic and is there to help you get off to a good start on Steemit. @Curie has a lot more Steem Power than @openmic does, but if you, as new person, don't know that is what has happened you could get the impression that you earned all those votes from entering Open Mic and now you're not getting the same amount of earnings.
That is not a reflection of how we value your music. The typical entry to Open Mic earns from 1.500 to 2.500 Steem and more if they trend on the openmic tag.
You can see if your earning from entering Open Mic was selected by @curie by looking at who voted for your post. Scroll down to the bottom of your posts and click on small up arrow next to where your vote count is and a pop up screen will open. If you see curie somewhere at the top of the list they voted for your post.
Congratulations! Enjoy the rewards, but if all your posts don't earn the same amount in the future it doesn't mean your music is not appreciated. It just means you got lucky and Curie selected you.
As far as getting selected in the Top 5 by the judges, votes have very little to do with the selection process and whether or not @curie upvoted you really doesn't factor into being selected in the Top 5 either.
---
I Can't Upvote Posts That Are Not In My Feed
Sometimes we miss entries, but rarely due to human error. The Steemit platform is not perfect and sometimes your entry does not show up in the feed. It's rare but it does happen.
Here is an example of what I'm talking about. In this video no matter how many times I refresh the page the entry disappears. If I can't see it, I can't upvote it. I just happened to catch this one but in a long list of entries it's possible I won't see this happen.
Here is another example when a whole bunch of entries did not show up in the feed until a day later. Again, if it's not there I can't upvote it. When this happens though, I know to come back again later and refresh the page and it will show up. Because I like to upvote entries in the order they are entered I'll usually stop upvoting when I see this and wait until I can refresh the page before I continue upvoting entries..
That's why sometimes there are delays from the time you post an entry to the time I upvote it.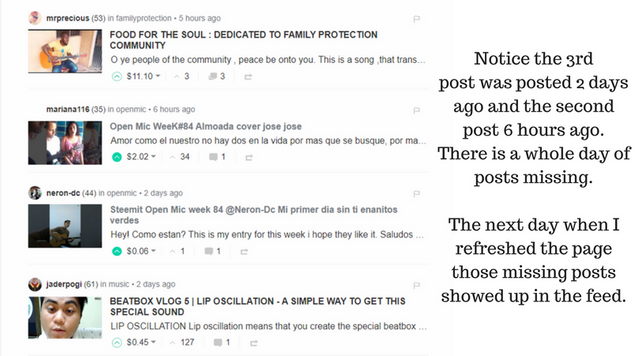 ---
It Takes Time To Listen To 300 Song Every Week
One of the most common questions I get is:
Why have you not upvoted my post yet? I posted 2-days ago."
9 times out of 10 when I get a PM from someone this is what they are asking me. I usually don't respond to PM's when I'm listening to musical entries because I want to get through all the entries as fast as possible so my inbox isn't flooded with people asking me why I haven't upvoted their entry yet.
It takes a lot of time to listen to 300 songs a week and I listen to them in the order they come in. If I have not upvoted your post yet this is why, or they are not in the feed yet as explained above. Please, be patient and I will get to them. If your post disappeared like in the video above there's not much I can do about that. Sorry.
Whatever you do, don't post the same entry again. That is not helping you or me and just makes things take longer.
Also, don't delete your post before we have a chance to get to it, something I've seen people do. They think that because it didn't get upvoted right away that it isn't worthy or doesn't stand a chance. No, it just takes time to get to it. Please be patient.
---
Why Do I Have To Use YouTube Even If I Uploaded To DTube?
I go into depth about that in this post you can read here:
Why Do I Have To Add A Youtube Video To My Open Mic Entry --- by @luzcypher

If you actually read the rules you would know this as it is explained 3 times in the rules at the beginning, middle, and end of the post.
I'll usually add a comment explaining it again when people posting with DTube do not add a YouTube video as well. If you do make a post with just a DTube video and I leave you a comment to add a YouTube video too, you don't need to make a new post.
Just go to the post you made already, click the edit button at the bottom of your post just before the first comment, and add your YouTube embedded video and click the Update Post button.
---
I Didn't Know
First rule to entering Open Mic is read the rules
If you read the rules then you would know. Common things people say they didn't know are.
I didn't know that I had to play a musical instrument
I didn't know I had to say my username.
I didn't know I had to say Steemit Open Mic (current week number)
I didn't know the cutoff date was Friday at 12 PM UTC Time
I didn't know when my UTC Time was.
I didn't know I shouldn't post a link to my entry on the Open Mic Discord Channel. It's done automatically for you.
I didn't know I had to add a link to my entry to the comments of the contest.
I didn't know I had to upvote the contest post.
I didn't know, I didn't know, I didn't know.
All of these things are in the rules guys, that's why we post them in English, Spanish, and French. Most question people ask are already answered in the rules, but these are a few that are not.
I hope this helps you understand some of the things that happen behind the scenes that can delay you getting upvoted when you enter and why your rewards can vary greatly from week to week when entering.
We value your music, your participation, and you as member of the community. How much your post earns on any given week has nothing to do with you as a musician. It's just part of how Steemit works.
---
Related Posts
What Are The Rules To Enter Steemit Open Mic And Why Do We Have Rules Anyways
Steemit Open Mic Is About Building A Community Of Musicians On Steemit Not About Winning --- by @luzcypher

Operation We Are The Open Mic --- by @meno