Steemit Open Mic Is About Building A Community Of Musicians On Steemit, Not About Winning
Steemit Open Mic is a live music venue to help musicians on Steemit get their music heard and connect with the music community on Steemit. It is in its 74th week and I've been told it's the longest running contest on Steemit.
The format is a contest with prizes generously sponsored by @pfunk but the idea has always been to foster community engagement for musicians and music lovers.
Music is not really a competition, but having prizes adds an extra incentive to get people to find the courage to put themselves out there with their music. It's just the push some of us needs to inspire us along with deadlines, which have ispired more songs they you'll ever know.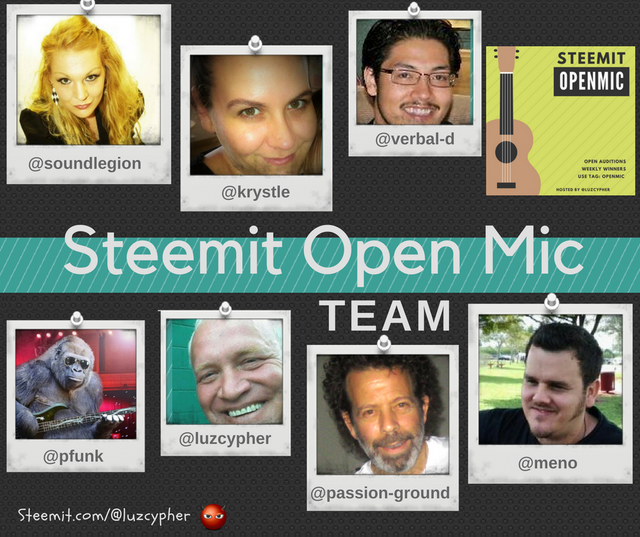 As the community has grown so large over the many weeks since it was first launched things have changed along the way but the main focus is and has always been to help musicians connect on the Steemit platform.
I point this out because lately there have been many people who don't seem to understand what Open Mic is really all about. Some seem to only think it is a way to make money and their focus is only on the potential earnings they could earn playing here.
In the interest of keeping the main thing the main thing and hoping to bring more clarity and understanding to the Open Mic community, I will attempt to share some thoughts and challenges the Open Mic Team face while curating this community.
So let's begin.
Forget About The Price Tag, We Want To Make The World Change
As Open Mic grew and more people started playing for Open Mic, the focus on community, while still strong, has seemed to have drifted to the focus on the earnings.
I love making money on Steemit too but I love building the music community here even more. That's why I started Open Mic to begin with.
From week 2 until the present day @pfunk has been donating 320 Steem, and I have donated from week one 100 Steem toward the contest as prizes. Each week we pick winners to award.
Steemit Giveth And Steemit Taketh Away
Back when Steem was .17 cents and even when it was $7 @pfunk and I have consistently contributed to rewarding performers. Never have we complained when only 10 people entered, or when the price of Steem hit $7, that it was too much money for too little interest.
It takes time to build a vibrant community and we are willing to do the work and put our money where our mouth is because the community is the reason behind doing any of this. It's a big, fun experiment we are all part of and rewards, while nice, is not why we do this.
Back in October 2017 @xeldal delegated +20,000 Steem to my personal account without saying a word and this February 2017 he took it back just as quietly. Never have I complained or even asked him why.
In November 2017 @ausbitbank created an account called @openmic and started a campaign that funded it with +24,000 Steem. One of the biggest contributors was @fulltimegeek and last week he pulled his delegation to help @berniesanders flag someone named @haejin. I don't know anything about that but, just as easy as it came it is gone. I would never dream of complaining to @fulltimegeek about that.
Streemian.com was a way for people who wanted to support the @openmic account which follows my manually upvoted posts of entries for Open Mic to do so without having to delegate Steem from their account. Streemian.com suddenly ceased to exist. Complaining about it is not going to bring it back.
The Value Of Your Music Is Not Measured In SBD
All three of these things have happened at pretty much the same time with the result of dropping the number of rewards my vote added to an Open Mic entry from a base of about 6 SBD to less than 2 SBD.
Since then my inbox, and many of the Open Mic judges has been full of complaints from people feeling like we don't love them anymore and it is very irritating to get complaints from people that I have only tried to help.
Voices Of Open Mic - An Official Judge's Perspective Of Things (Original Vlog) --- by @verbal-d


There is no guarantee that your post will make anything ever, but because many people jumped on the Open Mic bandwagon when times were good they seem to feel that now that the payouts are lower it somehow translates into us not appreciating them like we used too.
Welcome to Steemit folks. We do not control who delegates how much to whom or when they take it back and just because your first few Open Mic posts made 100 SBD and the following ones made 2 SBD does not mean anything. That's just the way Steemit works.
The Steemit Open Mic team cannot control any of that ever and quite frankly I'm getting a little pissed off hearing people complain to us like we have anything to do with it. People can do what they want with the Steem delegation and I am grateful they delegate any to us for any amount of time.
Just so you know, my posts for Open Mic were making 100 -175 SBD during that bull run and have now dropped to 15-50 SBD. Do I complain to you about it? Do I complain when one of the rules for entering is to upvote the contest post so we can earn enough to compensate for the hours spent upvoting people only to see that 400 people entered and the post only got 89 upvotes?
No, I do not. And why is that?
It wouldn't make any difference if I did.
Complaining about things we have no control over is boring.
Open Mic is about building community.
Whether my earnings on a post is 2 SBD or 200 SBD I would still be doing this because it's about building a community of musicians on Steemit. Period!
When my earnings dropped along with everyone did you get a message from me asking you to please upvote my post? No.
I just kept upvoting your entries and still, there are people not happy about the earnings. I'm really sorry I can't help you as much as I used to, but do you hear me saying that we have to lower the prize money now that I'm not earning as much? No, you don't.
The ones complaining are the ones who are focusing mainly on the rewards they earn. Those of you focusing on contributing good music and engaging with the thriving community of musicians have not complained ever.
Voices Of Openmic Soundlegion Official Openmic Judge --- by @soundlegion

So if you find yourself upset and feeling your music is not appreciated because your earnings are down I suggest you take a look at yourself and see if your focus is on what Open Mic is really all about. If your earnings are the focus then you are missing the whole point of this Open Mic community.
My Post Is Not In The Weekly See Who Played List
Another change since the contest has grown so large is that we are being more selective choosing the entries that make it to the weekly See Who Played list for each week.
We have rules in place that serve many purposes so we can run this thing as smoothly as possible and they're there to mainly:
Verify it is really you playing
Keep people from cheating
Make it easy for us to find you
I do make exceptions sometimes. For example, we added a recent rule change asking people to say their username at the start of their video to help us catch people stealing videos from other musicians and claiming it as their own.
Not everyone reads the rules and some of the players who have played Open Mic for many weeks have missed this new rule. Because they have played for so long I know them and would know if someone else tried to pass their performance off as their own. So, even though they did not say their username I included them in the weekly post because I know it is really them.
When I make that exception, without exception, someone new to Open Mic will PM me with a complaint asking why I allowed that entry to be listed without saying their username and did not allow their entry for not saying their username. Because I know them already and know it is them playing. I don't know you yet so say your username and then I will know it is you playing.
We didn't make these rules to mess with people, we made them to keep people from messing with Open Mic. Just follow them to the letter and you'll be fine.
Voice Of The Open Mic Tuesday S Gone Tomorrow Is Another The Day --- by @passion-ground

That being said, there are some people following the rules perfectly and still, they did not get added to the Open Mic See Who Played weekly list. Why is that?
There are many reasons so let me try to list a few.
Lately, there have been some groups of people who find one guitarist to play for them while they each take a turn singing a song. They follow the rules perfectly on each individual post and they do get upvoted by me for entering.
While each individual post is fun to listen to, putting 12 performances from the same guitarist into one post is not the best listening experience for anyone coming to the See Who Played weekly post.
I like the movie Forest Gump and have seen it many times, but I would not like to see it 12 times in a row all day long and neither would you or the Open Mic judges.
There are also a lot of people who are just pretending to play the guitar when it is obvious they are not playing. I don't mean they don't play well, I mean they are not playing the instrument at all, just pretending. I'm not going to add that to the weekly post just because they entered and, believe me, you don't want to hear it.
If you're not a musicians and you're just entering as a way to try to make some easy money and you don't even bring any energy to the show I'm not going to upvote you or if I do upvote you for trying, I'm not going to add you to the weekly list and waste the judges time just because you entered.
Another reason you may not have been included in the See Who Played list is your "performance" is just you jamming guitar along with a song played on a boombox, you're not really playing any musical instrument, your video is not working, you did not add a YouTube link to your post, you did not add a video at all to your post, (yes, I have had people get mad at me for not including them when they didn't even add a performance to their post for me to include) your video is just a black screen, the quality of the recording is just not worth watching, etc.
I do a lot of voting and sometimes I don't vote on the first day of the contest (Sunday) just to let my voting power restore itself. If I wait a little longer my voting power has a chance to restore itself over the weekend so sometimes on Sunday and Monday I will not vote yet just to give it a chance to build back up.
What are those people doing when I don't include them? You guessed it. Complaining to me.
As this contest grows we are getting more and more very talented people coming to Open Mic and there comes a time when I have to pick and choose which ones make it to the weekly post. I have a lot to choose from and I value the judges time.
They put a lot of work into this each week and I'm not going to waste their time with an entry that has dogs barking and people talking in the background, cars and buses making so much noise you can't hear the music, or a recording level so low you can't hear the performance.
If you put so little into making a good entry why should I upvote you? I would rather save that upvote for someone who actually tried their best even if they are not that good. At least they tried.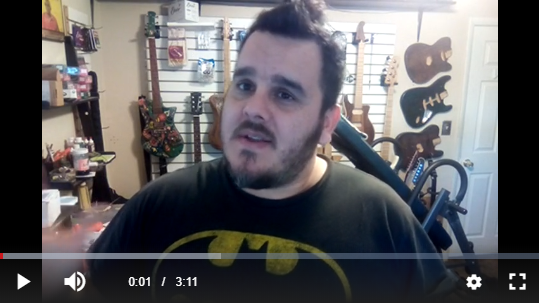 Voices of the Open Mic @meno - My thoughts on the Open Mic Contest on DTube --- by @meno

Some people are very competitive even when it comes to music and if winning is the reason you're here then step up your game. If your post has no chance in hell of winning then get better. Even if you don't get selected you're still getting an upvote from me so stop crying to me about it, please.
I didn't start this just so I can upvote you. I started it to help musicians connect, so, connect. No one is stopping you from getting involved in the Open Mic community. @krystle only entered Open Mic twice and look how well she connected with the community.
Now, that said, I have missed including some people in the weekly post sometimes just because of error, both personal errors and errors not in my control. There have been some weeks where a whole group of entries didn't even show up in my feed until 2-3 days after they were posted. That was an issue with Steemit, not me. If it's not there I can't upvote it.
This is a big experiment and sometimes things don't work perfectly every time and you shouldn't take it personally. To do so is self-defeating.
Besides Running Steemit Open Mic I Also Have A Life
One of the things I hear a lot from people entering is they appreciate the many hours spent by me and the judges listening to hundreds of entries each week. It really does take a lot of time, but I also have a life outside of Steemit.
I'm sure I spend at least 60 hours or more per week listening to entries and communicating to all involved and sometimes it takes a couple days or more for me to get to your entry. Please try to be patient. I will get to it.
Sending me a PM asking me why I didn't upvote your post yet is not going to help me get to it faster. If you feel I'm ignoring your PM it's because I am. I just don't have the time to answer questions from impatient people wanting their upvote now.
Some people make another entry thinking I missed theirs. No, I didn't miss it. You're just standing in a long line until I get to yours. Making another post, besides being against the rules, just makes me take longer to get through the posts and PMing me takes longer still.
Somewhere in all of this, I have to eat, take a shower, buy food, pay bills, visit friends, organize Steemit meetups, make a post, and travel to places like Anarcapulco last week.
I don' t have the time to address your impatience. I don't even have the time to respond to the entries on the Open Mic post anymore and save my responses in the comments of each individual entry instead.
Rest assured, I'm working my ass off to get to your post and need your patience and understanding, not your complaining.
Trying To Make An Open Mic App
I've been trying to get an app made for Open Mic and @cptnduras started working on it and I'll keep you updated as it progresses.
To Those Not Complaining
For all of the musicians not complaining about any of this I just want to say thank you for getting what we're trying to do here and for contributing to the community in your own special way. You are who we are working so hard for and we appreciate your support.
It is challenging sometimes trying to keep everyone happy and your energy and attitude really help.
You guys obviously get that the main idea behind Open Mic on Steemit is to foster an engaging musical community and any rewards gained is just extra goodness.
Why anyone is upset by sharing their music with such a wonderful community is beyond my understanding and your understanding is worth all of this work.
I once paid a publicist $400/week to promote my band and he taught me about the 25|25|50 rule.
A publicist, also known as a public relations specialist, is someone who generates media coverage for their client in order to promote them to the public.
He told me that anyone who promotes themselves in public in the media will find that:
25% of the people exposed to you will love everything about you and what you, or your project, stands for
25% of the people will hate everything you stand for as much as the people who love you, love you.
50% will not know you exist and will go on about their lives
A publicist's job is to focus on the 25% of the people that love what you're doing and ignore the rest. That is what I intend to keep doing.
The very fact that some people are not happy hints to the success we are having reaching people on the Steemit platform. It's impossible to keep everyone happy, but those of you that understand that engaging with the community you're part of is the main reward are the most appreciated of all. You are why we do this. So, thank you for your music, support, and interest.