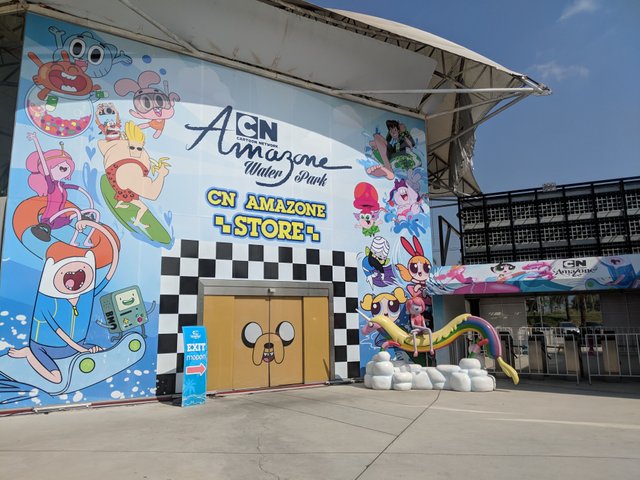 Yes, it's a Cartoon Network themed water park. Hory sheeeet! :D
I'm a huge fan of Adventure Time so this was like a must for me. Manchild mode activated!
Ja, ein Cartoon Network Wasserpark. Hory sheeet! :D
Ich bin ein riesiger Fan von Adventure Time, also war das ein Muss. Das Kind im Manne wurde geweckt!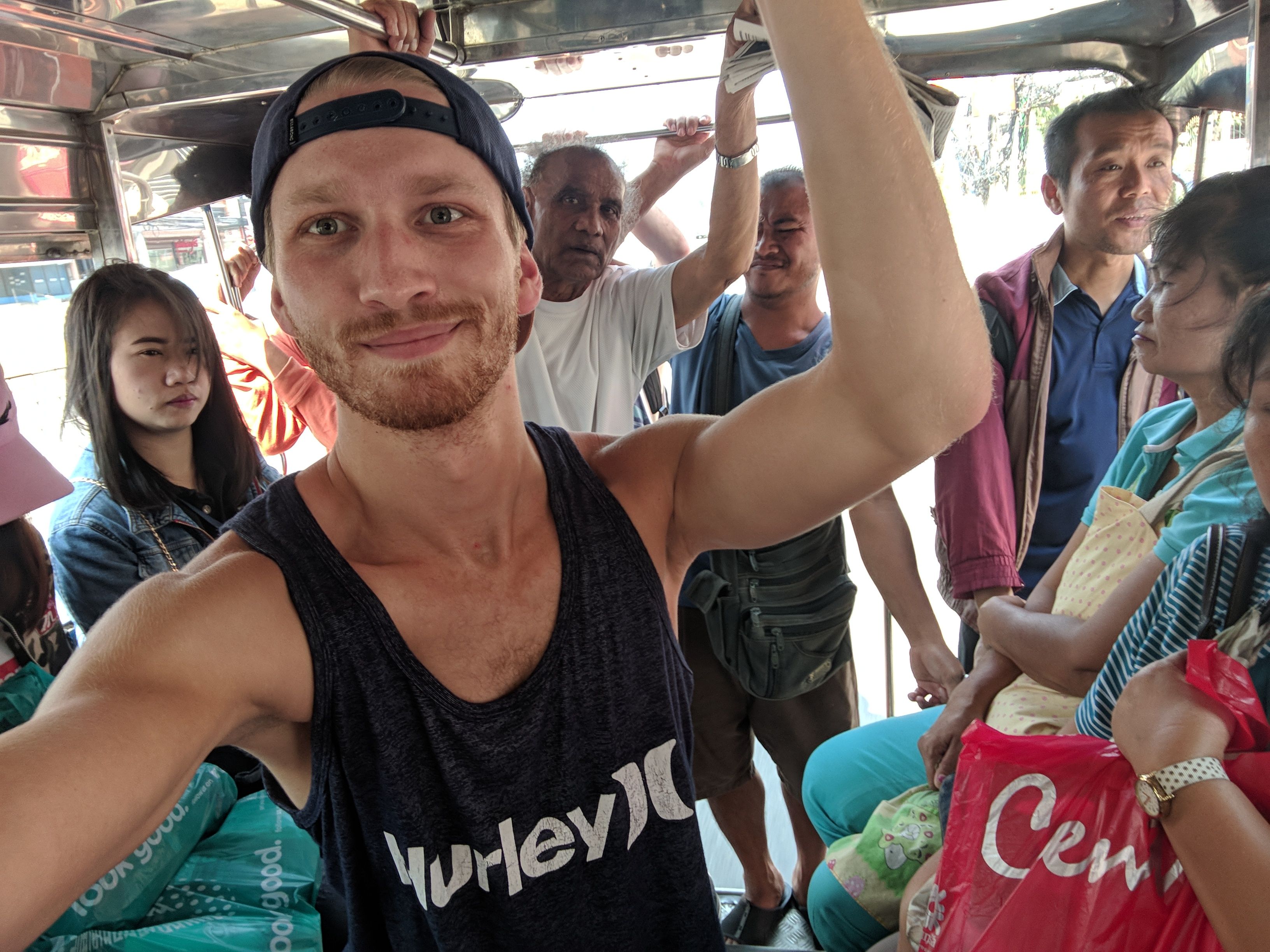 To get there we use an overly packed Songthaew. 40 minutes, 20 THB (0,5 €). Yep, that dark-skinned guy in the back just wanted to be on the photo. Sorry Flo.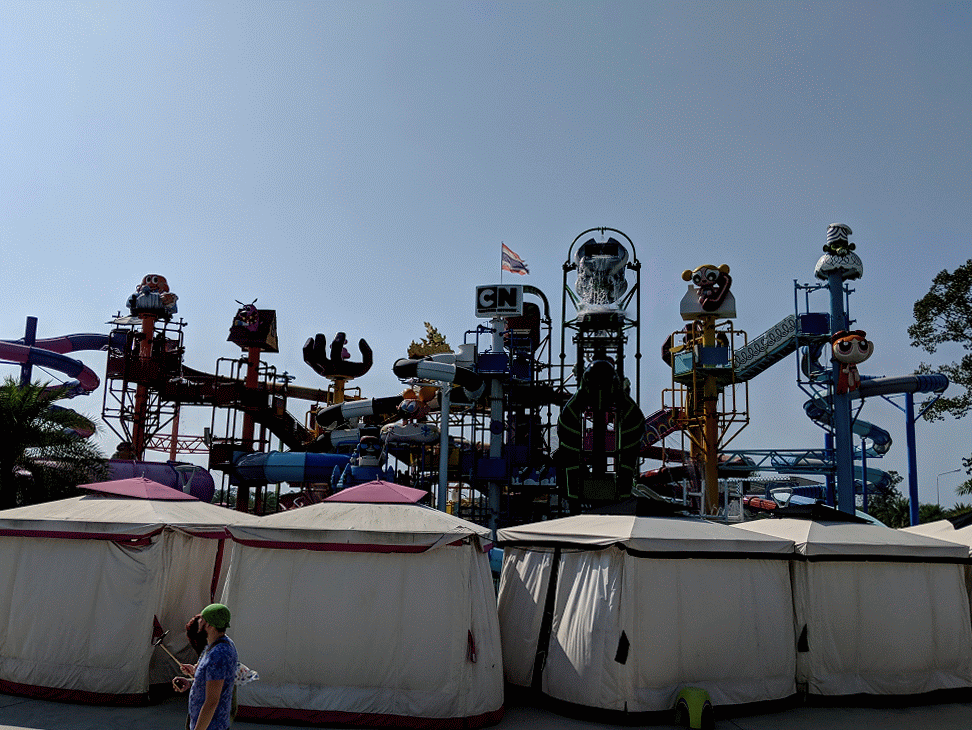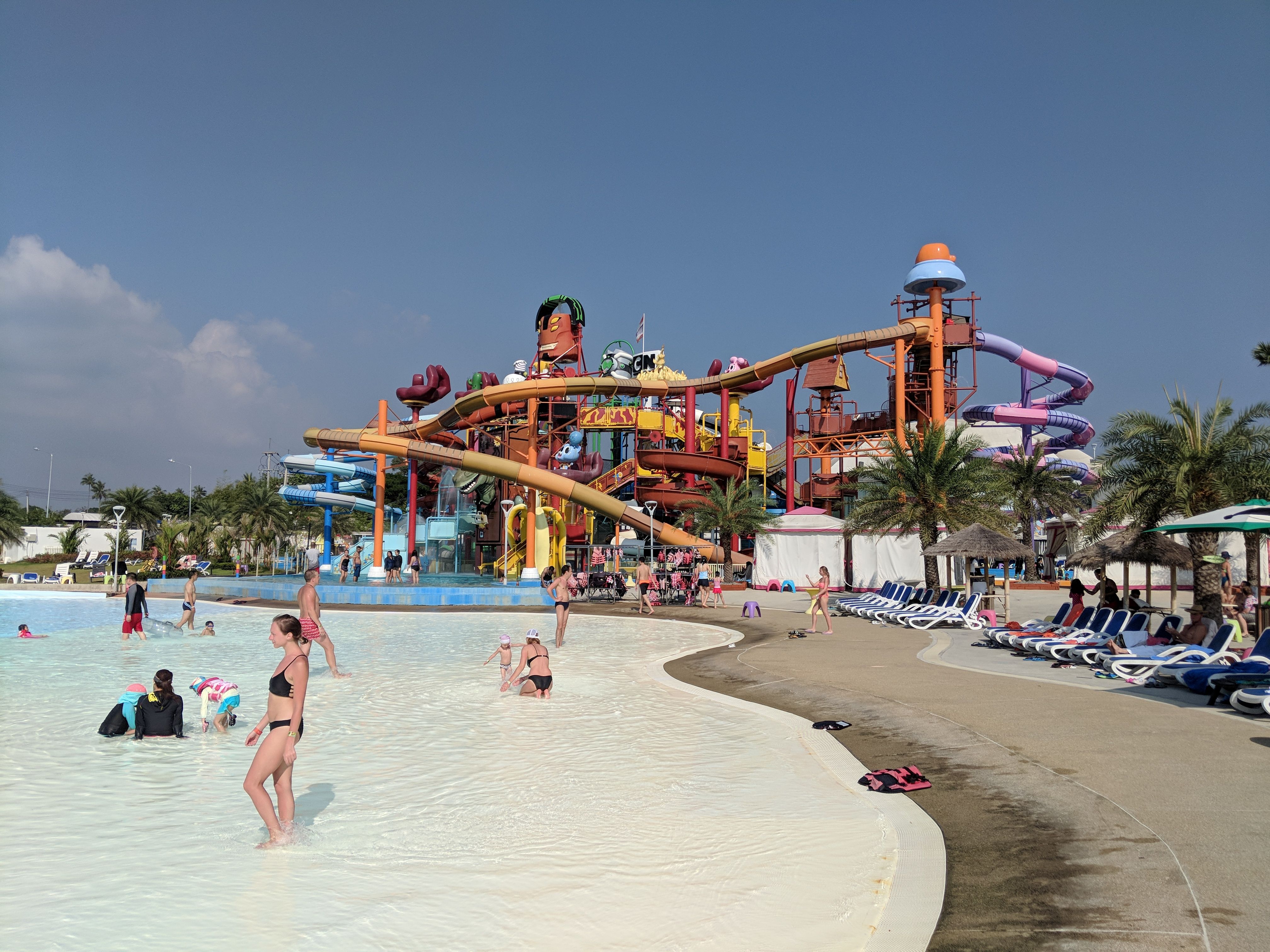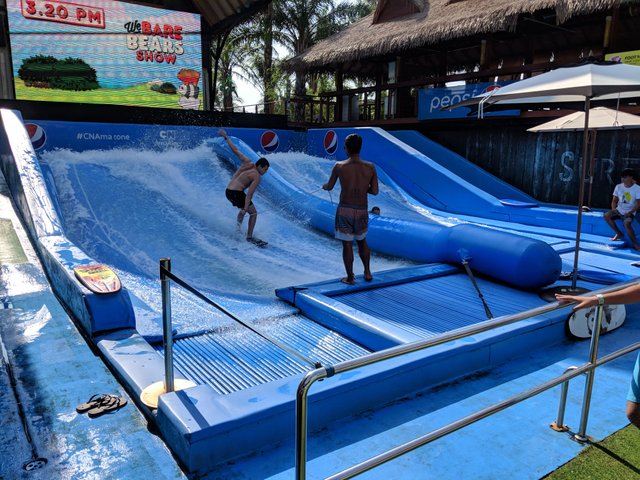 Whaaat! There's so much stuff, we gotta try all the slides n stuff!
Look, there's Jake from Adventure Time!
Waaas! Da ist so viel Zeug, wir müssen jede Wasserrutsche ausprobieren!
Schau, da ist Jake von Adventure Time!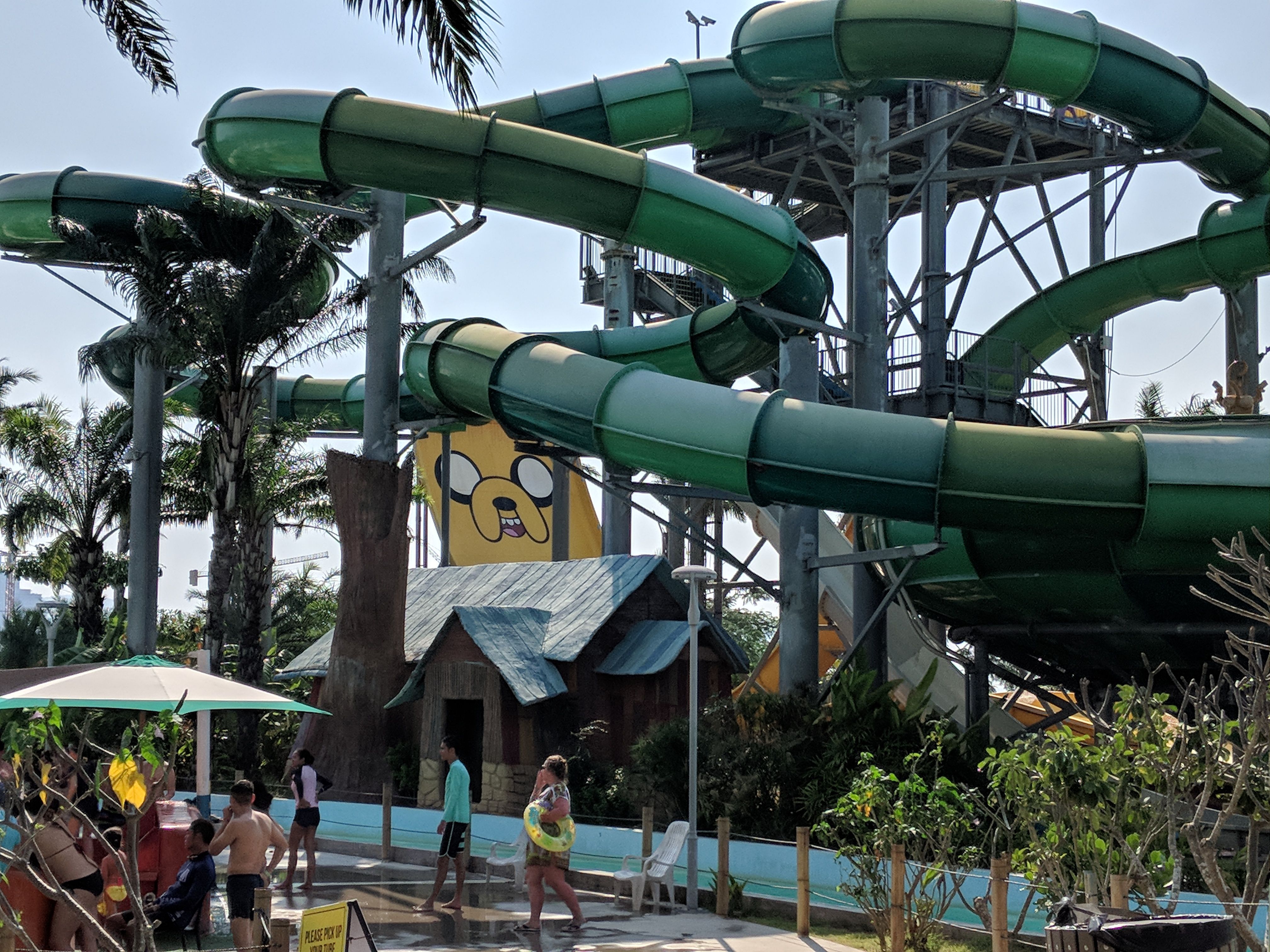 They even had one slide where you stand in there, the bottom flips away and you just fall. That was some crazy rush. =D
Die hatten sogar eine Rutsche in der Mann steht, man dann den Boden unter den Füßen weggezogen bekommt und einfach fällt. Was für ein Kick. =D
Expect The Unexpected
There's just one slide we cannot do, because you need minimum 3 people.
Coming down another slide two guys with the same problem ask us to join them. Perfect!
We walk up the stairs and start a conversation. As it turns out they've both lived in Thailand for the past 10 years. Wow! Workwise one works for a job market, the other helps students get internships in Thailand over a website. Turns out they're both CEOs of those businesses.
Never expected to make this kind of interesting contacts waiting for a slide in a water park. I might have fucked that one up tho since I was just being a weirdo as usual, haha.
After asking for contact info we drove back up to central Pattaya to have dinner:
Nur eine Rutsche können wir nicht angehen, weil man mindestens zu dritt sein muss.
Als wir bei einer anderen Rutsche runterkommen, werden wir plötzlich von zwei Typen mit dem gleichen Problem gefragt. Perfekt!
Wir gehen die Stiegen rauf und beginnen eine Konversation. Wie sich herausstellt, leben beide seit 10 Jahren in Thailand. Wow! Einer arbeitet für eine Jobbörse, der Andere hilft Studenten über eine Webseite Praktika in Thailand zu bekommen. Es stellt sich heraus, dass die beiden die Geschäftsführer sind.
Hätte mir niemals gedacht, solch interessante Kontakte beim Warten auf eine Wasserrutsche in einem Wasserpark zu machen. Könnte das allerdings versaut haben, weil ich mich wieder mal wie ein Sonderling benommen hab, haha.

Noch schnell um Kontaktinformationen fragen und zurück ins Zentrum von Pattaya fürs Abendessen: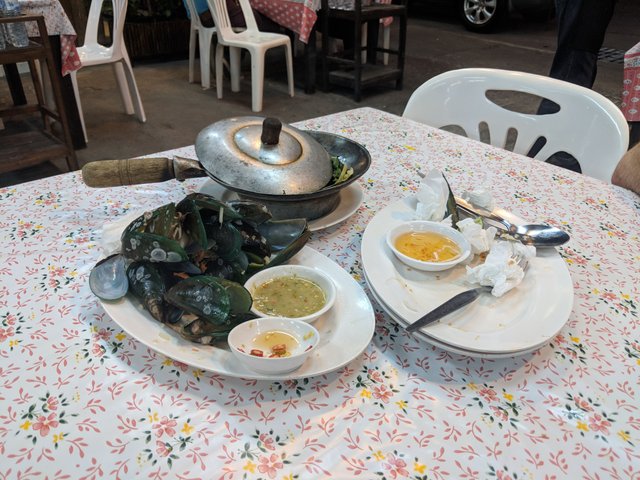 Yep, that's a picture of food when you eat it while it's hot instead of taking a photo.
Yep, so sieht ein Essensfoto aus, wenn man das Essen heiß isst, anstatt ein Foto zu machen.
Obviously I sent out an email to the guys we met at the water park. I'm quite happy I got a reply with an invitation to their office in Bangkok. There's no second chance for the first impression but I can work on my communication skills till I get to meet them.
Klarerweise hab ich den Jungs, die wir im Wasserpark getroffen haben, ein E-Mail geschickt. Ich freu mich ziemlich, dass sie mir geantwortet und mich in ihr Büro in Bangkok eingeladen haben. Es gibt zwar keine zweite Chance für den ersten Eindruck, aber ich kann an meinen Kommunikationsfertigkeiten arbeiten, bis ich sie treffe.
---
Hope you had a good read! Always happy about feedback.
Hoffe, du hattest Spaß beim Lesen! Bin immer offen für konstruktive Kritik.
More pictures on instagram: https://www.instagram.com/yourmateyo ☺
You find every other blog post in chronological order right here:
All the best,
yourmate