Update on The Steem Experience
The show is moving to two hours and we will be adding a few new segments!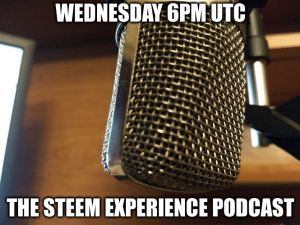 by @seablue
Reminder! watch The Steem Experience live this Wednesday at 2pm EST/ 6PM UTC
Follow this account or any of the streaming channels:
DLive SteemStar Youtube
Discord Server Stats
| Category | Change | Total |
| --- | --- | --- |
| Current Member Count | +7 | 574 |
| Admin | 0 | 20 |
| Moderator | +3 | 54 |
| DJ | +2 | 126 |
| Bots | 0 | 8 |
| Voice Chats | 0 | 4 |
| Text Chats | +1 | 28 |
| Categories | 0 | 7 |
Server and Show Details:
Steem Monsters has been the big topic in voice so I just now made a text chat for it.
We had a great show with @shadowspub! Check it out here!
@mandalflower will be our next guest this week and I'm sure that is going to be an interesting discussion so don't miss that!
I realized today that we have had more female guests than male! I think that's pretty awesome for a crypto community show
We will do the normal hour as usual and the second hour will be more of an open discussion with everybody.
The new segments aren't decided yet, but I definitely want to have a Steem News segment because there is plenty to keep up with here every week.
Text Chats:
general
post-promotion
experienced-trail
eos
discord-servers
steem-tools
music-commands
admin-chat
busy
dtube
dlive
dsound
dmania
sno
steepshot
zappl
initiatives
bitcoin
altcoins
natural-health
vegan
fitness
austin-meetup
san-francisco-meetup
philadelphia
aceh

Screenshot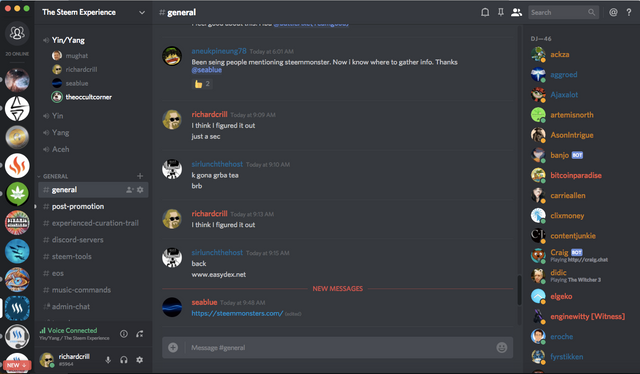 ---
@shadowspub was an awesome guest and I really love her perspective. I think the work she is doing for Steemit is awesome! Please follow her and her @steemitramble account to find quality content that she is highlighting and definitely check out the Steemit Ramble Disord for PYPT and the Witness Chats!
Previous posts about The Steem Experience
Seablue Journal: Living The Steem Experience
Seablue Journal: Let Love Reign
Introducing: The Steem Experience
Update 1 Update 2 Update 3 Update 4 Update 5 Update 6 Update 7 Update 8 Update 9 Update 10 Update 11 Update 12 Update 13 Update 14 Update 15 update 16
Podcasts
The Steem Experience 001
The Steem Experience 002
The Steem Experience 003
Shows Live Streamed
TSE 01 with @battleaxe
TSE 02 with @iamnotageek
TSE 03 with @enterthespectrum
TSE 04 with @whatsup
TSE 05 with @shadowspub NEW!
Edited Shows for DTube
The Steem Experience Episode 4 with @whatsup
The Steem Experience Episode 5 with @shadowspub NEW!
Music
@lanmower surprise jam 1
@lanmower surprise jam 2
@lanmower TSE dj session
---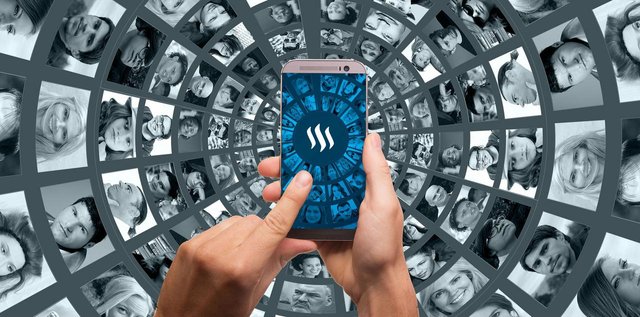 You can also join by going to http://steemexperience.com/