Update on The Steem Experience
We had great show with @whatsup and many new developments behind the scenes!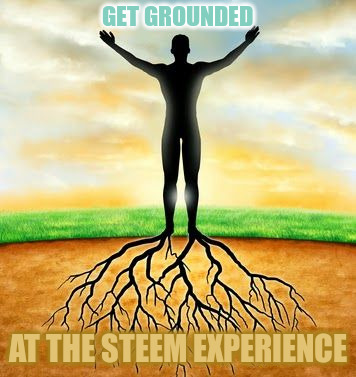 by @seablue
Reminder! watch The Steem Experience live this Wednesday at 2pm EST/ 6PM UTC
Follow this account or any of the streaming channels:
DLive SteemStar Youtube
Discord Server Stats
| Category | Change | Total |
| --- | --- | --- |
| Current Member Count | +21 | 567 |
| Admin | 0 | 20 |
| Moderator | +2 | 51 |
| DJ | +3 | 124 |
| Bots | 0 | 8 |
| Voice Chats | 0 | 4 |
| Text Chats | 0 | 27 |
| Categories | 0 | 7 |
Server and Show Details:
Growth picked back up this week in the discord server and follower count for this account possibly because of promoting TSE show.
The show was successfully streamed to Youtube, SteemStar, and DLive simultaneously using Restream.io
We also did an edited version exclusively for DTube that we will continue and improve every week as well.
We still have a lot of work to step up production for the show but we have several new audio/visual upgrades coming!
Text Chats:
general
post-promotion
experienced-trail
eos
discord-servers
steem-tools
music-commands
admin-chat
busy
dtube
dlive
dsound
dmania
sno
steepshot
zappl
initiatives
bitcoin
altcoins
natural-health
vegan
fitness
austin-meetup
san-francisco-meetup
philadelphia
aceh

Screenshot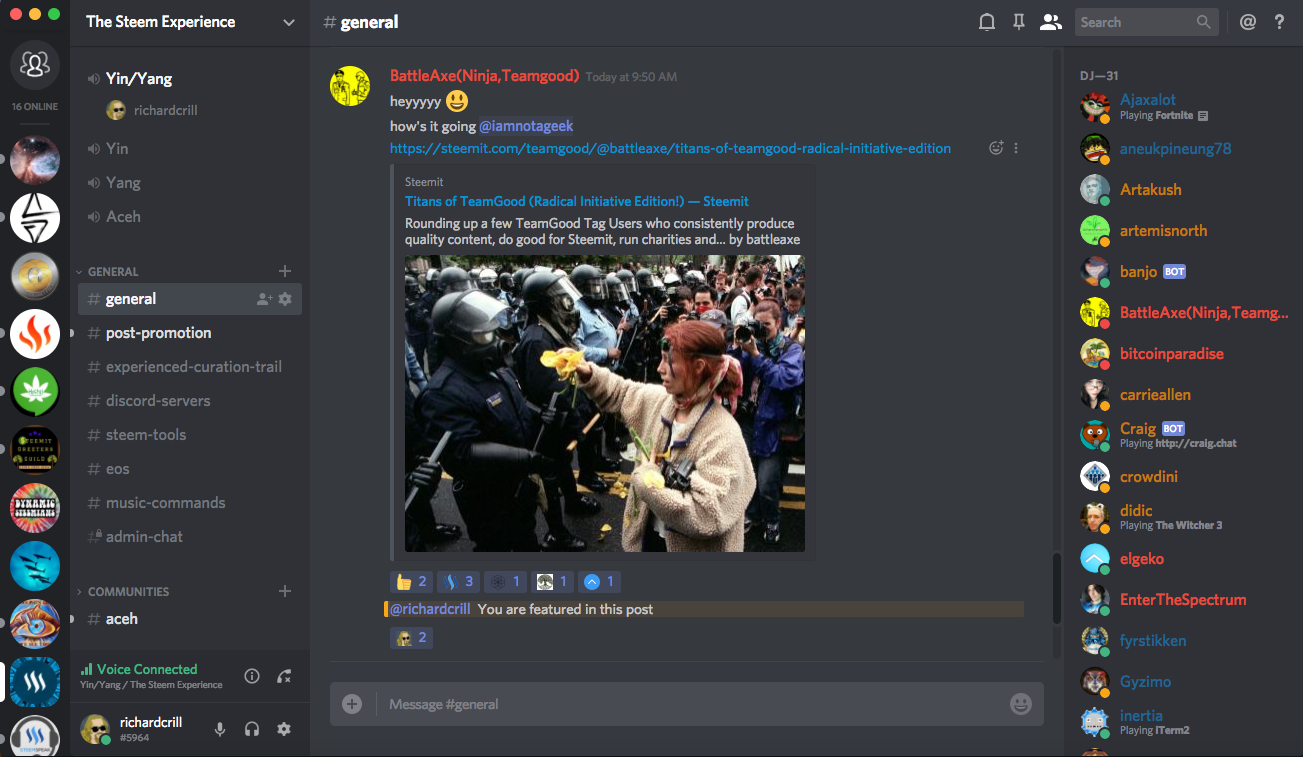 ---
It was an honor to be chatting with these two experienced individuals who I have become friends with over the last couple years through Steemit/SteemSpeak. @seablue was an excellent host as usual and @whatsup was an awesome guest as I expected! They both had to bear with me as I had some audio difficulties while streaming to begin with, but that inspired the edited show!
@jackmiller, @mughat, and @alxgraham were around during and after the show and we had a good discussion while hanging out after the show ended. I think we could easily start doing another hour long segment after the interview as discussion so we would have a 2 hour live stream for SteemStar/DLive and 30 minute show for DTube. That's just what I'm thinking though. I'll have to talk with everyone and see.
Thanks for reading y'all,
Richard
---
Previous posts about The Steem Experience
Seablue Journal: Living The Steem Experience
Seablue Journal: Let Love Reign
Introducing: The Steem Experience
Update 1 Update 2 Update 3 Update 4 Update 5 Update 6 Update 7 Update 8 Update 9 Update 10 Update 11 Update 12 Update 13 Update 14 Update 15
Podcasts
The Steem Experience 001
The Steem Experience 002
The Steem Experience 003
Shows Live Streamed
TSE 01 with @battleaxe
TSE 02 with @iamnotageek
TSE 03 with @enterthespectrum
TSE 04 with @whatsup NEW!
Edited Shows for DTube
The Steem Experience Episode 4 with @whatsup NEW!
Music
@lanmower surprise jam 1
@lanmower surprise jam 2
@lanmower TSE dj session
---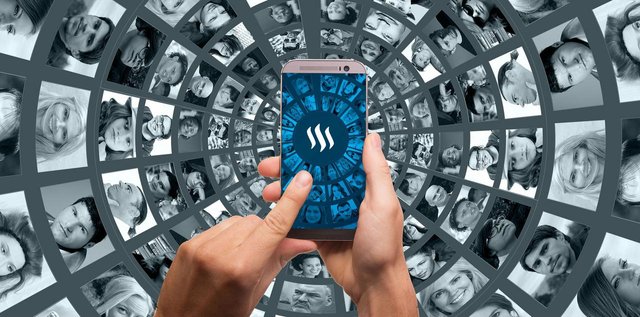 You can also join by going to http://steemexperience.com/