Fitness Challenge - March Report
Would you read my March fitness challenge report, which is my fifth monthly report because it's showing good results in my weight loss efforts and can help you do the same?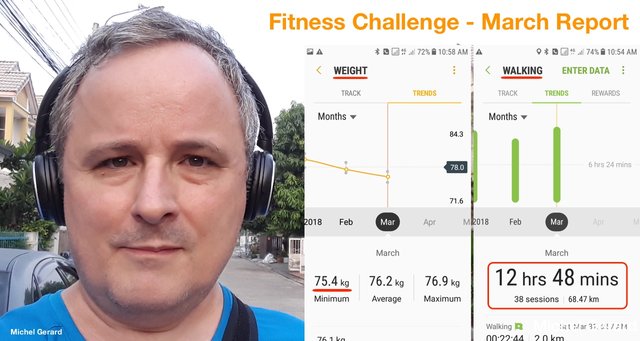 I started this personal fitness challenge on the first of November, using my phone and the Samsung Health app to record and track my progress.
I wrote a fitness challenge report on Steemit at the end of each month, from November to now, so I can document my results, see my progress, and be accountable to you and myself.
This challenge is to do a 2-kilometer walk and exercising 40 minutes every day, and also to explore other solutions in healthier eating.
You may be interested to read my four previous reports:
That's the first time in my life that I have exercised that much and I am grateful that I have the time to do it and experience its benefits.
In addition to walking and exercising, I have changed my diet to eat much less meat and more vegetables. I have started juicing fruits and vegetables, and that has helped a lot with getting the results you will see below.
You can follow what I'm doing and I'm sure you will see good results too.
Let's see my results for this fifth month.
Fitness Challenge - March Report
I am glad to report that I have walked my 2 kilometers and more every day, and also exercised 40 minutes every day in March 2018.
Let's see what the app is saying for "Walking."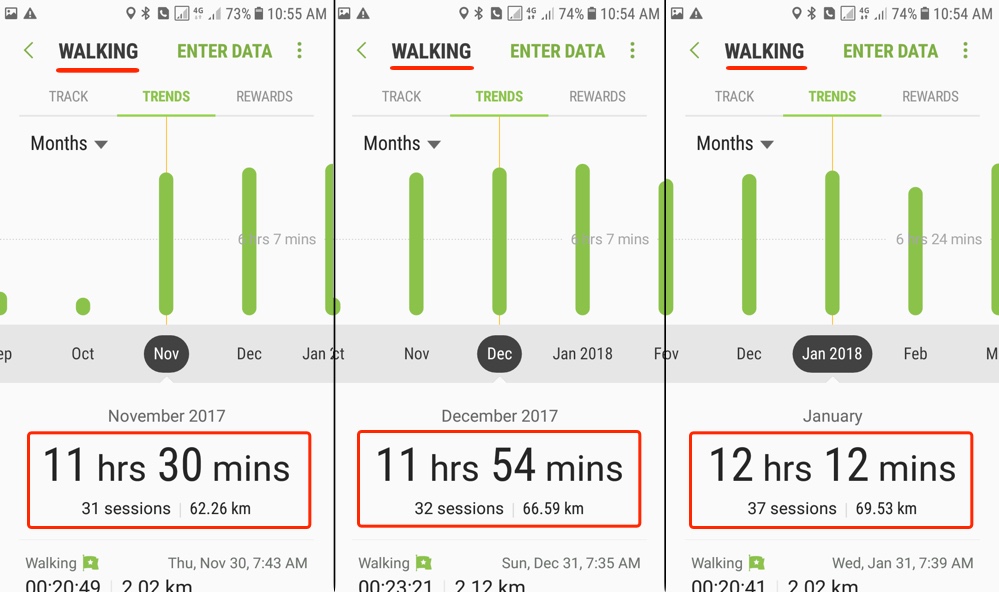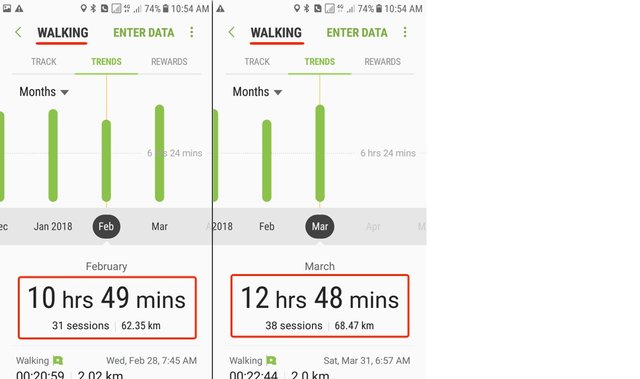 I walked 31 days in March in 38 sessions, for a total of 68.47 kilometers in 12 hours and 48 minutes. In February I walked 62.35 kilometers, in January 69.53 kilometers, in December, 66.59 kilometers and in November 62.26 kilometers.
I have walked more kilometers in March because February was only 27 days. In 4 months I have walked 329.20 kilometers in total and that's a lot.
On some days, I have walked more than 2 kilometers, and also away from home. The most interesting walk this month was this one in Pattaya: My Second Day in Pattaya!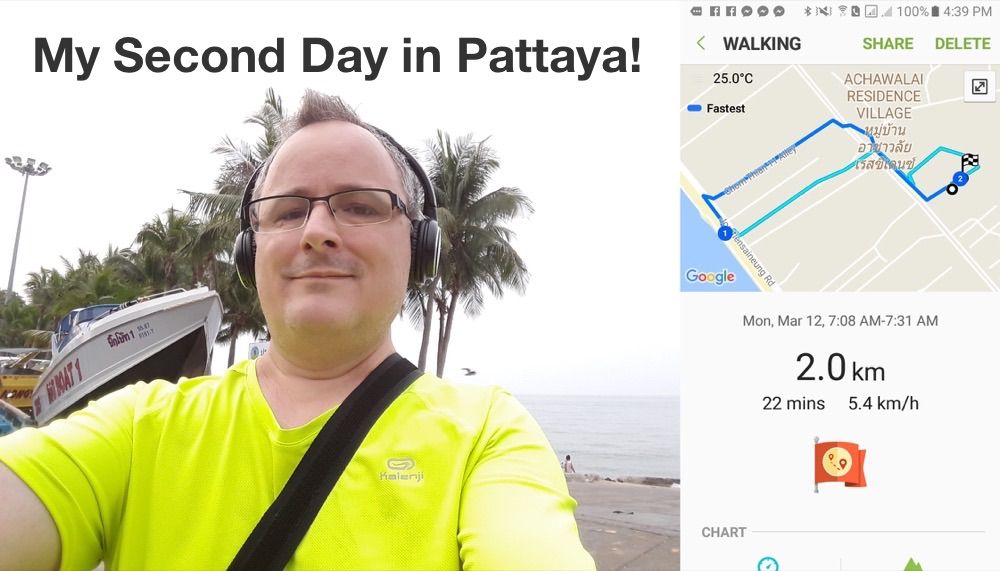 The most boring walk was when it was raining on Koh Chang and I chose to walk twenty times around the lobby: A Day at the Mercure Koh Chang Hideaway Hotel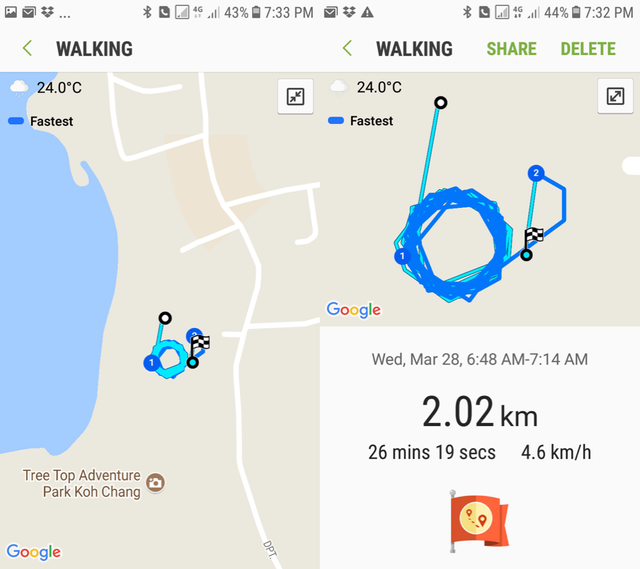 As you can see, I'll do the maximum to make sure that I have my daily walk!
Let's have a look at my exercise this March.
These are for the 5 months.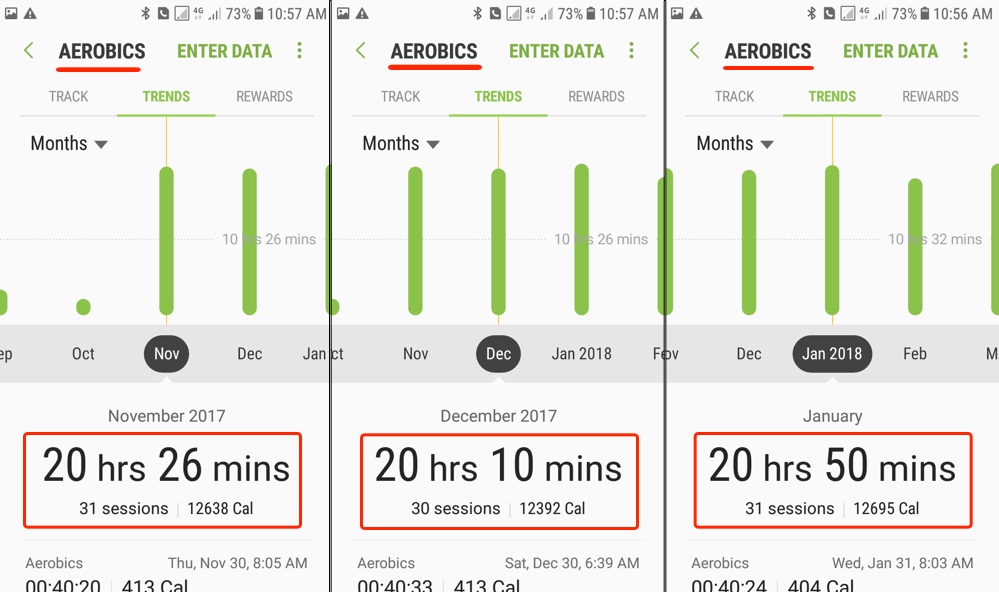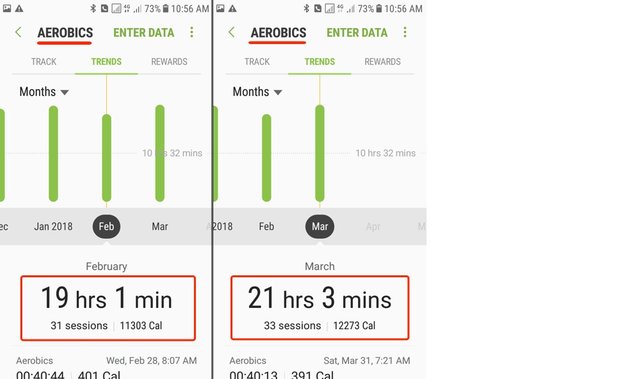 I have exercised every day for 21 hours and 3 minutes in March and burned 12,273 calories if the app is accurate.
In addition to using the outdoor equipment in my village, I also used some other fitness equipment at hotels.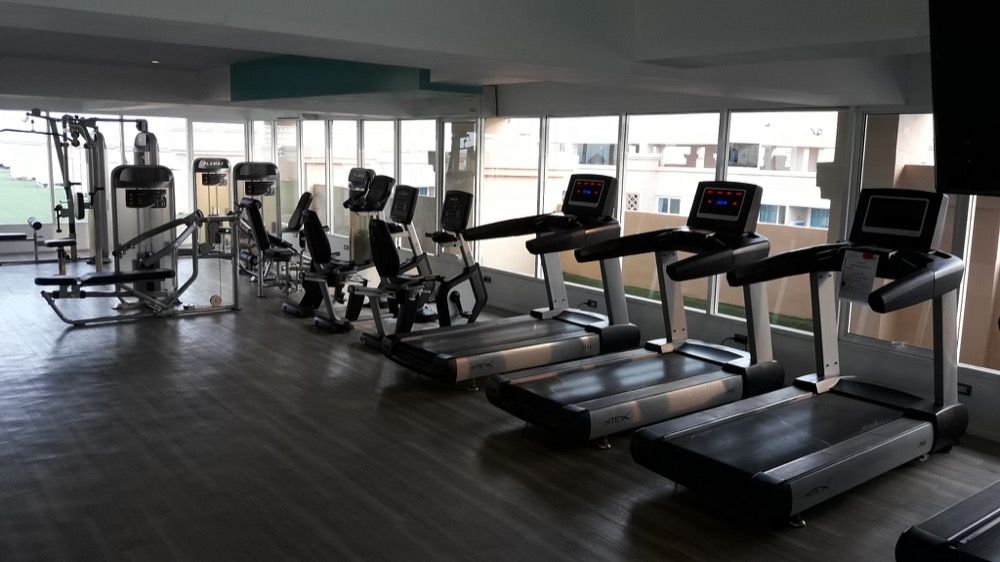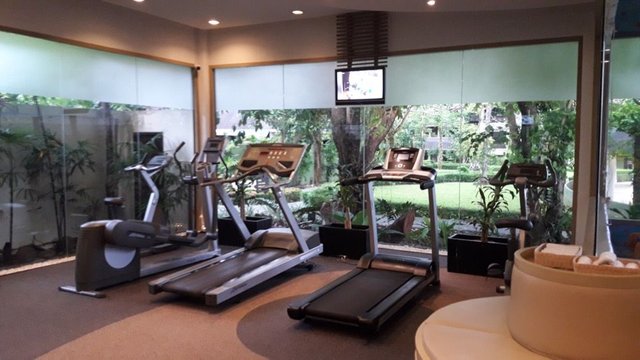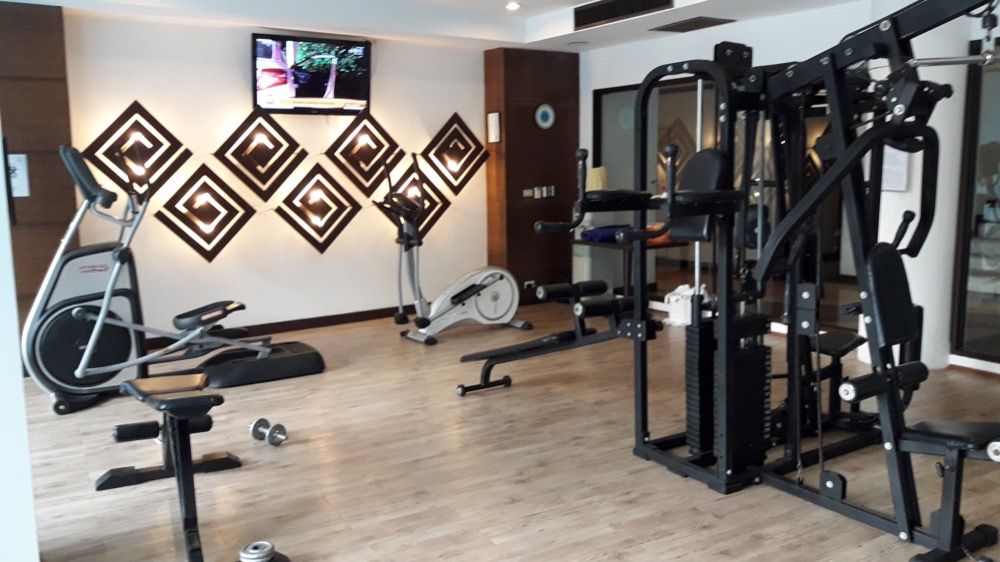 In April, we will be going for a few days to my parents in law's place in a remote village of Thailand, and I'm not sure what I will do to exercise, maybe ride a bicycle instead.
My weight loss results.
March is my best result because my minimum weight is down 1.8 kilograms and my average weight is down 1,4 kilograms from February.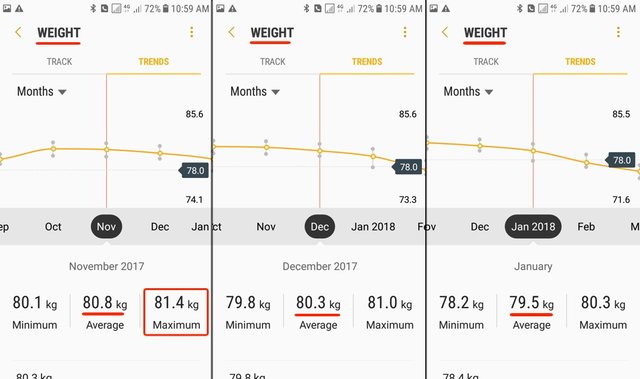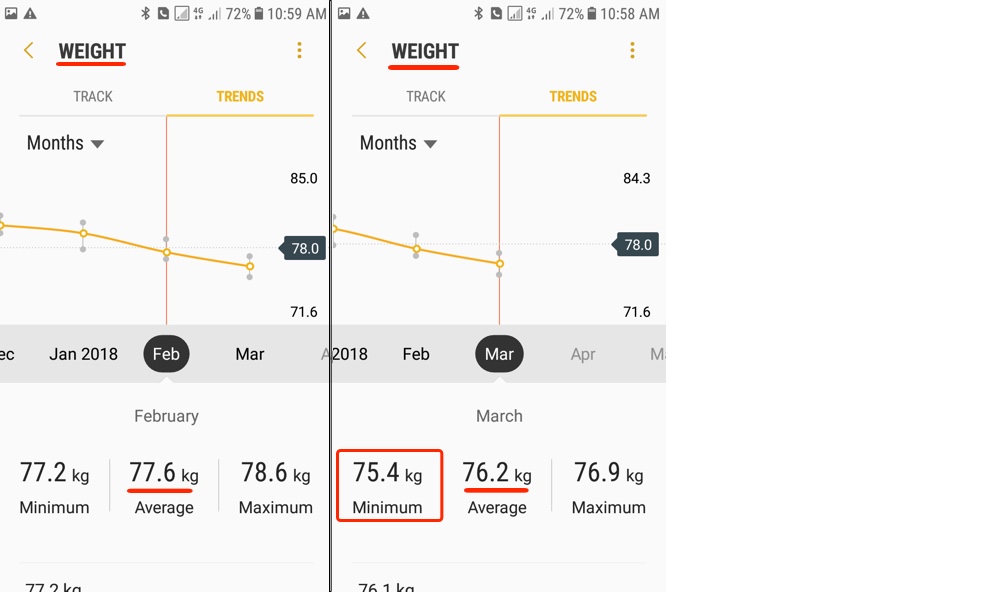 The second month my average weight was down 0.5 kilograms, my third month it was down another 0.8 kilograms, my fourth month it was down 1,9 kilograms, and now it is down another 1,4 kilograms.
Average weight loss: 80.8 - 76.2 = 4.6 kilograms
Weight loss: 81.4 (max) - 75.4 (min) = 6 kilograms
I present the data as it looks the best for me because I have been stable at 76 kilograms for several days. As I explained in my previous post, "After a 7-Day Vacation, Time to Juice Again!", my weight was up again at 76.8 kg, which was 900 grams more than before the vacation. This morning, after a day being careful with food and restarting juicing, I am at 76.1 kg, right on the average.
I am very pleased with the results, but this was not done with walking and exercising alone.
As you can see, the first months I only walked and exercised, and changed my diet a bit, like drinking more fruit smoothies and reducing meat, and I only lost 0.5 kilograms and 0.8 kilograms.
In January, after starting making smoothies with fruits and vegetables, and then juices, it's when the real results showed up: down 1,9 kilograms and 1,4 kilograms.
You may be interested to read the posts where I talk about smoothies and juicing.
Juicing vegetables with fruits is what has been working the best for my weight loss, and I also have a very simple breakfast every day after exercising.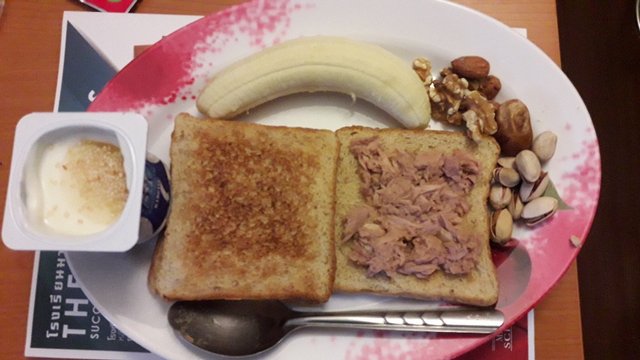 I usually have a juice at lunch, and then a simple dinner at home with some meat, rice and vegetables.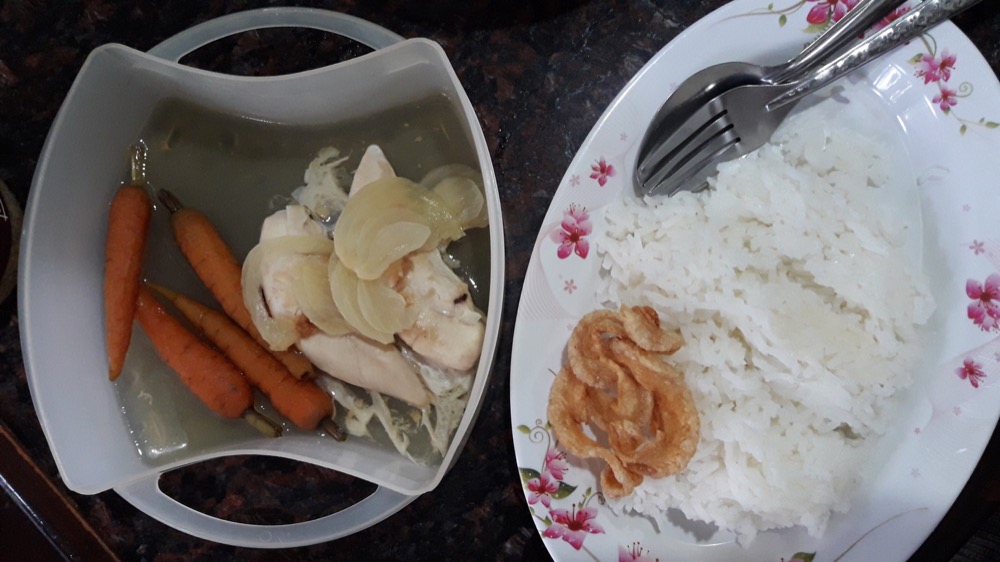 This routine enables me to lose weight consistently and also make quite a lot of extras at restaurants in hotels when traveling. It's not all restrictions and it doesn't have to be. I am not starving, not hungry and can enjoy pizza sometimes too.
It's how I do it, and I'm sure you can do it too.
Would you upvote this post and follow me for more because this will encourage me to continue this challenge and the reports that go with it?
Would you please help @jerrybanfield become a top 20 witness because you can help funding projects to build Steem as explained here? Vote for jerrybanfield as a witness or set jerrybanfield as a proxy to handle all witness votes at https://steemit.com/~witnesses. Read the 5 reasons why I'm voting for Jerry Banfield as a witness and how to vote in my post.
Michel Gerard