Fitness Challenge - January Report
Would you read my January fitness challenge report, which is my third report for my third month, because as someone who has never exercised in my life, I will show you that change is possible? If you want to lose weight, be in better shape and feel better in your body, this might be useful for you.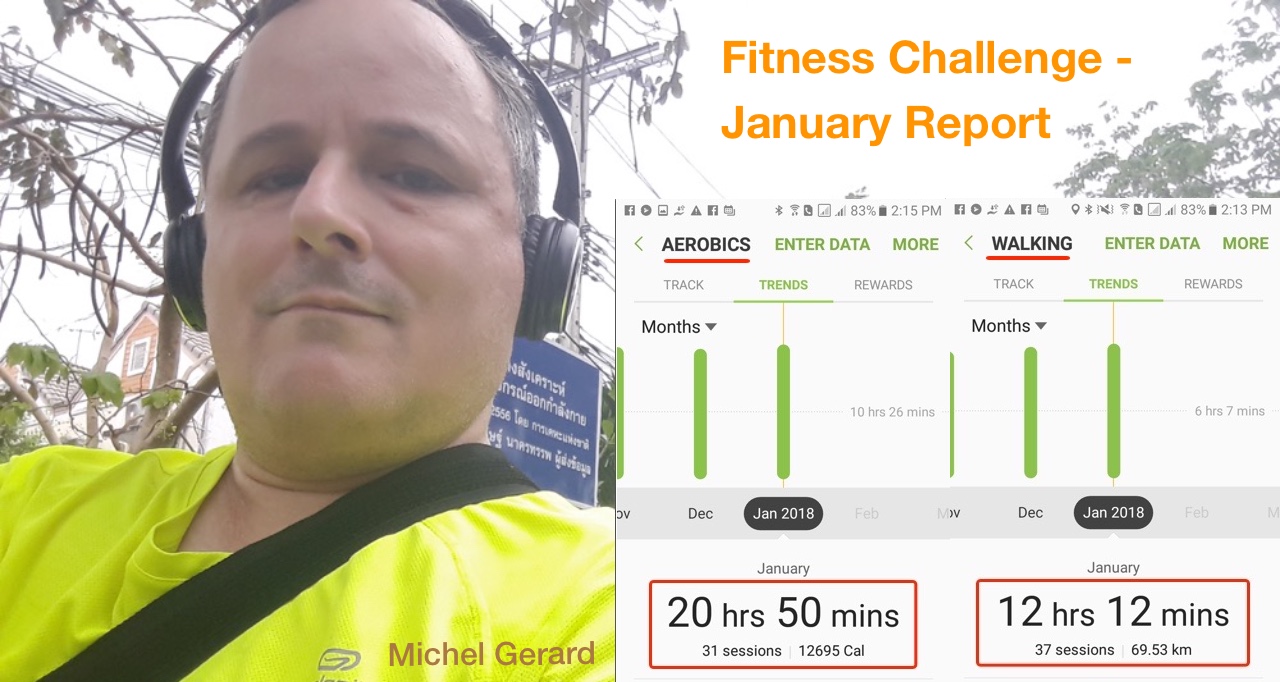 I started this fitness challenge on the first of November, using an app to record and track my progress, and decided to write a post on Steemit each month to be accountable to you and myself. This encourages me to continue doing a 2-kilometer walk and exercising 40 minutes every day without fail.
You may be interested to read my two previous reports:
Let's see my results for this third month.
Fitness Challenge - January Report
 
I am glad to report that I have walked my 2 kilometers and exercised 40 minutes every day in January 2018.
Let's see what the app is saying for "Walking."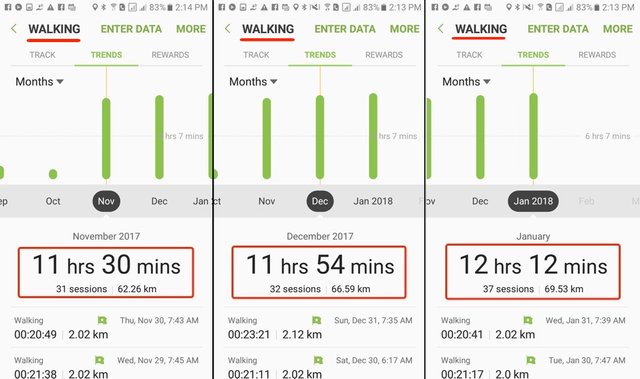 As you can see, I walked 31 days in January for a total of 69.53 kilometers in 12 hours and 12 minutes. In December I walked 66.59 kilometers and in November 62.26 kilometers. January is my best month so far and in 3 months I have walked 198.38 kilometers. That's impressive and I'm very pleased that I have done it!
On some occasions, I have walked more than 2 kilometers like when I was at the Lumpini Park last Saturday.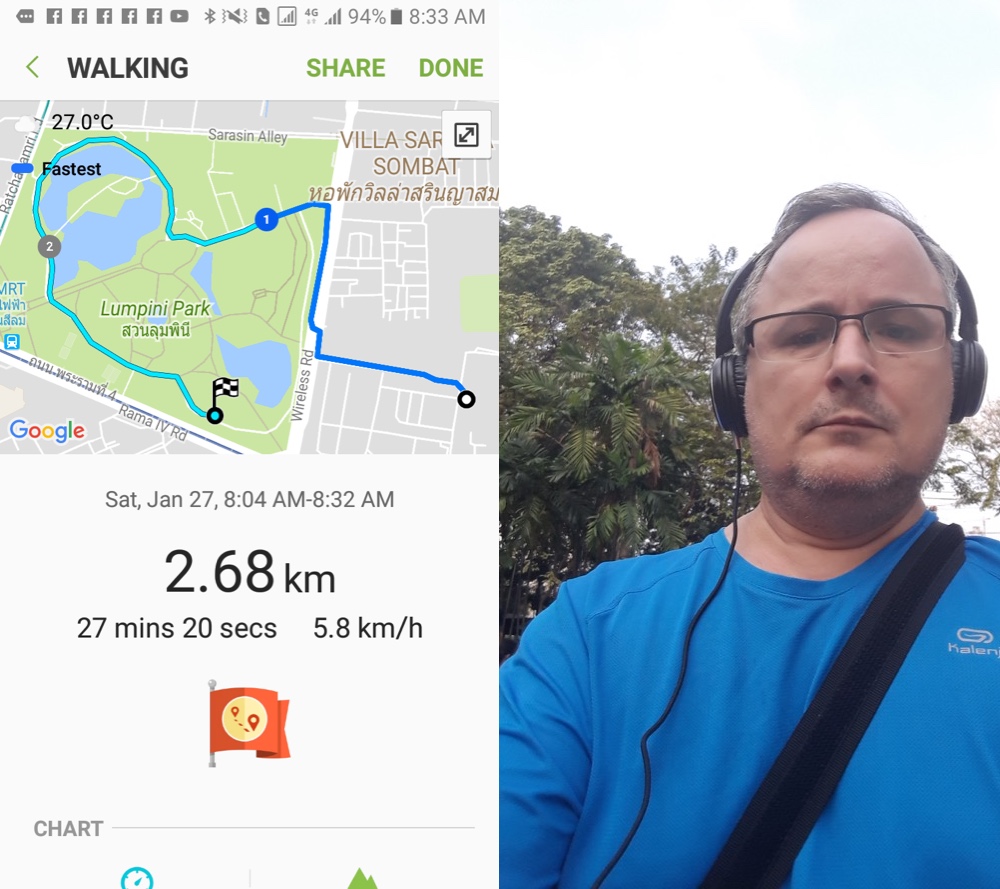 Let's have a look at my exercise this January.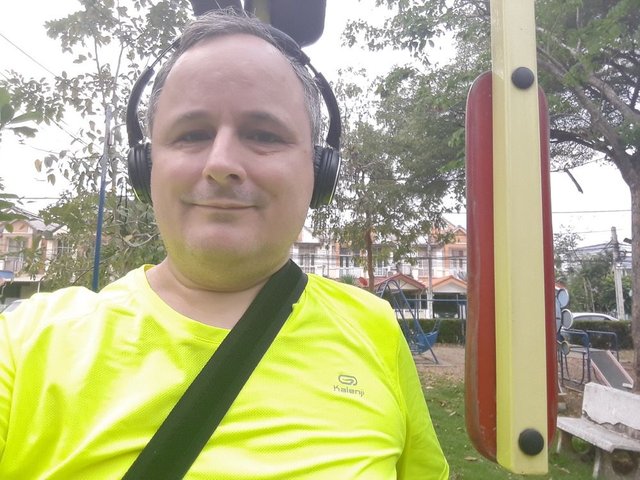 This is what the app is saying for aerobics.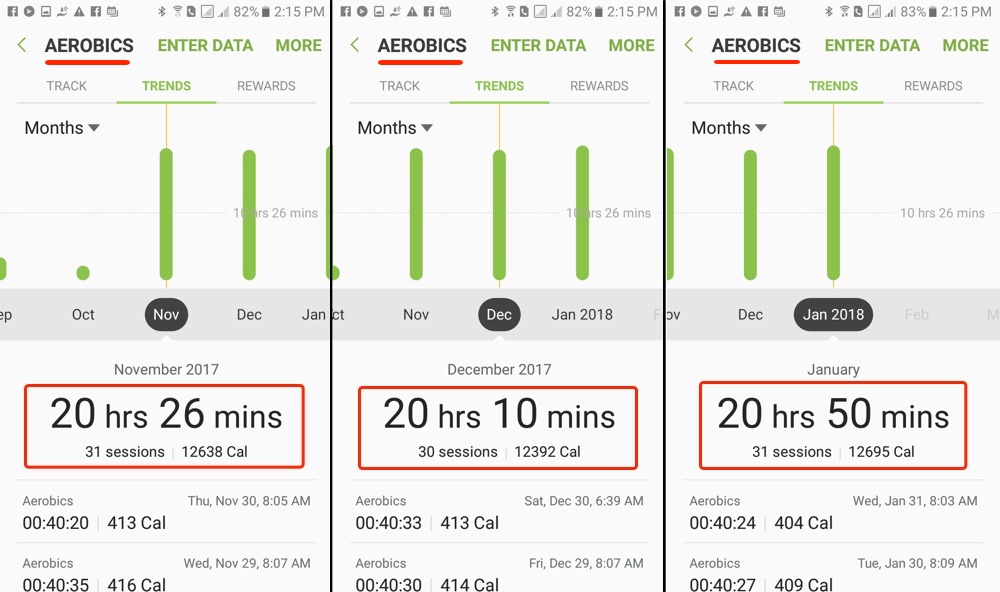 I have exercised for 20 hours and 50 minutes in January and burned 12,695 calories if the app is accurate. This is more than November and December when I missed a session.
Now I have some company when exercising in the morning because they have built a shrine in the park and it is now a favorite gathering place for seniors in the morning.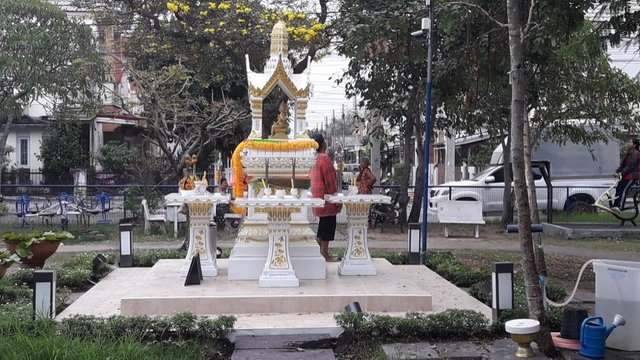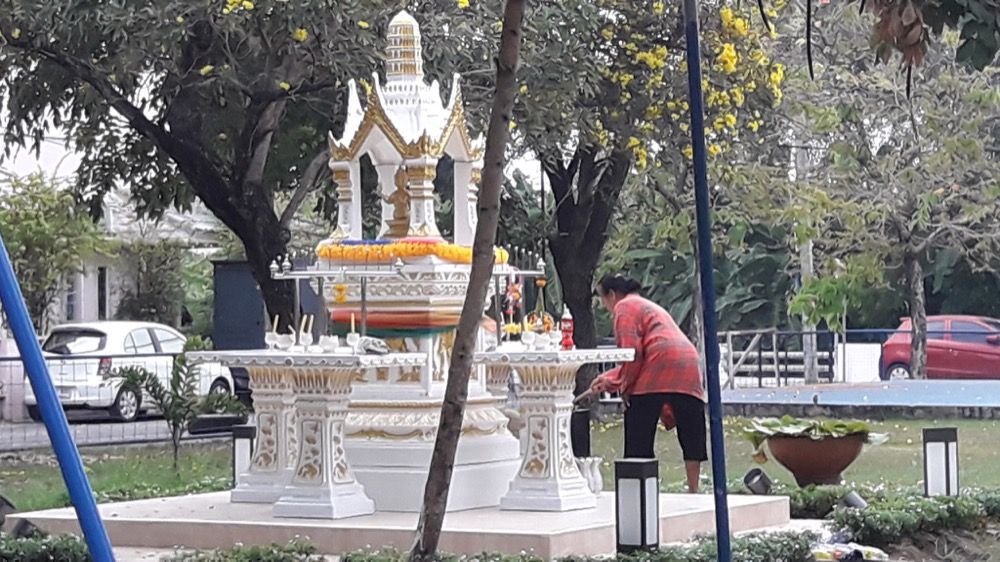 My weight loss results.

I am definitely on the down trend this January with an average weight of 79.5 kilograms, which was 80.8 kilograms in November. That doesn't look that much, but if you look at the maximum weight in November, which was 81.4 kilograms, and the minimum weight in January, which is 78.2 kilograms, then I have lost 3.2 kilograms.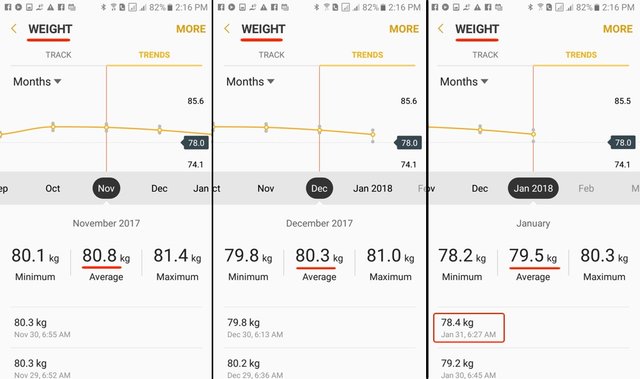 I know, I try to present the data the best way I can, so it encourages me to continue my effort in losing weight.
I found that exercising alone is a slow process for weight loss and despite the fact that I have changed my diet in November and December to get faster results, it didn't seem to help that much.
Ten days ago, I went one step further trying vegetable only smoothies and vegetables juicing, and I am glad to report that this is helping. I am trying now to get my taste buds used to it more and more because the taste is challenging, especially the green juice, I would say.
You may be interested to read the post where I talk about that.
A Green Smoothie Recipe for Weight Loss!
Saturday Walk, Fitness and Green Juice!

What do I eat?

My breakfast these last several days has usually been 2 toasted slices of wholegrain bread with tuna and avocado spread, a few nuts, one small banana and one zero fat yogurt with Sia and other seeds. Then a smoothie with fruits and green vegetables, soya milk or zero fat milk.
The smoothie enables me to skip lunch and I allow myself anything I want to eat for dinner, which is at 5:00 p.m., in moderation. Then, I have the weight loss drink while watching a series before bed.
This is usually the routine during the week and on weekends, especially when we go to a hotel, it can be more gastronomic, but my body recovers much faster and better now.
I try not to be too strick or else I would just not have the motivation to go through the process of losing weight the rest of the time. 
I hope this is helpful for you.
Would you upvote this post and follow me for more because this will encourage me to continue this challenge and the reports that go with it?
Would you please help @jerrybanfield become a top 20 witness because you can help funding projects to build Steem as explained here? Vote for jerrybanfield as a witness or set jerrybanfield as a proxy to handle all witness votes at https://steemit.com/~witnesses. Read the 5 reasons why I'm voting for Jerry Banfield as a witness and how to vote in my post.
Michel Gerard