Saturday Walk, Fitness and Charcoal Bread Burger!
This is Saturday and I followed my routine with a walk at the Lumpini Park and a breakfast at the Alliance Française while my daughter was in class. I had only a mug of green vegetable juice for lunch and a few nuts as a snack later, but for dinner I had something I've never tried, which is a charcoal bread burger.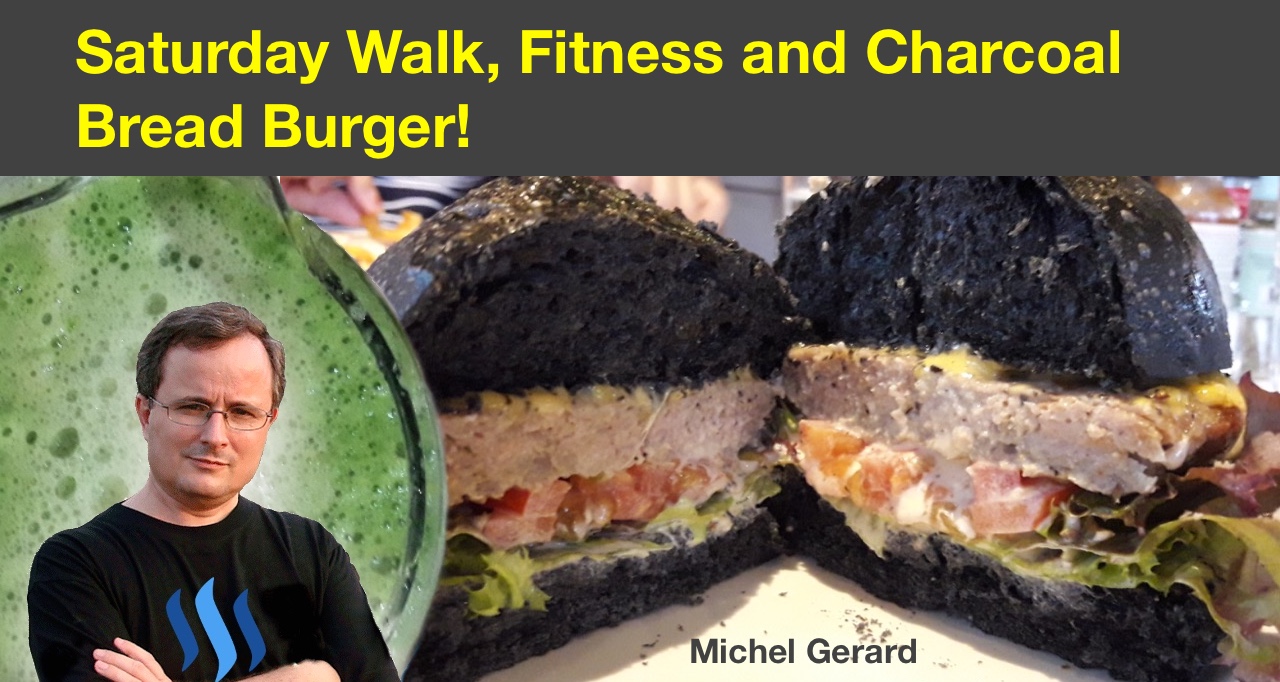 I wrote a post last week that you may be interested to read as it shows what I put in my vegetable juice: Saturday Walk, Fitness and Green Juice!
Saturday Walk, Fitness and Charcoal Bread Burger!

I left the Alliance Française at 8:00 a.m. for my morning walk and I managed to break a record today. I walked 2.7 kilometers in 26 minutes and 36 seconds, and that's my Best Pace Record which is 9 min 50 sec per kilometer.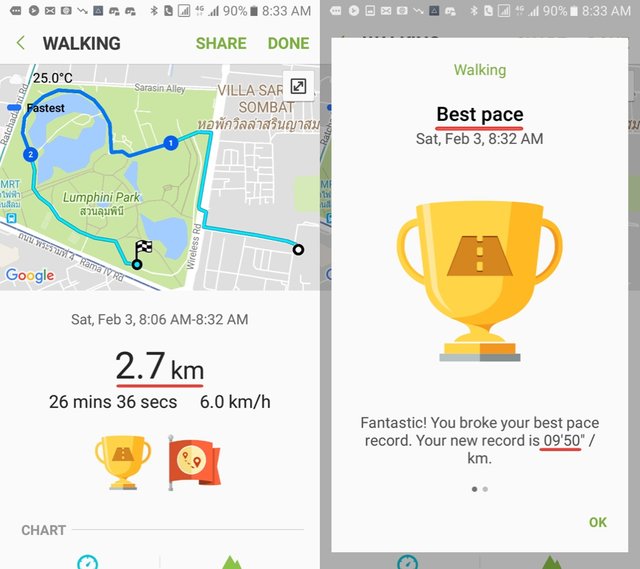 Thank you "App" for encouraging me going further every day!
Going back to the Alliance Française still was another 700 meters.
I had my 40-minute exercise and every week there is broken equipment here unfortunately.
It looks like the maintenance guys have just broken some parts of the rusty equipment so people don't get hurt while using them. It doesn't look like vandalism, but I wonder when they will be repaired.

Hopefully, the park is very enjoyable with its lake and green areas.
I then had a nice breakfast at the Alliance Française.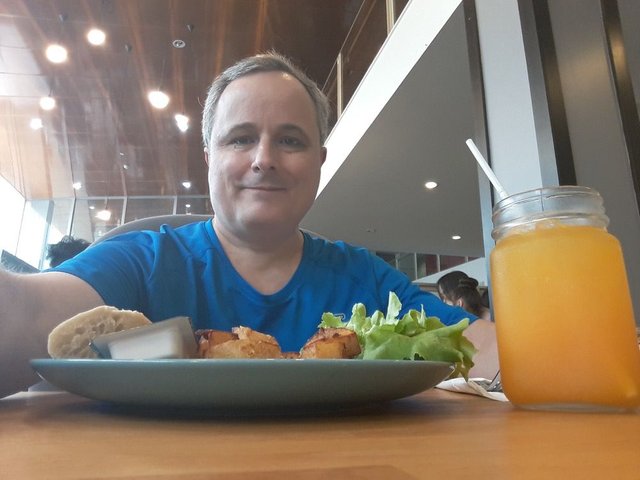 Real orange juice, scrambled eggs, ham and cheese, salad, potatoes with bread and butter.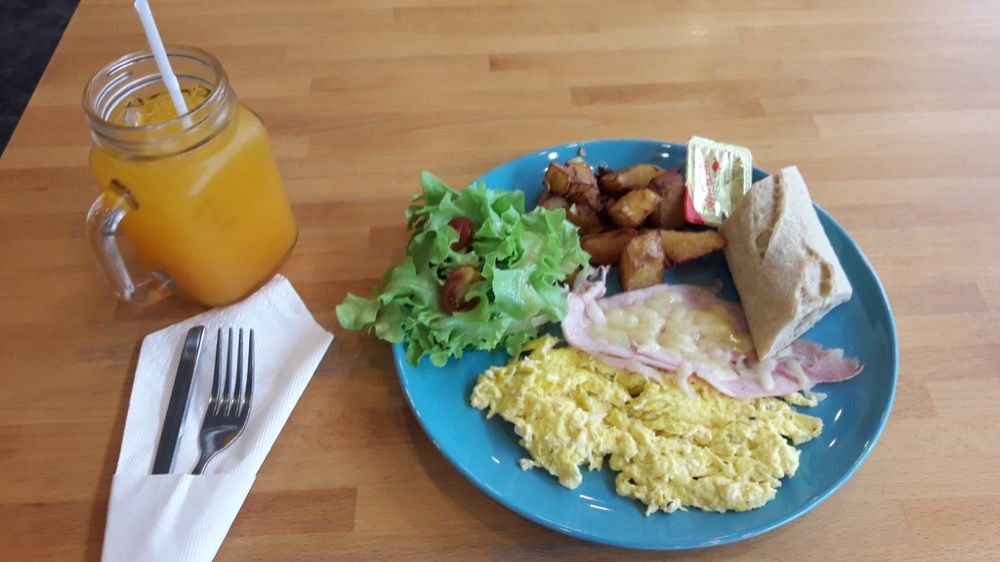 It was as good as last week, and I will not hide that I had this food in mind while exercising.
We drove back home and I just had a green vegetable juice for lunch. I added a carrot and half a pear in it, which tasted good.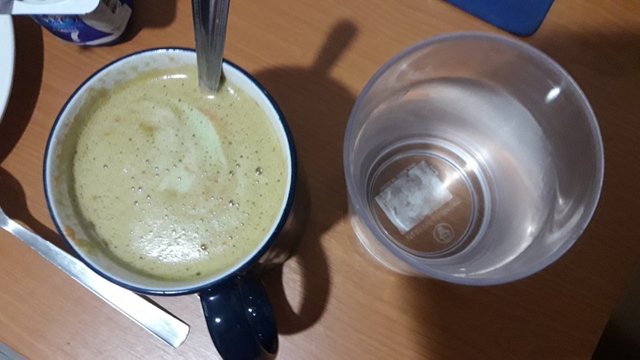 In the afternoon I had a one-hour nap, but I regretted it as I felt more tired than before the nap. Each time I sleep in the afternoon, it doesn't work for me.
As we had to buy some groceries and my daughter wanted pizza, then we went out to a restaurant for dinner.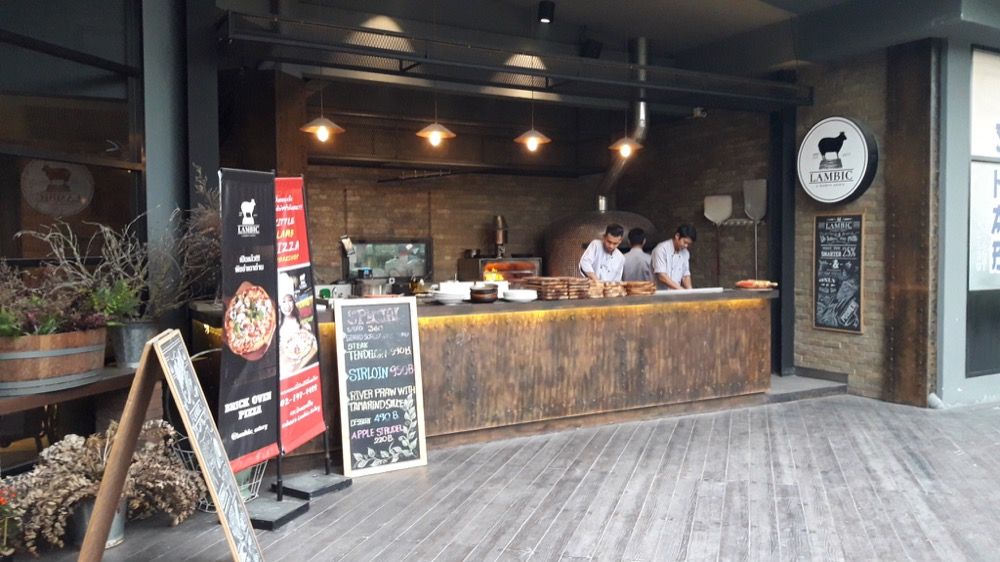 It's a nice modern eatery and we have eaten a few times there.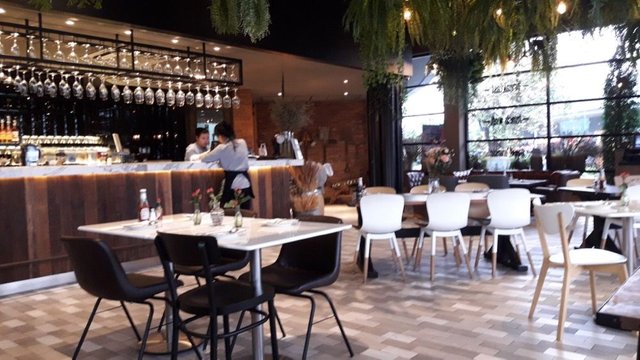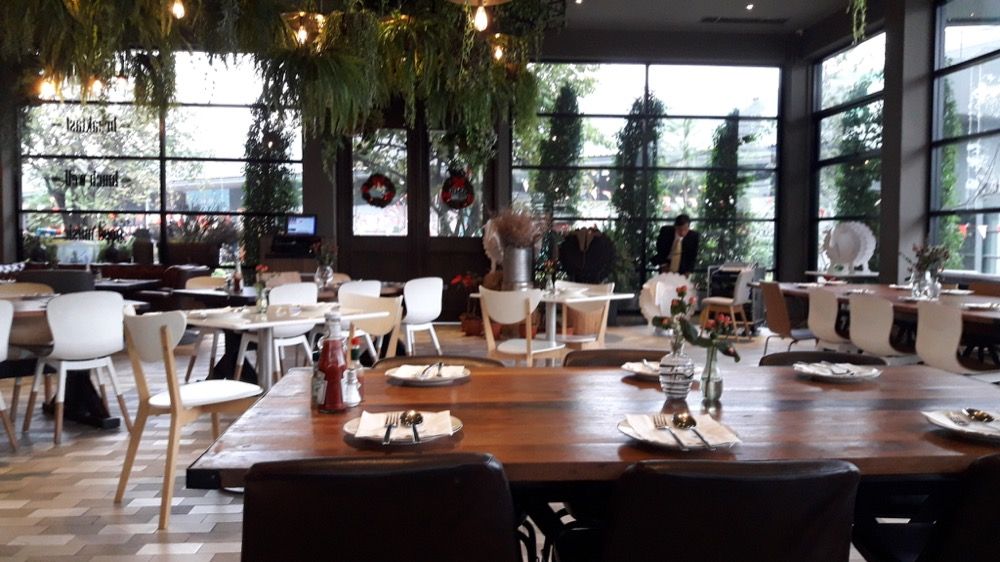 This is the Margarita pizza.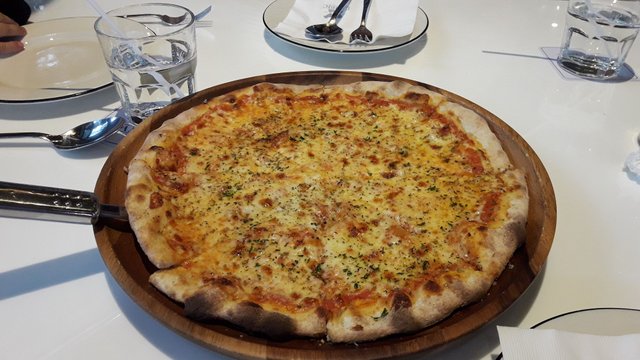 I had only one slice of pizza and it was enough for me to have an upset stomach later because of the cheese. Becoming intolerant to cheese is embarrassing for a French guy!
Then, the charcoal bread burger. I don't know how this bread is made!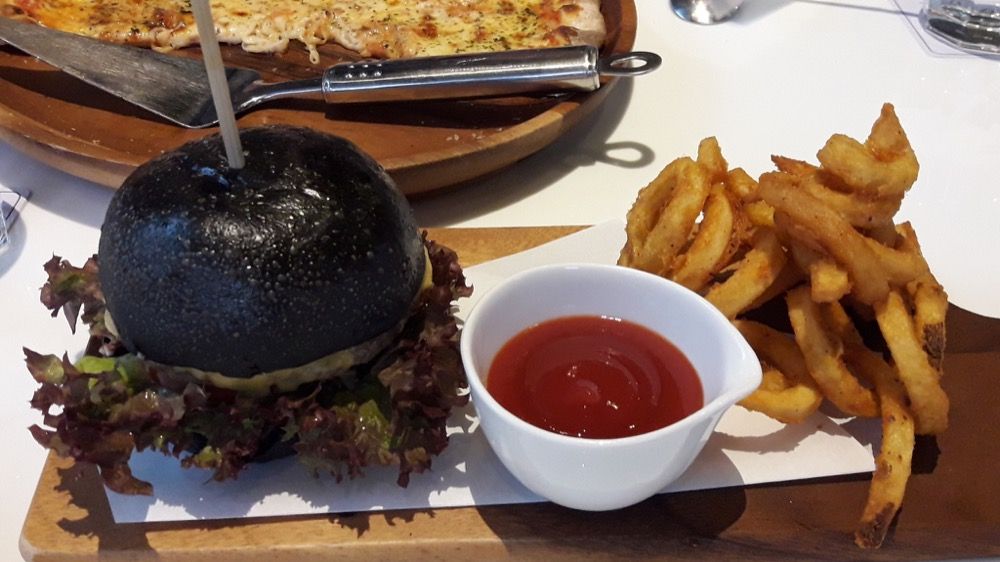 The potato fries were good and the burger too, but not extraordinary.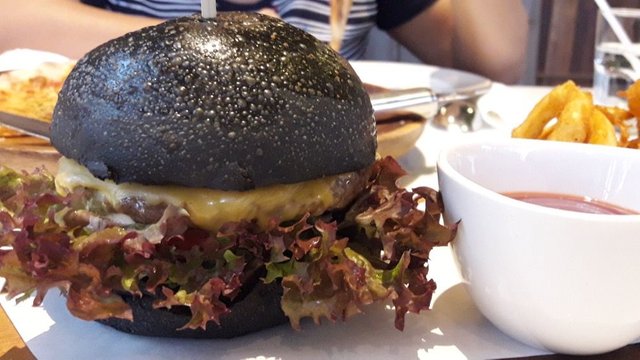 Cheese here too!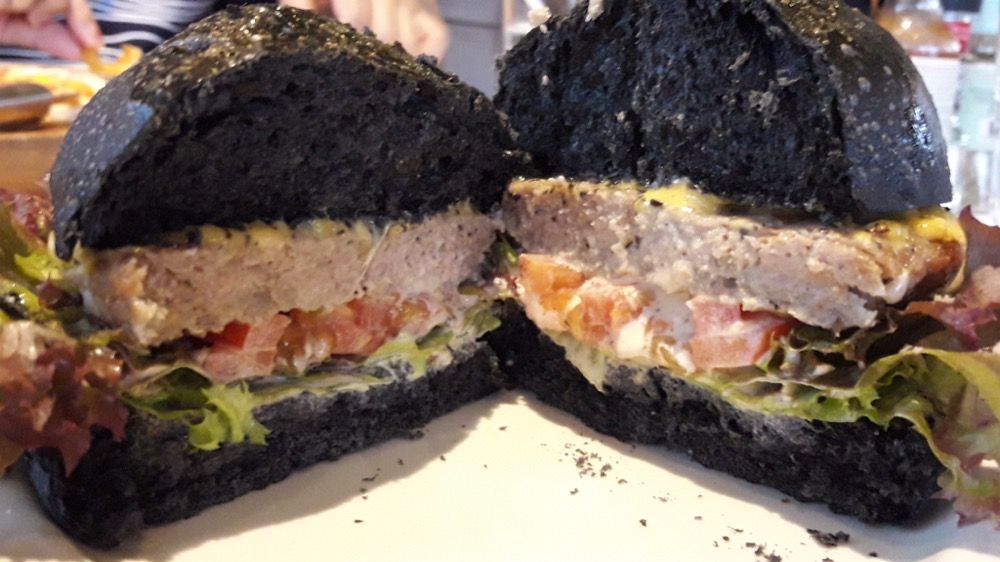 As you can see, I try to combine exercise, good food with lots of vegetables, to balance with food that is no so healthy. I'm not ready to make it all green and healthy yet, but I have experienced more craving for the green smoothies and juices since I have started.
This is the weight loss smoothie that I will have before bed and as it is working wonders, my wife will have one too!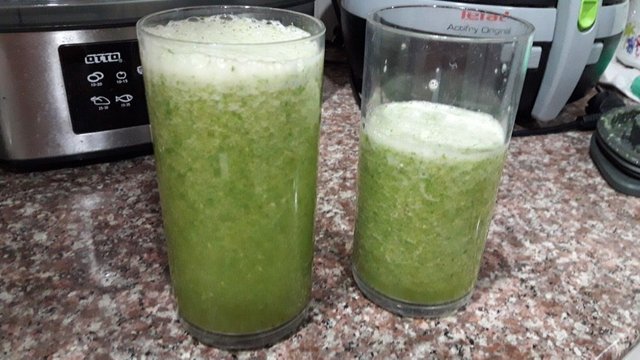 You may be interested to read this post: A Green Smoothie Recipe for Weight Loss!
I hope that you enjoyed this post about my Saturday and photos of the food I shared. Please upvote if you'd like me to post more health posts like this one.
Would you please help @jerrybanfield become a top 20 witness because you can help funding projects to build Steem as explained here? Vote for jerrybanfield as a witness or set jerrybanfield as a proxy to handle all witness votes at https://steemit.com/~witnesses. Read the 5 reasons why I'm voting for Jerry Banfield as a witness and how to vote in my post.
Michel Gerard