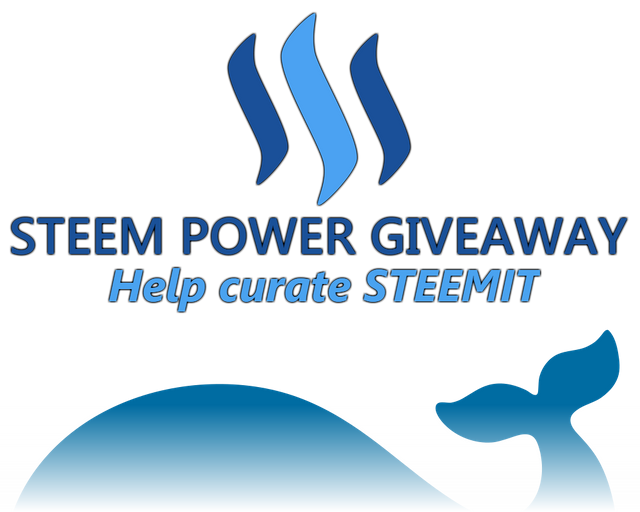 STOP! HAMM... umm no ... wait ... GIVEAWAY TIME !
Now that I've started things up with an AWFUL joke, and caught your attention, I can go ahead and tell you what this STEEM POWER GIVEAWAY is all about ...
... it's about YOU! And helping you get involved in making STEEMIT awesome!

Let's get started, shall we?
I have decided to DELEGATE exactly 1,500.00 STEEM POWER, yes, that is ONE THOUSAND, FIVE HUNDRED STEEM POWER to the most proactive curators here on STEEMIT, in an attempt to make STEEMIT as great of a place as it can be, and help content creators get credit for their contribution to the community, with the help of our curators :)

Let's roll our sleeves up and jump right into ...

CURATION COMES FIRST - Yes, you heard that right. The first rule is that you need to be a proactive curator, that wants to help the community by resteeming and upvoting quality content.
MINNOWS UNDER 2,000 SP - Yep, y'all dolphins don't need this. This is for the minnows UNDER 2,000 STEEM POWER, with an eye for quality content and a desire to see the community grow (can't stress this enough).

Let's also take a look at...

COMMENT WITH YOUR TOP 5 CURATED POSTS FROM ONE CATEGORY - Now, this one is more interesting. In order for you to participate, you will need to leave a comment with the links of your top 5 curated posts from one category (you can find them below).
CURATE THE CONTENT YOU LINK - Yes, that means you will need to have that content on your blog, for your followers to see. You will need to have everything you link curated by yourself, not someone else. Not only that you will have to resteem, but also upvote that content.

And let's not forget about ...

GET THE MOST UPVOTES ON YOUR ENTRY COMMENT - This was a challenge for me, deciding if I should be the judge of who wins the giveaway prizes or not. I think it's best to let the community choose the winners. After all, this is what this giveaway is all about - getting involved in the community!

What about the categories you were talking about...?

#1 STEEM HELP / GUIDES - Everything that involves STEEM coin trading, STEEM DOLLARS, STEEM POWER, the STEEMIT blog, STEEMIT tools, guides, help, FAQ - you name it! Everything that newbies will benefit from!
#2 ART / PHOTOGRAPHY / MUSIC - Basically everything connected to art, regardless of it's form. Drawing, photography, music, mixes, colors, anything that pleases the eye, and brings value and happiness to the people who see it.
#3 LIFE / BLOGGING - You know, the success stories, the daily blogs, the tips or guides for a healthy lifestyle, food and cooking. Anything that has to do with daily blogging or life, content that the community loves.
Feel free to choose any of the categories above. However, please stick to content from just one, to make things nice and clean.

And I guess that's about it ... oh, wait ... there's also...

There will be 15 total winners, of 100 DELEGATED SP (STEEM POWER) each.
** Delegated SP is a LOAN,

it is not SP you can cash out (Power Down)! **

The rewards are meant to help active curators have a heavier voting power on quality content, and help all the content creators they interact with. Also, with higher voting power, higher curation rewards are given, therefore, everyone involved, will benefit from this.

The contest will run until this post pays out in 7 days. So take your time and make sure you find the best of the best to submit for your entry!

This contest is brought to you by @venuspcs and @lifewithcrypto so make sure you Follow/Vote/Resteem him as well!

For anyone interested in Delegating SP to help minnowsupport or others please check out my friend @justinchase post:

How to Delegate Steem Power in Under 1 Minute (And How Much You Should Delegate to MinnowSupportProject)