What do you take for granted?
If you were stripped of everything, what would you absolutely need returned to be whole again? There is no right or wrong answer. I would even go a step further to say that the answer could change from moment to moment.
We human beings are strange and fascinating creatures. We are resilient and selective, sometimes by choice but more often than not because we are forced to deal with given situations.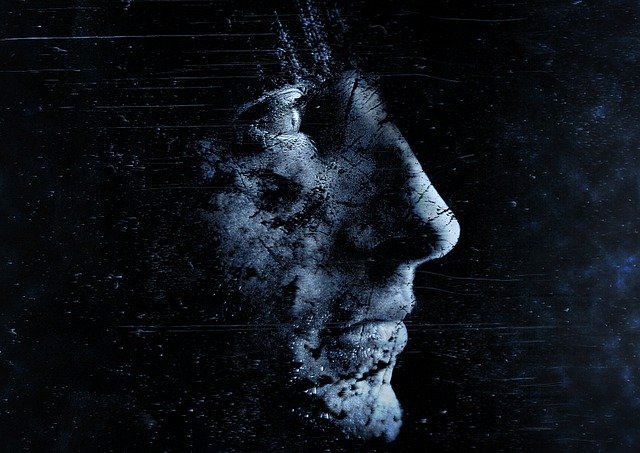 Image source
What makes me whole?
When I graduated high school, the only thing I wanted to do was sing. I had been accepted into Westminster Choir College with the hopes of being a Music Performance major. Three weeks before school started I was hiking and fell - or rather bounced - down a 15 to 20 foot cliff, landing face down into a puddle of water only about 3 inches deep.
It was the strangest experience because I fell in slow motion.
I could no longer see anything but I could hear my body bounce...bounce...bounce... then a splash.
I'm not entirely sure how long I was face down in the water but the voice inside my head said, "Meredith. If you don't get up right now you are going to die."
The black void didn't scare me. It was quiet and peaceful actually.
The voice was matter-of-fact - get up and live or stay down and die.
One or the other. Nothing else mattered but the choice.
I didn't want to die there! I survived high school. I was three weeks away from leaving for college. My life was to sing!
Little by little I moved my limbs to make sure I wasn't broken and lifted my face from the water, gasping for breath. My vision came back rather quickly but my hearing was gone! I think I cried more about the loss than the pain that racked my body.
I can't sing if I cannot hear! Could I live life without music? Did I want to?
Then I felt a pop in both ears. Water and sand drained and I could hear again. I cried with thanksgiving as the pain of my fall began to descend upon me. I suffered the pain of a concussion and a broken tailbone in silence because nothing would deter me.
Sometimes I wonder if that was a sign back then to pivot in a new direction? I've since retired my voice and I'm beginning to be hearing-challenged. It's ironic that I've landed here after all the other pivotal moments in my life.
Is there a point here? Well, yes. Michael's story
Sometimes bad things happen to good people. Sometimes a sudden turn of events outside of our control changes the trajectory in our life. Sometimes we make solid decisions only to deal with unexpected consequences. Sometimes we just need to accept that it is what it is. Good or bad, these pivots often carom us into unexpected places.
Michael, aka @thecrazygm, has been dealing with these pivots.
About ten years ago he went to work like any other day, but he didn't go home that night. Instead, he found himself in the hospital with a broken spine, a botched surgery, and a future of pain that would forever change him.
Unfortunately, Michael is going to have to get comfortable using a wheelchair now because he's fallen a few times and traumatized his lower back. At this time the doctors cannot do anything to help him with the paralysis he's beginning to suffer as a result.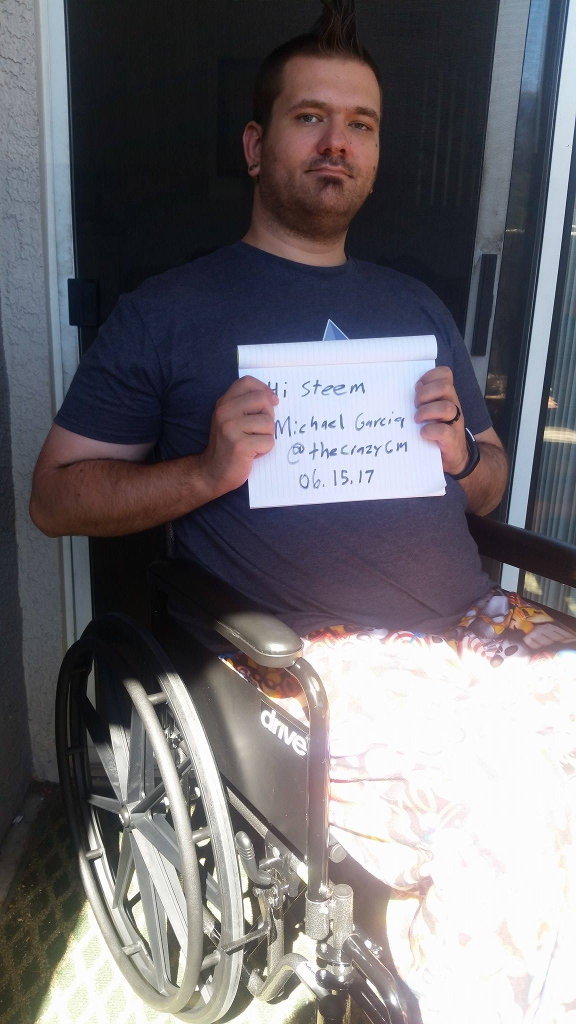 How can you help?
If you've followed me you will know that I've launched many #payitforward campaigns to help Steemians in times of need.
Giving is SO easy! How?
Visit @thecrazygm and upvote his posts
Start your own post and donate the liquid rewards to him
Donate directly to his Steemit account
Upvote and resteem this post to your tribe.


All liquid STEEM &/or SBD from this post is going directly to Michael.
Earlier I asked what you take for granted.
Is it your health? Your family? The roof over your head? The food on your table?
Is it the ability to walk or sing...or do any thing?

What could you bear to live without?
Michael never made the choice to be in a wheelchair. I'm sure he's taken pain-free days for granted in the past.
Perhaps he's reached the point where the void swallowed him and a quiet voice in his head said, "Suffer alone or ask for help."
A very good friend of mine says, "We will never change until we've hit critical mass."
Asking for help is never an easy thing to do and Steemit is an amazing community. We can come together and help a fellow out. Will you acknowledge this pivotal moment and help?
Thank you for reading.