Kevin Shipp is a CIA whistleblower who has spoken out to expose the nature of the ways that the US Government has been subverted and the crimes being committed by shadowy groups using trillions of dollars of funding.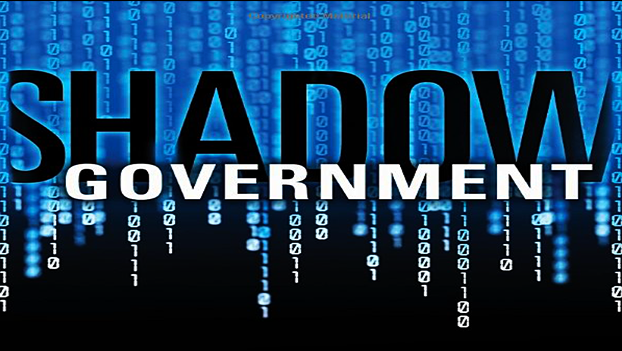 Shadow Government
---
Kevin states that the 'shadow government' and the 'deep state' are not the same thing. The shadow government functions secretly and includes the NSA and CIA. He describes that the 'Deep state' is a web/network of corporate groups that interact with the shadow government.
Acronym groups that Kevin identifies as being part of the shadow government are:
DNI
DHS
DOS
DIA
NCTC
NRO
NGA
NSA
CIA
JSOC (President's 'secret army' to carry out assassinations and other covert missions)
FBI
The Council on Foreign Relations (CFR) was directly involved with the creation of the CIA and members of the CFR own and operate mainstream media agencies such as the Washington Post and New York Times.
Deep State
---
Kevin states that the 'deep state' includes:
Military Industrial (Congressional) Complex
Intelligence Contractors
Defense Contractors
Wall Street
Central Banks
Foreign Lobbyists (such as Saudi Arabia)
Federal Reserve
Treasury
Congress is tied in with the deep state so tightly that the deep state effectively controls what the congress votes on and decides.
Secrecy (used against whistleblowers)
---
There are now more than 10,000 secret sites, 1,271 government agencies and 1,931 large corporations involved with secrecy within the United States. At least 4,800,000 Americans have security clearance, 854,000+ have top secret clearance and many 100s of thousands have signed secrecy agreements which mean that they will be personally destroyed if they say anything about what they see - even when it is illegal. The government invokes 'State's secrets privilege' shuts down cases and throws whistleblowers in prison if they attempt to expose anything at all that the government wants kept secret.
Military Industrial Complex
---
Over $1 Trillion annually spent for defense related purposes in the United States - much of which goes to Lockheed Martin, General Dynamics, Northrop Grumman, Raytheon, Boeing and Booz Allen Hamilton.
The congressional Arms Services Committee decides on where the budgets are going to be spent - it has 48 senior members who are under the influence of the large defense contractor corporations. Around $700,000 is provided by these corporations to each of the 48 senior members of the ASC each year to influence their spending decisions.
Lockheed Martin
---
Lockheed Martin is the chief intelligence processor for the CIA, FBI & NSA. They track every contact that every American has with the IRS (Tax collections), including all phone calls and emails. LM is so large it is 'the equivalent of a private, second government'. It is estimated that around $260 from every American's tax bill goes to Lockheed Martin. LM Monitors the postal service and also manages large scale biometric tracking programs.
The United States weapons industry sells more weapons to the rest of the world than any other nation's industries.
Booz Allen Hamilton
---
The 'second arm of the CIA' who employed Edward Snowden. They set up the intelligent system for the government of Egypt.
Secret Intelligence Industrial Complex
---
The CIA, NSA, NGA and NRO form a massive, secret government. Around that there is a secret corporate monopoly made up of Leidos Holdings, CSRA, CACI, SAIC (who lost $7 Billion of taxpayer money in failed programs) and Booz Allen Hamilton. This monopoly sucks up around $50 Billion per year from tax payer revenues in secret. These groups are accountable to no-one.
Stolen Budgets
---
$50 Billion - Total Intelligence Agency Budget
$598 Billion - Total Defense Budget
$150 Billion - Cost of Overseas Military Bases
$5.9 Billion - Military Aid to Foreign Countries (including nations with governments known to hate America)
$4 Billion - Congressional Lobbyists
Total Tax Revenue is at least $803 Billion, while American social security has been bankrupted.
CIA - The Central Node
---
The CIA was created unconstitutionally in 1947, with no congressional approval and continues to be the controlling agency that controls the others and the defense/intelligence corporations - despite claims made that the CIA would be 'reigned in'. The CIA is responsible for feeding false intelligence to the US Presidents in order to complete their own agendas.
The CIA has the power to start wars, torture and initiate drone strikes - plus has been responsible for over 80 coups overseas and multiple false flag attacks. Through 'state's secret privileges' the CIA manipulates the judicial process and can shut down cases. There is no official definition within the 'National Security Act' (that brought the CIA into being) which determines what the CIA can and cannot do. There is no restriction on what the CIA can and cannot do.
Internal War
---
The shadow government goes to war with the elected government when their control of them fails in any way, spying on the elected government and hacking into their work - as if the elected government were a valid enemy. The actions of the CIA Director are provably unconstitutional and yet he has not been prosecuted. The President is unable to prosecute the CIA when they commit crimes.
Political Control
---
JFK was assassinated for trying to challenge the CIA and Allen Dulles (ex head of the CIA). Presidents Clinton and Bush Sr. were both involved in Iran Contra Drug / weapon running. George Bush Sr's list of crimes goes on and on to include the illegal war in Iraq, CIA torture programs and FBI warrant-less searches. Obama prosecuted more whistleblowers than any president in history, oversaw the NSA surveillance and drone strike programs - plus the mess that is Syria and the ISIS saga. ISIS is now powered largely by American weapons due to programs of gun running into Syria by the US government.
Politicians and congress people will always say that they are going to go and clean up the mess, but inevitably they change their tune once they get into congress and get bought off or blackmailed.
Human rights violations
---
475,000 Syrian civilians and 100,000 Syrian military have been killed due to the CIA backed rebels.
40,000 Chilean civilians disappeared in Pinochet's Chile during a period that CIA were directly funding those doing the murder/torture.
The President has a 'kill list' that can be defined only on 'behavioural profiling' - whereby people are killed based on nothing more than essentially 'looking like' a terrorist.
War on terror
---
When America is at war, the constitution gets cancelled. By declaring American to be in a perpetual state of war, the constitution is thrown in the bin indefinitely. Since the war on terror is almost entirely bogus, it can be shown to be little more than a way to bypass the constitution permanently and control large amounts of the world in the process.
System to destroy whistleblowers
---
A thorough program exists to ensure whistleblowers from the secret programs do not speak publicly. Staff waive constitutional rights and the entire system of control that processes them is itself secret. Kevin states that he was told he was placed under a gag order that itself was so secret that he couldn't even see it!
The whistleblower 'protection' acts are a 'farce' and the news media are compliant in silencing dissent.
Supervisors who comply with the control system are promoted and anyone who challenges the system are denied promotion and moved away from their peers. Documents will be 'lost' and all information relevant to cases raised by employees are marked as secret.
In some cases whistleblowers will be financially destroyed or murdered/executed.
Gary Webb, William Binney, Thomas Drake, Kirk Wiebe & John Kiriakou are all whistleblowers who were attacked by the system - involving direct threats, imprisonment and actual murder.
Video Presentation
---