This is a moving story of one man's epic journey to protect his people from an apparently corrupt government program to vaccinate millions of people inappropriately. A man with a real heart and passion for the truth!
Kihura Nkuba's Background
---
Kihura is a well known figure on African Radio and Television, where he acts as a teacher, helping to educate the people of Africa to improve quality of life in a variety of ways. His radio show 'African Metaphysics' became very popular and he regularly travelled to towns giving lectures directly to the local people.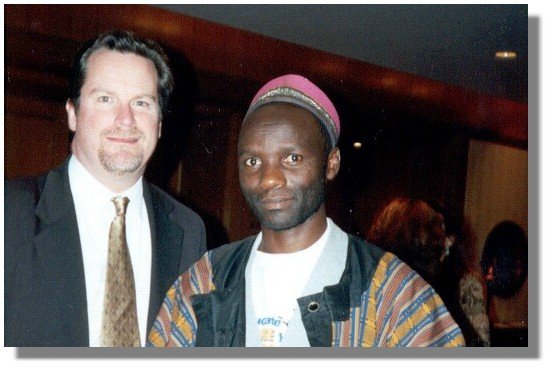 Whistleblower Testimony
---
Kihura states that he encountered a preacher who told him that many children were dying as a result of the 'national immunisation days' in Uganda: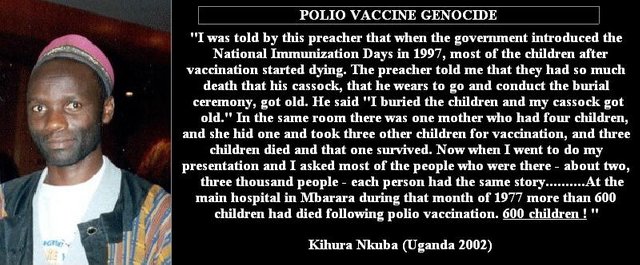 He describes how a particular mother had four children, three of them went for the polio vaccination and one of them was hidden and did not go. The three that were vaccinated died and the one who was not vaccinated survived. He states that he found that many others told him the same story.
Initially, he did not know much about vaccines, but he decided to study the issue of polio and vaccines in order to decide with his wife whether or not to have their own children vaccinated. In his brief research into the subject he learned about the fact that the live 'Sabine' form of the polio virus had been stopped being used in America in 1996 due to the cases of polio being caused in recipients as a result of the live form of the vaccine. He made a brief statement publicly in Africa saying that he 'hoped that the Sabine form of the vaccine was not being used in Africa'. He soon discovered that the Sabine form was indeed being used in Africa and was visited by government agents who questioned him on his comments. He was then the victim of a smear campaign in the national media in Uganda which sought to frame him as someone who did not care about Africans and which lied about his wife and their children. Movements were made to try to close down his radio station because he was 'anti government'.

He learned from inserts from the vaccine being used that only the inactive form of the polio vaccines should be used in populations with a prevalence of HIV - yet this was not the case in Uganda. He also learned that cases of malaria in Africa are FAR more significant than the relatively low incidence of polio and thus he questioned why the government was insisting on total polio vaccination, while leaving malaria totally untreated. The situation began to appear as if the policies being followed by the government were intended to kill people (depopulation) and not heal them.
Government Harassment And Public Rioting
---
The government intelligence officer who interviewed him concluded that he should debate the government's health experts on his radio show to get to the bottom of the issue - thinking that he would be shown to be wrong in a public way and thus ending the issue. The president of the nation decided that he should be instead taken to court and if he was found to be sharing false information he would be charged with sedition, which carried a death sentence or life imprisonment.
In response he dedicated all of his time to learning about vaccination - learning to save his own life!
The government's prosecutor interviewed him and concluded that the government could not win a case against him, since his information was valid. His opponents then changed tactic and tried again to close down his radio station. He was given an ultimatum to stop his campaign regarding vaccinations or to have his station license revoked.
He voluntarily came off the air at that point, but was movingly saved by the population who demanded his show be reinstated - they blocked roads and rioted in every major town in response to his silence!

The government then returned to their original plan to send an expert team of health specialists to debate him on air. He studied solidly for a week, ingesting all the material he could find on vaccines and immunity to prepare for the debate.
Government Ineptitude
---
To his surprise, he learned that the government experts were totally ill educated on the topic and they openly admitted to having never really studied the topic due to lack of access to resources. Their main position was that UNICEF and the World Health Organisation deemed the vaccines safe and so therefore they used them. They also admitted that the traditional African method of using herbs to bath children in their first 6 months was as effective at stopping polio as the vaccines were. The government experts were unable to explain why they were so fixated on using polio vaccines despite low incidence of polio in Uganda, while they were ignoring the really fatal diseases such as Malaria - unable to respond to the questions they 'ran away' from the interview.
Attempted Assassination
---
While driving 250 miles between cities, he noticed he was being followed by a truck driven by two European men. Despite attempting to lose them, they continued to follow him and at one point moved ahead of him and slammed on their breaks, attempting to sandwich his car between their two reinforced pickup trucks. He swerved to avoid them and rolled his car many times, nearly dying in the crash. Miraculously he survived with only minor injuries.
A Second Team of 'Experts' Arrives and Fails
---
The government attempted to provide another team to finally close the issue live on Radio. Rather than provide substantial rebuttal to his case, they disagreed with each other's understandings of the topic live on Radio. The outcome was that it was stated that the reason why the live virus was being used is that it was cheaper than the correct version of the vaccine for that region and the people then stated that they would refuse the vaccine rather than be given the wrong one.
Get Your Shots or Get Shot!
---
The government attempted to enforce vaccination with the wrong form of the vaccine at gunpoint. They moved from house to house attempting to vaccinate under threat of violence. The outcome was that significant numbers of children died as a result of using the vaccines, while those who escaped the vaccination program were generally ok.
The Vaccine Debate Today
---
To this day, there continues to be a kind of propaganda surrounding vaccines that holds up the eradication of Polio as a major success of vaccines - yet it is rarely mentioned along with that that many have died as a result of the heartless overpowering of will that has often occurred with such programs and further that even the early developers of the vaccines predicted an epidemic of cancer as a result of their use and called them 'bargain basement junk technology'.
Video Testimony
---
Here Kihura speaks to the National Vaccine Information Center C-SPAN Nov 7th 2002: