Here a Minnow, there a minnow, everywhere a minnow! We all started as minnows and it takes hard work and a little help from others who curated our works to help us grow. Now it's time to Pay It Forward!
---
---
Week 2 was a great success! Number of entries increased and everyone has been great about supporting the contest with upvotes, resteems, and even promoting the post in their discord groups! You are all amazing and thank you very much for making this contest a success.
Winners will be announced tomorrow! Watch for the post.
---
---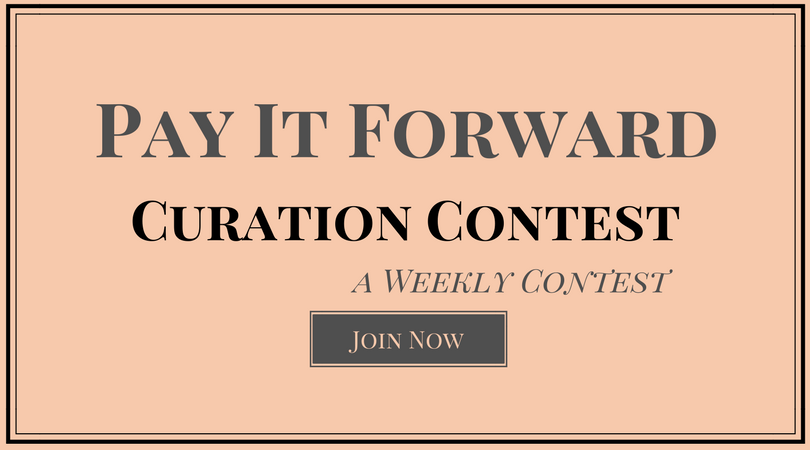 This curation contest is open to everyone and runs for 1 week ending at post payout! The main focus is to help smaller members gain extra visibility and rewards for their efforts.
This contest is evolving and because of the great feedback everyone has provided in your comments, on discord, and even in your posts we are making a couple changes to help make this contest easier for smaller members to participate. We are also adding a little skill into the reward mix with MORE winners awarded!
Week 3 Overview & Rules - CHANGES MADE!
This contest is truly here to help gain exposure for posts that deserve more of the reward pool then they are currently getting. Curate bloggers who clearly put effort into their posts and deserve to get more attention and votes.
Your Entry will be a single Curation Post that highlights 3 other bloggers and link to 1 of their posts. This is your opportunity to share why we should visit these bloggers and what drew your attention to them.
You will be writing 1 post in which you talk about the 3 bloggers and one of their most recent posts. Below is what is required to be in the post.
A review of the blogger and 1 of their most recent posts, link to the post
Explain why this blogger was chosen and a summary of their post
Make sure to upvote and commented on the post you link to for each of these bloggers
Your post should also link to this post showing you are part of this weeks contest.
Big Change #1 this week!
This week we are going to try something a little different. Want to change things up a little each week to hopefully keep the contest fresh and entertaining.
The 3 bloggers you curate Must Be Rank 50 or Lower! Your reputation score doesn't matter, everyone has the same rules this week.
Requirements
Only 2 things are required for a valid entry:
Use the tag #payitforward on your entry post
Comment below with a link to your entry you are entered.
Optional, but we could use your Help!
Please help us spread the word and help keep this contest growing!! ways you can help; upvote to this post, resteem this post, and let others know about the contest. Also Consider tagging some other members in your entry to help draw attention to the contest.
Prizes (Big Change #2, 1 Prize Pool & More Prizes!)
There will be 1 SBI Sponsorship per 8 entries into the contest on a random basis (minimum of 2).
NEW There will be 2 Judges Choice SBI Sponsorships awarded based the quality of the bloggers you feature in the eyes of our Judges, @lynncoyle1 & @energyaddict22.
There are no longer 2 different prize pools
Judges
@lynncoyle1, @energyaddict22, and @thedarkhorse. If you have questions feel free to ask below or reach out to me on discord and my # is 6765.
Bonus - Steem-Bounty
@steem-bounty of 3 SBD has been created. Each entry will get part of the Bounty! See my Review of Steem-Bounty to learn more about the program.
** Fair warning spammers I have no problem flagging you if you are trying to boost your comment to get more of the bounty.
---
---
Next week I will post the winners of this week's contest on Wednesday April 25th CST US.
Next Week's Contest will start with a post on Tuesday April 24th CST US around the same time as this post.
---
---
If anything isn't clear please ask for clarification. This will help me make the rules a little more clear for next week. Any suggestions are appreciated.
Current Entries - Please Visit!!!
This is the real purpose of this contest, visit these posts and help upvote the bloggers featured. This list will be updated as new entries are added. Please check back during the week!!