Pay It Forward Contest Week 3 Entry by @reonlouw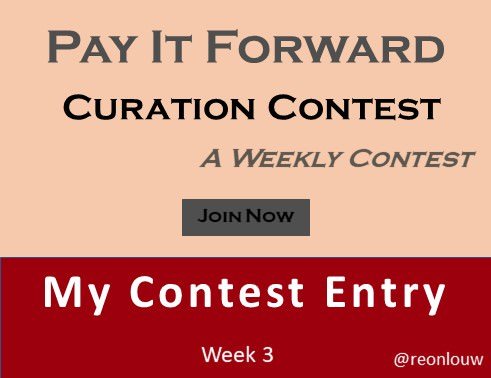 This curation contest is open to everyone and runs for 1 week ending at post payout! The main focus is to help smaller members gain extra visibility and rewards for their efforts.
I was invited to this contest by @fitinfun. It was a strong invitation as she featured me in one of her entries and I experienced the benefit of being featured like this first-hand. The post of mine that she featured is my best-paying post in my nearly three months on Steemit. And I now have the benefit of @steembasicincome upvoting me forever. Plus there is a bounty involved!
This is a no-brainer for every newbie out there! You can find the competition for this week here:
Pay It Forward Curation Contest - Week 3 - Win SBI & Steem-Bounty
You can follow @fitinfun or @thedarkhorse for more information. If you have no idea what @steembasicincome is all about, check out this post:
Drip, Drip, Drip! Leaky Sink? No, It's Lifetime Income - Steem Basic Income Review
Here are the rules.
You will be writing 1 post in which you talk about the 3 bloggers and one of their most recent posts. Below is what is required to be in the post.
A review of the blogger and 1 of their most recent posts, link to the post
Explain why this blogger was chosen and a summary of their post
Make sure to upvote and commented on the post you link to for each of these bloggers
Your post should also link to this post showing you are part of this weeks contest.
Author review
@ammyluv is from Nigeria and a very faithful blogger on Steemit. She is part of the worship team at her church and my first response from her was when I mentioned a favourite worship song. @ammyluv responded with great passion and enthusiasm.
Unlike many people her age in her country, @ammyluv has a job. She goes out of her way to help her peers find employment via online networking. And finds great joy every time she is successful.
This lady writes many posts addressed at the church and gives great insight into Bible stories and the application of scripture to our daily lives. She is also passionate about health, food, family and nature.
@ammyluv responds to comments to her posts with great faithfulness and wisdom. You will be able to engage with this generous, wise person here on Steemit.
I have a sense that she has a great future and will accomplish much in her lifetime.
Featured post of @ammyluv
STEEMCHURCH - The Love Of God
This is one of my favourite topics and while this is one of @ammylove's shorter posts she makes a number of strong points. In the end, she invites all her readers to experience this amazing love painting a picture of God with His arms wide open.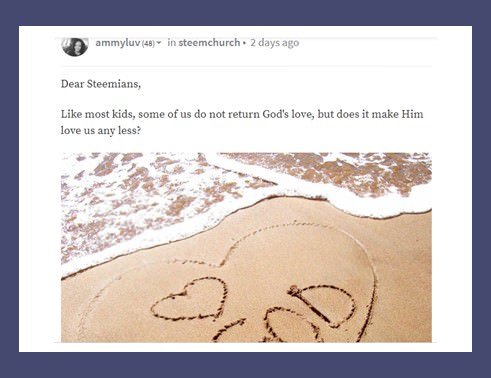 Author review
This guy hails from the same country as I do namely South Africa. He has a habit of addressing complex issues but explains it in a way that I can follow. Not an easy task... I first read his blog when he did a series on the toxic mine dumps not too far from where I live. It was unexpected to find something on Steemit that hit that close to home. He also shared with the Steemit world the birth of his second son on 1 April 2018. This is the picture.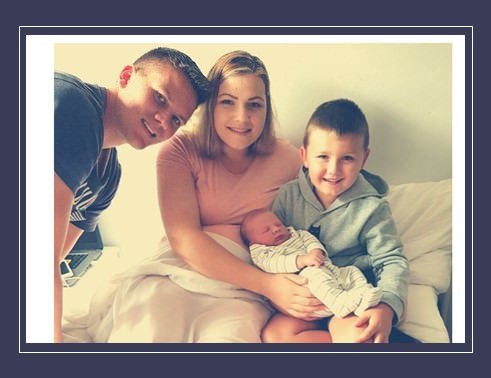 Featured post of @jvanman
Feeling demotivated? You might be lacking something that you are not aware of.
@jvanman illustrates how important it is to take care of yourself before you can properly take care of others. And that the thing with which you are struggling may have a simpler solution than what you are anticipating.
I encourage you to read this guy. His research or general knowledge (not sure which) is inspiring and he provides great insights into lesser known topics that need some scientific knowledge.
Author review
@robpyne is an Australian. He found me on Twitter and added me to some automatic upvoting thingamagic for Steemit. The result has been that I have received tremendous encouragement through Rob's upvote appearing on my screen every time I post. I am grateful.
Rob will often write about his own history, giving me insight in parts of Australia of which I have never heard. He is a sports enthusiast and will write about sporting events. This man also has a knack to have his picture taken with important or famous people. And he absolutely and uncompromisingly got a divorce from Facebook.
Recently, to my exposure that is, he has become enthused with something called Empowr. I have no idea what it is and you will have to follow Rob to find out. My only insight is that whoever they are, they cannot spell very well... :-)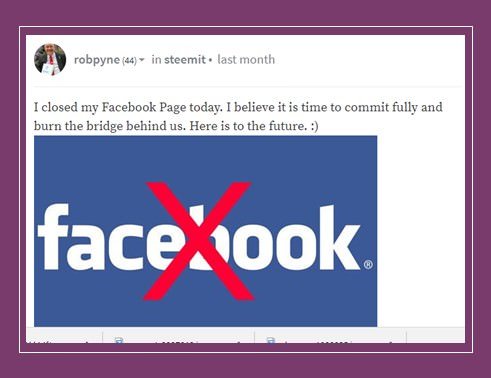 Featured post of @robpyne
Far Northern Sugar Town Life by Rob Pyne
In this post, Rob tells the story of his birth. He describes the place and the circumstances. And mentions the doctor who had to interrupt a tennis game to come and deliver him. But he did it quickly and efficiently so that he could rush back to complete his game.

You should do this too!
Here is @fitinfun's entry for this week. It includes a great outline on how to enter and what to do when you enter.
Pay It Forward Contest Week 3 Entry by fitinfun
This is a great way to highlight the people you read and to benefit them tremendously. And in classic Steemit fashion, it will also advance your cause.
I thank @fitinfun for introducing me.