Thanks to everyone who entered and supported Open Mic Week 101. Community support for Open Mic has been tremendous and is one of many projects bringing the music community together on Steemit.
We had 134 valid entries this week! Awesome guys!
Support Musicians On Steemit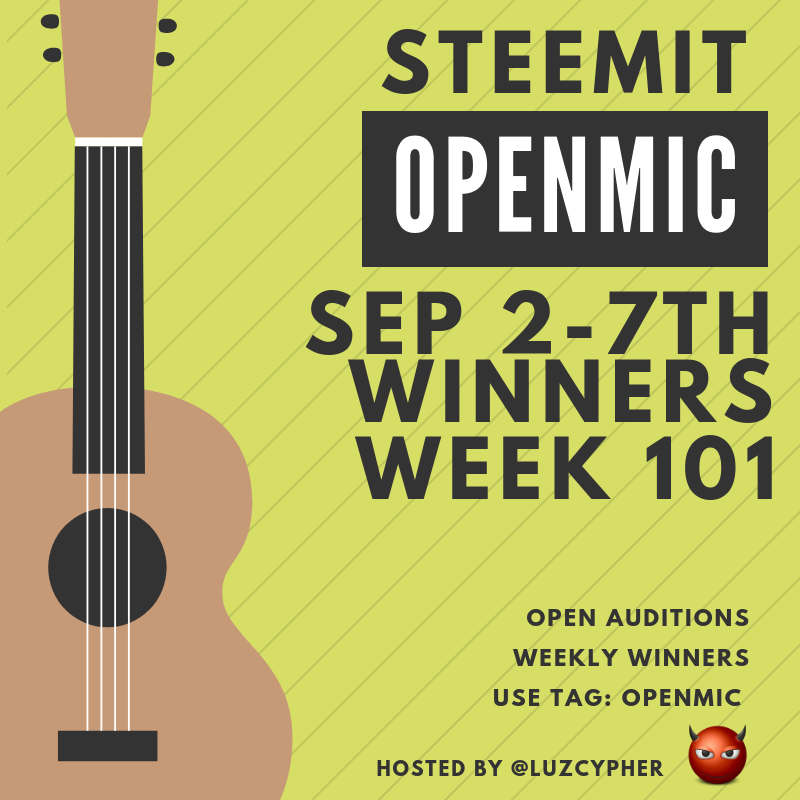 Let's Keep @pfunk In The Top 20 Witnesses By Voting For Him As A Steemit Witness
@pfunk has been sponsoring Steemit Open Mic since I first started it and I want to give a big thank you to him and all the people who support and take part in Steemit Open Mic.
@pfunk is a Steemit witness and helps keep the platform working and you can vote for him here Please go vote for him right now. This post will show you how.
Vote For Pfunk For Witness And Keep Steemit Open Mic Growing Strong We Need Your Help Now
---
More Open Mic Sponsors
Over the last week Open Mic was contacted and offered some more sponsorship from:
@ausbitbank is a top 20 witness on Steemit involved in more supporting projects on the Steem blockchain than I can list. He is a big part of the minnowsupportproject.org, the Peace, Abundance, and Liberty network on Discord, and delegates to many good causes on Steemit. You can vote for him as a wtness here. He just reached out and donated 100 Steem per week to help Open Mic
@Curie helps curate new people who contribute good content and has been supporting Open Mic musicians behind the scenes since Open Mic started. They helped me and countless others get our posts seen when we first started on the platform. Many Open Mic musicians have been featured on their weekly Author's Showcase posts. They are a top 20 witness and have contributed 25 Steem per week for the next two months to help Open Mic. You can vote for them as witness here
MSP-Waves Radio in association with the Minnow Support Project and the Peace, Abundance, Liberty Network is a weekly radio program hosted by @Krystle, @swelker101, and @isaria that features the weekly Top 5 judges picks from Steemit Open Mic. Not only do they give weekly prizes to audience picked performers from the contest, but they have also started sponsoring Open Mic with a 25 Steem weekly donation! How cool is that? Thank you for helping support musicians on the Steemit platform.
@aggroed is a top 20 witness and is involved in the minnowsupportproject.org and the Peace, Abundance, and Liberty network on Discord. He is launching a new online card game called SteemMonsters.com. Steem Monsters is supporting Open Mic with a 50 Steem donation per week to the contest. He's also gifting a 5-card Steem Monster pack to the winner's. You can vote for him as witness here
---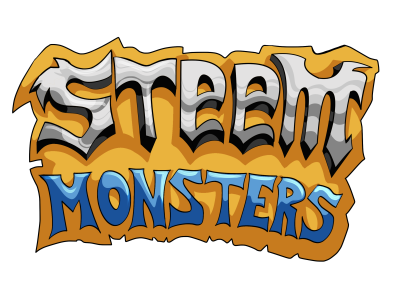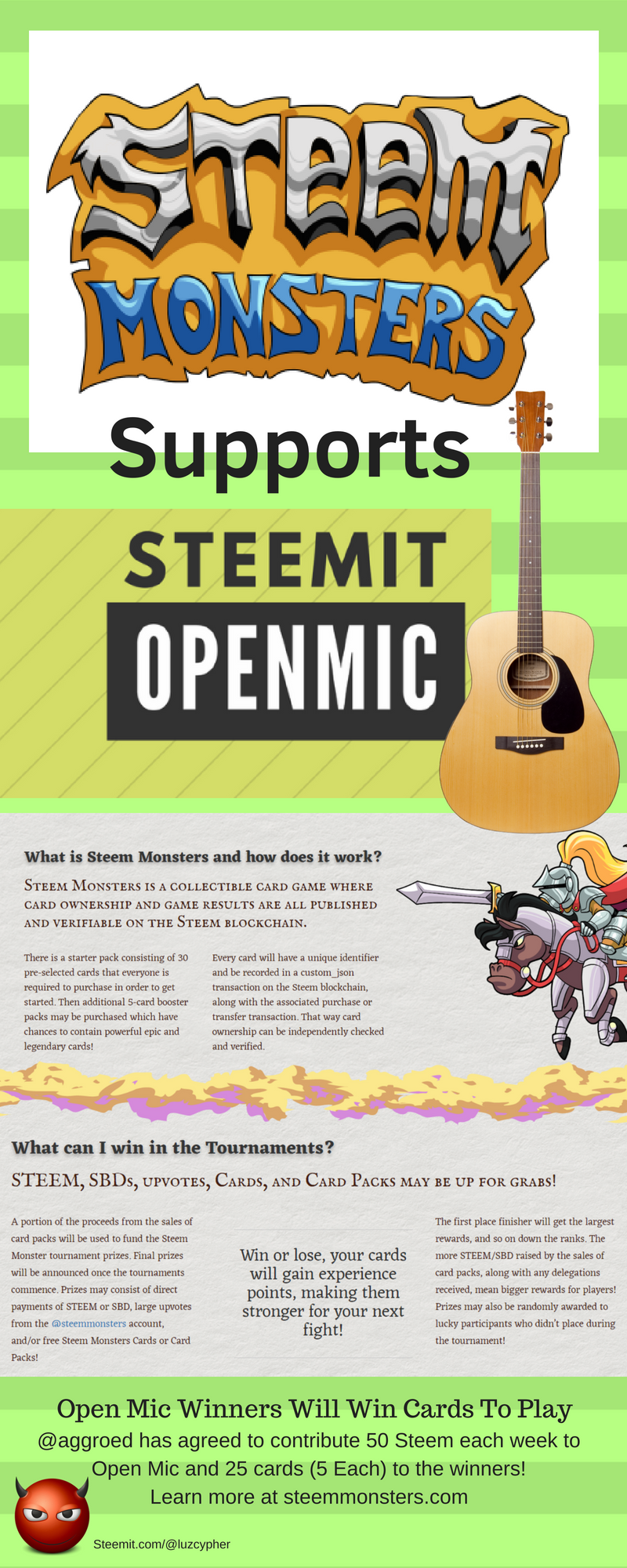 ---
And thanks to @meno's initiative the community has come together to support Open Mic. Many of you have created posts in support of the Open Mic community and have donated a portion of the rewards from those posts to @openmic so we can keep doing what we do, build a great community of musicians on Steemit. You guys are the best and we feel appreciative and inspired!
Steemit Open Mic Rules
The cutoff date for entries was Friday the 7th of September, 2018 at 12 UTC TIME Find your UTC time here.
Only 1 entry per person per week
"Steemit Open Mic Week 101" must the beginning of the post title.
"Steemit Open Mic Week 101" must be said at the beginning of your video and your username.
Live performances only specifically made for this contest.
openmic must be the first tag
Add a link to your post in the comments of the contest post.
You must upvote this post.
If your song is an original song then add the word "Original" somewhere in your title
You can use DTube but include an embedded YouTube or Vimeo video too.
Entries must follow these rules to earn prizes.
Big shout out to @lukestokes who delegated 5,000 SP to the @openmic account! Thanks for your support.
I just want to remind everyone that votes are only part of the selection process. Entertainment value and performance is factored in too.
To learn more about the rules to entering the contest please read What Are The Rules To Enter Steemit Open Mic And Why Do We Have Rules Anyways
Common Questions When Entering Steemit Open Mic --- by @luzcypher

The coolest thing about Open Mic is it brings the Steemit community together and that is the whole point of this project.
---
Meet up with the Open Mic community at Open Mic on Discord and chat with all of the people who enter Open Mic there. It's a great way to interact with the Open Mic community. Your links to your entry is automatically added to the Discord channel, so please don't add links, just come to chat with the community.
Join the Facebook page for Steemit Musicians you can read about here or go straight to the page here. A lot of players from Steemit Open Mic are there.
Steemit Open Mic Judges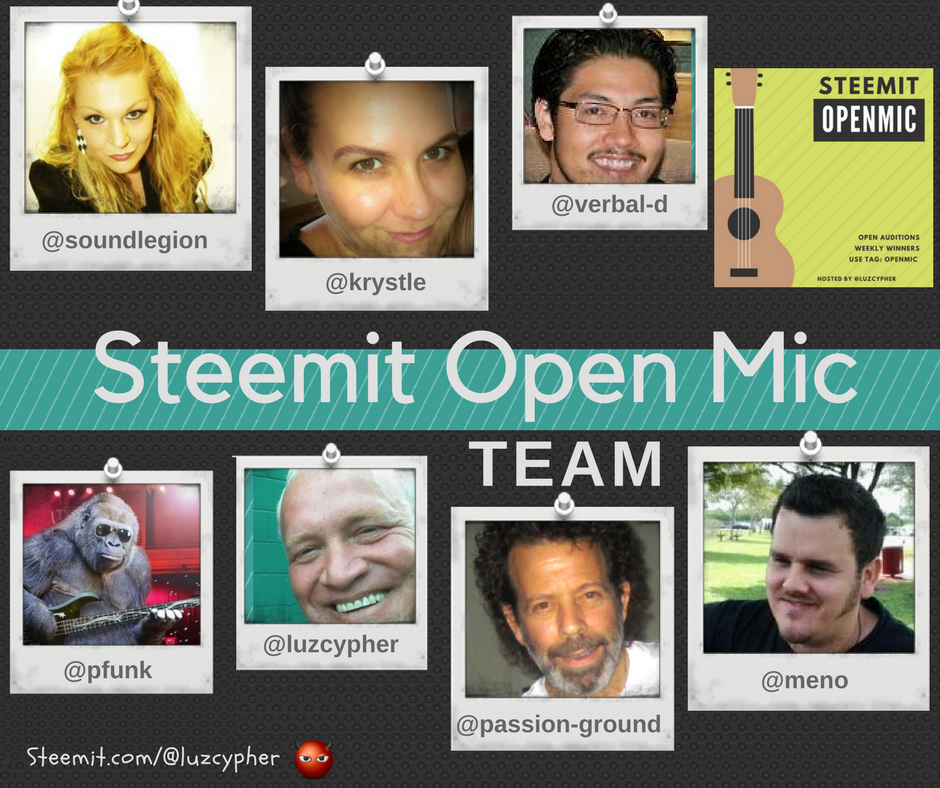 Music Creators Guide To Copyrights, Royalties, And Recording Contracts
Common Questions When Entering Steemit Open Mic --- by @luzcypher

How To Support Musicians On Steemit And Earn Curation Rewards By Following The Open Mic Trail --- by @luzcypher

Steemit Open Mic Is About Building A Community Of Musicians On Steemit Not About Winning --- by @luzcypher

Official Open Mic Or Passion Ground S Top 5 Entries For Week 101 --- by @passion-ground

Openmic Week 101 Top 5 And Honorable Mentions --- by @meno

Steemit S Official Open Mic Judge Verbal D S Top 5 Entries For Week 101 Original Blog --- by @verbal-d

Open Mic Week 101 My Top 5 Judges Selection --- by @krystle

5W5Vkg Steemit Musicians With Krystle Shane And Isaria Msp Waves Radio 30 Steem Prize 25 Steem Weekly Donation To Open Mic --- by @isaria

Steemit Open Mic Loves Dtube So Why Do I Have To Add A Youtube Video To My Open Mic Entry --- by @luzcypher

Special thanks to @krystle, @passion-ground, @meno, and, @verbal-d for help judging the contest this week. Great job guys.
Steemit Open Mic is not about winning or losing, it's about building a connections on Steemit through music. Watching the collaborations happen online between musicians who played and met on Steemit Open Mic is very rewarding and many of the people who play and post earn some nice rewards for playing a song.
For many, it's easier to get some Steem in your tip jar by playing for Steemit Open Mic than it is to play music on the street.

Steemit Open Mic Trending Posts
---
Top 20 Trending Open Mic Posts
The openmic tag has earned a total of: 238,262.720 SBD worth $231,114.84 USD At Today's Prices of $0.97 SBD (Average of $2,288.27 per week in 101 weeks +plus has paid out over 28,500 Steem in prizes!
NOTE: Having a trending post is not how judges pick entries for their Top 5 weekly picks. Sometimes you will trend because of a variety of reasons. Congratulations! You don't need to win Open Mic to earn rewards and build your audience. As you can see, sometimes trending posts earn more than the contest rewards! You could trend by getting curated by other curation groups like @curie for example. The judges look for entertainment value which, of course, is very subjective and varies over time. Just keep playing and engaging with the community which is the whole point of Open Mic. If you love music, we love you.
The most recent top earning posts were:
This chart is provided by @carlgnash.
Congratulations to all of you who trended this week on Open Mic!
Winners from Steemit Open Mic Week 101
It is not getting any easier to pick with all this talent and it is so hard picking winners every week even with 5 judges.
---
and the winners are...
1st Place
You won 80 Steem and a 5-Pack of Steem Monster cards.
---
STEEMIT OPEN MIC WEEK 101: Queen of Her Realm (Original song) Unplugged right from Nature --- by @yidneth

---
Steem's very own magical fairy is at it again. I think it's been months since I've seen her entries on the openmic, but I knew after thirty seconds in this entry would place this week. The word magical falls short, the beautiful voice just soars over the heavenly strums of a harp. What else is there to say? - @meno
---
The ethereal enchantress has mesmerised us once again with her celestially gifted vocals and delicately light and emotional harp playing. The visuals for this entry are naturally stunning and full of real beauty of what the world has to offer, as well as the captivating music that a soul, who is connected to nature on a deeper level, is able to create and deliver with cunning and intentional flawlessness. This dream state is encompassing and encapsulating as it is vividly temporary. Definitely will need to repeat this one to re-experience the majestic sounds being released here. It leaves you wanting more each time, a lingering desire, not often fulfilled with music that awakens the spirit and soul quite like this. - @verbal-d
---
You have captured our attention, our hearts and minds, your music is like a spell you cast over the listener - they are bound to the beauty you have created and with it you have the power to show unseen worlds you create with your sheer talent.

Your music both breaks my heart and gives me hope, it is just so unique and amazing - I cannot get enough, you must never stop creating this musical magic the world needs it more now than ever. - @krystle
---

2nd Place
You won 40 Steem and a 5-Pack of Steem Monster cards.
---
Steemit Open Mic Week 101 - Entra (Original Song) | DTube Music --- by @ilazramusic


Ilazra crushed it this week with his bluesy, soulful, sultry, and passionate composition, "Entra! Ilazra's melodies, execution, musicianship, vocals, engineering, and production are stunningly brilliant! The work he puts into his music, artistry, and posts is second to none – and that's why he's first! - @passion-ground
---
Describing this man's talent is very difficult for me. But it's probably enough for me to say that I don't know how he is not touring the world. There is a collection of his songs at this point in time that just get stuck in my head and refuse to leave. - @meno
---
I'm convinced you are a hit making maestro. Literally every song you produce, perform and layer comes out so intensively woven together and full of passionate melodies and creatively fresh material. The best part is how you sing your heart and soul out every single time. I can even see your love and care for the music you create, and it is something I highly respect and admire in an artist of your caliber. This song is real, profoundly moving, soulful and moment making. Keep making powerful impacts in our Open Mic Community and the world at large brother, you are on to something long-lasting and worthwhile. I gotta get you to collab with me on a heavy jazz hip hop track one of these days. Thanks for sharing this emblazoned gem with us all. Looking forward to your next one! - @verbal-d
---
---

3rd Place
You won 26 Steem and a 5-Pack of Steem Monster cards.
Steemit openmic semana 101 - Jose Cabrera - Tornasol - (con moccamonica) --- by @joseacabrerav

---
Two of my favorite Venezuelan musicians collaborating on an original track, WHAT? I knew I was in for a treat, I knew it. Monica and Jose are suber vocalist, and the band playing along with them sounds so tight, so cohesive, that this performance requires no tweaks, no adjustments at all. - @meno
---
This was a fire collaboration inferno. I was really happy to see you two, @joseacabrerav & @moccamonica, burning the competition together, leaving an intertwining blaze of musical embers and sweet, hot notes. This original is a treat for the ears as much as it is for the eyes with your superb visual qualities and well balanced band skillfully backing your every notion. You both had great charisma, delivery, performance, energy, passion and chemistry. An instant hit with high replay value, easily one of my favourites from you both. I was in full vibe mode on this one. Wonderful music, thank you for sharing this gem with us all. You'll have to work together more often for sure. Looking forward to the next winning song. - @verbal-d
---
The whole entry and performance was spectacular, you all know how to put on a show - the sound was just spot on and with live performances with so many instruments it's to have someone overpowered or under-powered, you guys just nailed it in ever single way. - @krystle
---

4th Place
You won 26 Steem and a 5-Pack of Steem Monster cards.
Steemit Open Mic Week 101 Por Si Existes By Mayneth Original Song --- by @mayneth

---
Honestly, this is not the first time @mayneth shows us how talented he truly is. Aside from the performance being superb, the composition itself is stunning. How he flows on the keys as he tells a story reminds me of the greats. - @meno
---
I present to you, Sir Mayneth, his Piano, and a long-lost composition of his own making. These three basic ingredients may seem quite simple; however, there is an abundance of very special sauce inherent in Mayneth's musical, artistic, and creative nature. "Por si existes" is a passionate song of yearning for a love that is nowhere to be found. Something I'm certain we have all experienced at some or many points throughout our lives. Bravo, Sir Mayneth! - @passion-ground
---

5th Place
You won 26 Steem and a 5-Pack of Steem Monster cards.
Steemit Open Mic Week 101 Atardecer Vals Cezanne Y Sus Amigos --- by @cezanne

---
Wonderfully performed cover. You all did such a great job interlacing your musical skills and the layerings of the sweet textures of both of your vocals with the enthralling sounds of the humbly contented guitarist made for an addictively pleasing euphonic experience. Those harmonies ignited excitement and were really fine tuned and delivered with care. You all possess really tremendous talent together and this was an entry that could not be left out of my top 5. I had to highlight your remarkable performance and give you your just due credit and praise. Thank you for bringing to light this cover which you completely embodied with grace and poise. Definitely looking forward to what you all perform next. - @krystle
---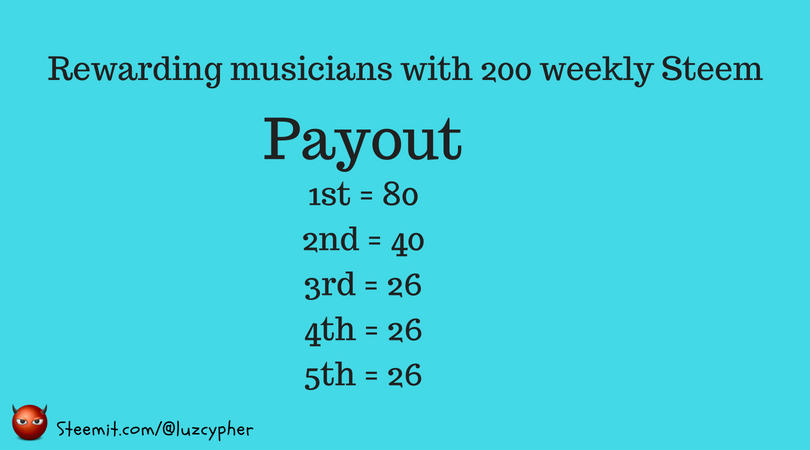 Here's a screenshot of the prizes transferred to the winners this week.

Want To Go To SteemFest This Year?
Congratulation Everyone And Thanks For Playing Steemit Open Mic. Winners can collect their Steem Monster Cards at SteemMonsters.com#
---
Congratulations guys! Thanks again to everyone that entered. Thanks to our sponsors @pfunk, @ausbitbank, @curie, @aggroed, @isaria, and @steemmonsters for sponsoring Open Mic!
Vote And Enter Open Mic Week 102 by Following This Link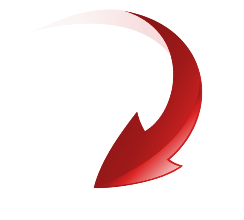 Related Posts
Music Creators Guide To Copyrights, Royalties, And Recording Contracts --- by @luzcypher
How To Support Musicians On Steemit And Earn Curation Rewards By Following The Open Mic Trail --- by @luzcypher

What Are The Rules To Enter Steemit Open Mic And Why Do We Have Rules Anyways --- by @luzcypher
Behind The Scenes Look At The Steemit Open Mic Selection Process How We Pick The Top 3 Entries --- by @luzcypher

---