STEEMIT OPEN MIC WEEK 101: Queen of Her Realm (Original song) Unplugged right from Nature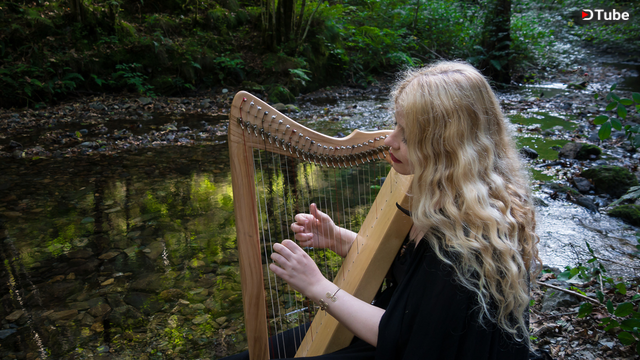 ---
Hello my sweet community of @openmic Here I am again after an hiatus participating with my original song "Queen of her Realm" recorded last Monday 3rd of September while hiking outdoors... It's been a while but you know I have never left my open mic community even if I have not participated. Life was hectic and health was frail. Still I intended to join again to celebrate the 100th week but I was dealing with a cold and I am one week belated. I had previously participated with Morning Light (week 78) and Flame (Week 83) and now I'm sharing an original song that will be part of my next album Fear no More. Though the final song will have another vibe and more complex instrumentation, I love to hike and sometimes I carry instruments with me...
I love to play in Nature... everything is simpler... it feels that way... it has to be...
And my excuses for my awkward speaking intro. I think I hurried the words too fast...
This is a very unambitious yet honest raw take while I was playing for some friends visiting. They are listeners and we were meeting for the first time. In fact the lovely spiral bracelet was a handmade gift from one of the girls. The background noise is the gurgling creek, actually a very famous place in the local region as it's full of legends of Nymphs gatherings... ;-). So hope audio quality is enough but hoping you feel the spirit! :). We used a portable Zoom recorder only. Thank you very much @hedac for helping me to film
Also thanks in advance to all the team that makes open mic possible, to host @luzcypher supporters @pfunk @aggroed and @curie.
And to all the judges @meno @krystle @passion-ground @verbal-d and @soundlegion
And luck to all my fellow artists participating.
We are all Queens and Kings of the worlds we create
The song (lyrics below) is about being in our own universe, the worlds we create, sometimes we are at the risk of become isolated, and even vanish to the real world a bit too much, but there, in our imagination there is a place where we can be whatever we're meant to be, we can become, we can channel who we really are. The song is not about me but about "Yidneth" the lead of my graphic novel, but she's a character so loved to me now hat became almost an alter-ego. And a metaphor for my own way of thinking and feeling.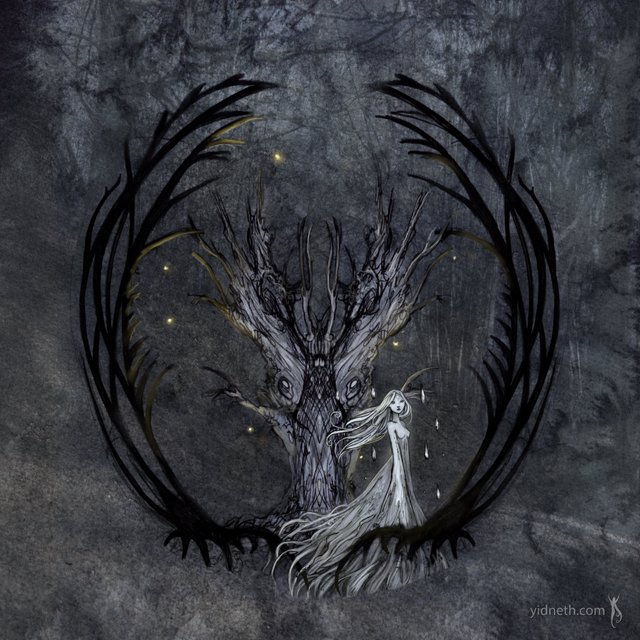 Above, one of my own illustrations where you can see "Yidneth"
THE QUEEN OF HER REALM
Lyrics/Poem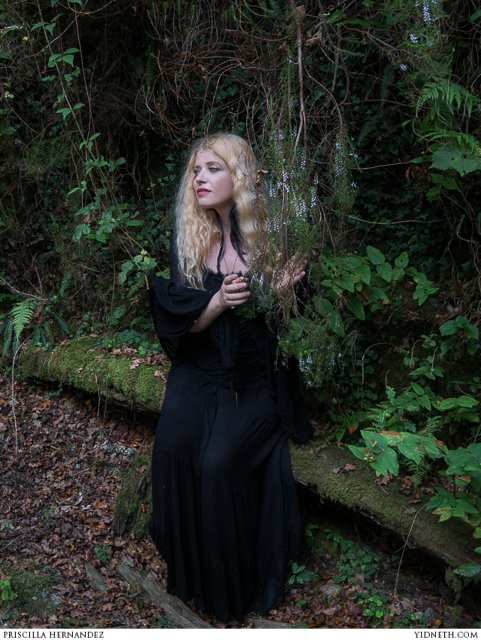 Once there was a girl
a creatures so strange
and always so quiet
and she she learned how to shield
so No one could ever
delve in her thoughts
So she roamed like a ghost
barely a sigh,
barely a shadow,
and in time she became invisible to the rest of the world
But when she's alone leaves swirl
and clear her path
and suddenly above
clouds shift in fancy shapes
But when she's alone
she gives in her careless flight
amidst winged things
chanting her name
Once there was a girl
always so shy, always so silent
as though she couldn't dare
to lift her frail voice to utter a word
She's not taunted by fear
that noone else cares
for the things she has to say
she just holds to a dream
that's become too big
for her little hands
But when she's alone
her voice is a beam of light
that suddenly soars
firm and clear as the day
But when she's alone
she gives in careless flight
thus she became the Queen of her Realm
Ahhh.... Once there was a girl
and when she's alone
she gives in careless flight
She was barely a ghost
barely a sigh
barely a shadow...
and in time she became
invisible to the rest of the world
---
Recording Location: Hike to "Infernuko Errota" Mill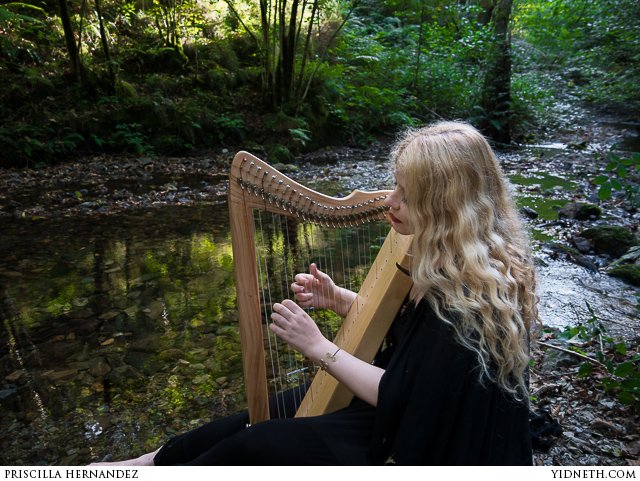 Above, me playing my harp while filming this open mic outdoors using a portable Zoom recorder
If you watch the video, at the end you will find a little vlog about our hike to reach the location in Etxalar (Navarre, Spain). It was last Monday 3rd of September and I had a few fellow friends visiting so we all wore black and picked a famous witchy location in the woods. Here in the North of Spain and Basque Country there are countless legends about Sorginas (witches) and Anjanas (Lamias or Nymphs) and the location chose was a XIX century Mill that was built over a pond where countless regional stores tells of sightings of "Anjanas" (Blonde nymphs with goose feet). The walk there is really beautiful.
So I have been hiking lately carrying my harp as a companion... I love to bring at least a flute or my windband to the woods and you can usually find me me musing there like a bard or a fairy minstrel... The weekend before we had picked another location that ended up in a very tortuous trail and many hours carrying the harp... hence we chose a shorter one this one, barely half an hour walk from the Etxebertzeko Borda, a restaurant / farm in the woods that in the 2000 restored this abandoned mill built in XIX (Carlist era) that was clandestinely during Spanish Civil War. The Mill crosses over the famous/infamous pond so I decided spontaneously to record an open mic entry there thus the loud water noise but happy to share music from the wild. Because this is also a facet of me... I'm a minstrel... :) Like @meno called me once, a "bard"... So this is a quick one take, honest, raw and does not reflect the complexity of the song (as it has many instruments and harmonies) but the chill moment in the Summer forest, playing for my friends. Of course we splashed and soaked our geese Anjana feet in the creeks afterwards.
Here a few shots of the hiking trail and the Mill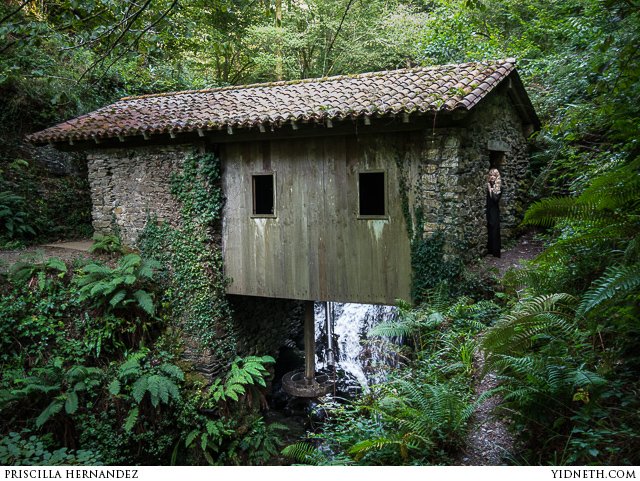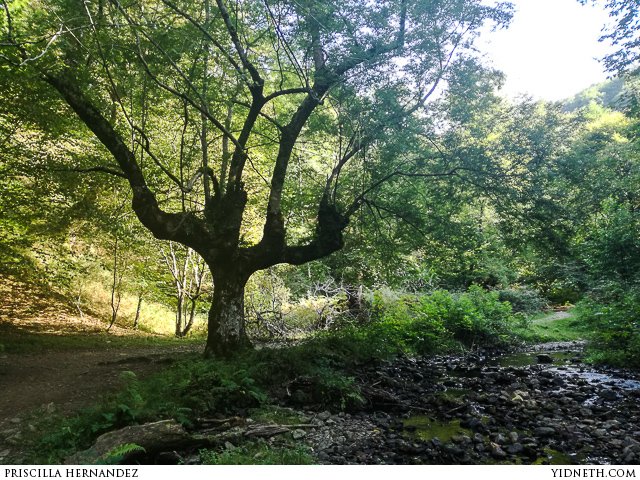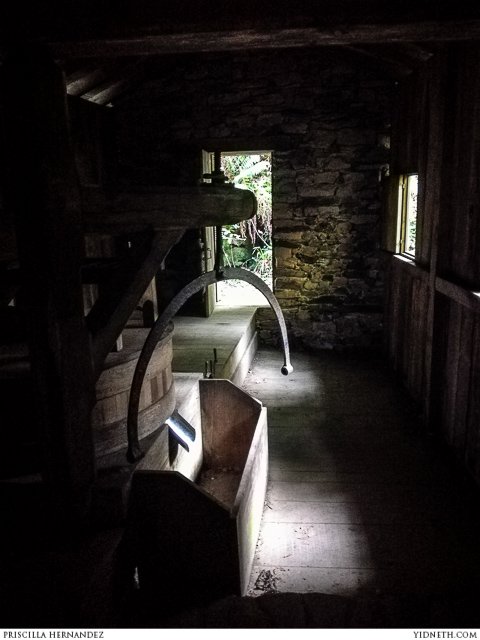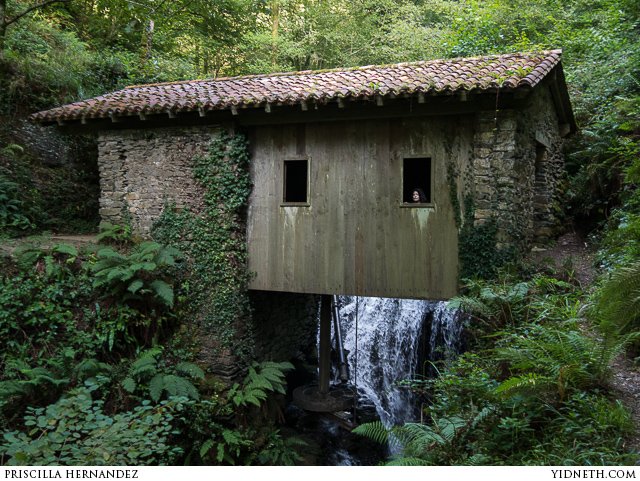 Your fellow fairy minstrel... Pris :)
My social network / Mis redes sociales
Official site
Networks
---

Priscilla Hernandez
singer-songwriter & illustrator
http://yidneth.com

---
▶️ DTube
▶️ IPFS