Steemit openmic week 101/ALFONSINA Y EL MAR Ariel Ramírez y Félix Luna /versión by @esthersanchez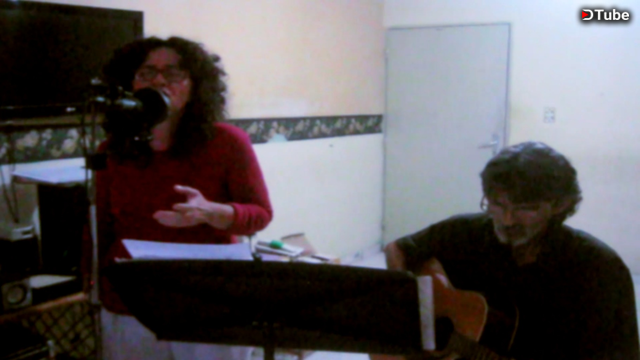 ---
Hola estimados amigos de openmic! Para mi, un gran honor estar nuevamente con ustedes compartiendo esta semana.
Esta oportunidad traje una canción, originalmente una zamba, compuesta por los argentinos Ariel Ramírez y Félix Luna, publicada por primera vez en el disco de Mercedes Sosa como un homenaje a la poetisa Alfonsina Storni, donde se incluyen extractos de su ultimo poema. Esta es una de esas piezas musicales con las que uno podría corroborar la expresión "en la tristeza también hay belleza". Realmente espero la disfruten!!
Este es el link en youtube
Mi agradecimiento a @orlandogonzalez por su especial acompañamiento, a @christopherb por la realización del video. A @luzcypher y @pfunk quienes semana tras semana nos brindan la oportunidad de cantar nuestra musica, al igual que a @soundlegion @krystle @verbal-d @meno y @passion-ground <3, por su apoyo en el concurso.
Quiero agradecer también a todas las comunidades representadas en los canales de discord a través de: @traduce-steem, @dtube, @curie, @minnowsupport, @peace abundance liberty, @cervantes, por hacer el camino más divertido y familiar.
---
Hello dear friends of openmic! For me, a great honor to be with you again sharing this week.
This opportunity brought a song, originally a zamba, composed by Argentines Ariel Ramírez and Félix Luna, published for the first time on Mercedes Sosa's album as a tribute to the poet Alfonsina Storni, which includes excerpts from her last poem. This is one of those musical pieces with which one could corroborate the expression "in sadness there is also beauty". I really hope you enjoy it !!
My thanks to @orlandogonzalez for his special and unconditional accompaniment, to @christopherb for the completion of the video. A @luzcypher and @pfunk who week after week give us the opportunity to sing our music, as well as @soundlegion @ krystle @ verbal-d @meno and @ passion-ground <3, for their support in the contest.
I would also like to thank all the communities represented in the discord channels through: @translation-steem, @dtube, @curie, @minnowsupport, @peace abundance liberty, @cervantes, for making the path more funny and familiar.
Letra (español)
Por la blanda arena que lame el mar
Su pequeña huella no vuelve más
Un sendero solo de pena y silencio llegó
Hasta el agua profunda
Un sendero solo de penas mudas llegó
Hasta la espuma
Sabe Dios qué angustia te acompañó
Qué dolores viejos calló tu voz
Para recostarte arrullada en el canto
De las caracolas marinas
La canción que canta en el fondo oscuro del mar
La caracola
Te vas Alfonsina con tu soledad
¿Qué poemas nuevos fuiste a buscar?
Una voz antigua de viento y de sal
Te requiebra el alma y la está llevando
Y te vas hacia allá como en sueños
Dormida, Alfonsina, vestida de mar
Cinco sirenitas te llevarán
Por caminos de algas y de coral
Y fosforescentes caballos marinos harán
Una ronda a tu lado
Y los habitantes del agua van a jugar
Pronto a tu lado
Bájame la lámpara un poco más
Déjame que duerma nodriza, en paz
Y si llama él no le digas que estoy
Dile que Alfonsina no vuelve
Y si llama él no le digas nunca que estoy
Di que me he ido
Te vas Alfonsina con tu soledad
¿Qué poemas nuevos fuiste a buscar?
Una voz antigua de viento y de sal
Te requiebra el alma y la está llevando
Y te vas hacia allá como en sueños
Dormida, Alfonsina, vestida de mar
---
Lyrics (English)
For the soft sand that licks the sea
Your little footprint does not come back anymore
A path alone of sorrow and silence arrived
To the deep water
A path alone of silent sorrows arrived
Up to the foam
God knows what anguish accompanied you
What old pains did your voice keep quiet
To lie down lulled on the edge
Of the marine conches
The song that sings on the dark background of the sea
The conch shell
You leave Alfonsina with your loneliness
What new poems did you go to look for?
An ancient voice of wind and salt
It crushes your soul and is carrying it
And you go there like in dreams
Asleep, Alfonsina, dressed in the sea
Five little mermaids will take you
Along algae and coral paths
And phosphorescent marine horses will
A round by your side
And the inhabitants of the water are going to play
Soon by your side
Lower the lamp a little more
Let me nurse, peacefully
And if he calls, do not tell him I'm
Tell him that Alfonsina does not return
And if he calls, do not ever tell him I'm
Say I'm gone
You leave Alfonsina with your loneliness
What new poems did you go to look for?
An ancient voice of wind and salt
It crushes your soul and is carrying it
And you go there like in dreams
Asleep, Alfonsina, dressed in the sea
GOD VIBES FOR EVERYONE /BUENAS VIBRAS PARA TODOS
---
▶️ DTube
▶️ IPFS