Well it's about time for me to do the next part in my series The Classics Never Die.
I hope everyone who has been following along with this series are enjoying the music I'm writing about. I do think I have great taste in music, so if you enjoy the classics your bound to enjoy the music in this series.
Just like all music though some of the older classics are shocking, there was a large number of failed artists who produced some shockers. But there is also a massive range of music which are classics, they sound amazing and can be enjoyed by by people of all ages and walks of life.
One thing I learned from my uncle was that if people judge you because you like music they don't, then they are not worth your time. Just because music is considered not cool, does not mean that I won't listen to it.
The classics never die, but they can be forgotten and sometimes your introduced to something you absolutely love.
I have had some interesting feed back in this series.
Here is some feedback I received from @mightpossibly
That's some nice songs!
I've never listened to a single David Bowie song before - these were some solid recommendations.
I have also received lots of great feed back, and interesting trivia from @mgood who is very knowledgeable on the classics I love.
The group, Dr Hook and the Medicine Show, wasn't very well known but they came out with a few hits.
I'm surprised they play their songs "down under".
So lets continue on with my series, I want to share another couple of my favorite tracks.
☠️ The Righteous Brothers ☠️
 
The Righteous Brothers are an American duo of singers. Bill Medley and Bobby Hatfield.
They did most of their recording during the 60's and 70's.
Bill Medley and Bobby Hatfield had contrasting voices which enabled the duo to produce a really great sound together.
In 1964 they had their first hit song which was called You've Lost that Loving Feeling. I think this was also their best song ever.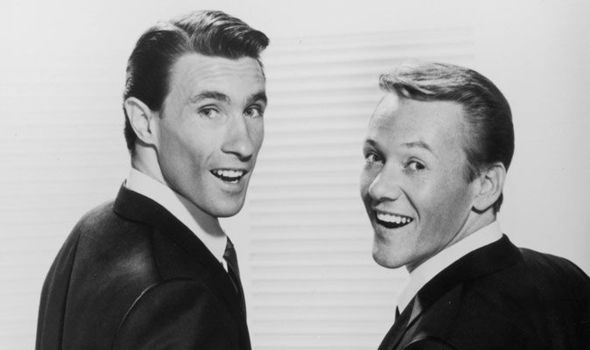 src

☠️ You've Lost that Loving Feeling ☠️
 
I really love this track by The Righteous Brothers.
Has to be their best track ever, the duo sounds fantastic together.
This recording is considered by various song writers to be one of the best records ever made. Although personally I think I would consider The Walker Brothers recording "The Sun Ain't Gonna Shine Anymore" to be the best recording ever. Although this track by The Righteous Brother comes in very close.
 


☠️ Georgia on my Mind ☠️
 
I really like this track from The Righteous Brothers too.
It has a really different feel to is, feels more like a mix between blues and soul. The piano sounds fantastic in this track I love it.
I'm really not sure if he is talking about a girl here, or the state of Georgia in the United States. I think he is talking about the state of Georgia, and it sure feels that way.
 

☠️ Unchained Melody ☠️
 
Now I could not do a post about The Righteous Brothers and not write about this track.
Many people have made fun of this track, well more so the movie Ghost which this song was used in. Wile I have got a good laugh with some of them I actually do enjoy this track.
I think it's an absolute classic.
I really like the lyrics, they are so passionate.
His voice sounds really amazing too.
 


I have added these tracks into Villans Saturday Night jukebox Mix for you all :)

☠️☠️☠️☠️ Related Posts ☠️☠️☠️☠️
 
☣️ The Classics Never Die - The Foundations
☣️ The Classics Never Die - Toto
☣️ The Classics Never Die - The Four Tops
☣️ The Classics Never Die - Dr Hook
☣️ The Classics Never Die - Nazareth
☣️ The Classics Never Die - The Beach Boys
☣️ The Classics Never Die - Lynard Skynard
☣️ The Classics Never Die - Some Classic Girl Groups - The Exciters and The Crystals
☣️ The Classics Never Die - Bobby Vee
☣️ The Classics Never Die - The Dave Clarke Five
☣️ The Classics Never Die - Gary Puckett and The Union Gap, The Honeycombs, The Walker Brothers
☣️ The Classics Never Die - T. REX
☣️ The Classics Never Die - The Eagles
☣️ The Classics Never Die - The Drifters
☣️ The Classics Never Die - The Four Seasons
☣️ The Classics Never Die - Bowie
☣️ The Classics Never Die - ELO