Growing up the classics were a huge part of my life.
I always used to love going to my uncles house when I was young, as he would always chuck on the Saturday night jukebox and we would sit back and enjoy them. So I guess I was lucky to be introduced to great music when I was a young whippersnapper.
I do think most of the music that comes out now days has lost it's soul, it just doesn't even come close to the classics.
I also find the classics make me really happy, even the depressing songs.
But when I listen to the mainsteam music that comes out now days it seems to make me sad, I think that's because I'm sad that music has ventured well away from that classical sound.
The classics never die, but they can be forgotten and sometimes your introduced to something you absolutely love.
I have had some interesting feed back in this series.
Here is some feedback I received from @mightpossibly
That's some nice songs!
I've never listened to a single David Bowie song before - these were some solid recommendations.
I have also received lots of great feed back, and interesting trivia from @mgood who is very knowledgeable on the classics I love.
The group, Dr Hook and the Medicine Show, wasn't very well known but they came out with a few hits.
I'm surprised they play their songs "down under".
So lets continue on with my series, I want to share another couple of my favorite tracks.
☠️ The Foundations ☠️
 
The foundations always get air time on the Saturday night jukebox.
The Foundations are a British band, and they didn't have a large number of hits but there are a couple of their tracks which I do enjoy.
The Foundations were also made up from a diverse mix of ethnic backgrounds, which wasn't all that common in those days.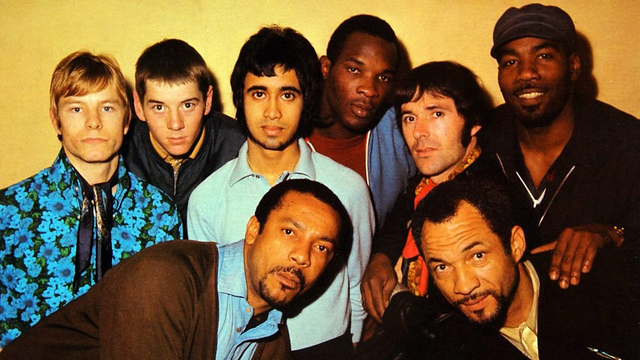 src

☠️ Build Me Up Buttercup ☠️
 
This is an absolute classic from The Foundations.
This was their most popular song, and is my favorite track of theirs. It's pretty much guaranteed that this song will be played each Saturday night.
I really love the way the track sounds, it's really boppy and I can't help but sing along.
The lyrics are top notch, absolutely love them. I think most of us could relate to someone who has given you the wrong impression only to let us down.
 


☠️ Baby now that i've found you ☠️
 
This was another track from The Foundations which was also really popular.
I also love this track and it gets played sometimes on the jukebox.
I really love the sound and rhythm to this track, really makes you want to snap those fingers and sway side to side.
Has really great lyrics too.
That chorus sounds incredible.
 


☠️ Sitting on the dock of the bay ☠️
 
I also really love this track by The Foundations.
I'm really not sure who wrote this song first, because their is also a version of this song by Otis Redding.
The version by Otis Redding is more popular, but I like both versions just as much as one another. I think they both sound great.
I like this track because it makes me think out country life, and sitting on the porch watching the rolling hills wasting time.
 


I have added these tracks into Villans Saturday Night jukebox Mix for you all :)

☠️☠️☠️☠️ Related Posts ☠️☠️☠️☠️
 
☣️ The Classics Never Die - Toto
☣️ The Classics Never Die - The Four Tops
☣️ The Classics Never Die - Dr Hook
☣️ The Classics Never Die - Nazareth
☣️ The Classics Never Die - The Beach Boys
☣️ The Classics Never Die - Lynard Skynard
☣️ The Classics Never Die - Some Classic Girl Groups - The Exciters and The Crystals
☣️ The Classics Never Die - Bobby Vee
☣️ The Classics Never Die - The Dave Clarke Five
☣️ The Classics Never Die - Gary Puckett and The Union Gap, The Honeycombs, The Walker Brothers
☣️ The Classics Never Die - T. REX
☣️ The Classics Never Die - The Eagles
☣️ The Classics Never Die - The Drifters
☣️ The Classics Never Die - The Four Seasons
☣️ The Classics Never Die - Bowie
☣️ The Classics Never Die - ELO