Fifty-Word Story Challenge & Fun Writing Opportunity
Welcome to a new week of the Fifty-Word Short Story challenge. If you're unfamiliar with us, we are a small community of writers who enjoy honing our skills by writing pithy, flavor-packed micro-fiction short stories. Join our weekly challenge!
In this post you will find a weekly feature — a short micro-fiction writing workshop — as well as some highlights from last week and a new challenge prompt.
But first, I want to tell you about a micro writing opportunity and fund-raiser. Scroll down and check it out.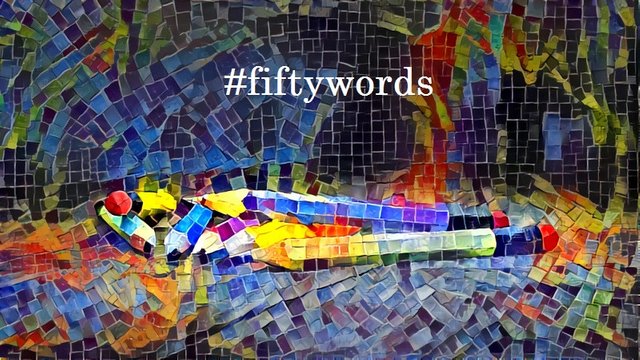 Source: Pixabay image by Monoar

Micro-writing opportunity & fund-raiser
If you like micro-writing, please check out my
pet caption-writing contest
and fund-raiser for Tazewell ARC (
@tarc
), a very hard-working and drastically under-funded 501(c)(3) animal shelter in Appalachia.
It's the 11th hour, so please participate ASAP if you would like to join the contest. The strict deadline is 11 pm (CST) Monday, October 8th. I will be running another one on the heels of the first, so never fear. There will be another opportunity. Or visit @tarc to learn more about the care needs for these animals and other ways you can help. (Winners are rewarded with upvotes, and the SBD goes to TARC.) Thank you!

Mini writing workshop
Let's talk about language. Have you ever read a book that was so beautifully written, so lyrical and fun to read, that plot seemed secondary? There are many ways to be a successful writer, in my humble opinion. Some writers really excel at writing thrilling storylines, some are amazing at character development, and some capture dialog so well that you might feel you are listening in on an intimate conversation.
Of course the very best writers master all of the story elements, but it is my experience that beautiful language and excellent character development can help carry a plot if the story is not a page-turner.
One example I love is A Gentleman from Moscow by Amor Towles. (You can read an excerpt here.) It is such a marvelous book — richly told in captivating language, and rather epic in scope. The basic premise? An aristocrat (a count) from the days of the Russian revolution spends several decades under house arrest, and cannot leave the hotel where he resides. It may not sound particularly riveting, but it is one of my favorite books of all time. Why? The language. The turn-of-phrase. It is an absolutely delicious read, in addition to providing some wonderful historic perspective into that time.
Words can be rich and lively and exciting to read, or they can be dull as a box of rocks. Consider this: "He walked to the store. He brought his dog on a leash. It was raining." This piece of writing can be so much richer, more captivating and more interesting to read if the phrasing was improved.
In my 50-word short story for last week, I attempted to write in heightened language, hoping to make the story worth reading, even though very little actually happens. Here is "Leaving":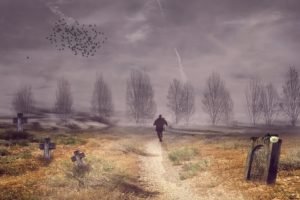 Source: Pixabay image by Myriams-Fotos
Against a silken, fog-feathered landscape, depleted by wind and Autumn decay, we flew. It was time. Winter threatened, biting our wings with an arctic chill.
We rose, fluttered, and turned south almost as one.
Below, a figure slowly walked the worn cemetery path. It seemed he must also say goodbye.
So, that's my little writing workshop for this week. I love to play with language, and to see if I can create more impact with more enticing wording.
Okay, let's survey the 50-word stories from last week!

Last week's story collection
I'd like to welcome our newest contributors,
@amelin
,
@deigoam
, and
@manoldonchev
. Thanks for joining the Fifty Worders!
Here is the complete list of stories inspired by last week's "goodbye" prompt. I hope you will read them all:
If I missed yours, please let me know and I will add it! I always try my best to list them all, but I do occasionally miss one.
Highlights of the week
Each week I choose a few well-told stories from the previous week's entries to share as inspiration. It is very difficult to pick just a few, because there are always so many gems!
Enjoy this sampling of the contributions from all of our wonderful fifty-word storytellers.

While it's true that life is too short for regrets, some of our actions and decisions are more weighty than others.
Grandpa's eyes fluttered closed, face now still like a shrunken wax facsimile.

I touched Dad's shoulder. "He's gone. Let's go."

He smiled, lips tight with hidden grief. "I need a few moments."

I swallowed. "I understand."

I walked out into the autumn air, wishing I'd hugged him instead of speaking.
In this incredibly poignant story, the author portrays one of the most painful decisions a person may ever be called to make.
"I love him.

I need him.

He is my everything.

I wish I could take his pain away. I'd take it ten times over, just to see his eyes smile once more.

The law forbids it.

My heart agrees.

But, how can I deny his wish, my dearest Albert.

Goodbye."
I hardly know what to say as a prelude to this one, except that it moved me deeply.
Charles waved at everyone. They weren't able to see him but he saw them from above, crying, trying to resuscitate him.

It didn't matter, he was happy. He was a hero before water filled his lungs.

Peace found him after saving those kids from the overturned bus on the lake.
This author explores the challenges involved in self-acceptance that accompany her character to the alter.
Any second now, she'll realize her mistake, and leave me for a better man.

She knows me, and loves me anyway. Mad girl! She's nearly out of time to run.

But she doesn't.

When the preacher says it's time to kiss my bride, I do, and bid my fears goodbye.
This poignant story reveals the powerful call of home, and in this case, the willingness of the main character to abandon her better judgment to return.
The SUV stopped beside her just outside the compound gate.

A heavily-muscled man stepped out. "Bonny?"

She shook her head. Not anymore.

"Your parents sent us. Come home?"

Even if her parents hadn't sent him, nothing could be worse than Queen Ragweed. She didn't know him, but she got in.
This incredibly intense little story launched an interesting conversation. I believe the author is quite brave for tackling this topic.
Marie watched Marcus tend the flames, her hand on her stomach.

She should have sought help sooner. Their lives were ruined, his life was lost... it was her fault!

Embers shrouded the sky and she turned away from the pyre.

Goodbye, little one; may you become one with the stars.
Great work, everyone!
This week's 50-word story prompt
The prompt for this week is "
pumpkin
." Deadline for this week: Saturday, October 13th, with a grace period until the new prompt is published.
I look forward to reading your stories, Fifty Worders!

Guidelines
Please review and follow the guidelines for proper use of images.
Note that
Write a story in 50 words. (Try to hit 50 words exactly.)
Use the #fiftywords tag, and post the link in the comments of this post.
Be sure to read and upvote the work of the other participants. It's all about community!
Use only artwork that you have the right to use, and attribute it properly. See the following guidelines.
Proper use of images
Proper use of images means one of the following:
The image is public domain, or under creative commons licensing rules.
It is your own image.
If it is not one of the above, you must have actual permission.
Be sure to properly attribute the image's source or mention that the image is yours. And if it's not public domain, under creative commons license, or your own image, be sure to state that you have permission.
I have two resources for you, from my friends at @thewritersblock:
And speaking of @thewritersblock, it's a great place to hang out and rub elbows with other writers. Check them out on Discord.

The 50-word story clan
I'm mentioning you here if have participated in the
#fiftywords
short story challenge in the past. Please let me know if you would like your tag removed in this or future posts. (Note that I do trim the list. Those who have not participated for a long time or are not active on Steemit will eventually drop from the mentions.)
@ablaze, @adigitalife, @agmoore, @ahmadmanga, @akdx, @aksounder, @aleli, @alexandered, @alheath, @amelin, @andersonrivas, @anikekirsten, @anixio, @anonymummy, @anutu, @aresbon
@beginningtoend, @bex-dk, @blueteddy, @botefarm, @brectar, @bryarose23
@caleblailmusik, @carn, @celsius100, @cheekah, @cizzo, @clacrax, @creatr
@damianjayclay, @dbzfan4awhile, @deigoam, @deirdyweirdy, @desmoniac, @diebitch, @dirge, @donnest, @drahries
@eaglespirit, @elbrujo, @elementm, @emergehealthier, @emwalker, @erh.germany, @eroticabian, @esttyb, @evgsk
@fairyhedgehogg, @feebie, @felixgarciap, @felt.buzz, @ficciones, @four20, @foxfiction, @foxyspirit, @fromage
@gaby-crb, @gaming-stuff, @girlbeforemirror, @gmatthe2, @goastrighter
@iamthegray, @intothewild, @isa93
@jadams2k18, @janine-ariane, @jasminearch, @jayna, @jluvs2fly, @jonknight,
@kaelci, @kally, @khadija14, @kimberlylane, @kingspiration, @ktfabler
@lightoj, @liverussian, @lucylin, @luiskrupaz
@manoldonchev, @marciabon, @marie-jay, @mineopoly, @mizdais, @momzillanc, @mydivathings
@paintingangels, @papacrusher, @pizzachain, @poeticnest, @poetrybyjeremy, @preparedwombat, @prydefoltz, @purpledaisy57, @pyrowngs
@ravencorinn, @rensoul17, @riottales, @rodrigocabrera, @roxy-cat, @rvag5
@sidequest, @spalatino, @stbrians, @steemgiant, @steemitdiversify, @sue-stevenson
@tanglebranch, @thatlovechild, @theironfelix, @therosepatch, @thinknzombie, @tuwore, @tygertyger
@yeceniacarolina, @yimiipsa, @zen-art
Thanks so much for reading! I hope you try the 50-word challenge. It's so fun to see what can unfold in a mere 50 words!

---
Posted from my blog with SteemPress : https://jaynalocke.com/2018/10/08/fifty-word-story-challenge-fun-writing-opportunity/
---