Do you want to appreciate someone for their efforts or work on social media? But there is no simple way to reward the users you like or follow without actually taking their account details or wallet address.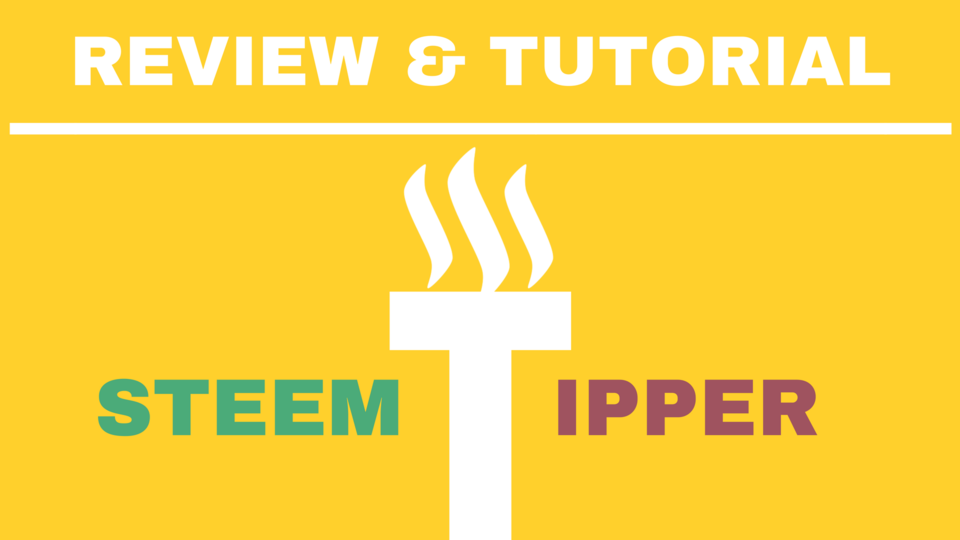 Well, I present you STEEM TIPPER today - A sassy new platform that enables you to tip your favorite social media accounts outside Steemit or related apps. For starters, this is created only for twitter and more social media apps will be included very soon. Let's jump in and see what it is all about and how it works.

What Is SteemTipper And The People Behind It?
SteemTipper is a project created by Jeff (@followBTCNews) and @crimsonclad who are running a witness server from @followbtcnews which is also in the Top 20. They have dedicated their lives full time for Steem Blockchain, making it better and powerful everyday. I urge all the readers and my followers to vote as them as their Favorite Witness. All of us already know that they are hosting, managing and running @steem.chat which is already a famous platform for Steemians to get connected and maintain relationships. I got to know all about this when I @firepower mentioned them in the first Steem Meetup I attended a few months ago that changed my life. :-D
| --- | --- |
| --- | --- |
As I mentioned in the Introduction of this post, SteemTipper can be used to send tips, in the form of STEEM, to other social account holders. Now we all stumble upon various users that are adding value and doing great work on Twitter or any other social media website. And we want to send them tips for their efforts and in turn create a healthy, kinder community. This will help the great folks to accept tips in STEEM without ever needing to create a STEEM account. But the great catch here is that to withdraw tips from their #SteemTipper account which is in turn connected to their social profile like Twitter, they need to have a STEEM account. So this will in turn, market STEEM to high quality netizens of the world. Right now it is available only for Twitter but in future integration with famous platforms like Steem.chat, Reddit and Telegram will happen. I think it can totally change the game for all of us trying to make a living out of this system.
Before getting into further on how we use it to send quick tips using Twitter, let's see what are the advantages of this concept.

Advantages Of SteemTipper
SteemTipper is fast, secure and easy way to give tips and reward users for their exceptional work on Social Media other than Steem related apps: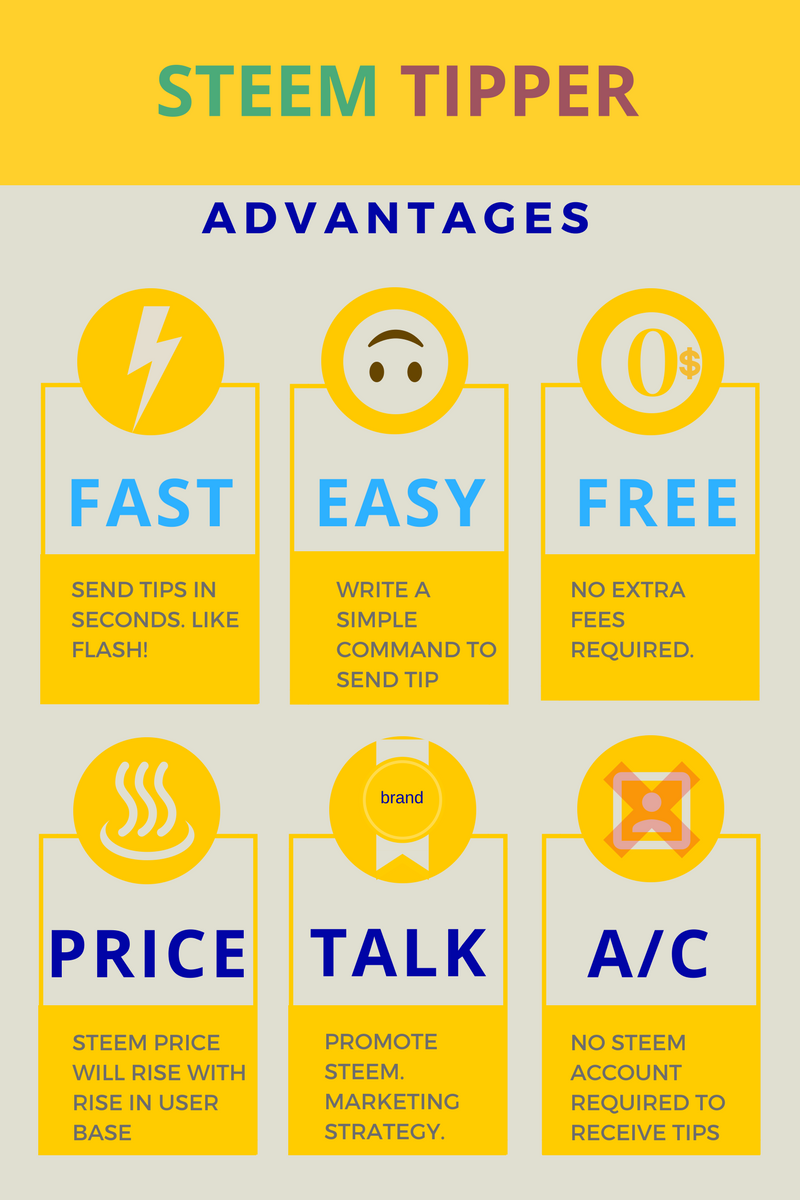 How It Works? [Infographic]
Before I will give a detailed walk-through of SteemTipper website and explain how to send your first tip, please have a look at this Infographic that will list down steps to send a tip to any user on twitter. It's very simple and easy to follow: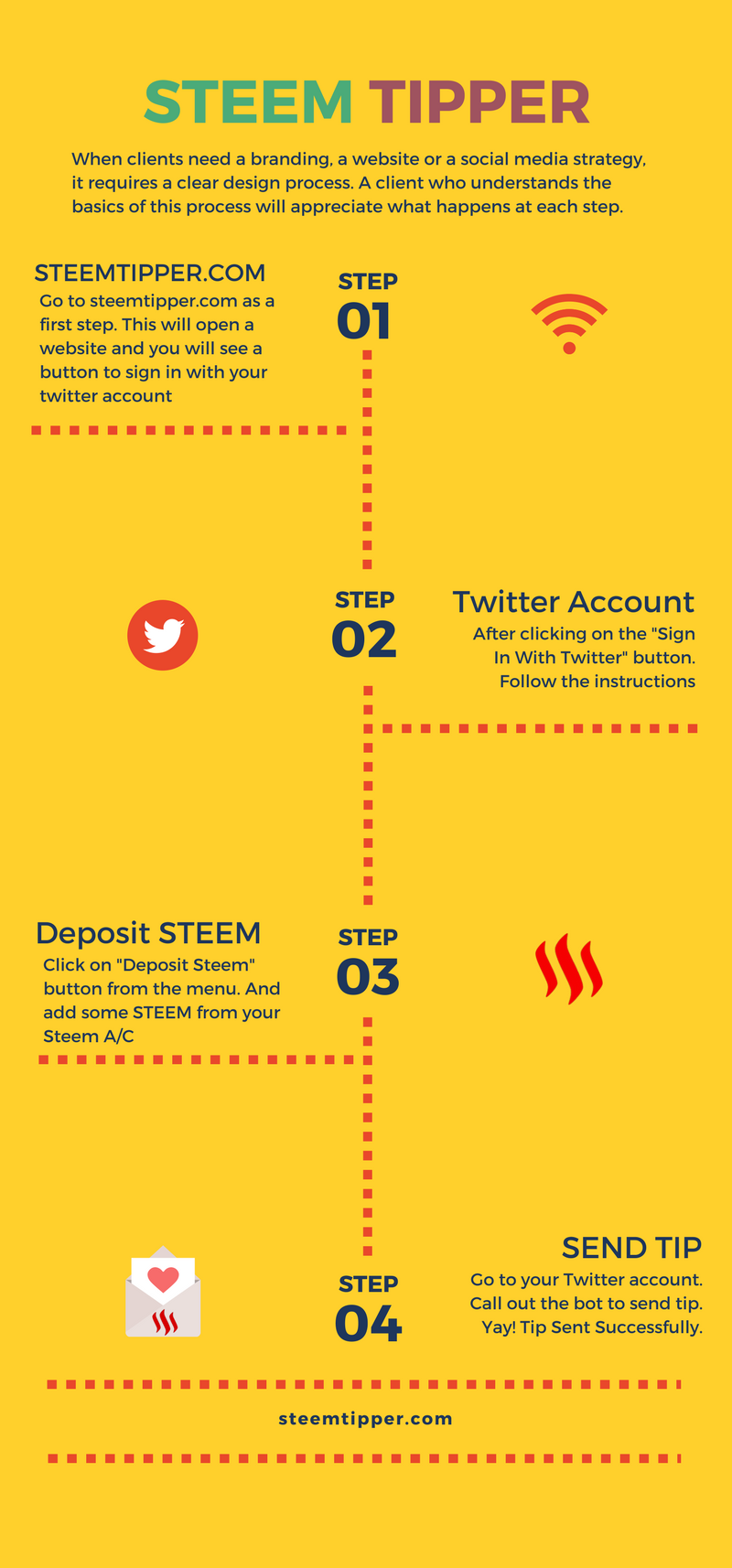 How It Works? [GIFs & Screenshots]
Now I will list down each step in detail with respective screenshots or GIFs to make it super easy for you:
Go To https://steemtipper.com/ and click on "Sign in with Twitter"
When logging in for the first time, it will ask for permissions. Please accept all and follow. This will connect you SteemTipper account and your Twitter account.

Once you are logged in, you will be able to see a few more options and two new tabs called as "Deposit" and "Withdraw" other than "Global Tipping Stats" and "My Account"

Click on "Deposit Tab" and Fill out the form to deposit STEEM in your SteemTipper Balance. After that, use steemconnect to complete the transaction. Totally secure!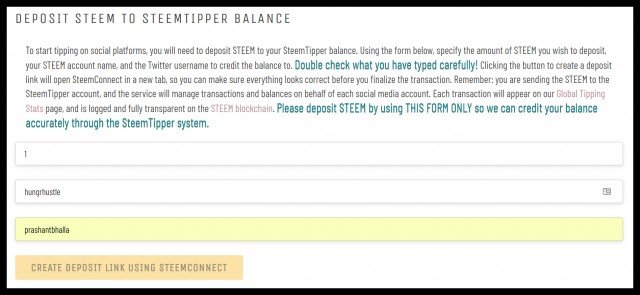 You can check your balance under "My Account" tab along with several other details.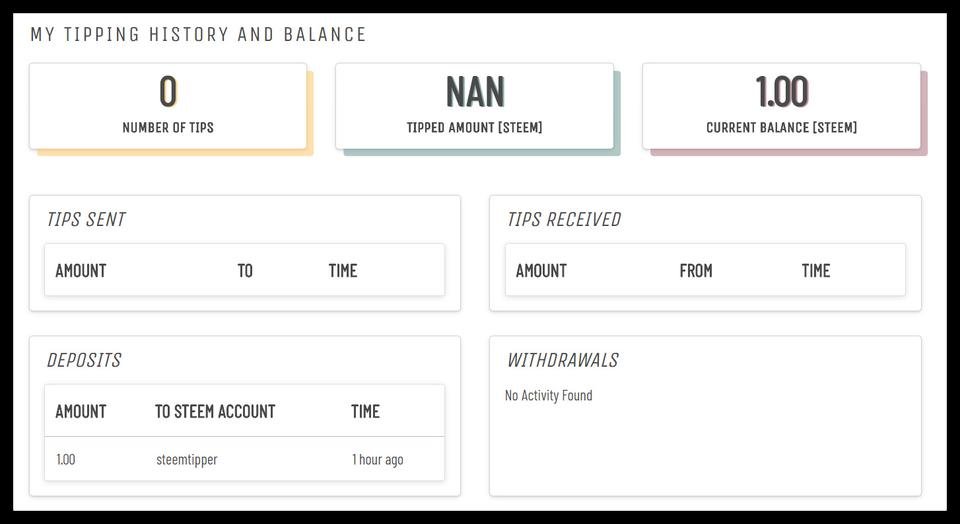 Go to Your Twitter. And write the below command to call out the bot, that will transfer the amount of tip mentioned by you in the command, to the receiver:
After this command, you can write some message as well and that is totally optional.

In the above screenshot, I sent 0.666 Tip To @followbtcnew's SteemTipper account.
Check your tips sent or received under "My Account" tab with your balance.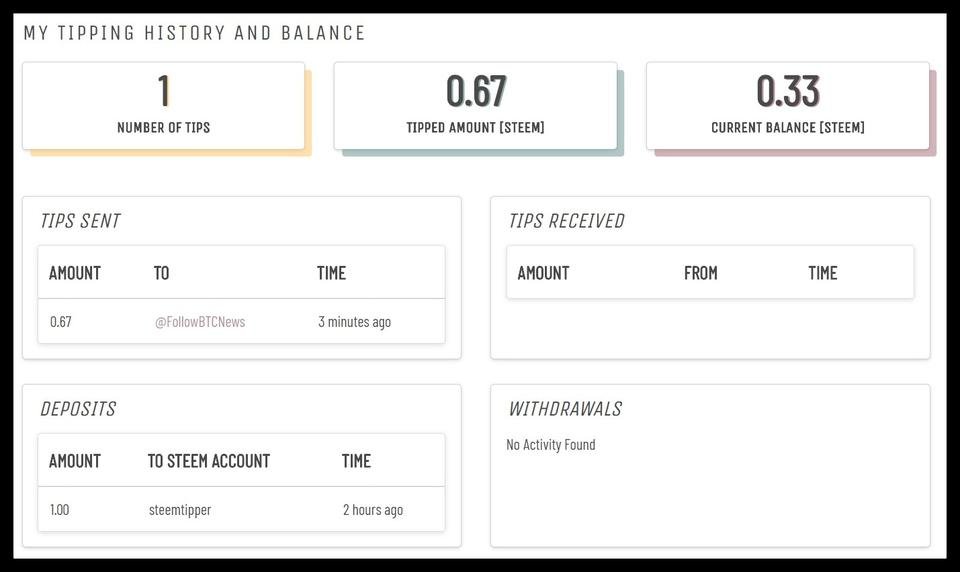 You can withdraw your tips from the balance and for that, you will need to enter your "Steem Username" and the amount of "Steem" you want to withdraw to your Steemit Wallet. No screenshots required here. :-)

The Tab, which is left untouched so far is "Global Tipping Stats".This will show you a list of tips sent via SteemTipper bot through twitter commands and also the recent deposit & withdrawal transactions of STEEM. You can see the tip I sent to @followbtcnews a few minutes ago! Cool no? :-D 80 tips have been given already by various users. Some of the users I follow who are already using this app are @kenistyles, @jerrybanfield, @ausbitbank and @lukestokes. I hope after this review more of my followers and readers will use this. :) Especially the one who are very active on Twitter just like they are on STEEM.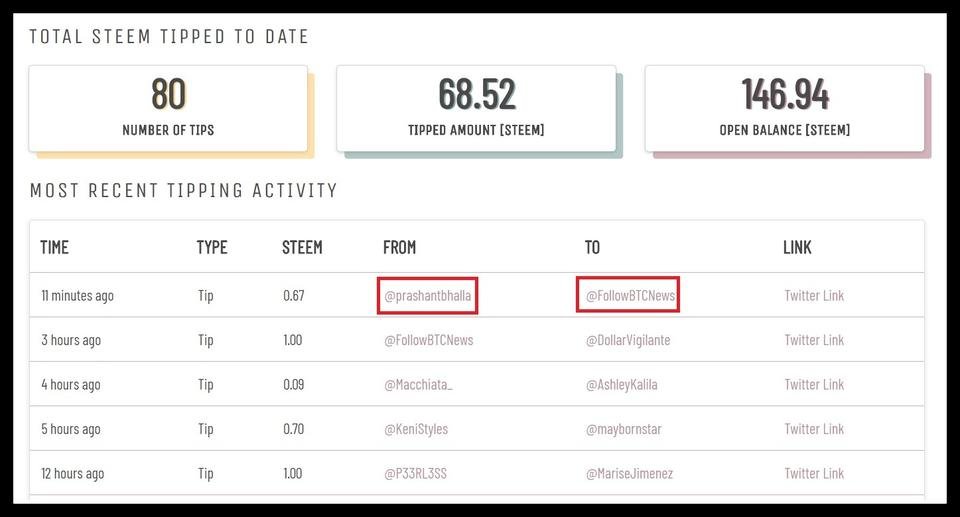 This is one of the simplest apps I have ever seen on Steem Blockchain and it is wonderful to actually get someone interested about it to explore it at least. It will get better with age by inclusions of more platforms and features. Security is tight here because SteemTipper never has access to your keys or passwords so your accounts. Steem related transactions are done through Steemconnect so no problems.
100 marks to @followbtcnews and @crimsionclad to bring us a groundbreaking application and a big THANK YOU. I hope to see more enhancements in terms of addition of more social media platforms and features. Cheers! :-) I misspelled the name of this application as Steem TRIPPER instead of Steem Tipper several times, maybe because it's so Trippy. ;-)

Next In The Series:
✅#Promo-Steem Infographic Series - Part #1 || What Is Promo-Steem?
✅#Promo-Steem Infographic Series - Part #2 || Advantages & Benefits
✅#Promo-Steem Infographic Series - Part #3 || Steem Ambassadors
✅#Promo-Steem Infographic Series - Part #4 || Promo-Steem Resources
✅#Promo-Steem Infographic Series - Part #5 || How To Contribute To #PS Initiatives
Other Infographic Projects:
✅MinnowBooster Community Whitelist Is Online - An Update Through Infographics!
✅Splendid Infographic Explains @AIR-CLINIC
✅Splendid Infographic Explains @SMARTSTEEM
✅Splendid Infographic Explains What Makes A Good Infographic
Underrated Bots On Steem Series
✅Underrated Bots On Steem Blockchain! || Episode #1
✅Underrated Bots On Steem Blockchain! || Episode #2
✅Underrated Bots On Steem Blockchain! || Episode #3
✅Underrated Bots On Steem Blockchain! || Episode #4
Check My Previous Posts:
✅5 Blog Post Ideas That Will End You Up In "Hot" or "Trending" Section
✅3 Free Online Tools To Up Your Graphic Design Game!
✅#STEEMGIGS: I will Create A Kickass Infographic For You!
✅#STEEMGIGS: I will Create A Kickass Main Image For Your Next Steemit Post!
✅7 Things Changed After The Last UI Update Of Steemit
✅My Steemit Goals For 2018
✅What Happens When You Meet STEEMians Off The Blockchain! India STEEMIT Meetup!
Check the STEEMIT SUCCESS Guides:
✅Splendid Case Study: Minnowbooster's Comment Upvoting Service - STEEMIT GUIDE #6
✅Splendid Guide On How To Create Insane GIFs - STEEMIT GUIDE #5
✅Splendid Case Study On STEEPSHOT: A Visual Lifestyle Treat On The STEEM Blockchain
✅Splendid Case-Study On How To Lease Or Buy Steem Power - STEEMIT GUIDE #4
✅7 BATSHIT Crazy Tools To Help You Generate Kickass Content - STEEMIT GUIDE #3
✅Make Impact With Your 1st Post On STEEMIT : SECRET REVEALED! - STEEMIT GUIDE #2
✅New To STEEMIT? Here Are 5 Things You Should Plan On Doing - STEEMIT GUIDE #1