Qurator Tier Changes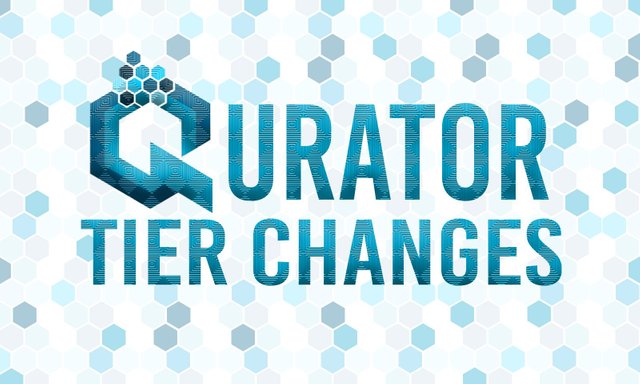 In the previous Tier update we announced we will be going subscription based. The feedback that we got was not all positive. So in this post we hope to make some things clear on why we need to change the Qurator model in order to sustain it while giving decent support to all our members.
---
Why do we need to gather more funds?
With the price of steem seeing a big drop in the last couple of weeks we will not be able to keep up with leases from the earnings Qurator makes. It is simple math, we earn less while the lease rates stay the same. @scrooger and some other donors have been helping out and sending weekly steem to help cover the leases, hoping that the price of steem would recover. Sadly it didn't and hasn't, so we need to prepare for a long-term scenario. We do not get any whale support, we understand that projects rarely do. No matter how many members we support. Some whales are just too busy, cough, cough, self-voting. Our members are the ones carrying the project thus far.
What happens IF we do NOT change our system?
Leases will expire = Smaller upvotes for everyone

Members will undelegate their SP from @qurator because they are seeing smaller upvotes (already happening)

Qurator will be unable to do anything but give even less support and upvotes
It's a snowball effect and Q will slowly degenerate and then find a new balance at a much lower rate.
Only the long-term supporters will keep their delegated steem with @qurator while the others will look for something else to delegate to.
Below is a comparison of the current rates of upvotes we give versus the upvotes if we use only the profits that Qurator makes
Current (with donations) vs Without donors' help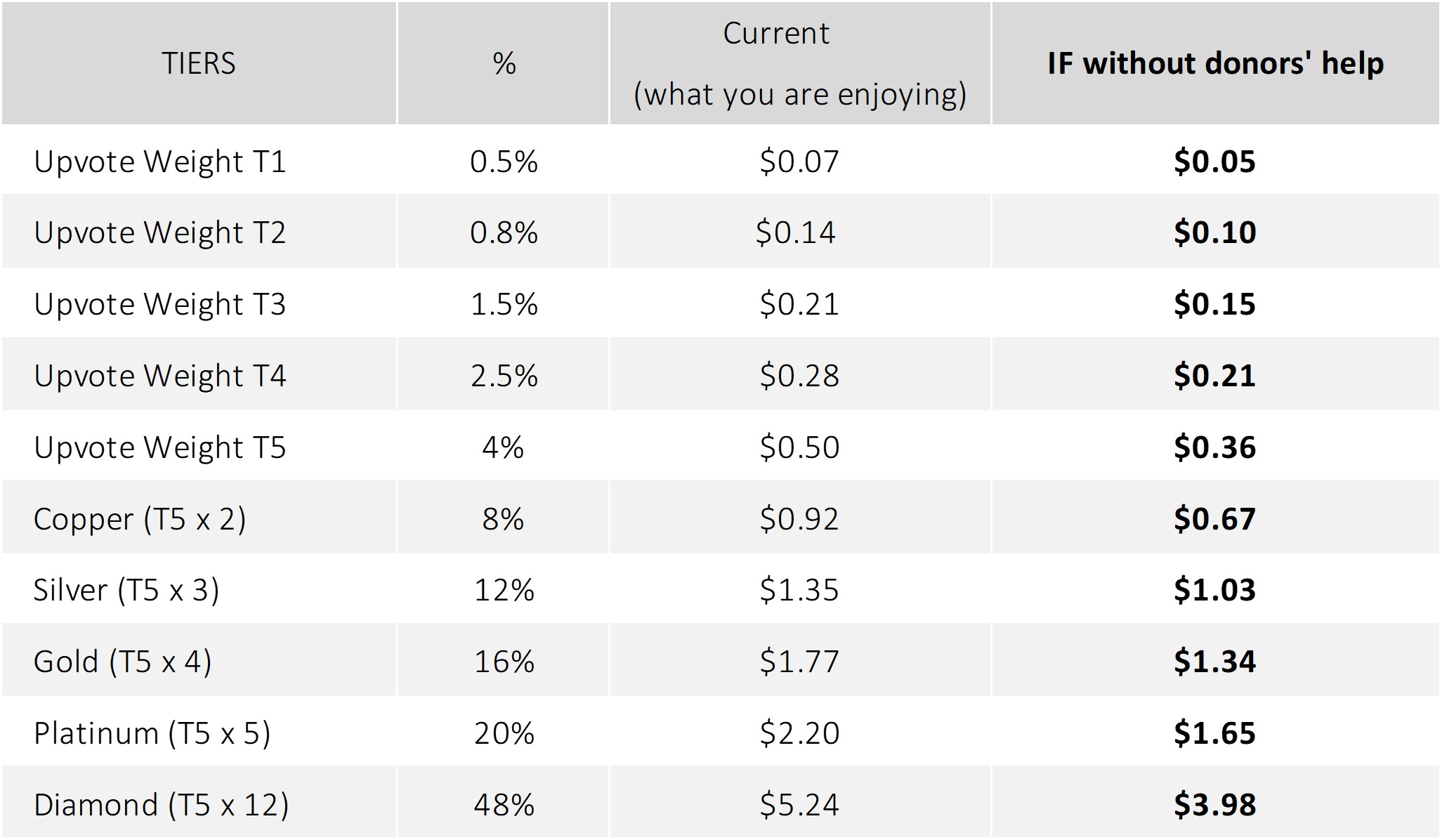 That is a big difference and if we did not chip in to keep the numbers up, the above rates in bold, would be active right now.
---
So how can we fix this?
Option 1
We thought of increasing the registration fee, but we did increase the fee in the past and recently too.
0 - 100 members the fee was 1 STEEM/SBD
100 - 1000 members the price was 2 STEEM/SBD
1000 and up is currently 4 STEEM
We really did not want to do this since 4 Steem is already a bit pricey for new members. The fee will stay the same for a long time more.
Option 2
Increase the minimum upvote weight for T1 and T2. This was the initial idea but since not many members can upvote at high values we know many minnows will fall into lower tiers. This is not what we want since we want to focus on minnows more. This was the main reason we went to a subscription-based system.
This way, even though minnows who post a lot and do not have SP to delegate or the upvote strength to upvote for a higher tier (if we upped the minimum upvote for T1 and T2), they would still be able to purchase a subscription to a higher tier as and when they are able to.
Option 3
No longer accept upvotes for Tier 1 and Tier 2 and go purely for a subscription based system where members would pay a monthly fee for higher Tiers. That way we would generate a decent amount of steem in order to cover leases and maybe even get some new ones in the mix.
This was not a popular option and it also negatively affected those who did not post that much but still wanted the bigger Tier 1 or Tier 2 upvote. This is the group that gave us the backlash; and we re-looked at the whole re-structuring model to also consider them.
---
The Revised Solution (a mix of options 2 and 3)
- NO CHANGE IN REGISTRATION FEES.
- Tier 1
OLD: Upvote 4 times a week on any @qurator post with a minimum of $0.01 or at least 100% upvote if you do not have a $0.01 upvote.
NEW: Upvote 7 times a week on any @qurator posts with a minimum upvote of at least $0.03 OR pay 1 Steem per month subscription.
- Tier 2
OLD: Upvote 7 times a week on any @qurator posts with a minimum of $0.01 or at least 100% upvote if you do not have a $0.01 upvote.
NEW: Upvote 7 times a week on any @qurator posts with a minimum upvote of at least $0.05 OR pay the 2 Steem per month subscription.
What about all the members who don't have a $0.03 upvote yet?
We have not forgotten about our minnows and we will still be offering a higher tier if they choose to support Qurator.
Upvote a minimum of 7 posts per week at 100% and still get placed in Tier 1 instead of Tier 0.
This way everyone has the option to go the upvote or subscription route for higher Tiers.
Everything else still stays the same, Tiers still stack with delegations and you can still access T1 and T2 for 100 and 200 SP delegations.
Note: You can stack to Tier 2 if your upvote is currently worth $0.03 (T1) and you pay the 1 steem (T1) ie: T1 + T1 = T2
New member bonus!
Since new members pay the 4 Steem registration fee, we will be offering them T2 membership for 30 days to enjoy upon registration. This should help them get some of the funds back from what they spent for the registration fee.
NOTE: All members who joined in April will be given Tier 2 for 30 days starting May 1st.
---
Qurator is a community project.
What exactly does this mean? It means that we are only as strong as the community makes us. With every upvote and every delegation you are supporting 1200+ members. Not just yourself or Qurator. We give back everything we make and we take pride in giving back more than we get from the community.
In reality, if you want bigger upvotes, then support the project.
There are hundreds of members who chose to upvote at $0.01 since that is the minimum. They could have given a little bit more, yet they didn't. Most of our members are minnows and so many upvotes do not even come close to $0.01 yet, we still offer them Tier 2 upvotes since they are the members who need the most support.
Keep in mind that members gave their $0.01 upvote to Qurator and we post around 10 times a week, so a total of $0.10. What did you get in return? Our Tier 2 upvote is currently worth around $0.14. Post seven times a week and that's almost 10 times more that you enjoy compared to what you give (minus curation from both parties of course).
There is a little tool that can show you how much you have supported Qurator and how much Qurator has supported you.
Visit Mysteemitfriends and type your name in there to get an idea of the type of support we offer. Reverse 'Voter' and 'Author', to make a comparison.

We are also aware of a silent group who may have registered awhile back, and left their membership idle while getting Qurator upvotes to their posts, although small upvotes but nevertheless are still being supported by Qurator. They are still in Tier 0 but may have grown from the time they joined us.
Some of these members are in the above 500SP or even 1000SP range and above.
We invite them to participate a little more, with a better support to Qurator. It is a win-win situation as you also stand to enjoy higher upvotes.
So to make a long story short. If everyone would just support a little extra, it will benefit everyone, including yourself.
The community decides how big we are, we don't.
---
This might seem like a big change and maybe we should have done it a long time ago, then we wouldn't be in this situation. With more members we need more support, it's as simple as that.
---
The new changes will take effect on MAY 1st.
---
All Qurator Tiers
| TIER | Requirements | Perks |
| --- | --- | --- |
| | Basic 4 STEEM registration fee. Upvote for life from Qurator Project | Basic upvote for life from Qurator. |
| | Delegate 100SP OR Upvote 7 times a week on any @qurator posts with a minimum upvote of at least $0.03 OR pay 1 Steem per month subscription.** | Tier 1 upvotes |
| | Delegate 200SP OR Upvote 7 times a week on any @qurator posts with a minimum upvote of at least $0.05 OR pay the 2 Steem per month subscription. | Tier 2 upvotes |
| | Delegate 300SP | Tier 3 upvotes |
| | Delegate 400SP | Tier 4 upvotes |
| | Delegate 500SP | Tier 5 upvotes |
Elite Tiers
| TIER | Requirements | Perks |
| --- | --- | --- |
| | Delegate 1000SP+ to @qurator | Copper weight - T5 x 2 |
| | Delegate 1500SP+ to @qurator | Silver weight - T5 x 3 |
| | Delegate 2000SP+ to @qurator | Gold weight - T5 x 4 |
| | Delegate 2500SP+ to @qurator | Platinum weight - T5 x 5 |
| | Delegate 5000SP+ to @qurator | Diamond weight - T5 x 12 + Rotational Resteems |
---
We went for as many options as possible to climb the Qurator Tiers. This might be a bit confusing but we are always on Discord if you need any help. =)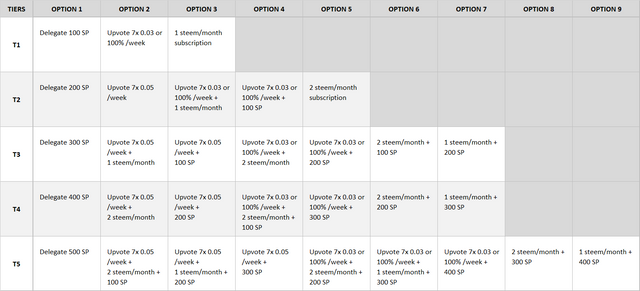 Click to enlarge
---
Like what we do? Consider voting for us as a steemit witness.
---