The road to Steem Fest continues and we are a less a month away from the biggest Steem Related event of the year.
---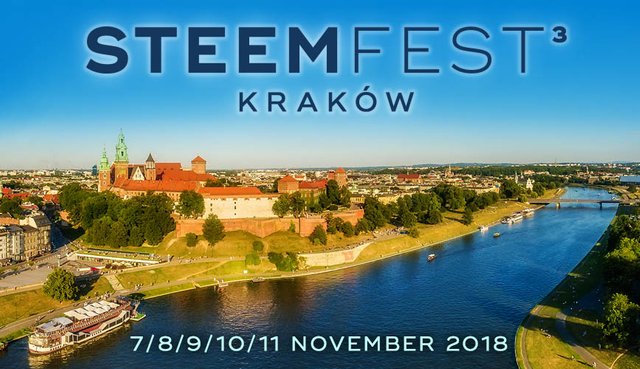 Remember that the Steem Fest ticket store is open now! You can buy your tickets in www.steemfest.com
For this ninth week the topic was Free Time and After Hours?.
Oh right, the main idea of this dynamic is to get to know each other a bit more before meeting in person and then, when we actually meet it won't be awkward and we won't have weird silences but instead, it will be like two friends meeting after a long time of not seeing each other.
If you are almost certain you´ll be there or are making everything to attend, feel free to join us!!
Next week´s idea...

---
Shoutouts

---
I´ve seen a lot of shout outs throughout all the posts from peoplel who joins this little dynamic every week and since we´ve all read about each other for quite a while - and also since the main purpose of this dynamic is to get to know each other better before meeting in person in Krakow - well, wht better way to actually prove we´ve been reading about each other and that we actually want to meet other people... why don´t we shout-out some names we can´t wait to put a face to the username.
So you can´t wait to have a shot of Palinka with @guyfawkes4-20? Go tell him!
Are you counting the days to kick @abh12345´s ass at bowling? Let him know!
Do you feel nothing will be the same after having a philosphical conversation with @tarazkp? Post about it
You can´t wait to lose all your chips against me on poker? Let me know
You are sure touching @ned´s hair will change your life? Tag him
You get the drill. Do some Shouting-out.
Anyway, these are the posts from week number 9 - Free Time and After hours - don´t forget to show them some love with votes or better yet, with comments, remember we are all meeting in just one month!
Check

Them

Out

@honeydue - Bookstores, rock n´roll shops and getting lost

@noemilunastorta - Food, wandering around and roaming old town

@rivalzzz- Possibly playing Poker, some Bowling and visiting museums

@eveuncovered - Late night conversations with the other kids

@slobberchops - Not poker, the Hard Rock café and exploring the city

@anomadsoul - Kicking you ass at Poker, Bowling and drinking

@abh12345 - Bantering, joking and blogging from the phone

@soyrosa- Wine, trolls, cultural stuff and observing people

@coruscate - Arriving early, leaving late and ending up sleep deprived

@raj808 - Bowling, Poker and some late night drinking

@tarazkp - Posting, getting tipsy quickly and touching Ned´s hair

@fieryfootprints - New people, new places, new architecture... inspiration material

@evecab - Bar scene, working out and cultural exploration

@redrica - Chill, making new friends and CELEBRATE HER BIRTHDAY!

@llfarms - Experience as much as I can and absorb myself in my surroundings

@misslasvegas- Coffee, bowling, interviews and Pretty stones

@daveonarrival - Salsa dancing, history exploration and open schedule after the Fest

@jeanpi1908 - German beer, some partying and a lot of sightseeing

@guyfawkes4-20 - Less Sleep Time Means More Free Time

@louis88 - Bowling, Poker, blogging and a Krakow Tour

@travelgirl - Markets, coffee, vintage shops and searching for cool snacks

@joythewanderer - A Dtube Vlog about my plans

@theaustrianguy - Sightseeing around the city, acroyoga and meeting new people

@celestal - Most activites will be a game time decision... we´ll see

---

---

Also, @rubencress came up with a sick banner that we can all use in our posts related to Steem Fest, check it out here