The eighth installment in my #roadtosteemfest series, the brain-child of @anomadsoul as he encourages attendees, and those trying their hardest to get there, to write about their journey along the way.
If you missed the first seven posts, you can catch up here 1, 2, 3, 4, 5, 6, 7, if you wish.
And now that you have totally not clicked any of the links above, let's begin...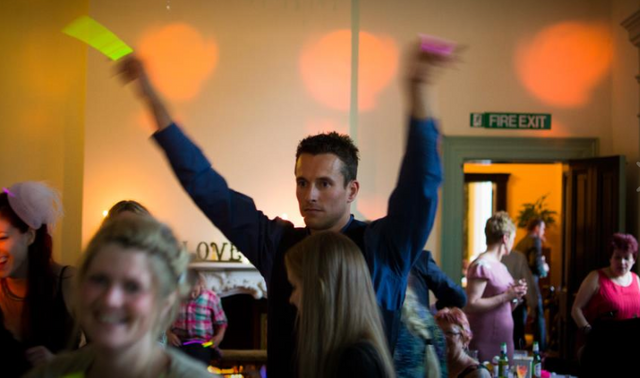 Serious glow-stick action
---
Behind the pie charts and expensive Hugo Boss suit, there is a secret party animal. This photo was taken at around 4 pm at a friends wedding 'a few' years ago, and make me laugh because of the stern look on my face - too stern for glow-sticks I think. Nowadays, hey I'm 40 in December, you are going to be hard-pushed to find me raving in the afternoon, or at 3 am for that matter, but that's not to say I don't enjoy the occasional late night. I was going to write 'after hours entertainment', but that doesn't sound right at all.....
In post 5 of this series, I did briefly mention that following an interesting and tiring day of conferences, people start to unwind and relax as the location changes and drinks start to appear in hands. Personally I feel more comfortable out of a suit (not that i'll be wearing one at any point in Poland), and in a more informal setting where there are activities, and it feels more OK to ask personal questions. I don't really remember being asked or asking a particularly personal question last year, but maybe the beer has weakened my memory here.
In the free time and later in the day, I think that there is more camaraderie to be gained, and folks can loosen their tongue and find out who's game for a bit of banter. I'll have to be quick with @anomadsoul though, I expect a couple of people wishing to ask if this is no shower day 3 or not 😛 It's these moments that I enjoy. A laugh and a joke basically. I can take a few hits, but you'll have to be prepared for something in return if you choose to engage. I'll be bringing just a few pairs of jeans, likely be wearing 4 layers at all times, my nose is pretty big, and i'm a bit deaf in one ear - there's an ammo selection pack for you in advance.
Last year I was in my element at the pool haul with free beer. 3-4 beers is optimum playing skill/confidence level, but in all fairness, most of y'all sucked ass, and were there for the taking. I'm glad there's seeming a few more Brits going this year, just in case a Pool table presents itself again. The other countries could 'strike' back though, as I hear that Bowling is potentially on the agenda. You're in luck, i'm rubbish!
A game of Poker or two has also been mentioned, although I could be priced out of entry there - unless Oreo cookies are again the prize pool - or we're they just the edible chips? Anyway, again I'm pretty crap at that - my bluff face is clearly weak. Not to the point of shouting 'fk yeah!' if i'm dealt pocket Aces, but players need not fear the Brit again here.
Exploring the city of Krakow and it's surroundings is something that should be done. If it's pissing down with rain and cold though, I'll probably pass and opt to write a #snippetsfromsteemfest blog on the phone. This tag will be my way of letting you know the post will be short - hopefully what is written is at least informative or entertaining. And no, I won't be asking anyone to pick a number between 1 and 500...
Ideally, I don't want to be tired, having slept just 3 hours a night on the conference days - which last year started around 9 am. The first proper day is an afternoon start I think, so that leaves the first night, and the final couple of nights (as I'm staying for a week), to potentially be awake in the early hours. I'm going to leave what happens here to the the majority decision, to a point! Some of what happens at Steemfest, should probably stay at Steemfest.
My case is supposed to be 8 kg max - sorry, no room for glow-sticks 🕺
Cheers!
Asher