Last weekend it happened, it was 10 AM in the morning and my gf started to feel some cramps. Then 1 hour later the cramps were frequent and somewhat after noon we arrived at the hospital, only to have our daughter (hardfork 2, codename velocity (thx @gtg), nee Wyne (Wee-nah)) to be welcomed on 2PM to planet earth! All is well with mom and chick, she is very relaxed and her little brother is the kindest ever. So that is all very welcome.
On a side-note, I got dead-sick with an intense stomach fever earlier in the night. Not very recommendable when your gf is giving birth and you are supposed to support her :) She kindly asked me to "BRUSH YOUR TEEETH!" when I was puffing along with her, oops. Oh well makes up for a funny story.
Anyhow, here in NL we get some government subsidized help with cleaning and first time errands due for the baby in the first week after giving birth. The woman helping us out is the kindest, experienced and very helpful so I could actually do quite some work for SteemFest.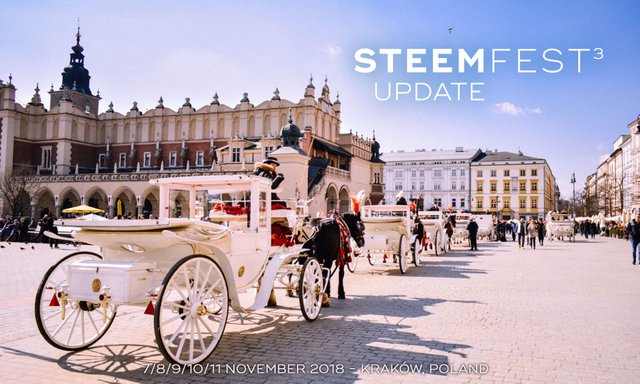 Krakow Main Square - image from public domain via Unsplash
So what was on the list this week:
Worked on requirements for the Wall of dApps rollup banner expo in the breaks area, showcasing many of the apps from the Steem ecosystem. There are still a couple of spots left, if you have any questions about them, mail me steemfest@gmail.com - Deadline for print is 19 october however!
Worked on the goodiebag for the event. If you are attending SteemFest and want to distribute anything useful for all attendees, you are welcome to have it inserted in the goodiebag. For this you need to have your insert / swag at Qubus Hotel by Wednesday 7 November 12 AM latest at the SteemFest desk.
As reminded time and time again, the hotels are as good as sold out and the deals are closed now. If you are lucky you can still find a spot, but in my calls with both INX Design and Hotel Qubus I was informed most probably due to yield pricing room rates will be going up, although they still try to match the SteemFest rates, or at least a discount compared to rack rate. Alternatively I suggest checking out Booking.com and Airbnb.
Made a signup form for airport transfers, which you can book via our partner which also supplies transportation during the event (airport transfers are not included in the SF ticketprice unfortunately) signup via: https://goo.gl/forms/SFKyr90QVX7d5Cal2
Bitshares sponsors SteemFest and gives away 5x SteemFest tickets!
The decentralised exchange and financial platform for stablecoins, digital asset issuing called
Bitshares
is sponsoring SteemFest through a worker proposal voted in by a majority of voting stakeholders of the blockchain. Part of the sponsorship proposal is to give away some (5!) SteemFest tickets in 3 individual competitions. If you don't have a SteemFest ticket yet, or don't have the funds to obtain them,
give it a shot
via the post over at
@bitshares-at-sf
!
New Names announced!
Reminder: Art at SteemFest looking for your best work!
Just like the previous two SteemFest editions this year Art At Steemfest is going to happen in the weekend dedicated to works by the arts community. It is a pop-up art gallery with artworks by Steem-users. This year the venue is a multimedia expo room on walking distance of both hotels. By using this 360 degree projections sphere there will unfortunately be no actual prints to be made, but the upside is that we have virtually unlimited place for artworks thanks to this rotating all-around-you animated projection gallery!
If you have a (digitized) artwork (photo, painting) you want to be considered for the Art at SteemFest pop-up art expo during SteemFest, please follow this form to share your work.
Click here for the Art at SteemFest submission form
---
Ongoing SteemFest ticket give aways
---
Get your SteemFest ticket at steemfest.com
Ticket prices increase in 14 days!
read more about the price increase algorithm here
Have a nice weekend!
Greetings from Amsterdam,
Liquid rewards from this post will go to organising @steemfest
SteemFest's ticket reductions are made possible by generous donations from: