Adam takes over the Steemit #2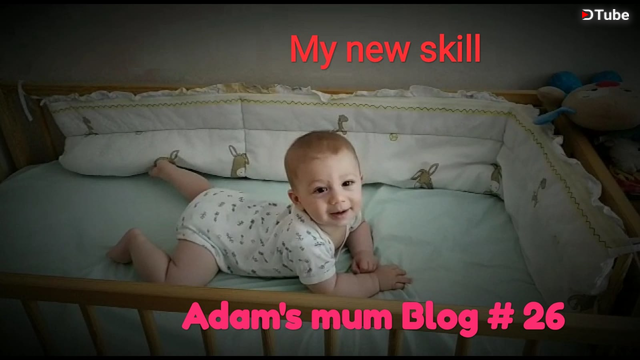 ---
Adam's mum Blog #26
World through the eyes of a child
🙃🙃🙃
Hi everyone
It's me again.
You know how much has changed since I last wrote to you.
Mom always say that I'm so big. Looking at her, it seems to me that I am small, but I may be wrong?
Returning to the news 😉
I have 2 teeth. Sometimes they hurt me. Then I cry and put my hands in my mouth. My mother gives me super teethers - he helps me with pain.
I roll over from the belly on my back and from my back on my tummy.
I can do it smoothly. And I don't even cry because I know I can change my position by myself. I heard my mother say to my dad that she is proud of me.
I have recently learned a new skill. I can stand up on my hands and feet. Mum says I'll be crawling soon, but I don't know what it means.
I'm throwing you a video of how I'm doing it, so that you know what I mean 😉.
I can stand even higher, but you know this camera distracted me. I had to smile.
You know what I like to do. Bathe. I like to splash with water.
This is so much fun.
My parents say they will take me to the swimming pool.
But what is this pool? I'm a bit scared, but my mom says it will be fun.
I hope she is not wrong. Maybe the pool is a big bathtub?
I would forget to tell you. This week I was at the restaurant.
Wow 😉.
It was fun. I watched such nice chandeliers. And there were some pictures on the ceiling. Cool.
Also this week I met my two cousins. One was 4 yo and the other 10 months old. They were cool. A bit similar to me. The older one brought me toys all the time, but the younger one took them from me. Hmm ... I prefer the older one.
Oh... I go sot tired of this writing. I need to go to sleep.
I will start crying, my mother will feed me and I will go to sleep.
Good night steemit friends. I hope to write something soon.
Ps. I like to read your comments about me. Thank you very much for your kind words.
Xoxo ADAM - Big boy 😉
You can jump to other Adam's Mum Blog:
[Previous] [#1] [#2] [#3] [#4] [#5] [#6] [#7]
[#8][#9][#10][#11][#12][#13][#14][#15][#16][#17][#18][#19][#20][#21][#22][#23][#24][#25]
---
▶️ DTube
▶️ IPFS