Support steem education and blockchain awareness on Fundition.io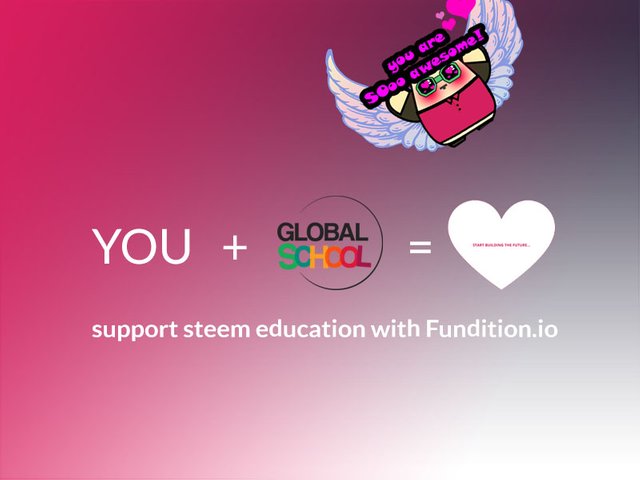 Global School supports first work experience abroad while providing support to entrepreneurs and creatives.
This video was produced by the Global School participants in October 2018.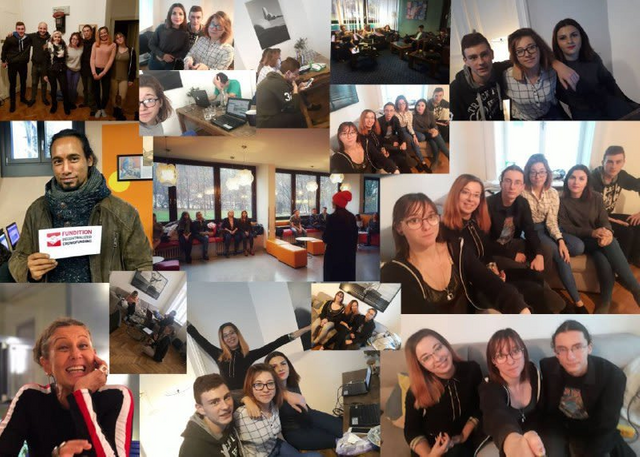 Global School in a Nutshell
Founded as Open School in 2015 in Vienna, Austria. Hosted by the NGOs Solidarity World (@solidarity), Generation Europa (@generationeuropa) and Option 2.0 (@opt2o).
The Global School provides network learning, crypto education, multicultural heritage, crowd intelligence & new media literacy to its participants, partner brands and creatives.
Co-learning experience with students & mentors from all around the world
Offer identity and assets validation + benchmarking of online & offline platforms.
Knowledge exchange within a talent & expert pool.
GlobalSchool is about blockchain education
The project offers blockchain & crypto awareness and education through tailored training programs in New Media & Social Innovation for youth, citizens, organisations, SMEs, administrations, policymakers, financiers, creatives and entrepreneurs.
The Global School aims to deliver a set of tools, platforms, inlfuencer content such as @dtube videos through @steemonboarding and competences to trainees. This enables them to design and implement social innovation and document their experience on the #steem #blockchain.
Steem education program environment
Empowering co-creation through crypto-education. Supporting artists, creatives and entrepreneurs.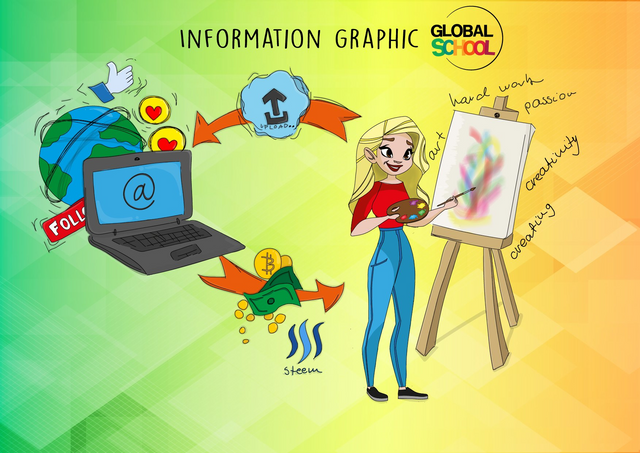 At the Global School working environement, all students are welcomed to learn more about crypto-currencies and the #blockchain #technology. The participants report the co-learning activities using new media tools and collaborate with local and remote mentors.
On the first day, they create an account and while waiting for its activation they are managing one of the community account created to learn, blog and develop dapps. They write an introduction post and afterwards produce quality content related to their passions and interests, as well as to engage with supportive communities such as #steemit-austria, @austroboost, @steem-munich, @fundition, @tasteem, @artisteem, @travelfeed, @cleanplanet, @steemitworldmap, #openmic, @limesoda, @com-lab, @steemworldtrash, @steembay, @ccommons.art and friends (If we missed a community here, please reach out to us!).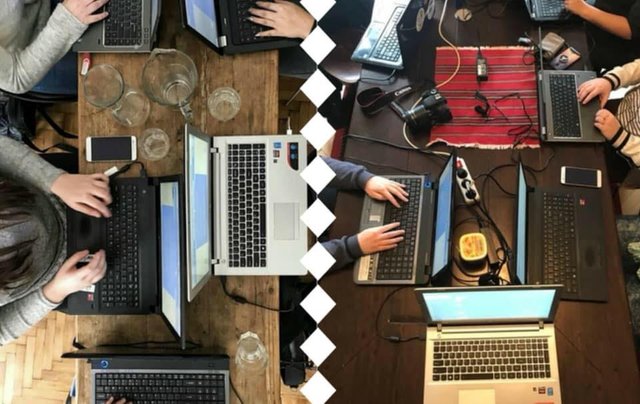 Overview of the tasks on the arrival day of the students:
Install all the communication tools such as iAme, Discord and Telegram;
Research about steem & dapp such as @busy.org, @tasteem, @appics, @steemit or @fundition;
Explore collectives such as @creative-commons @ccommons.art or @slothicorn;
Discover the various contests and other opportunities on the steem blockchain;
Cheking the #introduceyourself tag and write an own introduction.
Depending on their sector of actvity, personal motivation and goals, some are choosing to get an introduction to:
AI/Bot developement
3D modelization
ERP usages
Dapp coding
Develop their own project
Modelizing the Steemfest conference room. Building a VR to introduce the steem ecosystem to new comers.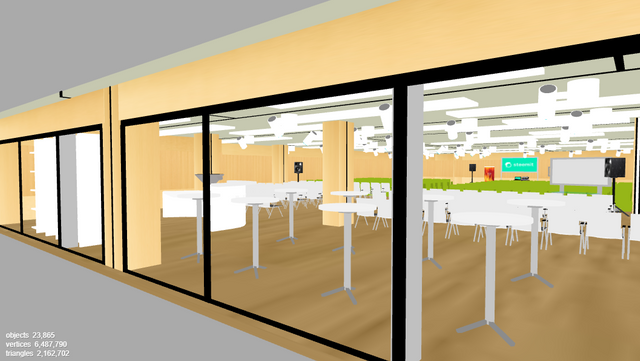 More info: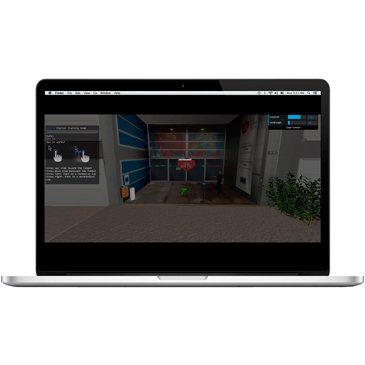 Building an interactive 3d model of the European Youth Forum located in Strasbourg with
@generationeuropa
.
---
Then everyday whatever activties we are realizing everyone is invited to publish their daily report. Such activities are allowing everyone to practice their English skills on a daily basis.
Here some of their achievements:
Sketching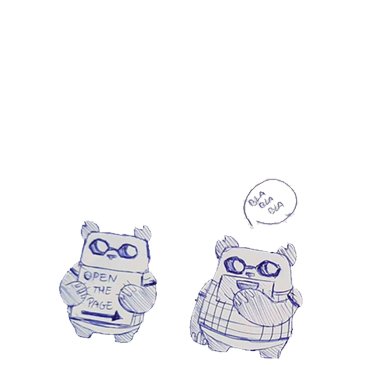 Digitalizing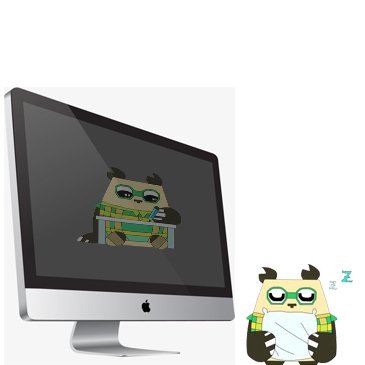 ---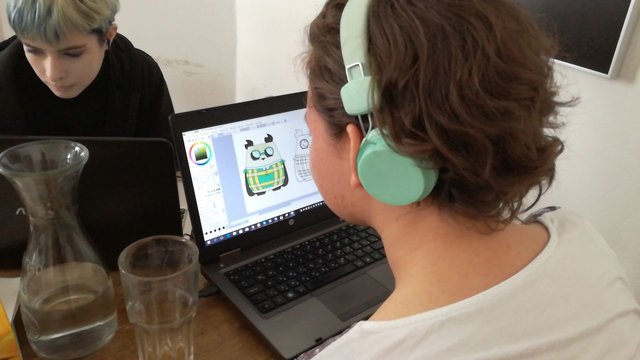 Check more via https://steemit.com/cryptoart/@jnmarteau/cryptoart-creative-commons-steemit-panda-owl
Stickers design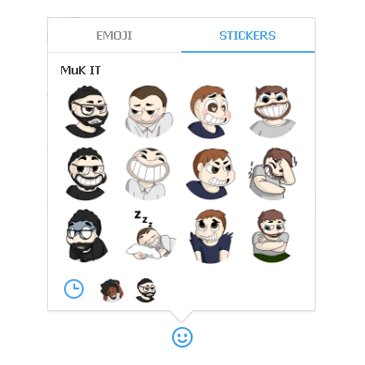 Emojis design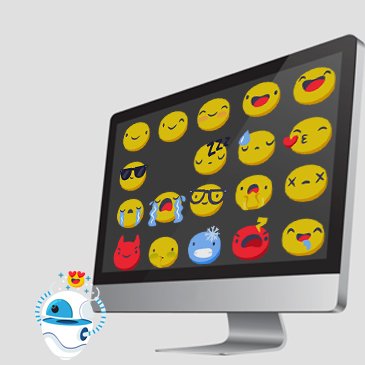 ---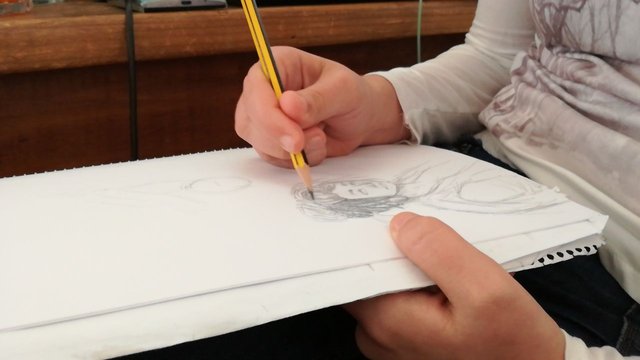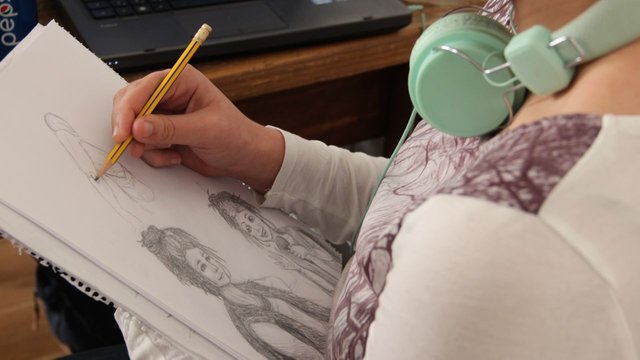 "All this learning process is shared with creative commons so many more can benefit from all the learning materials we will be creating and from all student's work". @alexandravart
https://steemit.com/ccommonsart/@ccommons.art/ccommons-art-and-global-school-are-joining-forces

Credit: @ccommons.art & friends.
After the Global School
It is after the program that everything starts!
When particpants are leaving us, we do our best to encourage them to use their own account to share their work. We motivate them to show their achievements to their school, teachers and friends.Furthermore to invite their contacts, friends and school to discover the steem blockchain. As soon as they get the time to work on their own project and/or continue to cooperate with us remotely from their home after school.
Here the last introduction post one of our media students Szandi, joining the #steem #blockchain after her time with us in Vienna in September 2018.
Some of them such as Paula and Noemi also decided to become remote mentors and support the new comers via the @ccommons.art server on discord and on telegram.
Vision
We would love to enable and empower each participant to develop the Global School on their path while developing their own project and passion. We are doing our best to co-create with the participants a framework, community and tools that allow them to use our popup activities blueprints to produce or implement projects and learning experiences while also fostering co- creation in their respective region.
Roadmap / What is planned in 2019?

Scenario building - Winter camp (From January to March)
Join the Global School program and build www.steemschool.com with us in partnership with @payger.
Collaboration camps all over the year
Status quo
For the moment all the resources are provided by the volunteers which are already contributing on a daily basis, share their own equipement and spaces additionnally to their voluntary work dedication.
Required resources
---
| | Need to be covered | Cost |
| --- | --- | --- |
| 1 | Students + mentors healthy lunch | 150€/day |
| 2 | 3 x cultural evenining per cycle | 500€/month |
| 3 | Transportation in the city for the volunteers | 18€/day |
| 4 | Server and domain costs | 50€/month |
| 5 | Drawing material | 100,00€/month |
| 6 | Mobile internet | 50,00€/month |
| 7 | Photo equipement | 100,00€/month |
| 8 | Computers | 300,00€/month |
| 9 | Space and charges | 1500,00€/month |
Without renting a space, the volunteers are spending more than 500,00€ per month from their pocket just to take in charge the minimum resources and equipements.
As a first goal we would like to achieve a minimum of 300 Euros, which would cover the drawing material and one cultural evening before Christmas.
Next year we'll set a new goal with the new group of students arriving in January.
Proof of work so far
Links of some of our reports
The 1 CZ Admin Group(3.12.18):
Honza
Marian
Vojtech
Barbora
Roman
Sona
The 2 HU Graphic Design Group(3.12.18):
Global School presentation at Steemfest 2018 in Krakow, Poland:
Conclusion
We would like to achieve the total amount of our funding goals in small steps from one Global School cycle to the next.
Thank you for your attention and support we wish you a merry christmas and a happy new year 2019!