It is already the time when we need to collect all thoughts what we done in 3 weeks. Like I said in my last blog it was again amazing! It is incredible to realize the number of tasks we actually achieved. We learn loads of new things, when we get the impression to find our borders what we can and can't and we tried to step over it.
First day when we arrived some people were afraid about what will happen. But not me because I know who was Jean (@jnmarteau) and Christoph (@manncpt) from last year and I know they are both really good leaders. When I met Manuel (@gexi) and when we introduce each other I knew that moment he will be my friend. Both of them are the best leaders I could never imagine to get and are very complementary to each other.
Our first mission was to work on the digital version of the @worldsteemcenter, a project based on the Idea Factory (transitional project towards the Idea Machine), which while realized will offer a landmark in the city for a first #steem center. The idea behind the steem center in what I understood is to bring together various #steem projects and communities within a common space which can serve as an info point as well as to realize meetups and workshops or hackathons related to the steem blockchain and ecosystem, but I think @jnmarteau will publish soon more about all of this. What I can say is about the digital version which will be used to show a preview of the concept, they are planning to customize the 3d space by for example transforming the reception to onboard the new participants and put in the 3d space all the info as in a game, so the new participant will arrive in front of the digital building and will have a path to follow to discover the steem blockchain and communities, I hope people will follow this idea, it makes me think about second life or the sims but for #steem.
To realize this huge project the basic idea was to recreate an international hostel and later on customize it by integrating #steem related projects such as @fundition within the virtual reality to show how #steemworld would be within a virtual world representation all integrated in a building. The customization part and final textures and lightning will be realized by the next group specialized in Graphic design. They will be joining in December. It is unfortunate we will not be there to work on these parts, I am curious to see the end results!
To go back to our work, the task of my team was first of all to reproduce the hotel where we are accommodated these 3 weeks and make it as realistic as possible and proportional to the real scale and world version, inside and outside. We divided to 3 groups. In my group there was Máté Rétközi, Kevin Szénfi , Levente Fábián and Me. In the first week, we met another hungarian group and they showed how to use the 3D program to our new group. My team first got to make front of hotel's garden. There was man-hole cover, biker storage, about 3 different garbages and simple fence. I made them all. End of the first week Máté assembled everything in one group.There was a some day when we traveled to meet the other Hungarian group at Hutteldorf. At the end of the first week, on Friday we had to say Goodbye to them sadly because they needed to go home. (Sorry for my pictures because that's not a full of garden. We forgot to make picture when we assembled in one project.)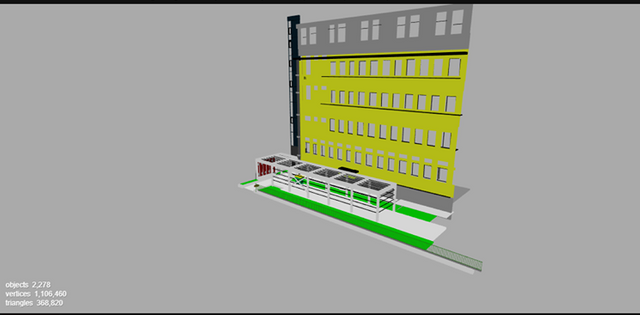 Second week, on Monday my team decided to make the garden parts. I got a part of task to recreate the garden area flat with the fence. It was so difficult because I didn't had comparison points as wished, but I made it! The brick wall was soooo difficult because I couldn't move easily the parts of it. Just the wall had about 18.000 objects and every time when I wanted to position some of them my computer couldn't hold it. This problem occurred within every task. WebGL can be very heavy to work with, you need good equipment. So, when we assembled in one project something we could not take in one group all of them. I finally finished the garden with walls and garage door. I took within my group of objects what the others made while I was suffering with the brick wall and measurements.
At the end of it we finally finished it and Jean said it is cool!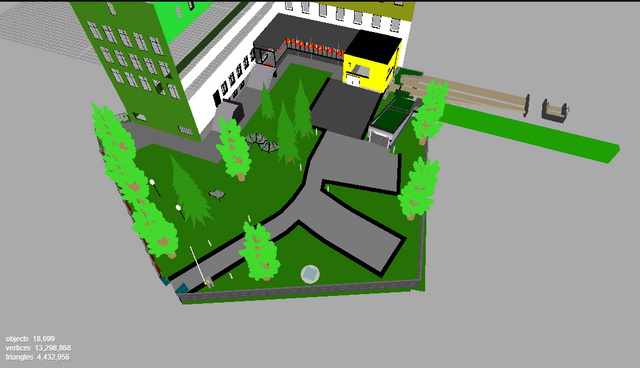 This last week our group little bit split up as we got a lot of missions. Some of us worked on website #design others on web #dev, and all the others on the 3D projects. Me and Zsolt (from another 3D group) decided to made conference room from the #steemfest in Krakow. While Manuel traveled to #Steemfest he made some pictures from this room and asked us if we would like the challenge to modelize it from the few pictures he gave us. So we started. Zsolt made walls without textures and measured them. I tried to make furnitures, chairs, the projector with laptop and also the #steemfest board. Later Zsolt finished his work with the walls and I asked him if he could work on the ceiling and floor. While he worked with that I positioned my objects. Jean after asked me if I could make it more realistic. So I reworked few things but not fully as our time was limited. I attached few textures and I added more details. I textured up walls but this was little difficult. I needed to use photoshop program because I needed to cut out the schema. So the wall have two part of textures. Zsolt finished with ceiling and floor I gave them a new task. He needed to make another room and corridor connected to the conference room. While he worked with that I attached few more details to the ceiling. I textured up the ceiling to. After he finished with room and corridor I textured up and I assembled all objects we made in one project. Jean again was impressed with our work. I think that was the last important task we got to do.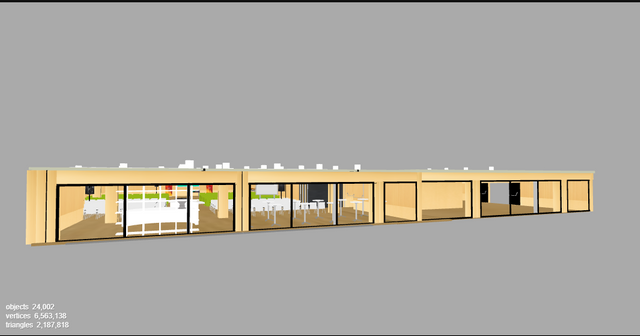 Last year when I was here it looked like so hard and impossible. But now I'm really happy what I did, learned, lived. I can only recommend you to join the @GlobalSchool, because there are lot of friendly, helpful people working. This is a life-giving moment what you will never forget. I want to thank my mentors! They were really helpful if I had a problem and friendly all the time in a very empowering way. I want to say also thanks to Norbi Csorba and his group they were really kind and showed us what leadership can be at Global School.
At the end of the post I want to say to you:
If you get this kind of possibility don't miss it!
Be what you want to be!
Thank you for your support and attention!