Steemit Contest Compilation (19.03-25.03): Win SBD, STEEM, upvotes and other prizes!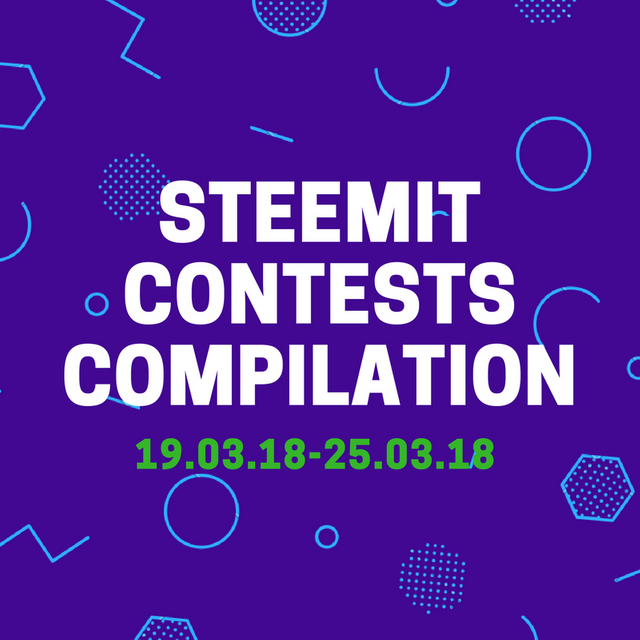 As usual on Mondays I make a compilation of challenges and contests for current week. This list will be updated on a daily basis with newly found contests. Don't miss a chance to win some SBD, STEEM, upvotes and other nice prizes.
Fun Contests
Writing Contests
Drawing Contests
Music Contests
Photo Contests
Daily photo contests
Conducted by @juliank. Don't forget to follow her not to miss "last day" call for her contests.
Prize pool: 10 SBD daily are shared between winners.
Conducted by @czechglobalhosts.
Submit your personal photo that you took during your travels from the continent of the day and adding a short description between 30 to 50 words. That will give you a chance to go through several rounds of the contest and win approximately 200 SBD in total.
Weekly photo contests
Conducted by @photogames. Several contest every week.
Sports contests
Most sports contest are conducted on schedule of sports tournaments. Follow these Steemians not to miss their regular contest:
The Corales Puntacana Golf Contest
Conducted by @steempickem. Bets on golf.
NBA Daily Contests
Conducted by @jsock. Liquid posts's earnings are granted to the winners.
Primetime Sports: NFL Weekly Contest
Conducted by @primetimesports. Liquid rewards from the contest post will be divided among 3 winners.
LA LIGA SPANISH LEAGUE COMPETITION
Conducted by @davor27. You need to predict correct result of La Liga matches. The winner will take 3 SBD or 50% of the SBD generated in the contest.Should there be more than one position winner, the prize will be shared.
NFL Winner-Takes-All, Free-For-All and NCAA Football Rivalry Week
Conducted by @ats-david. For those who want to test their prediction skills for american football games.
You can try your luck to win % of SBD rewards.
Soccer Sweepstakes 17/18
Conducted by @nanzo-scoop. Before every Premier League matchweek you have a chance to make your predictions and win 50 STEEM jackpot (if you correctly predict all game results) and SBD allocated to contest post. 1st place wins 60% of the pot, 2nd place wins 30%, 3rd place wins 10%.
Free 1SBD Plus 1SBD
Conducted by @goldkey. Just need to make a prediction for a selected NFL match to get a chance to win some SBD.
NBA Daily Pick'em Contest
Conducted by @sportsncoffee. Make predictions for NBA games and get 50% of liquid post earnings (paid in SBD).
Premier League Prediction
Conducted by @lawlees. Make predictions for English Premier League and win SBD.
Crypto Forecast contests
1 SBD Daily Giveaway contest
Conducted by @mvrr007 daily. All you need to do is predict which currency from Top 30 Crypto Currencies (from CoinMarketCap) will make maximum growth in next 24 hours.
Prize pool: 1 SBD. The winner takes it all.
Crypto Contest
Conducted by @maarnio daily. All you need is to upvote one of several statements with crypto price forecast. That's enough to get a chance to win 50% of SBD from contest post.
DAILY Crypto-Guess Contest
Conducted by @killerwhale. Share your price predictions for some crypto coin. If you are a success - get SBD award generated from contest announcing post.
Other Contests
Daily Contests by Mona Jam
Conducted by @monajam. Participate in daily contest and have a chance to win SBD and upvotes from @monajam.
GUESS THE FILM
Conducted by @cathi-xx practically every day. You need to identify the film from described in the haiku (a short Japanese poem). The winner takes a part of SBD post payout.
Daily Steem-Python Challenge
Conducted by @steempytutorials. Take the code from @steempytutorials's tutorial and change it to be able to accomplish the task from the post.
Prize Pool: 1 STEEM to the person that solves the problem first.

That list will be updated if I find any other contests. Check this post occasionally to find updates.
P.S. If you know about some contests that are not listed above (or plan to make a contest by yourself) - feel free to post a link in comments and I'll update the list.
Best regards,
Artz