My Advent Calendar – 24 Dec – Carol singing at Wellington hospital
Finishing my advent calendar on the same note I started – singing carols.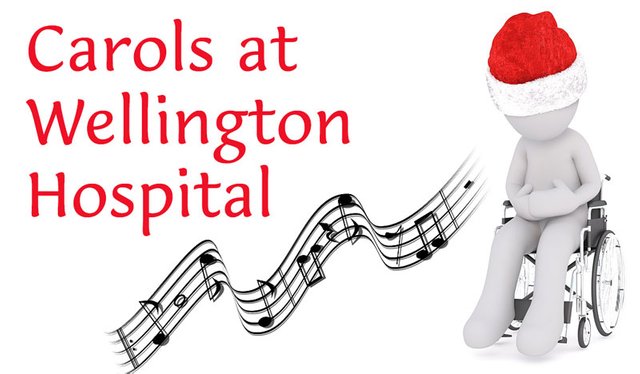 Carol singing on Xmas Eve has been a tradition at Wellington hospital for many years. I imagine it's the same in many hospitals around the world. Initially it was arranged by the ward sisters. Later the chaplains took over, and invited different church choirs. But in recent years that has been harder to arrange. Now it's a pop up choir with members from several of Wellington's choirs.
I've known about it since I started in the Community Choir, but have never been able to make it before. But this year I was determined to be there.
It turned out that this year was the biggest group they've ever had, with about 100 people turning up. We were split into two groups. One group started at the top of the hospital, and came down through the adult wards. Our group went to various parts of Emergency first, then to the children's ward, then Neo Natal, and finished in Maternity.
It was lovely to be involved in and everywhere we went, it was well received.
Most of what we sang will be well known to you all, but one of the ones we sang in the children's ward won't be.
Written in 1981, it is a Kiwi (or more accurately, I'd say, a Maori) version of the twelve days of Christmas. I found the words to it on this website
On the first day of Christmas
My true love gave to me
A pukeko in a ponga tree
and so on, until...
On the twelfth day of Christmas
My true love gave to me
Twelve piupius swinging
Eleven haka lessons
Ten juicy fish heads
Nine sacks of pipis
Eight plants of puha
Seven eels a swimming
Six pois a twirling
Five - big - fat - pigs !
Four huhu grubs
Three flax kits
Two kumera
And a pukeko in a ponga tree!
And you can listen to it here:
There is another kiwi version that might not seem quite as foreign to you:
Well, that's it, the advent calendar done. Coming up are Xmas Day with Mama Frot, and Boxing Day with the extensive Kiwideb clan, so I might take a couple of nights off.
Wishing a wonderful festive season to you all and a peaceful, loving 2019.
See you all on the other side xxx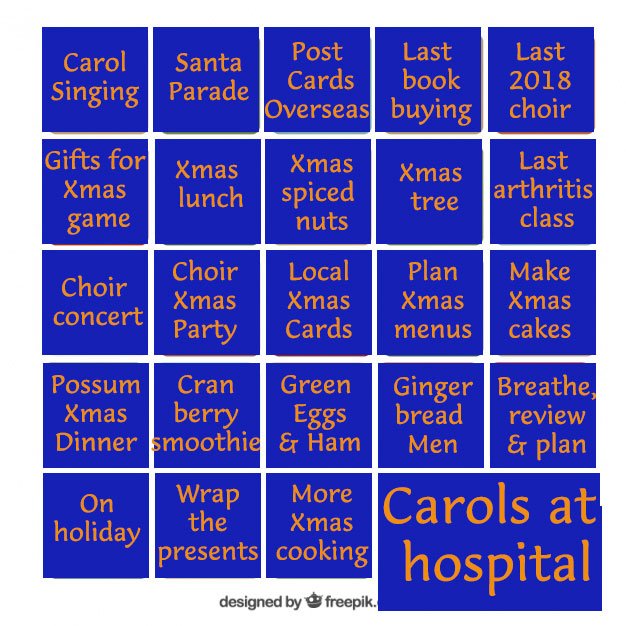 • Day 1 – Carol singing with the NZ Symphony Orchestra
• Day 2 – Kilbirnie Santa Parade
• Day 3 – Posting overseas Xmas cards & a Xmas themed exercise class
• Day 4 – Last minute book buying
• Day 5 – Last choir rehearsal for the year
• Day 6 – Choosing gifts for the Xmas game
• Day 7 – Xmas lunch with my exercise class
• Day 8 – Xmas spiced nuts
• Day 9 – Xmas tree time
• Day 10 – Last arthritis class for the year, and a sugar free brownie recipe
• Day 11 – A choir performance
• Day 12 – Taking marinated chicken wings to the choir Xmas party
• Day 13 – The NZ local xmas cards & some e-cards
• Day 14 – Planning the Xmas menus and best dessert ever
• Day 15 – Making gluten & sugar free Xmas cakes
• Day 16 – Xmas dinner with the Possums
• Day 17 – Cranberry smoothie & other nourishing Festive breakfasts
• Day 18 – Green Eggs & Ham
• Day 19 – Gingerbread men
• Day 20 – Stop, breathe and plan
• Day 21 – Starting our stay-cation
• Day 22 – Wrapping the presents
• Day 23 – A day in the kitchen
Thanks for reading
Original pics from Pixabay. Videos from Youtube.
Follow me for more health, nutrition, food, lifestyle and recipe posts. For an archive of 2016 & 2017 posts, by category, see my last post of 2017.

Contact me in SteemitChat to ask about one on one nutritional coaching or EFT (Emotional Freedom Technique) sessions by Skype. (Then put a comment on my most recent post, so I know to find you.) Steem, other altcoins or Paypal accepted.