My Advent Calendar – 17 Dec – Xmas morning smoothies and other breakfasts
I always like to start Christmas day with a nourishing but festive breakfast. Then I'm less likely to pig out on heaps of extras before Xmas dinner is even served. I've been experimenting with a cranberry smoothie to add to my list of possibilities. I was aiming for the combined taste of cranberry, orange and spice.
If cranberry is not your gig, scroll down to the bottom for other breakfast ideas.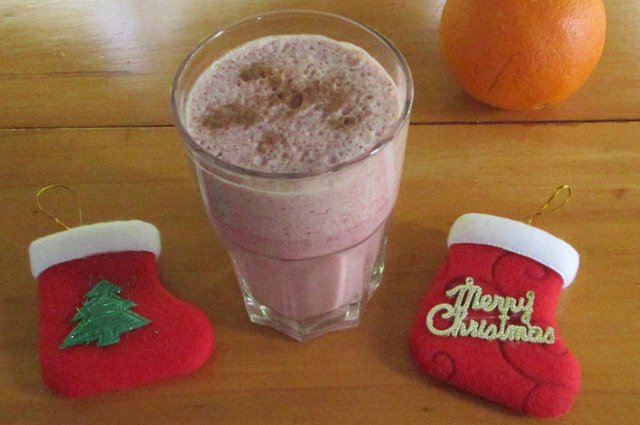 After a few experiments, this is my final product. But you may want to test it earlier, to tweak it to your taste, before Xmas Day.
Ingredients
• 1.25 to 1.5 cups of your preferred smoothie base
• 95gm frozen, unsweetened cranberries (measure 1 cup, then take 5 or 6 out)
• ½ teaspoon natural orange extract
• ½ teaspoon of mixed spice
• 1 Tablespoon of your preferred sweetener
• (optional but recommended) enough of your preferred protein source to give 30gm protein
• Your choice of extras
Blend, pour and sip.
Notes
Ok, a little more discussion on each item.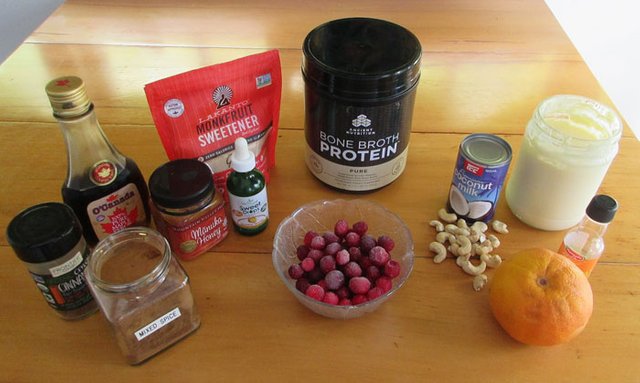 Base – this can be milk, yoghurt, coconut milk, nut milk, even ½ an avocado diluted with water (though that may be too strong tasting for this blend). I use 1 cup water plus 3 frozen blocks of coconut cream, to make a coconut base.
Kitchen tip – I take a can of coconut cream, pour it into a plastic ice cube tray and freeze it, then bag it for use over the next few days. Avoids having a skungy can sitting in the fridge, and makes the smoothie more chilled.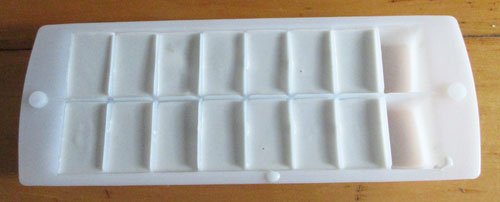 Cranberries – this sounds a very specific measurement, and it is, for a reason. 75gm was too little and I couldn't taste the cranberry tang. Trial 2 was 95gm, and seemed pretty good. Today I tried 100gm (1 cup), and it was just a little bit too tart. So for my taste buds, 95gm was the sweet spot.
Orange – if you are good on a higher amount of carbs, you could swap out some of your base for some fresh squeezed orange juice. If you are a person who goes well on lots of carbs and little fat, you could possibly even use all OJ for your base. Not me, I need lots of fat in there, which is why I went for the orange extract. On Xmas Day I might even grate in some orange zest.
Spice – ½ teaspoon is the minimum to be able to taste it. If you like a stronger spice taste, possibly ¾ would be better. I like mixed spice, but allspice also seemed to work well in one of my trials, or even just plain cinnamon.
Sweetener – you need it. And that's from someone who reduces the sweetener in most things. Since I'm ketoing, I used lakanto, a sweetener made from monkfruit and erythritol, that acts a lot like sugar in most recipes. It doesn't have that stevia aftertaste, and I've been loving it. But for those of you who don't have to be as strict on your carbs, feel free to add in honey, maple syrup, coconut sugar or your sweetener of choice.
Protein – I always put a raw egg in my smoothies, for the good fats, and because it helps the texture. But if you do that, it has to be free range, and ideally organic. Factory eggs are not safe to eat raw.
I also put extra protein powder in, as it's the combination of fat and protein in a meal that makes it sustaining. My favourite at the moment is Ancient Nutrition bone broth protein powder, but there are powders out there that may be more suitable for you. Basically anything except soy.
Extras – mine include liquid minerals, liquid vitamin B, natural vitamin C powder from whole foods, and (because I'm keto right now) hemp and MCT oils.
Other Xmas breakfast ideas
Another take on the cranberry smoothie could be to pair it with chocolate. Check out my Blackcurrant Choc Smoothie, one of the first I ever posted here Replace the blackcurrants with cranberries, maybe a touch more sweetener and some spices, and that could be the bomb.
Two years ago (how could it possibly be that long?) I posted a few festive smoothie recipes that included:
• Egg nog smoothie
• Mocha with a twist
• Pina Colada smoothie
• Pumpkin smoothie
Other options could include two cranberry orange muffin recipes suitable for those on restricted diets, or really for anyone who likes to eat well.
Or for more ideas, see my full list of Christmas food ideas, also from two years ago.
More Christmas food ideas tomorrow.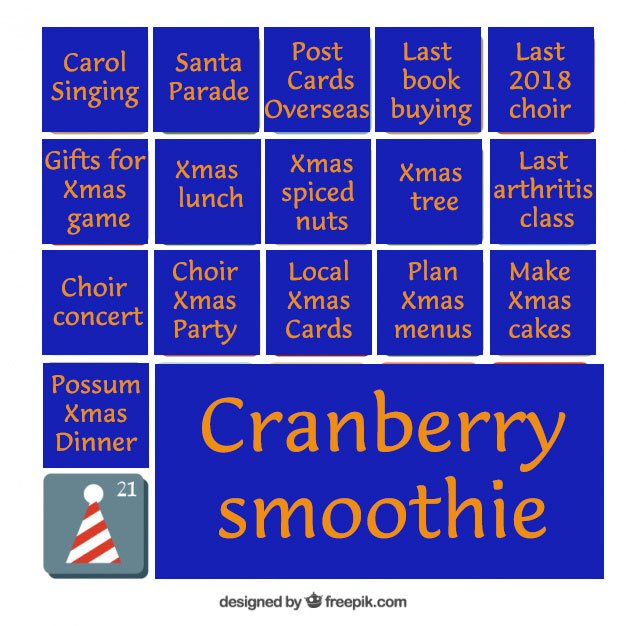 • Day 1 – Carol singing with the NZ Symphony Orchestra
• Day 2 – Kilbirnie Santa Parade
• Day 3 – Posting overseas Xmas cards & a Xmas themed exercise class
• Day 4 – Last minute book buying
• Day 5 – Last choir rehearsal for the year
• Day 6 – Choosing gifts for the Xmas game
• Day 7 – Xmas lunch with my exercise class
• Day 8 – Xmas spiced nuts
• Day 9 – Xmas tree time
• Day 10 – Last arthritis class for the year, and a sugar free brownie recipe
• Day 11 – A choir performance
• Day 12 – Taking marinated chicken wings to the choir Xmas party
• Day 13 – The NZ local xmas cards & some e-cards
• Day 14 – Planning the Xmas menus and best dessert ever
• Day 15 – Making gluten & sugar free Xmas cakes
• Day 16 – Xmas dinner with the Possums
Thanks for reading
Photos by me.
Follow me for more health, nutrition, food, lifestyle and recipe posts. For an archive of 2016 & 2017 posts, by category, see my last post of 2017.

Contact me in SteemitChat to ask about one on one nutritional coaching or EFT (Emotional Freedom Technique) sessions by Skype. (Then put a comment on my most recent post, so I know to find you.) Steem, other altcoins or Paypal accepted.