My Advent Calendar – 19 Dec – Gingerbread men for Paleo, keto or other special diets
This post from @redheadpei reminded me that I haven't made gingerbread men for a few years. So I felt inspired to have another go and see if I could make them keto friendly. This recipe uses almond flour and can be adapted for other special diets.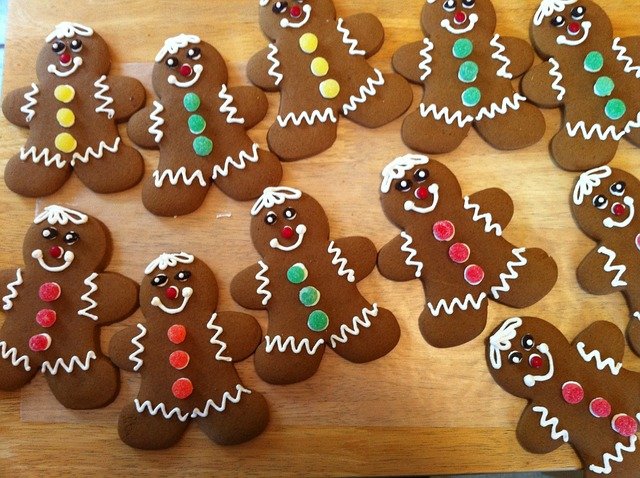 Aren't these gingerbread men lovely in their cute decorations? Yeah well, those are not mine, those are from Pixabay…
If you've been following me for a while, you may have noticed that my area of, ahem, expertise is making recipes for special diets into something yummy. My skills in the areas of decorating, presentation and photography are weak at best. Nobody's ever going to make one of my recipes and be disappointed cos theirs doesn't look as good. It's all about the taste! So let's get stuck in.
Ingredients
• 2.5 cups (280gm) almond flour
• ¼ tsp sea salt
• ½ tsp baking soda
• 1 tsp cinnamon
• 2 tsp ginger powder
• 1/8 tsp ground cloves
• ½ cup sweetener of choice – I used lakanto to make it keto, but use whatever works for your diet plan – brown sugar or honey would work, or maple syrup
• 1 egg
• ¼ cup / 2 oz / 55g butter, melted - or coconut oil works too)
• 1 tsp vanilla extract - I didn't have any, so used ½ tsp vanilla powder instead)
In a large bowl, combine all the dry ingredients. In a smaller bowl, mix together the wet ingredients. Stir wet ingredients into dry, until it all clumps together. If it doesn't quite bind together add a tiny bit of water, a drop at a time, till it does. It should look roughly like this.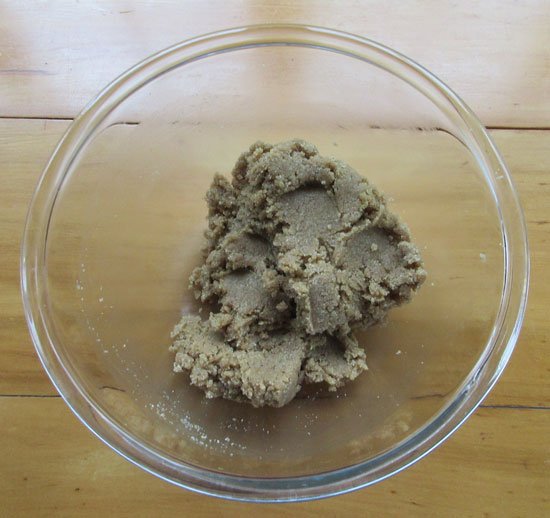 Shape into a rough log, wrap in baking paper and chill for 1-2 hours.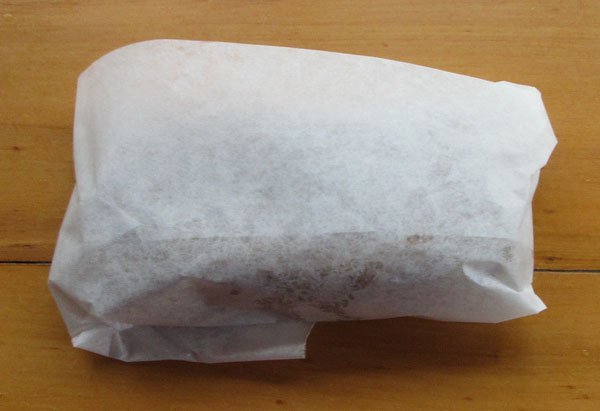 Roll out, between two pieces of baking paper, to about ¼ inch / ½ cm thick. Then use your cookie cutter to cut out shapes. You will need to be very careful as the dough doesn't hold together well, being without gluten. Use a spatula to carefully lift your shapes off the baking paper and onto your lined oven tray.
Then gather up the left over bits, reshape into a new ball, and roll out again. I rolled out about 3 times, then got bored. So what was left got made into balls and flattened. These weren't at all pretty, so no photos of those! But here's what one of the trays looked like before baking. I used a few sugar free chocolate bits to decorate some, and some cut up dried strawberries on others.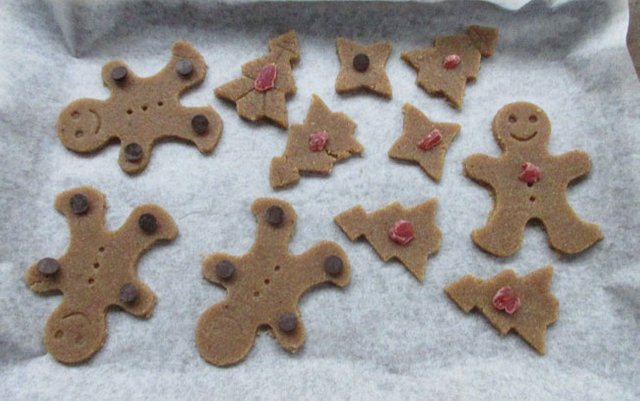 Bake for 10 to 12 mins at 350F / 175C. Don't try and move them off the tray till they're quite cool, by which time they will be a bit more sturdy. Here's some of the cooked ones.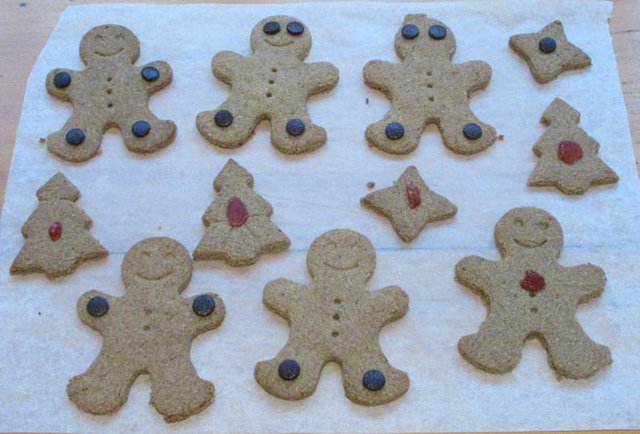 For a keto dessert, I'd probably serve them with some whipped or clotted cream. If you're not as low carb as that, feel free to decorate with whatever you fancy.
Enjoy!
I have no idea what tomorrow's activity will be, so we will all be surprised…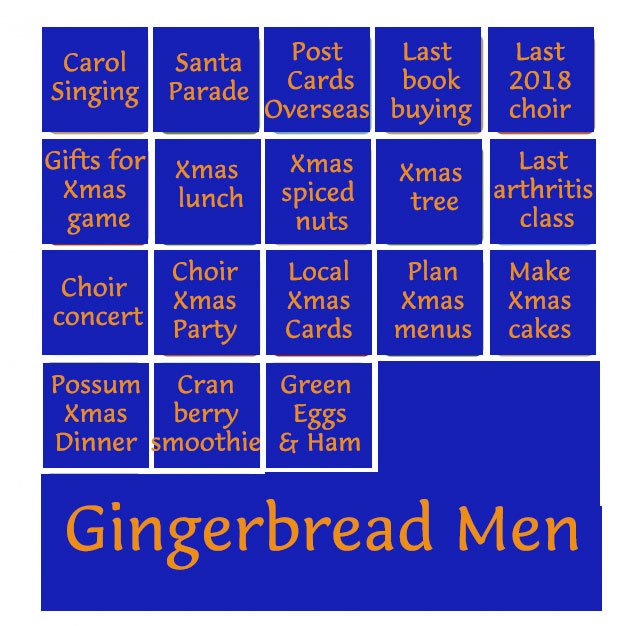 • Day 1 – Carol singing with the NZ Symphony Orchestra
• Day 2 – Kilbirnie Santa Parade
• Day 3 – Posting overseas Xmas cards & a Xmas themed exercise class
• Day 4 – Last minute book buying
• Day 5 – Last choir rehearsal for the year
• Day 6 – Choosing gifts for the Xmas game
• Day 7 – Xmas lunch with my exercise class
• Day 8 – Xmas spiced nuts
• Day 9 – Xmas tree time
• Day 10 – Last arthritis class for the year, and a sugar free brownie recipe
• Day 11 – A choir performance
• Day 12 – Taking marinated chicken wings to the choir Xmas party
• Day 13 – The NZ local xmas cards & some e-cards
• Day 14 – Planning the Xmas menus and best dessert ever
• Day 15 – Making gluten & sugar free Xmas cakes
• Day 16 – Xmas dinner with the Possums
• Day 17 – Cranberry smoothie & other nourishing Festive breakfasts
• Day 18 – Green Eggs & Ham
Thanks for reading
Top pic from Pixabay, rest by me.
Follow me for more health, nutrition, food, lifestyle and recipe posts. For an archive of 2016 & 2017 posts, by category, see my last post of 2017.

Contact me in SteemitChat to ask about one on one nutritional coaching or EFT (Emotional Freedom Technique) sessions by Skype. (Then put a comment on my most recent post, so I know to find you.) Steem, other altcoins or Paypal accepted.