New 50-word short story challenge and announcement
Welcome to the 50-word short story challenge. In this weekly challenge, the participants ("Fifty Worders") use the prompt of the week to write a short story in just 50 words. This post provides a weekly feature about writing micro-fiction, a review of last week's 50-word stories, some highlights of the week, and a new prompt for the coming week.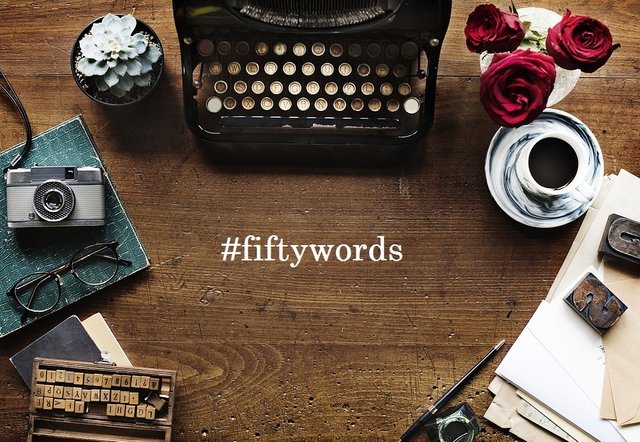 (Image credit: Original image by rawpixel, Pixabay)

Announcement: 100-word short story contest
Perhaps you've been writing 50-word short stories for months, and feel ready for a new challenge. Or perhaps you have never been able to figure out how to squeeze a story into a mere 50 words. Regardless, if you enjoy micro-fiction, you should check out the
100-word Micro-fiction Contest
I recently launched with The Writers' Block.
The contest runs until 11:59 Eastern, this coming Saturday, September 1st. (And unlike my very loose 50-word challenge deadline, this one is an actual hard deadline!) I look forward to seeing some participation from the Fifty Worders!

Micro-fiction writing workshop
Writing micro-fiction can be fun and agonizing. Attempting to deliver an entire story within a tight word limit takes some practice, and the results can be mixed. Sometimes you might write a great story with just a few rounds of edits. The next week, you might struggle to get your meaning across, or get the impact you want. Let's talk about the mechanics of this process.
How do you write a 50-word story?
Here are some basic steps. I'll use my most recent story for illustration.
Last week's prompt was "deed." And I will say I could have chosen better, where prompts are concerned. There were mutterings in the various writing group channels amongst stumped participants. (Sorry guys! This week's is better!)
Here are some steps to follow:
Study the prompt, and think about its meanings. For example, this week I thought about the prompt word, "deed," which could mean a good deed, an action of some kind, a crime, or some property ownership paperwork. An action seemed most interesting — someone taking some extreme measure that would have a huge effect on the life of another person. I came up with the idea of a woman abandoning a child under devastating circumstances.

Source: Pixabay image, by esudroff

The next step is to draft the story. Put the words down on the page. This is the hardest part, sometimes, but once you have words written down, you have something to work with.
Edit the story to get it just right. Swap out words that don't work well, or that don't feel meaningful, and swap in better, stronger words.
Make sure that it came to 50 words exactly.
Find an image that represents what you want to convey. (Note: An alternative method is to start with an image that represents the prompt word. That also works well.)
If you are so inclined, add some information or "backstory" about the thinking process that went into writing your story. A number of Fifty Worders are doing this now, and it's a really nice addition to these stories! It can be especially helpful when you have something more to say about the topic, or you want to fill in the blanks for your readers. (In my case, for "Ding dong ditch," I wrote about some statistics around people abandoning babies, and Safe Haven laws.)
Tip of the week:
Step away from your work. Come back and read it later. Make sure your story will make sense to others reading it. After all, writing a story is only partly about saying what you want to say. It is also about delivering a story that is meaningful to those who read it — whether to entertain, create an impact, give readers something to think about, or delight their senses.
Last week's story collection
I'd like to welcome our newest contributor,
@steemitdiversify
. Thanks for joining the Fifty Worders!
Here is the complete list of stories inspired by last week's "deed" prompt:
If I missed yours, please let me know and I will add it! I always try my best to list them all, but I do occasionally miss one.
Highlights of the week
Each week I highlight a few intriguing stories from the previous week's collection that I hope will inspire current and new Fifty Worders.
If you asked me before reading this story if it was possible to write a three-act play in 50 words, I would have said unequivocally "no." I stand corrected!
Act one: "You will not write a three-act play using only 50 words," says Janet.

Act two:
Center stage.
"I bet you a dollar a word I can," says Henry at his typewriter.

Act three:
We see Janet giving Henry fifty dollars.

The curtain closes as the deed is done.
I could not resist highlighting this story because it is humorous in a rather bizarre way. Negativer's take on the prompt is priceless.
Bill laughed. Being sheriff was easy. He counted the money, then slipped the envelope inside his uniform shirt, looking the other way.

A gunshot. His view changed to a close-up of the street. Footsteps. Someone reached inside his shirt, taking the envelope.

"Ya'll don' need dis. Ya'll be deed soon."
In this story, the author shares a heartwarming story about a son "giving back." (
@purpledaisy57
, I hope you don't mind. I made one edit to the tense of the second sentence.)
It's his Mom's birthday. He has the best gift he could give her. He knows it will make her happy. Something she had been longing for in a long time. He saved enough to give her back the deed to their house and land. His promise to his dad fulfilled.
This story shows us how different views can be about giving. Be sure to read her backstory in the actual post.
"Why do you keep feeding these filthy beggars? Can't you see they are always at our door?" he shouted angrily. Wiping a tear, she whispered: "My momma always told me that good deeds will bring happiness." "Then take them to your precious momma!" And he left, slamming the kitchen door.
Nice work, everyone!
This week's 50-word story prompt
The prompt for this week is "money." I look forward to reading your stories, Fifty Worders!
Guidelines
Please review carefully. Images must follow the Proper use of images guidelines below.
Write a story in 50 words. (It's especially cool if you can hit 50 words exactly!)
Use the #fiftywords tag, and **post the link in the comments of this post**.
Be sure to read and upvote the work of the other participants. It's all about community!
Use only artwork that you have the right to use, and attribute it properly. See the following guidelines.
Proper use of images
Proper use of images means one of the following:
The image is public domain, or under creative commons licensing rules.
It is your own image.
If it is not one of the above, you must have actual permission.
Be sure to properly attribute the image's source or mention that the image is yours. And if it's not public domain, under creative commons license, or your own image, be sure to state that you have permission.
I have two resources for you, from my friends at @thewritersblock:
And speaking of @thewritersblock, it's a great place to hang out and rub elbows with other writers. Check them out on Discord.
Deadline for this week: Saturday, September 1st. (With a grace period until the new prompt is published.)

The 50-word story clan
I'm mentioning you here if have participated in the
#fiftywords
short story challenge in the past. Please let me know if you would like your tag removed in this or future posts. (Note that I do trim the list. Those who have not participated for a long time or are not active on Steemit will eventually drop from the mentions.)
@ablaze, @adigitalife, @aggroed, @agmoore, @ahmadmanga, @akdx, @aksounder, @alexandered, @alheath, @anikekirsten, @anixio, @anonymummy
@bagpuss, @beginningtoend, @bex-dk, @blueteddy, @botefarm @brandonsadventur, @brectar, @bryarose23
@caleblailmusik, @carn, @celsius100, @cheekah, @cizzo, @clacrax, @creatr
@damianjayclay, @dbzfan4awhile, @deirdyweirdy, @desmoniac, @diebitch, @dirge, @divineinyang, @donnest, @drahries
@eaglespirit, @elbrujo, @elementm, @emwalker, @enjar, @eroticabian, @esttyb, @evgsk
@fairyhedgehogg, @feebie, @felixgarciap, @felt.buzz, @ficciones, @foxfiction, @foxyspirit, @fromage
@gaming-stuff, @girlbeforemirror, @gmatthe2
@haisa, @happyhairdays, @henry-gant, @hlezama
@jadams2k18, @janine-ariane, @jakeybrown, @jasminearch, @jayna, @jluvs2fly, @jonknight, @josecarrasquero, @joyyrush
@kaelci, @kally, @khadija14, @kimberlylane, @kingspiration, @ktfabler
@ldacey-laforge, @lightoj, @liverussian, @lucylin, @luiskrupaz
@Mammasitta, @marie-jay, @mark-dahl, @mgaft1, @mineopoly, @miniature-tiger, @mizdais, @momzillanc, @mydivathings
@navaneeth, @negativer, @niallon11
@paintingangels, @papacrusher, @phillyc, @pixiehunter, @pizzachain, @poeticnest, @preparedwombat, @prydefoltz, @puppetmaster1111, @purpledaisy57, @pyrowngs
@ravencorinn, @riottales, @rodrigocabrera, @roxy-cat, @rvag5
@sharoonyasir, @sidequest, @spalatino, @stbrians, @steemgiant, @steemitdiversify, @sue-stevenson, @sukhasanasister
@tanglebranch, @thatlovechild, @theironfelix, @therosepatch, @thinknzombie, @tiatu, @tinkerrose, @tuwore, @tygertyger
@wa2qr, @yimiipsa, @yoganarchista, @zen-art
Thanks so much for reading! I hope you try the 50-word challenge. It's so fun to see what can unfold in a mere 50 words!

---
Posted from my blog with SteemPress : https://jaynalocke.com/2018/08/27/new-50-word-short-story-challenge-and-announcement/
---