As my primary language is not English, there are probably some mistakes in my translation.
Remember that the person who speaks here is NOT me, Vincent Celier (@vcelier), but Marc Allaria (@marc-allaria), a French guy.
---
The long mishap - Part 4

![](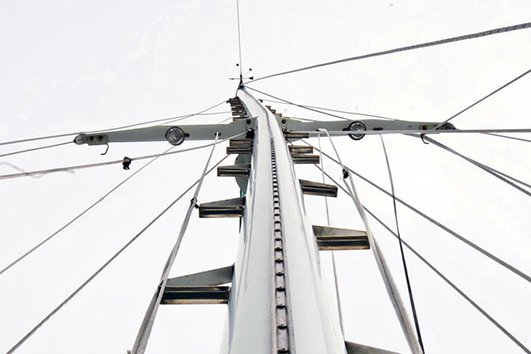 * * * * *
I left the next day both worried about my boat and my trip but also frustrated to skip so many destinations that would be incredible to visit and dive in. I go directly to the last destinations that interest me in Indonesia: Bali and its city.
I have the impression that all the indicators push me not to go to Bali. Without sailing and with a motor to watch I find myself facing a major current in the channel separating Bali from Lombok. Here the whole Indian Ocean and its swell launched on several thousands of kilometers, is found stuck in a channel a few kilometers wide. Needless to say, this meeting creates a current and major upheaval. At 2000 RPM and heading south , I realize that sometimes I advance at less than one knot and that I go to 270 with a current of more than 4 knots. In other words, for those who do not understand this jargon, I push the engine to the max and in reality I advance at the speed of a baby on four legs and to the west. I will not hide the fact that I am not far from being depressed at this moment of the adventure ...! All this would be a game of patience if there were not so many freighters coming out of the port of Bali to avoid ... It will take me 2 days to do the few nautical miles separating me from Denpasar. I finally join the marina of Denpasar and attach my sailboat as if it was a lion in a cage.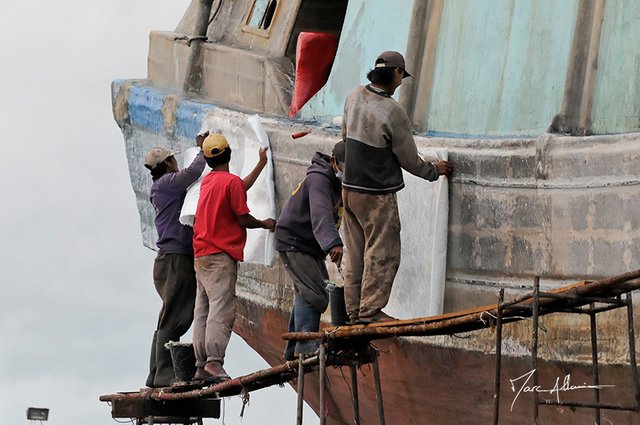 In Bali, I discover an island where bank note and individualism have long since taken the place of the legendary spirituality of the island at the origin of the posters of our travel agencies. Between tourist scams, smiles interested, and corruption of the administrations, I understand then that my next months will be radically different from the last 3 years I spent enjoying the hospitality of the villagers of all the islands I have visited. A nice retired English marine expert is sent by my insurance from Jakarta. An expert glance of a few seconds on my mast will be enough for him to establish a favorable report. This paper will be sent 15 days later. Left without news of my insurance for the next two months, my file has suddenly reappeared after I had sent my family to their premises. The settlement that had been in abeyance for the past two months was made that afternoon. Decidedly, a physical presence has much more impact than some e-mails sent by an insured person from the other side of the planet ...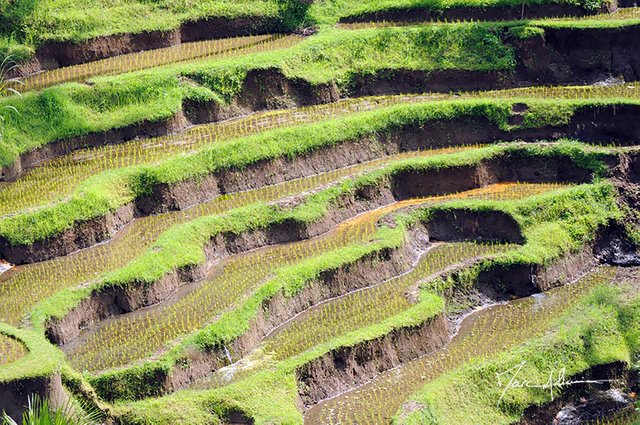 The only company in Bali that is able to take on this project is looking for a "repair kit" in the United States. This obviously unsuccessful search gives me time to visit this island which I definitely do not find any interest since here the interest has changed camp and nature. When I returned, nothing moved. I understand then that it's up to me to do the work. I am looking for a mast section of the same section as mine to manufacture an inner sleeve. My boat is from a big American series. This should reassure me about the existence of masts left on the docks of the ports of the planet. But it is also an old boat and after several weeks of research with the architect, the builder, and various forums, I must resolve to forget this idea that was certainly sterile.
The local track is then studied. One solution would be to use a sheet metal bender to ovalize an aluminum sheet of 6 mm thick and 2 m long. But the quality of the tools is lacking on the island. After several visits to different workshops, I cannot find the machine that can roll an oval shape of small section.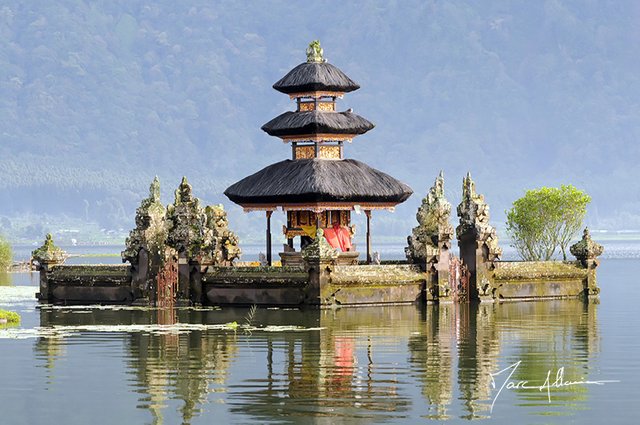 Morale continues to fall. The solution does not come easy. I spend my time taking care of the rest of my list of work in progress. Due to lack of suppliers in Indonesia, I have to import my spare parts and engage in unnecessary conflicts with the local customs not respecting the status of "Yacht in Transit" supposedly exempt from taxes for the imported parts to repair the sailboats. Between 40% and 60% of taxes are requested according to the mood of the customs officer, all to be payed in cash of course...
(to be continued)
* * * * *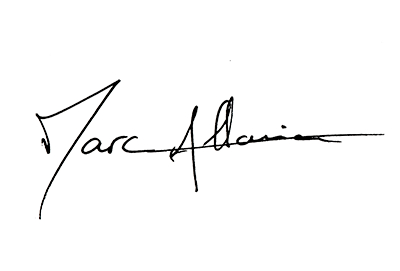 01: DISCOVER THE PHILIPPINES: Funny situations ...! at sea..., by @marc-allaria
02: DISCOVER THE PHILIPPINES: The fishing file ...!, by @marc-allaria
03: DISCOVER THE PHILIPPINES: The Cagayan Islands, by @marc-allaria
04: DISCOVER THE PHILIPPINES: Seaweed...!, by @marc-allaria
05: DISCOVER THE PHILIPPINES: The Bacuit Archipelago, by @marc-allaria
06: BORNEO: Kudat and the technical stop, by @marc-allaria
07: BORNEO: Kinabatangan River, by @marc-allaria
08: BORNEO: Maratua, part 1, by @marc-allaria
09: BORNEO: Big Fish School, by @marc-allaria
10: BORNEO: Diving in Maratua ...!, by @marc-allaria
11: BORNEO: The jellyfish lake ...!, by @marc-allaria
12: SULAWESI: Sewia...!, by @marc-allaria
13: SULAWESI: Story of a dive at Pasoso Island...!, by @marc-allaria
14: SULAWESI: Tanjun Kai...!, by @marc-allaria
15: SULAWESI: Kopoposang...!, by @marc-allaria
16: SULAWESI: PA-RA-SI-TE...!, by @marc-allaria
17: SULAWESI: BIRA...!, by @marc-allariaThe long mishap - Part 1
18: SULAWESI: Diving under my house ...!
19: SULAWESI: Stright ahead ...!, by @marc-allaria
20: The long mishap - Part 1, by @marc-allaria
21: The long mishap - Part 2, by @marc-allaria
22: The long mishap - Part 3, by @marc-allaria