As my primary language is not English, there are probably some mistakes in my translation.
Remember that the person who speaks here is NOT me, Vincent Celier (@vcelier), but Marc Allaria (@marc-allaria), a French guy.
---
The long mishap - Part 3

![](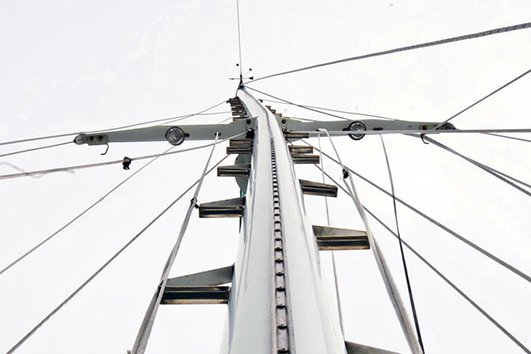 Crack...

* * * * *
These distant countries make the travelers that we are dream. We imagine each of their paradisaical lagoons, we envy their isolation, we extort ourselves in front of the smallest trace of authenticity of their inhabitants, but we travel through them armed with our yachts stuffed with high technology. An aluminum mast problem, broken in Australia, Europe or North America, would only be a matter of money. A problem of wooden mast, broken in Indonesia would be repaired in 2 weeks for a derisory sum. But here, I am the tip of Ying lost in the middle of a stretch of Yang. I serve the balance, the exchange, but I am not in my place when I am equipped with a boat so modern and broken. The only aluminum poles manufactured here are used for power lines, and my name is not Moitessier ...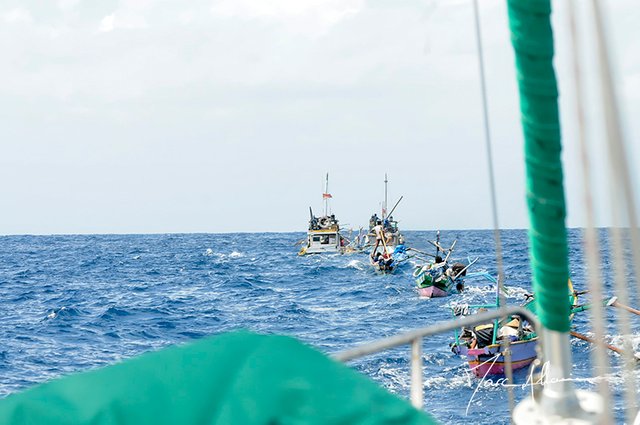 The caravan

This is when meetings become important. A little by chance, Harry, skipper of the only pleasure boat that I have met in the last 3 months, came to shelter here. We sympathize and thanks to his perfect knowledge of the country, I am redirected towards possible solutions of repairs. First of all, we must cleanly rebuild the frame and reinstall the backstay. The operation takes half a day and allows us to straighten the mast a little. I will then have to join Bali, the only place where "yachting" is slightly present in Indonesia. I then commit to a 300-mile engine stage. The current is opposite, I must follow closely the coast to take advantage of the counter-current and try to exceed a few times 3 knots, most often between 2 and 2.5 knots.
* * * * *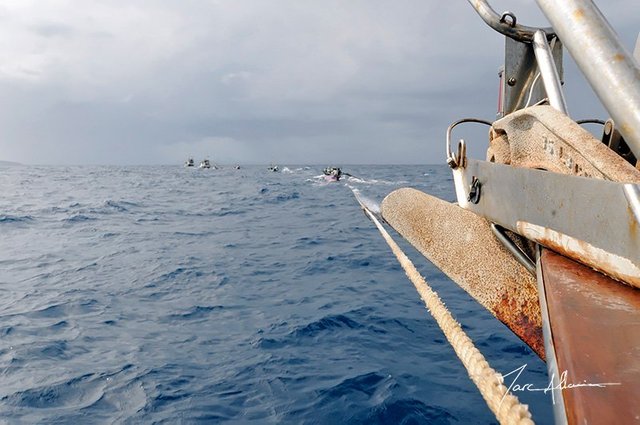 The caravan
I make the choice to pass ocean side. In my opinion, I will be sheltered from the wind. The intuition is good, but does not take into account the currents of the Indian Ocean and the associated swell. I will never be so sure that the choice to go north would have been better, but all I can say is that the southern one has not been easy. To summarize, I find myself with a broken mast, an unfavorable current, a swell formed, and to follow this depressing list, now my engine stalls suddenly. Unbelievable! Now my boat is almost stopped with a large sail rigged below the break, and drifting gently towards ... Australia.
Believing in God is forbidden by my religion. And yet there are days when I could almost put myself in it. Just five minutes after my engine stalled, I found myself less than 100m from me a caravan of fishing boats, 6 exactly, all towed by the biggest of them. Obviously, they are not down but they are saving fuel. I had never seen this type of caravan since the beginning of my trip two and a half years ago now ... A wave of the hand, a smile, and in less than 10 minutes, here I am towed to the boat No. 6, himself towed to No. 5, himself towed to No. 4, himself towed to No. 3, himself towed to No. 2, himself towed to the group's locomotive! A full day will be necessary for all of us to join Lombok, the neighboring island of Bali. A day that will allow me to find the reason for the engine failure and fix it. 150 Euros, a jerry-can and a smile, I think I've never been so happy to pay someone.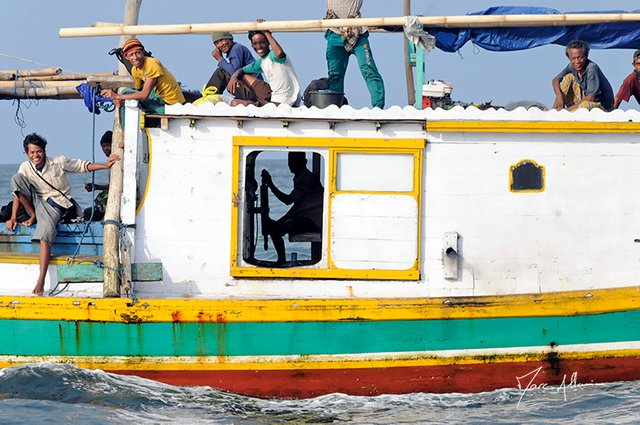 My saviors ...!

But Lombok is not Bali and I still have not arrived ...
* * * * *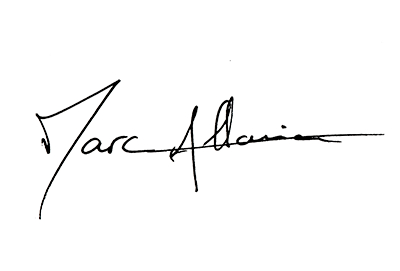 01: DISCOVER THE PHILIPPINES: Funny situations ...! at sea..., by @marc-allaria
02: DISCOVER THE PHILIPPINES: The fishing file ...!, by @marc-allaria
03: DISCOVER THE PHILIPPINES: The Cagayan Islands, by @marc-allaria
04: DISCOVER THE PHILIPPINES: Seaweed...!, by @marc-allaria
05: DISCOVER THE PHILIPPINES: The Bacuit Archipelago, by @marc-allaria
06: BORNEO: Kudat and the technical stop, by @marc-allaria
07: BORNEO: Kinabatangan River, by @marc-allaria
08: BORNEO: Maratua, part 1, by @marc-allaria
09: BORNEO: Big Fish School, by @marc-allaria
10: BORNEO: Diving in Maratua ...!, by @marc-allaria
11: BORNEO: The jellyfish lake ...!, by @marc-allaria
12: SULAWESI: Sewia...!, by @marc-allaria
13: SULAWESI: Story of a dive at Pasoso Island...!, by @marc-allaria
14: SULAWESI: Tanjun Kai...!, by @marc-allaria
15: SULAWESI: Kopoposang...!, by @marc-allaria
16: SULAWESI: PA-RA-SI-TE...!, by @marc-allaria
17: SULAWESI: BIRA...!, by @marc-allariaThe long mishap - Part 1
18: SULAWESI: Diving under my house ...!
19: SULAWESI: Stright ahead ...!, by @marc-allaria
20: The long mishap - Part 1, by @marc-allaria
21: The long mishap - Part 2, by @marc-allaria