As my primary language is not English, there are probably some mistakes in my translation.
Remember that the person who speaks here is NOT me, Vincent Celier (@vcelier), but Marc Allaria (@marc-allaria), a French guy.
---
KINABATANGAN RIVER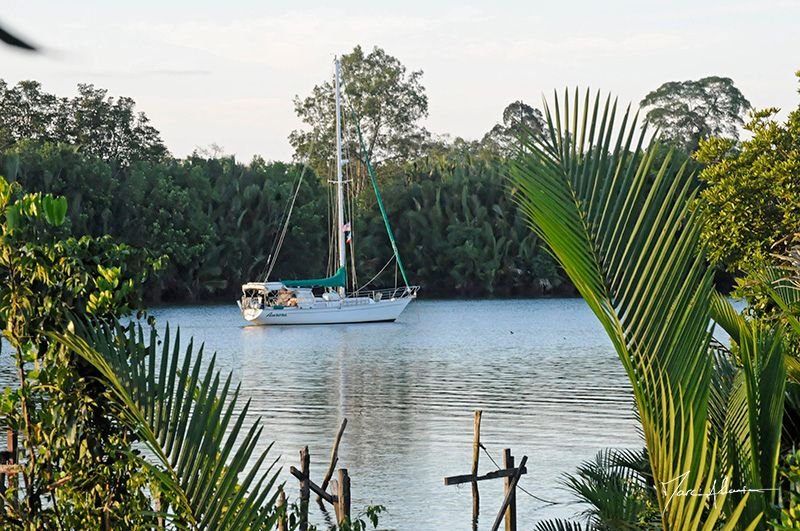 Aurora at anchor

* * * * *
I have just spent 6 months touring the Philippines and another to maintain my sailboat. Many beautiful encounters in this Asia that I am learning to know. If there is one thing that cannot be removed from this part of Asia, it is the kindness of its population. It is also a component that does not leave me since the very beginning of my trip. In spite of everything I keep deep inside me a little frustration that gives me a good reason to leave and go always a little further to see if ... if the waters give me back the pleasure of the dives that I had known in Melanesia.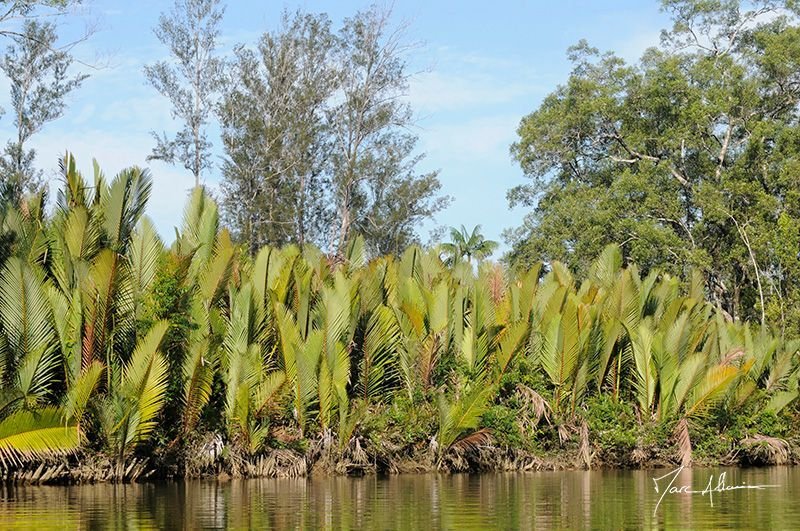 Because we must admit, Asia is not made for lovers of underwater exploration. As I have already said, here the choice is between a natural reserve, or a devastating overfishing. Bad luck, I do not like either! So I continue my journey south on the east coast of Borneo in the rare places of isolation that no longer offers this part of Asia. Astonishing circumstances, here flows one of the largest rivers of Borneo, the Kinabatangan river, which means ... brown waters!!
* * * * *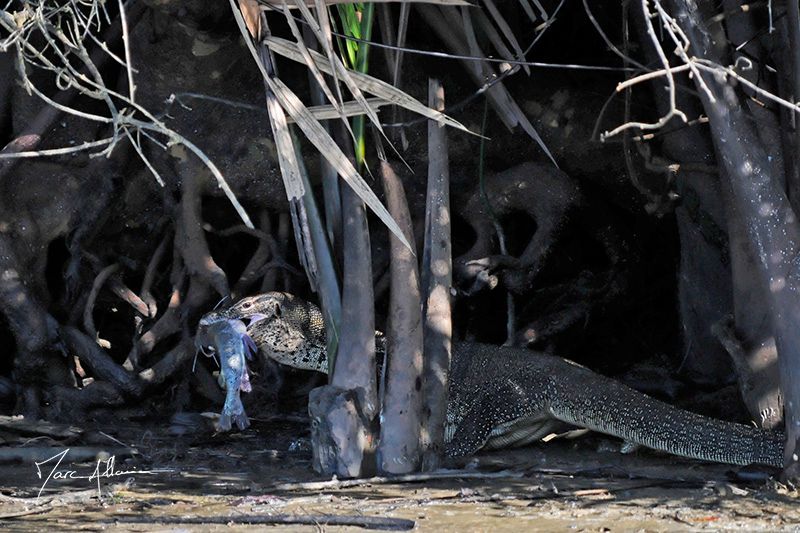 Nice meeting, but not reassuring for diving!
So I put away my scuba set and cautiously returned in this tangle of brown laced around green which I have no precise map. The river is navigable with 2 to 8 metres of depth. Here it is not reefs that are likely to hit the hull but tree trunks. Same thing for the anchor who could be caught in a trunk, which would be a real problem because if I'm passionate about diving that I can be, I cannot see myself going down in these muddy waters ...!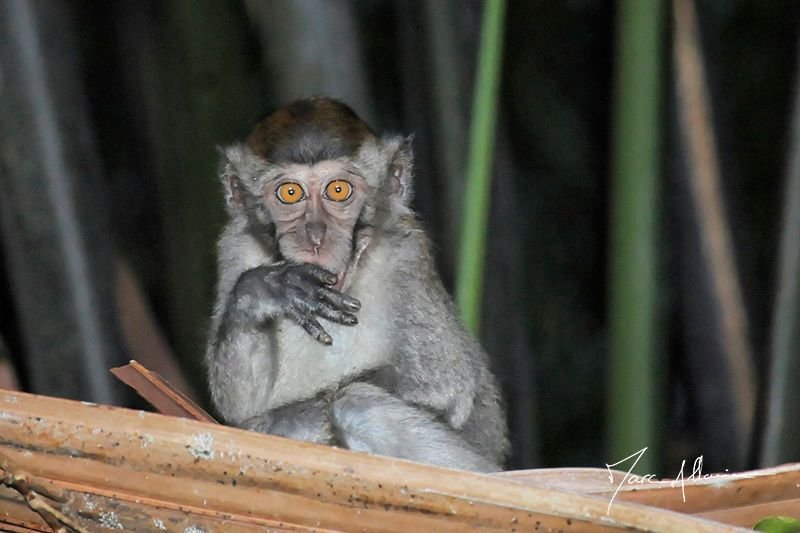 So I go cautiously for several hours while looking on my navigation system, the icon of my boat enter the land! Here, nothing or almost nothing. Very few villages, a pirogue crossed every hour at the most. I do not know where I'm going. The canal is tightening little by little. Fifty meters wide, then thirty, twenty, soon my twelve-meter sailboat will no longer be able to turn around. No more groupers and sharks, I am looking for elephants: a friend told me that he woke up one morning on the river 20m from a family of such animals that came to shower. In vain. It will not happen to me. I drop anchor in the middle of the river and wander with the annex in search of a curious animal. I will find many. In addition to the many birds here, a family of monkeys whose species I don't know comes along the river. There are blacks and browns. Two different species, that's about all I can tell you! If like me, they had a camera in their hands, I think we would have had exactly the same behaviors of curiosity and shyness as myself.
I ended up finding a well organized village by the river with pontoon and footbridge to go from houses to houses. I am invited to a fishing trip and a discovery of the river by pirogue. Crab is a abundant in the river. The traps are laid in the evening and the harvest is made early in the morning. It is a very nice moment to share as always since my arrival in Asia. To my amazement and total indifference of my hosts, we meet a trawler in the river ... I know the damage caused by these ships at sea, I dare not even imagine those generated in riverbeds. Other issues and another culture that I still have trouble not judging.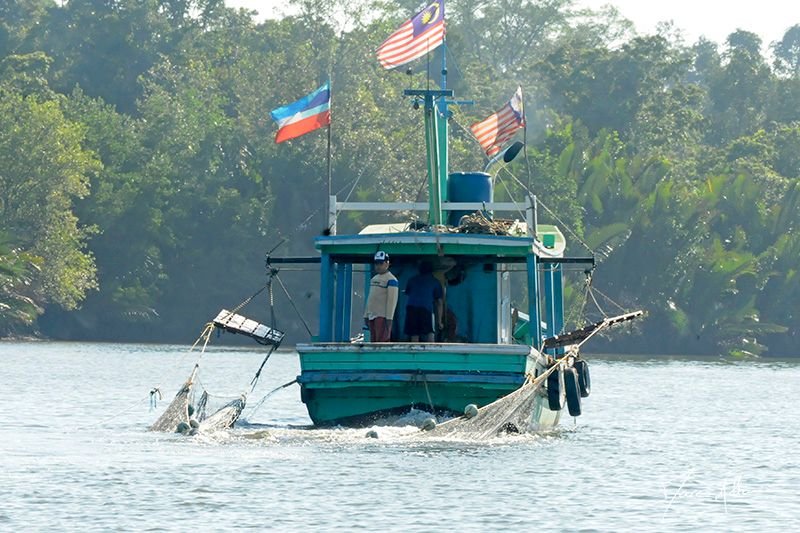 Trawler in river

* * * * *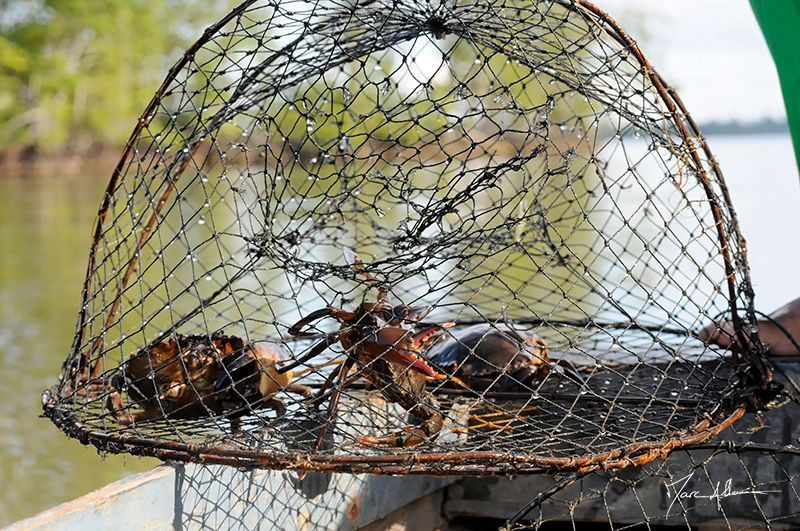 I spent a few days on the water but far from the sea, quiet and in the company of adorable people again. A few invitations on board, a few pleasant evenings and again the anchor gets up and Aurora leaves for the next stopover.
* * * * *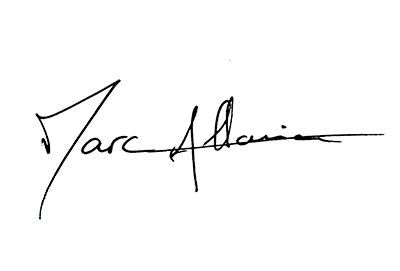 01: DISCOVER THE PHILIPPINES: Funny situations ...! at sea..., by @marc-allaria
02: DISCOVER THE PHILIPPINES: The fishing file ...!, by @marc-allaria
03: DISCOVER THE PHILIPPINES: The Cagayan Islands, by @marc-allaria
04: DISCOVER THE PHILIPPINES: Seaweed...!, by @marc-allaria
05: DISCOVER THE PHILIPPINES: The Bacuit Archipelago, by @marc-allaria
06: BORNEO: Kudat and the technical stop, by @marc-allaria